Nanotoxicology assessment in complementary/alternative models
Original Research Article
Abstract
Despite all the applications of nanotechnology, limited data are available on their environmental and health risks. Many nanomaterials have been developed; however, their safety evaluation is not performed at the same speed. Toxicity can occur at different trophic levels (microorganisms, invertebrates, and vertebrates), and because of that, alternative/complementary models have been successfully employed. This mini-review aims to report some studies that have successfully used different alternative models to assess nanotoxicology and to stimulate their use by other groups of this important field. This will provide more information about nanomaterials and also to evoke studies to improve formulations.
Keywords
Nanotoxicology 
Caenorhabditis elegans
Drosophila melanogaster
Danio rerio
Aretmia salina
Daphnia magna
1

Introduction

Despite the extensive use of nanomaterials today, there is still limited understanding of nanomaterial-mediated toxicity in vivo. The size of nanomaterials, which are between 1 and 100 nm, brings about a high surface area-to-volume ratio, resulting in novel properties that are absent in their bulk form (Powell and Kanarek 2006). The physicochemical properties such as high conductivity, strong optical scattering properties, strong absorbance, and ease of functionalization generated several nanomaterial-related biomedical products (Jang et al. 2010; Ong et al. 2013; Panahifar et al. 2013). However, recent studies have revealed that nanomaterials could result in toxicity (Elsaesser and Howard 2012; Juch et al. 2013; Madani et al. 2013). Because of that, safety assessments must be performed. Many research groups have focused their work on nanotoxicological studies, which are mostly phenomenological, although mechanistic studies have been also carried out.

In this context, some groups have focused nanotoxicology assessments in non-mammalian in vivo models, which also enabled the understanding of the mechanisms that underlie the observed effects. The roundworm Caenorhabditis elegans provides elegant insights due to the wide availability of knockouts and GFP-tagged strains; Drosophila melanogaster (fruit fly) is a great model for genotoxicity endpoints; Danio rerio (zebrafish) and other aquatic models are very useful because they allow the assessment of water, which is one of the main routes of human exposure. Together, these in vivo models have provided important insights into our understanding of nanomaterial-mediated toxicity.
2

Nanomaterials

The rapid development of many different nanomaterials (NM) presents a dilemma for regulators in relation to the hazard characterization (Oberdorster et al. 2005). As a consequence of their small size, these NMs may exhibit different physicochemical properties and biological effects compared to their bulk materials (Boverhof and David 2010).

Four areas are considered essential for the nanotechnology research to develop: (1) nanomaterial identification and classification; (2) exposure to nanomaterials; (3) risk mechanisms related to nanomaterial effects on human health and environment; and (4) tools for predictive risk assessment and management, including databases and ontologies (Savolainen et al. 2013).

One way to classify nanomaterials is their origin, and therefore, whether they are organic or inorganic, according to Fig. 

1

. Among the organic nanomaterials, the single- and double-wall carbon nanotubes and the fullerene (C60) stand out. Considering the inorganic NMs, metal oxides have remarkable wide application, as well as gold and silver nanoparticles. Besides other inorganic nanoparticles that have been used in the pharmaceutical field, carbon-based materials, nanocapsules based on solid lipid structures, and biopolymers, for instance, have been used as nanocarriers for drugs and also pesticides. Both hydrophobic and hydrophilic small molecules, proteins, and nucleic acids can be bound to or encapsulated within the compartments of these nanomaterials and delivered in vitro or in vivo (Barros et al.

2016

).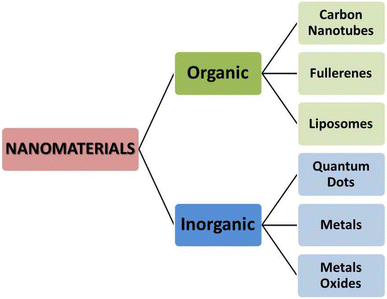 3

Nanosafety assessment

Due to the massive and uncontrolled release of nanoparticles (NPs) in the environment and the toxic potential of these particles, there is an increasing interest in studies focusing on their hazards. In addition, many nanomaterials are used in medicine and pharmacy; however, their interactions with biological systems still need to be elucidated (Borm et al. 2006; Tejeda-Benitez and Olivero-Verbel 2016). Notably, many challenges and concerns regarding the risk of nanomaterial for human health and the environment still remain (Oberdörster et al. 2007). While the remarkable beneficial outcomes of nanotechnology are well recognized, the potential (eco) toxicological impacts of these NMs have so far received little attention (Curtis et al. 2006).

Particularly, the impact of nanoparticles interactions with different organisms is dependent on their size, chemical composition, surface structure, solubility, shape, and how the individual nanoparticles accumulate together. Another relevant factor is the route of exposure, which can be dermal, pulmonary, and gastrointestinal (Nel et al. 2009). Overall, toxicity could be the result of both chemical interactions between the biological targets and the nanomaterial or physical obstruction caused by the NM (Das et al. 2012). In addition, the increased concentration can favor the NPs aggregation forming large clusters which may diminish their surface, and therefore be more aggressive to the environment (Vega-Alvarez et al. 2014).

Most of the toxicological studies have been carried out in vitro with cells, which are somewhat limited because of the lack of barriers and for their simplicity, or in vivo with rodents. However, animal rights movements and even economic reasons have led scientists to reduce the use of mammals in this type of research. Scientist Centers for Animal Welfare (SCAW) and Institutional Animal Care and Use Committees (IACUC) to discuss the ethicality of issues related to the care and proper handling of animals have been created.

To properly evaluate nanosafety, it becomes necessary to develop and adapt methods due to current trend in the nanotoxicology field (Johnston et al. 2013).The 3R policy for animal testing (refinement, replacement, and reduction) reinforces the use of alternative/complementary animal models for toxicity evaluations. Furthermore, considering ethical requirements in animal manipulation, time, and especially costs, the current trend points out to alternative models. The main models used are Caenorhabditis elegans, Drosophila melanogaster, Danio rerio, and Daphnia magna (Artemia salina at some extent), which will be further explored in this mini-review.
3.1

Caenorhabditis elegans

In the 1940s, a free-living nematode associated with the liquid soil, Caenorhabditis elegans, was described. Some years later, in 1965, Sydney Brenner suggested its use as an animal model in different areas of research. It presents interesting characteristics such as only six chromosomes, completely sequenced DNA, easy manipulation, variety of mutants, low maintenance cost, short life cycle, and large offspring (up to 300). Notably, it is estimated to be genetically analogous to humans at about 60–80%. Because of these advantages, it is currently considered an excellent alternative model, especially in toxicological and environmental assessments (Avila et al. 2012).

Many of the currently known toxicants can be adequately evaluated with the help of the C. elegans model, among them are toxicity of environmental matrices, metals, pesticides, particularly nanoparticles. Jung et al. analyzed different types of nanomaterials using C. elegans model in a high-throughput screening. These researchers were able to confirm nanotoxicity from approximately 20 types of nanomaterials, hence validating C. elegans as a relevant tool to these assessments (Jung et al. 2015). Screening data from this study have shown that adverse effects are dependent on chemical properties as well as the state of particle dispersion. Among these, the most toxic to C. elegans were nano-Ag. They have also demonstrated that fullerenes and their derivatives exhibited toxic potential mediated by apoptosis, and this event generated a significant decrease in worms' survival, body size, and reproduction.

Contreras et al. (2014) found that exposure to 100 mg AgNP/L reduced the flex, amplitude, wavelength, and speed of the body bends of exposed worms, which was worsened in the progeny following multiple generation exposures (four generations) (Contreras et al. 2014). Different NP sizes (2.5 or 10 nm) caused different effects on worms' life span and reproduction; however, the motility was reduced equally following exposure to all different sized AgNPs. Of note, worms' locomotion is regulated by GABAergic, cholinergic, and dopaminergic neurons; therefore, alteration in these parameters may indicate neuronal damage (Jorgensen 2005).

NPs caused severe deficits in gut development, defecation behavior, lethality, locomotion, growth, reproduction, ROS production, and changes in gene expression (Rui et al. 2013). Notably, locomotor activity in C. elegans is a good parameter to evaluate neurotoxicity. In view of that, many studies with metal NPs use this endpoint to characterize their toxicity level. For instance, researchers have evaluated and compared the behavioral toxicity of TiO2, ZnO, and SiO2 NPs of 30 nm size in a prolonged exposure in L1. Authors described that worms reduced significantly head trashes and body bends following exposure to the three NPs and that toxicity order was ZnO > TiO2 > SiO2 (Wu et al. 2013). The same research group identified that sod-2, sod-3, mtl-2, and hsp-16.48 mutants exhibited a more severe decrease in both head thrashes and body bends than that of wild-type N2 nematodes.

Regarding the toxicity of nanocapsules for delivery of drugs, Moraes et al. (2016) have conducted a study for the characterization and evaluation of the toxicity of clozapine-loaded polysorbate-coated polymeric nanocapsules. These evaluations demonstrated a significantly higher survival rate when treated with drug-loaded nanocapsules compared to those treated with the free drug. It is also showed a decrease in egg laying in the use of free clozapine, but the longevity parameter did not have significant differences in the two types of exposure, suggesting that the toxic effect of free clozapine is acute. Authors have suggested C. elegans as an alternative model suitable for studies on drug delivery (Moraes et al. 2016).

In another perspective, Charão et al. evaluated the safety, absorption, and protection against paraquat of labeled melatonin-loaded lipid-core nanocapsules (LNC) in C. elegans. First, they have observed low toxicity of nanocapsules to worms. Furthermore, animals pretreated with Mel-LNC presented a significant increase in survival rates and reduction in reactive oxygen species induced by paraquat when compared to free melatonin treatment (Charao et al. 2015).

In addition, our group has evidenced that different nanocapsule formulations may have differential effects in worms. Unloaded solid lipid nanoparticles and polymeric nanoparticles presented higher toxicity (delayed development, increased mortality rate, and reduced reproduction) in comparison with chitosan/tripolyphosphate formulations (Jacques et al. 2017). These findings reinforce the fact that besides the metals or any drug carried by nanocapsules, the components of the nanoformulations may induce biological effects, which must be avoided.

These and many other studies demonstrate, therefore, that C. elegans is a viable alternative model for toxicological evaluations due to characteristics such as transparent body, short life cycle, large offspring, low maintenance cost, and ease of gene manipulation. The use of this nematode as an experimental animal allows the evaluation of biochemical routes of environmental toxicants and the analysis of multiple endpoints such as survival, lethality, and reproduction among others. It is an appropriate model for various toxicological studies such as environmental contamination (Tejeda-Benitez and Olivero-Verbel 2016).
3.2

Drosophila melanogaster

Drosophila melanogaster has been primarily used in genetic and developmental biology studies; however, its use as a model in toxicological research was recently developed. Importantly, D. melanogaster has already been used for mechanistic studies for different environmental contaminants and toxicants (Bianchini et al. 2016; Guarnieri and Heberlein 2003; Mora et al. 2014). Indeed, it was previously shown that Drosophila is capable of absorbing, metabolizing, and excreting chemicals while economically producing large numbers of offspring in a relatively short period of time (Schuler et al. 1982). Moreover, the relevance of the Drosophila model for understanding the human condition under stress of toxicants has been largely accepted mainly due to the abundance of highly conserved genes and pathways controlling development, stress response, and xenobiotic metabolism across these divergent species (Mackay and Anholt 2006; Misra et al. 2011).

There are still other(s) advantage(s) in using Drosophila for laboratory studies (Avanesian et al. 2009; Rand et al. 2014): (1) short life cycle; (2) simple genetic architecture (~ 15,000 genes structures/organized on four chromosome); (3) ease and low cost of maintenance compared to other biological models; (4) well-characterized development from a genetic and molecular point of view; (5) molecular and genetic "toolbox," as well as the accompanying databases for gene expression and activity is as comprehensive as any experimental model; (6) holometabolous, having larval and adult motile life stages; (7) tissue and organ morphogenesis in both the embryonic and the larva-pupae periods known at cellular and molecular detail(s), with special emphasis on development of nervous system; (8) either embryonic, larva-pupae, and adult stages offers a robust platform for design of assays of development; (9) D. melanogaster and mammalian sexual differentiation are very similar. Notably, the anatomical structures such as the brain, heart, lung, kidney, liver, gut, and reproductive tract of the adult Drosophila are physiologically very similar to those of humans (Pandey and Nichols 2011). Recommendations by the European Centre for the Validation of Alternative Methods indicated that D. melanogaster is an ideal model organism to study nanomaterial-mediated toxicity (Ahamed et al. 2010). A recent editorial has also encouraged the use of the fruit fly Drosophila in nanotoxicity and nanomedicine research in view of the possible novel scientific knowledge and technological breakthroughs that Drosophila can bring about (Vecchio 2015).

Studies using the fruit fly as in vivo model organism in nanotoxicology (drosophotoxicology) have been published only recently. In drosophotoxicology, NPs are generally delivered by ingestion, but also by injection and inhalation, the last one having a great potential as a model procedure to study the effects of nanoparticle toxicity to the respiratory system (Posgai et al. 2009). Many endpoints can be used to assess nanotoxicity, such as motor and sensor behavior, reproduction, survival, oxidative stress, metabolic defects, and molecular biology endpoints (Ong et al. 2015).

Among the inorganic nanoparticles that have been tested are Fe3O4NPs. They caused decrease in profound alterations in the female fecundity (Chen et al. 2015). The titanium dioxide (TiO2) and silver (Ag) NPs have been shown to induce a reduction in survival rate and fecundity, delays in development, and the occurrence of distinct phenotypes (Gorth et al. 2011; Posgai et al. 2011; Salah-Eddin A. Araj et al. 2015). These findings indicate that the insect populations that are in the environment can be reduced or even extinct.

In addition, adults fed with AgNP food exhibited hypopigmentation and softening of the cuticle, probably because Ag competes with copper by its transporter (once Cu is required for melanin biosynthesis) (Armstrong et al. 2013). In addition, AgNPs can be genotoxic (Ahamed et al. 2010), and AuNPs as well (Hadrup et al. 2015). A complete review on the effect of different inorganic NPs was presented by Chifiriuc et al. (Chifiriuc et al. 2016).

Organic carbon nanotubes have also been evaluated in this animal model. Embryos injected with diI labeled multi-walled carbon nanotubes (MWCNTs) allowed the observation of nanotubes in fly structures, which caused cell death to ectodermal but not neural stem cells (Liu et al. 2014). Dietary uptake of fullerene C60, carbon black, or single-walled or multi-walled nanotubes, fed to the larval stage, had no deleterious effect on egg-to-adult survivorship, although these nanomaterials are incorporated in tissues (Lam et al. 2006). However, in adults, nanotubes proved an intensive capacity of adherence to fly body surface, impairing the grooming behavior and locomotion, in addition to increasing mortality (Liu et al. 2009).

More complex nanomaterials have also been tested in D. melanogaster, as the solid lipid and polymeric-based nanocarriers. For instance, a nanocarrier based on solid lipid nanoparticles (SLNs) was developed for insulin delivery and tested in the flies. Notably, no toxicity signs have been found (Fangueiro et al. 2013). In addition, polylactic nanoparticles safety has also been assessed, and it has been determined that near lethal nanoparticle doses, oxidative stress cell cycle arrest at G1 and cell death occurred (Liu et al. 2014).
3.3

Nanotoxicology and the aquatic environment

Anthropogenic activity will invariably have ecological repercussions. This is exemplified by emerging contaminants such as drugs, cosmetics, industrial wastes, and pesticides (Pal et al. 2014; Thomaidi et al. 2015). One of the most susceptible environments to contamination is the aquatic. Households and hospitals are sources of contamination in the urban water cycle; for example, antibiotics and cosmetics are identified in aquatic environments, as well as pesticides that are carried through rain or irrigation (Agunbiade and Moodley 2014; Moreno-González et al. 2013; Pal et al. 2014). One type of emerging contaminant has its fate and toxicity still poorly explored: engineering nanomaterials (Sun et al. 2014). The creation and use of new products benefited by nanotechnology increased in the last decade (Chen et al. 2013; Cozzens et al. 2013; Kah 2015).

Nanomaterials are present in a wide variety of products, such as socks, sunscreens, washing machines, refrigerators, cosmetics, and pharmaceuticals (Contado 2015; Tugulea et al. 2014; Yang et al. 2013). The final destination of nanoparticles will always be soil or water, regardless their release via soil, water, or atmosphere (Nowack and Bucheli 2007). However, the aquatic environment is more vulnerable because it is a receptacle for environmental contaminants (Scown et al. 2010). The release of nanoparticles in the aquatic environment is large (Farré et al. 2009). Furthermore, nanoparticles can bind and transport toxic chemicals through this environment (Farré et al. 2009). The uncertainties that still exist about the toxicity of engineered nanomaterials should be explored and animal models that allow safety testing are of interest, especially when directed to the aquatic environment.
3.3.1

Danio rerio

The zebrafish model (Danio rerio) has an extensive literature data available in aquatic toxicology (Chakraborty et al. 2016; Stewart et al. 2014). It has characteristics such as small body, high fecundity, rapid development with well-characterized stages, and easy handling (Chakraborty et al. 2016; Lin et al. 2013; Strähle et al. 2012). In this model it is possible to perform rapid in vivo visualization of tissues and organs (Parichy et al. 2009). It has the cardiovascular, nervous, and digestive systems similar to mammals, as well as pathways involved in the response against toxicants (Chi-Hsin et al. 2007; Yang et al. 2007). Because of all these features, it has already been considered the gold standard for environmental toxicity assessment (Lin et al. 2013; Scholz et al. 2008).

Chakraborty et al. reviewed the main endpoints of nanotoxicity in the zebrafish model: mortality, hatching achievement, reproduction, development, disruption of gill, skin, endocrine system, immunotoxicity, genotoxicity, and neurotoxicity (Chakraborty et al. 2016). In terms of mortality and reproduction, ZnO nanoparticles have demonstrated high mortality in zebrafish, while chronic exposure to TiO2 nanoparticles has caused reproduction disruption (Wang et al. 2011; Zhu et al. 2008). Successful hatching is correlated with embryo toxicity (Chakraborty et al. 2016). In zebrafish exposed to TiO2 nanoparticles was observed premature hatching of embryos (Clemente et al. 2014; Samaee et al. 2015). Toxicity to the developing embryo may subsequently cause malformations, as observed in zebrafish exposed to silver nanoparticles (Xia et al. 2016). Malformations of zebrafish embryos such as pericardial edema, yolk sac edema, tail, and head malformation were also observed by the treatment of silica nanoparticles This model allows the observation of behavioral parameters, such as swimming kinetics (Chakraborty et al. 2016), and hence TiO2 and gold nanoparticles have been shown to alter this endpoint in zebrafish, demonstrating negative effect of nanoparticles on the neuromuscular system (Chen et al. 2011; Truong et al. 2012). Finally, nanoparticles can interact with heavy metals, as it has been demonstrated that nanoparticles of TiO2 increased the bioconcentration of lead in zebrafish, leading to a disruption of the thyroid endocrine and neuronal system (Miao et al. 2015). Such works only demonstrate the importance of studies on the fate and toxicology of nanoparticles into the aquatic paradigm.
3.3.2

Artemia salina and Daphnia magna

Brine shrimp (Artemia salina) are zooplanktonic crustacean, which serve as food for marine and aquarium fishes (Ates et al. 2015). It has a common use in ecotoxicological tests in the aquatic environment, because it filters large amounts of water per hour, exposing itself significantly to contaminants (Ates et al. 2015). One of its features is the homogeneity of the eggs; the use of its larval stage (nauplii) is common in toxicological tests (Ates et al. 2015). Artemia salina has short life cycle, small body size, large offspring, simple culture, and handling, which are useful features in toxicological tests (Nunes et al. 2006). Due to its bisexual/parthenogenetic reproduction, there is low genetic variability and homogeneity in the assays (Libralato 2014; Nunes et al. 2006). Endpoints such as mortality can be assessed in acute and chronic exposures, 24–48 h and up to14 days, respectively (Manfra et al. 2012; Vanhaecke et al. 1981). Behavior and neuromuscular implications can be assessed by swimming speed (Gambardella et al. 2014). Effects on reproduction are observed in the cysts hatchability (Gambardella et al. 2014).

Another microcrustacean, Daphnia magna, was considered a "keystone" for studies in aquatic toxicology (Baun et al. 2008). Due to its sensitivity to environmental contaminants, it is considered the first choice for ecotoxicological testing, mainly involving nanomaterials (Baun et al. 2008; Schindler 1987). Similarly, Daphnia magna shares the same advantages as Artemia salina for toxicological study, such as short life cycle, discrete growth, easy culture, and low-cost maintenance (Galdiero et al. 2017). Daphnia has been considered the keystone for ecotoxicological assessments because of its sensitivity to nanoengineered nanoparticles (Baun et al. 2008). It has been observed that pre-exposure to TiO2 nanoparticles, common in water treatments, increased the toxicity of Cd, Zn, and Cu in Daphnia magna (Fan et al. 2011; Tan and Wang 2014). However, nanoparticles may be toxic per se. Artemia salina exposed to Zn and ZnO nanoparticles depicted significantly increased mortality in 96 h, associated with oxidative stress, and particle accumulation in the guts (Ates et al. 2013). Malformations, changes in eye formation, and enlargement of intestine were observed in nauplii of Artemia salina exposed to Ag or TiO2 nanoparticles (Ozkan et al. 2016). Several authors recommend these models to advance the level of knowledge in nanoecotoxicology through standardized tests with invertebrates as a basis for studying behavior and bioavailability of engineered nanoparticles in the aquatic environment.
4

Limitations of the models

In the context of this work, alternative models should not be seen as full replacements of substitutes for a classic and superior model. They should be used for an initial toxicological screening and in complementary steps, a part of a whole. When a comparison is made with other more complex models, such as rodents, the limitations of each alternative model emerge. Whatever the advantages (economic, easy handling, high efficiency, and bioethics) when working with alternative models, the disadvantages are clear: lack of certain organs and metabolism of more complex xenobiotics (compared with a superior mammalian model), the low sample yield per individual, and in some cases the lack of predictability for other models. Of the models presented here, the zebrafish is the least limited when compared to a superior model, having more organs and systems, allowing more toxicological tests than invertebrates. On the other hand, it is an aquatic animal. In addition, all have a limitation that the toxicant can only be exposed orally, and not orally or by inhalation. Nevertheless, alternative models are the future of toxicity testing and must be further explored.
5

Conclusions

The present mini-review presented relevant findings on nanosafety assessments using alternative models, most of them invertebrates. The increasing number of studies with these animals has provided a scientific basis for recommending their use in nanotoxicology. Each model has its advantages and those must be well applied, as depicted in Table 

1

. When applicable, more than one model can be associated to answer some specific question.

Table 1

Relevant nanotoxicological findings in different alternative models
Model

Remarkable advantages

Relevant findings for nanosafety

References

Canorhabditis elegans

Knockout and transgenic GFP strains available in order to determine toxicants mechanisms

Inorganic NMs—behavioral alterations by neurodegeneration; reprotoxicity

Organic NMs—reduction in the side effects of nanoencapsulated drug or potentiation of the pharmacological action.

(Charao et al. 2015; Contreras et al. 2014; Moraes et al. 2016; Wu et al. 2013).

Drosophila melanogaster

Great genetic and neurology model

TiO2, ZnO, CuO, Ag, and silica NPs caused oxidative stress, DNA damage, and developmental alterations;

(Chifiriuc et al. 2016)

Danio rerio

Genetic relatedness to the higher vertebrates including mammals;

Reproduction and developmental alterations; disruption of endocrine and neuronal system by many NPs.

Artemia salina and Daphnia magna

Transparency; great water biomonitors

Malformations following Ag or TiO2 NPs exposure

(Ates et al. 2013; Fan et al. 2011; Gambardella et al. 2014)
Nanosafety is still a matter for discussion, as no special regulation has been approved in any country. Researches as the ones described here are very important to make a case for regulators and legislators in favor of human health and environmental safety.
Notes
Acknowledgements
Authors would like to thank the funding agencies (CNPq, CAPES, and FAPERGS) for their support. Avila DS is recipient of PQ2 research fellowship.
Compliance with ethical standards
Conflict of interest
Authors declare that no conflict of interest is involved in the production of this manuscript.
Copyright information
© Joint Center on Global Change and Earth System Science of the University of Maryland and Beijing Normal University and Springer-Verlag GmbH Germany, part of Springer Nature 2018