A review on nanomaterial-based electrochemical sensors for H2O2, H2S and NO inside cells or released by cells
Abstract
The incorporation of nanomaterials into electrochemical sensors is an attractive approach towards the improvement of the sensitivity of amperometry and also can provide improved sensor selectivity and stability. This review (with 137 references) details the current state of the art and new trends in nanomaterial-based electrochemical sensing of hydrogen peroxide (H2O2), hydrogen sulfide (H2S) and nitric oxide (NO) in cells or released by cells. The article starts with a discussion of the significance of the three analytes, and this is followed by three sections that summarize the electrochemical detection schemes for H2O2, H2S and NO. Each section first summarizes the respective physiological roles, and then reviews electrochemical sensors based on the use of carbon nanomaterials, noble metal nanomaterials, metal oxide nanomaterials, and layered doubled hydroxides. The materials are compiled in three tables along with figures of merit for the various sensors.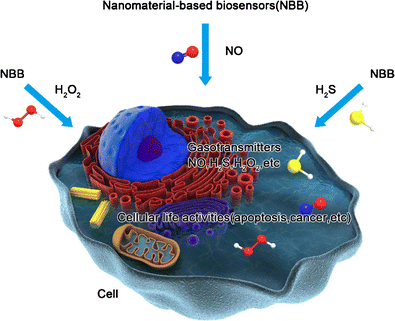 Keywords
Cellular signalling 
Cellular stress 
Amperometry 
Carbon nanomaterial 
Noble metal nanoparticles 
Metal oxide nanoparticles 
Layered double hydroxide 
Reactive oxygen species 
Reactive nitrogen species 
Reactive hydrogen sulfide species 
Notes
Acknowledgements
This work was financially supported by the National Natural Science Foundation of China (61404075, and 21405029), China Postdoctoral Science Foundation funded project (No.2016 M601694), Jiangsu Planned Projects for Postdoctoral Research Funds (No.1601090B), Science and Technology Program of Zhejiang Province of China (2016C37042), Young Talent Cultivation Project of Zhejiang Association for Science and Technology (2016YCGC007), and the social development project of Hangzhou (20160533B70). The authors extend their appreciation to Prof. Otto S. Wolfbeis for his help.
Compliance with ethical standards
The author(s) declare that they have no competing interests.
Copyright information
© Springer-Verlag Wien 2017