Abstract
Aims/hypothesis
Hypoglycaemia is a common side effect of insulin and some other antihyperglycaemic agents used to treat diabetes. Severe hypoglycaemia has been associated with adverse cardiovascular events in trials of intensive glycaemic control in type 2 diabetes. The relationship between non-severe hypoglycaemic episodes (NSHEs) and severe hypoglycaemia in type 2 diabetes has been documented. However, an association between more frequent NSHEs and cardiovascular events has not been verified. This post hoc analysis of the LEADER (Liraglutide Effect and Action in Diabetes: Evaluation of Cardiovascular Outcome Results) trial aimed to confirm whether there is an association between NSHEs and severe hypoglycaemic episodes in individuals with type 2 diabetes. In addition, the possible association between NSHEs and major adverse cardiac events (MACE), cardiovascular death and all-cause mortality was investigated.
Methods
LEADER was a double-blind, multicentre, placebo-controlled trial that found that liraglutide significantly reduced the risk of MACE compared with the placebo. In this post hoc analysis, we explored, in all LEADER participants, whether the annual rate of NSHEs (defined as self-measured plasma glucose <3.1 mmol/l [56 mg/dl]) was associated with time to first severe hypoglycaemic episode (defined as an episode requiring the assistance of another person), time to first MACE, time to cardiovascular death and time to all-cause mortality. Participants with <2 NSHEs per year were used as reference for HR estimates. Cox regression with a time-varying covariate was used.
Results
We demonstrate that there is an association between NSHEs (2–11 NSHEs per year and ≥12 NSHEs per year) and severe hypoglycaemic episodes (unadjusted HRs 1.98 [95% CI 1.43, 2.75] and 5.01 [95% CI 2.84, 8.84], respectively), which was consistent when baseline characteristics were accounted for. Additionally, while no association was found between participants with 2–11 NSHEs per year and adverse cardiovascular outcomes, higher rates of NSHEs (≥12 episodes per year) were associated with higher risk of MACE (HR 1.50 [95% CI 1.01, 2.23]), cardiovascular death (HR 2.08 [95% CI 1.17, 3.70]) and overall death (HR 1.80 [95% CI 1.11, 2.92]).
Conclusions/interpretation
The analysis of data from the LEADER trial demonstrated that higher rates of NSHEs were associated with both a higher risk of severe hypoglycaemia and adverse cardiovascular outcomes in individuals with type 2 diabetes. Therefore, irrespective of the cause of this association, it is important that individuals with high rates of hypoglycaemia are identified so that the potentially increased risk of cardiovascular events can be managed and steps can be taken to reduce NSHEs.
Trial registration
ClinicalTrials.gov (NCT01179048).
Graphical abstract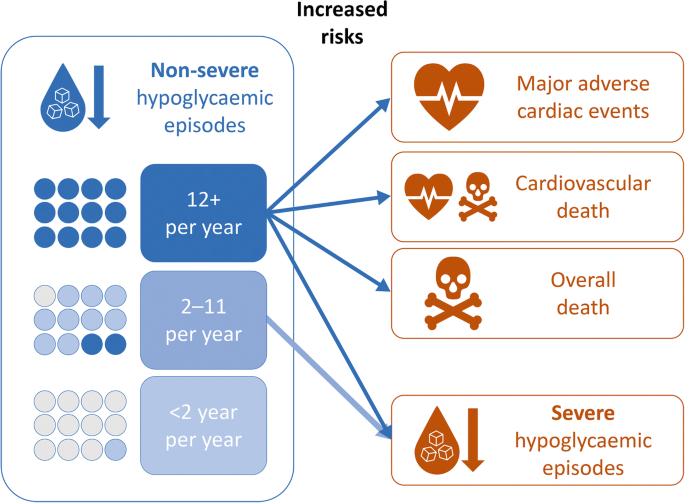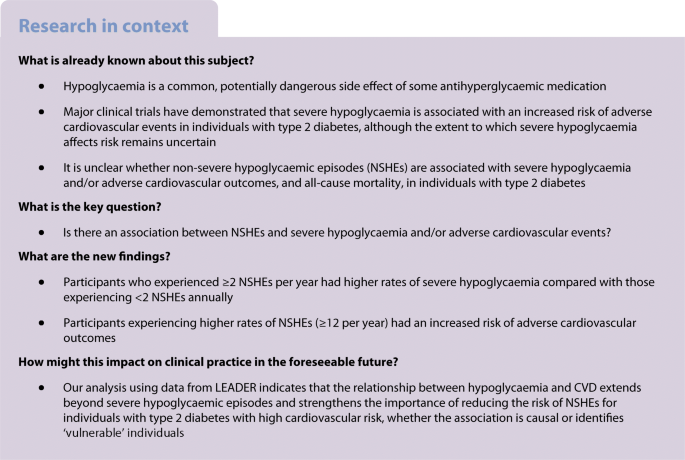 Data availability
The patient-level analysis datasets for the research presented in the publication are available from the corresponding author on reasonable request.
Abbreviations
ACCORD:

Action to Control Cardiovascular Risk in Diabetes

LEADER:

Liraglutide Effect and Action in Diabetes: Evaluation of Cardiovascular Outcome Results

MACE:

Major adverse cardiovascular event

NSHE:

Non-severe hypoglycaemic episode

ORIGIN:

Outcome Reduction With Initial Glargine Intervention

SMPG:

Self-measured plasma glucose
Acknowledgements
The authors thank all those who participated in the original LEADER trial. Medical writing support for the development of this manuscript, under the direction of the authors, was provided by K. Guest, J. Sawyers and C. Lowe of Ashfield MedComms, an Ashfield Health company, and funded by Novo Nordisk. Parts of this study were presented as a poster presentation at the ADA 79th Annual Scientific Sessions, 7–11 June 2019, San Francisco, California, USA.
Authors' relationships and activities
SH has served on speaker panels for MSD, Eli Lilly, Takeda, Novo Nordisk and AstraZeneca, for which he has received remuneration. He has served on advisory panels or as a consultant for Zealand, UNEEG Medical, Boehringer Ingelheim, Novo Nordisk, Eli Lilly and Takeda, for which his institution has received remuneration. LW, MSG and LL are employees of Novo Nordisk and LL owns shares in the company. AI declares that there are no relationships or activities that might bias, or be perceived to bias, his work.
Funding
This study was sponsored by Novo Nordisk. Medical writing and editing assistance were also provided by Novo Nordisk. Novo Nordisk was involved in the trial design and protocol development, provided logistical support and obtained the data for this post hoc analysis.
Additional information
Publisher's note
Springer Nature remains neutral with regard to jurisdictional claims in published maps and institutional affiliations.
Rights and permissions
Open Access This article is licensed under a Creative Commons Attribution 4.0 International License, which permits use, sharing, adaptation, distribution and reproduction in any medium or format, as long as you give appropriate credit to the original author(s) and the source, provide a link to the Creative Commons licence, and indicate if changes were made. The images or other third party material in this article are included in the article's Creative Commons licence, unless indicated otherwise in a credit line to the material. If material is not included in the article's Creative Commons licence and your intended use is not permitted by statutory regulation or exceeds the permitted use, you will need to obtain permission directly from the copyright holder. To view a copy of this licence, visit http://creativecommons.org/licenses/by/4.0/.
About this article
Cite this article
Heller, S.R., Geybels, M.S., Iqbal, A. et al. A higher non-severe hypoglycaemia rate is associated with an increased risk of subsequent severe hypoglycaemia and major adverse cardiovascular events in individuals with type 2 diabetes in the LEADER study. Diabetologia 65, 55–64 (2022). https://doi.org/10.1007/s00125-021-05556-7
Received:

Accepted:

Published:

Issue Date:

DOI: https://doi.org/10.1007/s00125-021-05556-7
Keywords
Cardiac complications

Hypoglycaemia

Macrovascular disease