Abstract
A total of 12,080 sequences, including 5,851 transcriptome contigs developed at NBRI and 5,002 singlets and 1,227 contigs assembled from 13,201 expressed sequence tags (ESTs) of Jatropha curcas from National Center for Biotechnology Information database were used to search for simple sequence repeats (SSRs). Seven hundred and two sequences containing 786 SSRs with 93.4% simple and 7.6% compound repeat motifs were identified. Dinucleotide repeats (DNRs) were most abundant, followed by trinucleotide and tetranucleotide repeats. AG/CT was the most common motif (50.0%) followed by AT/AT (38.8%) and AC/GT (10.0%) among the DNRs. Four hundred and six primer pairs were designed out of the 702 SSR-containing sequences. Fifty randomly selected EST-SSR markers were amplified in 25 accessions collected from different geographical regions of India. Twenty-one SSR markers were polymorphic and with allele variation from two to four. Polymorphic information content value ranged between 0.04 and 0.61 with an average of 0.25 ± 0.16, indicating low to moderate level of informativeness within these EST-SSRs. The polymorphic markers showed 57.0% to 95.6% transferability among five species of Jatropha and 47.0% transferability across genera in Ricinus communis. Fifty-one alleles detected by the 21 polymorphic EST-SSRs were used to determine genetic relationships among 25 J. curcas accessions. Genetic similarity coefficient ranged from 0.44 to 0.94. The 25 accessions got grouped to three main clusters, comprising 10, 11, and four accessions. This is the first report of development of EST-SSRs in J. curcas and will be valuable resource for future genetical studies, like construction of linkage maps, diversity analysis, quantitative trait locus/association mapping, and molecular breeding of J. curcas.
This is a preview of subscription content, log in to check access.
Access options
Buy single article
Instant access to the full article PDF.
US$ 39.95
Price includes VAT for USA
Subscribe to journal
Immediate online access to all issues from 2019. Subscription will auto renew annually.
US$ 99
This is the net price. Taxes to be calculated in checkout.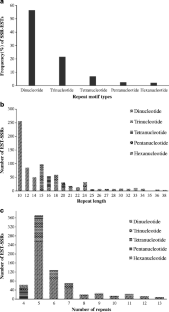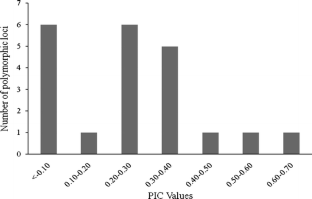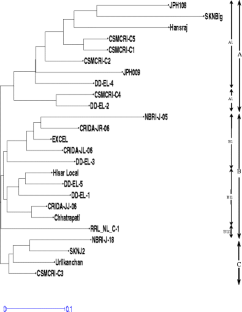 References
Aggarwal RK, Hendre PS, Varshney RK, Bhat PR, Krishnakumar V, Singh L (2007) Identification, characterization and utilization of EST-derived genic microsatellite markers for genome analyses of coffee and related species. Theor Appl Genet 114:359–372

Anderson JR, Lubberstedt T (2003) Functional markers in plants. Trends Plant Sci 8:554–560

Basha SD, Sujatha EM (2007) Inter and intra-population variability of Jatropha curcas (L.) characterized by RAPD and ISSR markers and development of population specific SCAR markers. Euph 156:375–386

Botstein D, White RL, Skolnick M, Davis RW (1980) Construction of genetic linkage map in man using restriction fragment length polymorphisms. Am J Hum Genet 32:314–331

Cardle L, Ramsay L, Milbourne D, Macaulay M, Marshall D, Waugh R (2000) Computational and experimental characterization of physically clustered simple sequence repeats in plants. Genet 156:847–854

Carvalho CR, Clarindo WR, Prac MM, FS Araujo, Carels N (2008) Genome size, base composition and karyotype of Jatropha curcas L.: an important biofuel plant. Plant Sci 174:613–617

Chabane M, Ablett GA, Cordeiro GM, Valkoun J, Henry RJ (2005) EST versus genomic derived microsatellite markers for genotyping wild and cultivated barley. Genet Resour Crop Evol 52:903–909

Chapman MA, Hvala J, Strever J, Matvienko M, Kozik A, Michelmore RW, Tang S, Knapp SJ (2009) Development, polymorphism, and cross-taxon utility of EST–SSR markers from safflower (Carthamus tinctorius L.). Theor Appl Genet 120:85–91

Chen CX, Zhou P, Choi YA, Huang S, Gmitter FG Jr (2006) Mining and characterizing microsatellites from citrus ESTs. Theor Appl Genet 112:1248–1257

Cho YG, Ishii T, Temmykh S, Chen X, Lipovich L, McCouch SR, Park WD, Ayres N, Cartinhour S (2000) Diversity of microsatellites derived from genomic libraries and Genebank sequences in rice (Oryza sativa L.). Theor Appl Genet 100:713–722

Collard BCY, Jahufer MZZ, Brouwer JB, Pang ECK (2005) An introduction to markers, quantitative trait loci (QTL) mapping and marker-assisted selection for crop improvement: the basic concepts. Euph 142:169–196

Cordeiro GM, Casu R, McIntyre CL, Manners JM, Henry RJ (2001) Microsatellites markers from sugarcane (Saccharum spp.) ESTs cross transferable to Erianthus and Sorghum. Plant Sci 160:1115–1123

Feng SP, Li WG, Huang HS, Wang JY, Wu YT (2009) Development, characterization and cross-species/genera transferability of EST-SSR markers for rubber tree (Hevea brasiliensis). Mol Breed 23:85–97

Field D, Wills C (1998) Abundant microsatellite polymorphisms in Saccharomyces cerevisiae, and the different distributions of microsatellites in eight prokaryotes and S. cerevisiae, result from strong mutation pressures and a variety of selective forces. Proc Nat Acad Sci U S A 95:1647–1652

Foidl N, Elder P (1997) Agro-industrial exploitation of Jatropha curcas. In: Gubitz GM, Mittelbach M, Trabi M (eds) Biofuel and industrial products from Jatropha curcas. Dvb, Graz

Ganesh RS, Parthiban KT, Senthil Kumar R, Thiruvengadam V, Paramathma VM (2008) Genetic diversity among Jatropha species as revealed by RAPD markers. Genet Resour Crop Evol 55:803–809

Gao LF, Tang J, Li H, Jia J (2003) Analysis of microsatellites in major crops assessed by computational and experimental approaches. Mol Breed 113:163–185

Gao LZ, Zhang CH, Jia JZ (2005) Cross-species transferability of rice microsatellites in its wild relatives and the potential for conservation genetic studies. Genet Resour Crop Evol 52:931–940

Ginwal HS, Phartyal SS, Rawat PS, Srivastava RL (2005) Seed source variation in morphology, germination and seedling growth of Jatropha curcas L. in central India. Silvae Genet 54(2):76–80

Girach RD, Ahmad A, Baghrendah M (1995) Jatropha curcas L.: a potential source of herbal drug in dental complaints. Hamdard Med 38:94–100

Gupta PK, Roy JK (2002) Molecular markers in crop improvement: present status and future needs in India. Plant Cell Tissue Organ Cult 70:229–234

Gupta PK, Rustgi S, Sharma S, Singh R, Kumar N, Balyan HS (2003) Transferable EST-SSR markers for the study of polymorphism and genetic diversity in bread wheat. Mol Gen Genomics 270:315–323

Han ZG, Wang CB, Song XL, Guo WZ, Gou JY, Li CH, Chen XY, Zhang TZ (2006) Characteristics, development and mapping of Gossypium hirsutum derived EST-SSRs in allotetraploid cotton. Theor Appl Genet 112:430–439

Henning R (1998) Use of Jatropha curcas—household perspective and its contribution to rural employment creation. In: Proceedings of the Regional Workshop on the "Potential of Jatropha curcas in Rural Development and Environmental Protection," May 13–15, Harare, Zimbabwe

Huang X, Madan A (1999) CAP3: a DNA sequence assembly program. Genome Res 9:868–877

Juan L, Fang Y, Lin T, Fang C (2003) Antitumor effects of curcin from seeds of Jatropha curcas. Acta Pharmacol Sin 24:241–246

Jung S, Albert A, Jesudurai C, Tomkins J, Main D (2005) Frequency, type, distribution and annotation of simple sequence repeats in Rosaceae ESTs. Funct Integr Genomics 5:136–143

Kantety RV, Rota ML, Matthews DE, Sorrells ME (2002) Data mining for simple sequence repeats in expressed sequence tags from barely, maize, rice, sorghum and wheat. Plant Mol Biol 48:501–510

Kaushik N, Kumar K, Kumar S, Kaushik N, Roy S (2007) Genetic variability and divergence studies in seed traits and oil content of Jatropha (Jatropha curcas L.) accessions. Biomass Bioenergy 31:497–502

Kumpatla SP, Mukhopadhyay S (2005) Mining and survey of simple sequence repeats in expressed sequence tags of dicotyledonous species. Genome 48:985–998

Lakshmanan P, Mohan S, Jeyarajan R (1990) Antifungal properties of some plant extracts against Thanatephorus cucumeris, the causal agent of collar rot disease of Phaseolus aureus. Madras Agric J 77:1–4

Liang X, Chen X, Hong Y, Liu H, Zhou G, Li S, Guo B (2009) Utility of EST-derived SSR in cultivated peanut (Arachis hypogaea L.) and Arachis wild species. BMC Plant Biol 9:35

Liu K, Muse SV (2005) Power marker: integrated analysis environment for genetic marker data. Bioinformatics 21:2128–2129

Luro FL, Costantino G, Terol J, Argout X, Allario T, Wincker P, Talon M, Ollitrault P, Morillon R (2008) Transferability of the EST–SSRs developed on Nules clementine (Citrus clementina Hort ex Tan) to other Citrus species and their effectiveness for genetic mapping. BMC Genomics 9:287

Marroquin EA, Bainco JA, Granados S, Caceres A, Morales C (1997) Clinical trial of Jatropha curcas sapin treatment of common warts. Fitoterapia 68:160–162

Nicot N, Chiquet V, Gandon B, Amilhat L, Legeai F, Leroy P, Bernard M, Sourdille P (2004) Study of simple sequence repeat (SSR) markers from wheat expressed sequence tags (ESTs). Theor Appl Genet 109:800–805

Openshaw K (2000) A review of Jatropha curcas: an oil plant of unfulfilled promise. Biomass Bioenergy 19:1–15

Pan L, Xia Q, Quan Z, Liu H, Ke W, Ding Y (2010) Development of novel EST-SSRs from sacred lotus (Nelumbo nucifera Gaertn) and their utilization for the genetic diversity analysis of N. nucifera. J Heredity 101:71–82

Parthiban KT, Senthil Kumar R, Thiyagarajan P, Subbulakshmi V, Vennila S, Govinda Rao M (2009) Hybrid progenies in Jatropha—a new development. Curr Sci 96:815–823

Perrier X, Flori A, Bonnot F (2003) Data analysis methods. In: Hamon P, Seguin M, Perrier X, Glaszmann JC (eds) Genetic diversity of cultivated tropical plants. Enfield, Montpellier, pp 43–76

Powell W, Machray G, Provan J (1996a) Polymorphism revealed by simple sequence repeats. Trends Plant Sci 1:215–222

Powell W, Morgante M, Andre C, Hanafey M, Vogel J, Tingey S, Rafalski A (1996b) The comparison of RFLP, RAPD, AFLP and SSR (microsatellite) markers for germplasm analysis. Mol Breed 2:225–238

Prevost A, Wilkinson MJ (1999) A new system of comparing PCR primers applied to ISSR fingerprinting of potato cultivars. Theor Appl Genet 98:107–112

Raji AAJ, Anderson JV, Kolade OA, Ugwu CD, Dixon AGO, Ingelbrecht IL (2009) Gene-based microsatellites for cassava (Manihot esculenta Crantz): prevalence, polymorphisms, and cross-taxa utility. BMC Plant Biol 9:118

Ranade SA, Srivastava AP, Rana TS, Srivastava J, Tuli R (2008) Easy assessment of diversity in Jatropha curcas L. plants using two single-primer amplification reaction (SPAR) methods. Biomass Bioenergy 32:533–540

Rug M, Ruppel A (2000) Toxic activities of the plant Jatropha curcas against intermediate snail hosts and larvae of schistosomes. Trop Med Int Hlth 5:423–430

Rungis D, Berube Y, Zhang J, Ralph S, Ritland CE, Ellis BE, Douglas C, Bohlmann J, Ritland K (2004) Robust simple sequence repeats markers for spruce (Picea spp.) from expressed sequence tags. Theor Appl Genet 109:1283–1294

Schuelke M (2000) An economic method for the fluorescent labelling of PCR fragments. Nat Biotechnol 18:233–234

Scott KD, Eggler P, Seaton G, Rossetto EM, Ablett EM, Lee LS, Henry RJ (2000) Analysis of SSRs derived from grape ESTs. Theor Appl Genet 100:723–726

Sharma RK, Bhardwaj P, Negi R, Mohapatra T, Ahuja PS (2009) Identification, characterization and utilization of unigene derived microsatellite markers in tea (Camellia sinensis L.). BMC Plant Biol 9:53

Subramanian KA, Singal SK, Saxena M, Singhal S (2005) Utilization of liquid biofuels in automotive diesel engines: an Indian perspective. Biomass Bioenergy 29:65–72

Sudheer DVNP, Pandya N, Reddy MP, Radhakrishnan T (2008) Comparative study of interspecific genetic divergence and phylogenic analysis of genus Jatropha by RAPD and AFLP. Mol Biol Rep 36:901–907

Sudheer DVNP, Sinha R, Kothari P, Reddy MP (2009) Isolation of novel microsatellites from Jatropha curcas L. and their cross-species amplification. Mol Eco Resour 9:431–433

Sujatha M, Prabakaran AJ (1997) Characterization and utilization of Indian Jatrophas. Indian J Plant Genet Resour 10:123–128

Sujatha M, Prabakaran AJ (2003) New ornamental Jatropha hybrids through interspecific hybridization. Genet Resour Crop Evol 50:75–82

Sun QB, Li LF, Li Y, Wu GJ, Ge XJ (2008) SSR and AFLP markers reveal low genetic diversity in the biofuel plant Jatropha curcas in China. Crop Sci 48:1865–1871

Tatikonda L, Wani SP, Kannan S, Beerelli N, Sreedevi TK, Hoisington DA, Devi P, Varshney RK (2009) AFLP-based molecular characterization of an elite germplasm collection of Jatropha curcas L., a biofuel plan. Plant Sci 176:505–513

Thiel T, Michalek W, Varshney RK, Graner A (2003) Exploiting EST database for the development and characterization of gen-derived SSR-markers in barley (Hordeum vulgare L.). Theor Appl Genet 106:411–422

Toth G, Gaspari Z, Jurka J (2000) Microsatellites in different eukaryotic genomes: survey and analysis. Genome Res 10:967–981

Varshney RK, Graner A, Sorrells ME (2005a) Genic microsatellite markers: features and applications. Trends Biotechnol 23:48–55

Varshney RK, Sigmund R, Borner A, Korzun V, Stein N, Sorrells ME (2005b) Inter-specific transferability and comparative mapping of barley EST-SSR markers in wheat, rye and rice. Plant Sci 168:195–202

Zhang LY, Bernard M, Leroy P, Feuillet C (2005) High transferability of bread wheat EST-derived SSRs to other cereals. Theor Appl Genet 111:677–687
Acknowledgements
The authors thank the Council of Scientific and Industrial Research/NMITLI program under which the different accessions were collected. AR thanks CSIR for the award of Senior Research Fellowship. RT thanks DST for JC Fellowship. Useful suggestions by Dr. JK Roy, during manuscript preparation, are also acknowledged.
Additional information
Communicated by A. Dandekar
About this article
Cite this article
Kumar Yadav, H., Ranjan, A., Asif, M.H. et al. EST-derived SSR markers in Jatropha curcas L.: development, characterization, polymorphism, and transferability across the species/genera. Tree Genetics & Genomes 7, 207–219 (2011). https://doi.org/10.1007/s11295-010-0326-6
Received:

Revised:

Accepted:

Published:

Issue Date:
Keywords
Biodiesel plant

Expressed sequence tags

EST-SSRs

Jatropha curcas

Polymorphism

Marker transferability