Cascade Use in Technologies 2018
Internationale Konferenz zur Kaskadennutzung und Kreislaufwirtschaft – Oldenburg 2018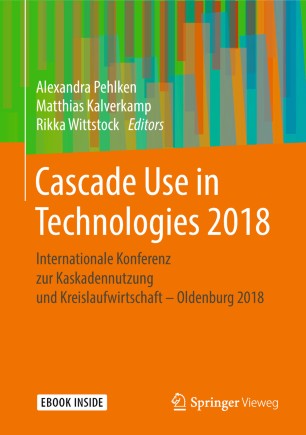 Table of contents
About these proceedings
Introduction
The goals of the Circular Economy clearly point towards the cascading approach. Reuse and recycling of materials and products keeps secondary resources circulating and thus protects primary resources from being exploited. Cascade Use in Technologies is dedicated to cascading approaches of materials and products and fits perfectly to the Circular Economy discussion within Europe and the rest of the world. Most methods used in this context can be more or less allocated to life cycle management approaches with a rather technical perspective, as most of the articles presented in this book are engineering-driven. Therefore, it is a novel forum for reporting technological breakthroughs regarding cascading use of materials and products in the domains of automotive, electronics, and computing, and regarding resource criticality in general.
Content
· Material and Energy Flow Assessment

· Sustainable Mobility

· Industrial Ecology with a focus on renewable energy sources or WEEE

· (Re-) Manufacturing

· Cascade Use and Waste Management 4.0

Audience
· Researchers

· Scientists and technologists from industry, universities, research firms

· Employees of government agencies

Editors
Dr.-Ing. Alexandra Pehlken studied Mining Engineering at RWTH Aachen University, specializing in mineral processing. She received the Lise-Meitner Scholarship from the State of North Rhine-Westfalia and spent two years in Canada. She has headed the BMBF-funded "Cascade Use" research group at the Carl von Ossietzky University of Oldenburg and is now working for OFFIS.
Dr. Matthias Kalverkamp is a Post-Doc researcher in the "Cascade Use" research group and focuses on remanufacturing supply chains in the context of the circular economy. During his PhD studies, he conducted research in Europe, North America and Chile. Prior to that, he worked in project management at the BIBA - Bremer Institut für Produktion und Logistik GmbH.
Rikka Wittstock
studied Sustainability Economics and Management at the Carl von Ossietzky University of Oldenburg and completed her master thesis within the framework of the "Cascade Use" project, focusing on fuel cell vehicles and their impact on platinum demand. She is currently a PhD student at the University of Osnabrueck.
Keywords
recycling
product design
product engineering
resource efficiency
Ressourceneffizienz
Produktdesign
carbondioxide
Kohlendioxid
life cycle analysis
Lebenszyklusanalyse
Bibliographic information
DOI

https://doi.org/10.1007/978-3-662-57886-5

Copyright Information

Springer-Verlag GmbH Deutschland, ein Teil von Springer Nature 2019

Publisher Name

Springer Vieweg, Berlin, Heidelberg

eBook Packages

Earth and Environmental Science

Print ISBN

978-3-662-57885-8

Online ISBN

978-3-662-57886-5