The curious case of vacuolar ATPase: regulation of signaling pathways
Abstract
The Vacuolar ATPase (V-ATPase) is a proton pump responsible for controlling the intracellular and extracellular pH of cells. The structure of V-ATPase has been highly conserved among all eukaryotic cells and is involved in diverse functions across species. V-ATPase is best known for its acidification of endosomes and lysosomes and is also important for luminal acidification of specialized cells. Several reports have suggested the involvement of V-ATPase in maintaining an alkaline intracellular and acidic extracellular pH thereby aiding in proliferation and metastasis of cancer cells respectively. Increased expression of V-ATPase and relocation to the plasma membrane aids in cancer modulates key tumorigenic cell processes like autophagy, Warburg effect, immunomoduation, drug resistance and most importantly cancer cell signaling. In this review, we discuss the direct role of V-ATPase in acidification and indirect regulation of signaling pathways, particularly Notch Signaling.
Keywords
V-ATPase 
Cancer 
mTOR 
WNT 
TGF-β 
Notch signaling 
Autophagy 
Drug resistance 
Warburg effect 
Background
The Vacuolar ATPase (V-ATPase) is a multi-subunit ATP driven proton pump that acidifies intracellular vesicles and extracellular milieu and thereby is involved in a large number of biological functions [1]. Previous reviews have elegantly described the structure and function of V-ATPase [2, 3, 4]. Here we review the recent literature pertaining to V-ATPase function and contribution to various cell processes in normal physiology with an emphasis on cancer. We also present in detail the regulation of Notch and other signaling pathways by V-ATPase revealing a hitherto less known function of V-ATPase in cell signaling.
Conclusions
Most studies until now have focused on the endolysosomal component of V-ATPase acidification and associated activation/degradation of signaling mediators. The signaling pathways identified to be associated with V-ATPase namely Notch, Wnt and TGF-β surprisingly share similar expression patterns and cellular functions during both development and disease. However, there are other steps of the signaling pathways known to be pH dependent, which warrant future investigation. Maturation of Notch and TGF-β by glycosylation in Trans Golgi Network (TGN) activates their signaling pathways. Further
a
1 and
a
2 subunits of V-ATPase are important for the protein glycosylation that is a key role of the TGM. [
8
]. We and others have shown that surface expression of V-ATPase modulates MMPs thereby leading the proliferation ofcancer cells [
43
,
48
]. However, V-ATPase dependent activity of ADAM/TACE has not been explored and might hold important clues for V-ATPase and signaling crosstalk mechanism. Furthermore, enzymes like γ-secretase that activate signaling pathway mediators are efficient at acidic pH [
44
]. Similarly, the involvement of V-ATPase in activation of acid proteases during lysosomal degradation to regulate signal turnover cannot be ignored [
96
] (See summary Fig. 
2
). V-ATPase could have profound effects on cell fate by influencing signaling molecules that depend on pH. The research on V-ATPase regulation of signaling pathways is a field waiting to be explored that will have a tremendous impact in physiology and pathology.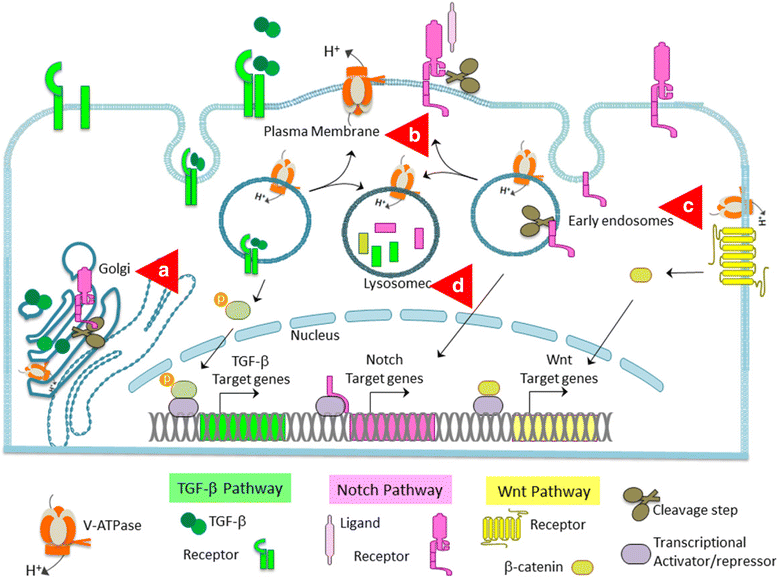 Notes
Authors' contributions
SP and KDB conceived the original idea. SP took the lead in writing the manuscript. KDB was in charge of overall direction and planning. AK and GKK contributed to writing the manuscript and provided critical feedback. All authors read and approved the final manuscript.
Competing interests
The authors declare that they have no competing interest.
Publisher's Note
Springer Nature remains neutral with regard to jurisdictional claims in published maps and institutional affiliations.
Copyright information
© The Author(s). 2018
Open AccessThis article is distributed under the terms of the Creative Commons Attribution 4.0 International License (http://creativecommons.org/licenses/by/4.0/), which permits unrestricted use, distribution, and reproduction in any medium, provided you give appropriate credit to the original author(s) and the source, provide a link to the Creative Commons license, and indicate if changes were made. The Creative Commons Public Domain Dedication waiver (http://creativecommons.org/publicdomain/zero/1.0/) applies to the data made available in this article, unless otherwise stated.