The genetics of gout: towards personalised medicine?
Part of the following topical collections:
Abstract
Over the last decade, there have been major advances in the understanding of the genetic basis of hyperuricaemia and gout as well as of the pharmacogenetics of urate-lowering therapy. Key findings include the reporting of 28 urate-associated loci, the discovery that ABCG2 plays a central role on extra-renal uric acid excretion, the identification of genes associated with development of gout in the context of hyperuricaemia, recognition that ABCG2 variants influence allopurinol response, and the impact of HLA-B*5801 testing in reducing the prevalence of allopurinol hypersensitivity in high-risk populations. These advances, together with the reducing cost of whole genome sequencing, mean that integrated personalised medicine approaches may soon be possible in clinical practice. Genetic data may inform assessment of disease prognosis in individuals with hyperuricaemia or established gout, personalised lifestyle advice, selection and dosing of urate-lowering therapy, and prevention of serious medication adverse effects. In this article, we summarise the discoveries from genome-wide association studies and discuss the potential for translation of these findings into clinical practice.
Keywords
Gout 
Urate 
Genetics 
Genome-wide association study 
Personalised medicine 
Abbreviations
AHS

allopurinol hypersensitivity syndrome

AOX

aldehyde oxidase

CYP

cytochrome P450

GWAS

genome-wide association studies

HLA

human leukocyte antigen

NSAIDs

non-steroidal anti-inflammatory drugs

SNP

single nucleotide polymorphism

ULT

urate-lowering therapy
Background
New discoveries regarding the genetic basis of hyperuricaemia and gout, gene-environment interactions, and the pharmacogenetics of urate-lowering therapy (ULT) have increased the possibilities for personalised medicine approaches to be used in clinical practice. In current clinical practice, genetic testing is relatively expensive and performed only where there is a strong clinical need in diagnosis or pharmacogenomics. However, the cost of generating the entire genome sequence for an individual is now less than US$ 1000 and falling. Therefore, future healthcare approaches may include the availability of a curated electronic whole genome sequence so that a genetic result can be available instantly. Herein, we provide an overview of the current knowledge generated by genome-wide association studies (GWAS), and discuss the potential for translation of these findings into integrated personalised medicine approaches for hyperuricaemia and gout.
Genetics of hyperuricaemia and gout: recent discoveries
Serum urate levels and the risk of gout are influenced by a combination of inherited genetic variants and the environment. Heritability is defined as the percent variance in phenotype explained by inherited genetic variants, which can be estimated from studying phenotypic correlations between related individuals, typically twins. Such studies have estimated the heritability of urate to be between 45% and 73% [1, 2, 3]. In order to characterise the genetic basis of gout GWAS have been employed. A GWAS systematically assesses the genome for common (>1% prevalence) inherited genetic variants involved in disease etiology. These variants typically have a weak effect, with the majority exerting their effect by regulation of gene expression, transcript stability and transcript processing [4].
In gout, the greatest insights have been derived from studies with serum urate as the outcome. The largest GWAS in Europeans involved 110,000 individuals and discovered 28 urate-associated loci [
5
], 10 of which had previously been reported in smaller GWAS [
6
,
7
,
8
,
9
,
10
,
11
]. These loci are dominated by genes encoding renal and gut uric acid transporters (
SLC2A9/GLUT9
,
ABCG2
,
SLC22A11/OAT4
,
SLC22A12/URAT1
,
SLC17A1/NPT1
and the auxiliary molecule
PDZK1
; Fig. 
1
). Statistically convincing sex effects are evident at the loci of strongest effect, with
SLC2A9
having a stronger effect in women and
ABCG2
in men [
5
]. The effects of the 28 single nucleotide polymorphisms (SNPs) were similar over multiple ancestral groups (European, African-American, Indian, Japanese) [
5
]. A GWAS of approximately 33,000 individuals in east Asians identified four loci (
SLC2A9
,
ABCG2
,
SLC22A12
and
MAF
) [
12
], all of which overlap with loci identified in Europeans. Considerably smaller GWAS have been performed in African-American sample sets [
13
,
14
], with
SLC2A9
identified in both, with the larger study, that by Tin et al. [
8
], also detecting
SLC22A12
and a novel locus containing the
SLC2A12
and
SGK1
genes that encode GLUT12 and SGK1, respectively. A GWAS in the Micronesian population of Kosrae detected a genome-wide significant association with serum urate levels only at
SLC22A12
[
15
], and a very small GWAS in Mexican-Americans detected only
SLC2A9
[
16
]. Aside from the Micronesian study, these GWAS emphasise the relative importance of
SLC2A9
in the genetic control of urate across ancestral groups.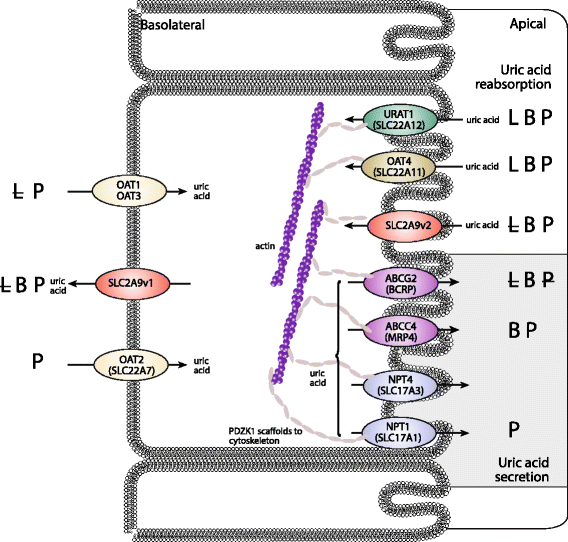 Aside from the uric acid transporter-containing loci the pathways influenced by the other loci remain largely speculative. The locus containing GCKR, encoding the glucokinase regulatory protein, may play a role in urate production via glycolysis (urate is produced as a result of ATP-depletion during hepatic glycolysis). Notably, none of the 18 loci that were newly identified by Köttgen et al. [5] encode known factors involved in uric acid transport. Several of these newly identified loci were within or near genes that encode transcription factors and growth factors, such as genes of the inhibin-activin growth factor network, INHBB and ACVR2A. One of the 18 newly identified loci includes PRPSAP1, which encodes a regulator of purine synthesis. Pathway analysis revealed that many of the 18 loci contained genes connected to glucose metabolism pathways. Emphasising the central role of hyperuricaemia in causing gout, the majority (24/28) of the urate-associated loci have been associated with gout in diverse populations [5, 17, 18]. Those with null associations are more likely a result of test sample sets of insufficient power than to a genuine lack of association, i.e. are false negatives.
SLC2A9, which encodes the GLUT9 protein, explains approximately 3% of variance in urate levels, a very large effect when compared to other complex disease loci. For example, the strongest effect in weight control in Europeans (the obesity associated protein FTO) explains only 0.3% of variance in phenotype [19]. The major SLC2A9 genetic effect associates with isoform expression, whereby the urate-raising causal genetic variant associates with increased expression of an SLC2A9 isoform (SLC2A9-S) that has a 28-residue portion missing from the N-terminus [7, 8]. This isoform is expressed on the apical (urine) side of the renal tubular collecting duct, where it presumably increases reuptake of secreted uric acid, whereas the full-length version (SLC2A9-L) is expressed on the basolateral side, where it is the major basolateral exit route of uric acid into the blood [20]. There has been little progress in identifying functional candidate causal variants to date [21].
In contrast to the great majority of the urate-associated loci, the missense rs2231142 (Q141K) variant in the ABCG2 gene is highly likely to be causal with the 141 K variant reducing the ability of ABCG2 to secrete uric acid by approximately 50% [22]. Expression of most uric acid transporters is relatively high in the kidney or, for SLC22A12/URAT1, restricted to the kidney. However, expression of ABCG2 is also relatively high in the gut [23]. Matsuo et al. [24] created grades of ABCG2 dysfunction based on Q141K and Q126X (a second etiological variant in ABCG2) genotype combinations, with individuals positive for the dysfunctional variants 126X and 141 K having the highest serum urate levels and highest risk for gout. The presence of the 141 K (and 126X) alleles reduces excretion of uric acid through the gut and adds to the circulating urate, overloading the kidney excretion system, and resulting in increased urinary uric acid levels [25].
Rarer variants contributing to the etiology of gout do exist. However, owing to their scarcity they are statistically difficult to detect, unless they have a very strong effect on disease risk. Rare knockout variants in the SLC2A9 and SLC22A12 genes that block the reuptake of urinary filtered uric acid cause hypouricaemia and exercise-induced kidney failure [26, 27, 28, 29]. Examples of uncommon (1–2%), but not rare, genetic variants associated with gout are a coding variant in the ALDH16A1 gene in the Icelandic population (c.1580C > G; odds ratio, 3.7) [30], and the aforementioned knockout variant in the ABCG2 gene in the Japanese population (Q126X; odds ratio, 4.3) [24]. The ABCG2 126X variant disables the uric acid export function of ABCG2; however, the molecular pathogenic basis of the ALDH16A1 variant is unknown. In the coming years the possible contribution of rare penetrant functional variants in ABCG2 to gout will be evaluated [31]. Identification of further uncommon and rare population-specific variants will undoubtedly come from the study of whole genome sequences, although statistical confirmation will require very large sample sets comprising tens of thousands of people with gout.
GWAS in gout have only been performed in relatively small sample sets [5, 30, 32, 33], with the only novel loci reported in Chinese and Japanese GWAS. The Chinese GWAS used hyperuricaemic controls in follow-up testing to demonstrate that the newly discovered loci (BCAS3, RFX3 and KCNQ1) are likely to be involved in pathways leading to presentation with gout in people with hyperuricaemia [32]. The potential role of candidate genes located at these novel loci in gout is not yet clear, although the KCNQ1 association is notable. KCNQ1 is a potassium voltage-gated channel and an established type 2 diabetes susceptibility locus. The Japanese GWAS restricted controls to people with normouricaemia [33], making it more likely that the new loci reported (MYL2-CUX2 and CNIH2) contribute to hyperuricaemia. A follow-up study from the Japanese GWAS identified NIPAL1 (a magnesium transporter) and FAM35A (unknown function) [34]. Both are expressed in the distal tubules of the kidney, suggesting a role in uric acid handling [34].
Replicated candidate gene studies have identified some genes associated with gout. Most prominent are the TLR4 gene and the NLRP3 inflammasome component gene, both involved in the triggering of flares [35, 36, 37]. Interestingly, non-additive (epistatic) gene-gene interactions between the inflammasome CARD8 C10X variant and a variant in IL-1β associated with IL-1β expression is consistent with an etiology where greater inflammasome activity from reduced CARD8 expression, combined with higher levels of pre-IL-1β expression, leads to increased production of mature IL-1β and an amplified immune response [37]. To our knowledge, the only other replicated candidate gene association in gout, but not serum urate levels, is with the apolipoprotein A1-C3-A4 gene cluster [38, 39].
Translation of genetic discoveries into clinical practice: towards personalised medicine for gout management?
In current clinical practice, there are a few situations for which genetic testing can assist with diagnosis and decisions about management. Monogenic syndromes such as partial hypoxanthine-guanine phosphoribosyltransferase deficiency (Kelley-Seegmiller syndrome), phosphoribosyl pyrophosphate synthetase overactivity, or autosomal dominant tubulointerstitial kidney disease caused by UMOD pathogenic variants are rare, and routine testing for these mutations is not required for the vast majority of individuals with gout. People with glucose-6-phosphate dehydrogenase deficiency are at risk of severe haemolysis and methemoglobinaemia when treated with pegloticase, and screening for this condition (typically by enzyme activity, rather than genotyping) is recommended before commencing pegloticase. In addition, human leukocyte antigen (HLA) variant HLA-B*5801 is an important risk factor for severe allopurinol hypersensitivity syndrome (AHS) [40], and therefore testing for this variant has been recommended in high risk populations (Han Chinese, other Asian populations) prior to commencing allopurinol [41].
These examples are isolated and specific, and current clinical practice does not routinely integrate genetic testing into gout management. A key question is how the new discoveries from GWAS of hyperuricaemia and gout can impact on clinical management of gout. Aside from identification of potential new therapeutic targets, genomic approaches may allow personalised assessment of prognosis, targeted lifestyle interventions, prediction of response to ULT, and prediction of adverse events to commonly used gout medications.
Notes
Acknowledgements
Not applicable.
Funding
ND, LS and TM are supported by the Health Research Council of New Zealand (grant number 14-527).
Availability of data and materials
Not applicable.
Authors' contributions
All authors drafted the manuscript, and approved the final version of the manuscript.
Competing interests
ND has received consulting fees, speaker fees or grants from Takeda, Teijin, Menarini, Pfizer, Ardea Biosciences, AstraZeneca, Fonterra, Crealta and Cymabay. LKS has received consulting fees from AstraZeneca. TRM has received consulting fees or grants from Ardea Biosciences and AstraZeneca.
Consent for publication
Not applicable.
Ethics approval and consent to participate
Not applicable.
Publisher's Note
Springer Nature remains neutral with regard to jurisdictional claims in published maps and institutional affiliations.
Copyright information
© The Author(s). 2017
Open AccessThis article is distributed under the terms of the Creative Commons Attribution 4.0 International License (http://creativecommons.org/licenses/by/4.0/), which permits unrestricted use, distribution, and reproduction in any medium, provided you give appropriate credit to the original author(s) and the source, provide a link to the Creative Commons license, and indicate if changes were made. The Creative Commons Public Domain Dedication waiver (http://creativecommons.org/publicdomain/zero/1.0/) applies to the data made available in this article, unless otherwise stated.