Abstract
Plant growth promoting rhizomicroorganisms (PGPR) play an important role in improving plant growth, nutrition and yield of different crops. Chilly is one of the major commercial crops of India with large export potential. The first experiment was conducted with 10 PGPR to investigate their effects on growth and yield of chilly. Although most of the plant parameters studied were statistically not significant, 2 PGPR viz. Paenibacillus polymyxa and Pantoea dispersa showed agronomic improvement in plant growth as compared to control and other treatments. The second experiment was conducted with these 2 PGPR plus 8 more PGPR in order to select the best PGPR for inoculating chilly. Inoculation significantly improved the growth, nutrition and fruit yield as compared to uninoculated control. Considering plant dry biomass and fruit yield, Methylobacterium radiotolerans proved to be the best PGPR. Further screening with M. radiotolerans plus 2 more PGPR viz. Bacillus sonorensis and Paenibacillus elgii on 2 common varieties of chilly resulted in enhanced plant dry biomass, nutrition and fruit yield. The results clearly brought out that B. sonorensis is the most promising PGPR inoculant for chilly. The plant growth promoting traits revealed that B. sonorensis is a P-solubilizer and able to produce indole acetic acid, siderophore, chitinase, hydrogen cyanide and good in biofilm formation.
Access options
Buy single article
Instant access to the full article PDF.
US$ 39.95
Tax calculation will be finalised during checkout.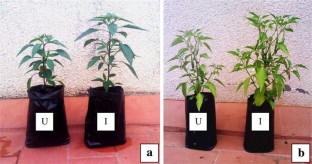 References
1.

Haas D, Defago G (2005) Biological control of soil-borne pathogens by fluorescent pseudomonads. Nat Rev Microbiol 3:307–319

2.

Kloepper JW, Ryum M, Zhang S (2004) Induced systemic resistance and promotion of plant growth by Bacillus spp. Phytopathol 94:1259–1266

3.

Saharan B, Nehra V (2011) Plant growth promoting rhizobacteria: a critical review. Life Sci Med Res 21:1–30

4.

Vessey JK (2003) Plant growth promoting rhizobacteria as biofertilizers. Plant Soil 255:571–586

5.

Khan MS, Raj SK (2006) First report of molecular detection of an Aster yellows phytoplasma (Candidatus Phytoplasma asteris) isolate infecting chilli (Capsicum annuum) in India. Plant Pathol 55:822

6.

Bharathi R, Vivekananthan R, Harish S, Ramanathan A, Samiyappan R (2004) Rhizobacteria-based bioformulations for the management of fruit rot infection in chillies. Crop Prot 23:835–843

7.

FAO Data (2010) Greening agriculture in India: an overview of opportunities and constraints. http://www.fao.org/docrep/article/agrippa/658_en00.htm#TopOfPage

8.

Vaikuntapu PR, Dutta S, Samudrala RB, Rao VR, Kalam S, Podile AR (2014) Preferential promotion of Lycopersicon esculentum (tomato) growth by plant growth promoting bacteria associated with Tomato. Indian J Microbiol 54(4):403–412

9.

Hatchell GE (1985) Production of bare root seedlings. In: Proceedings of 3rd Biennial Southern Silviculture Research Conference, pp 395–402

10.

Jackson ML (1973) Soil chemical analysis. Prentice Hall Pvt. Ltd., New Delhi

11.

Little TM, Hill FJ (1978) Agricultural experimentation design and analysis. Wiley, NewYork

12.

Nautiyal CS (1999) An efficient microbiological growth medium for screening phosphate solubilizing microorganisms. FEMS Microbiol Lett 170:265–270

13.

Brick JM, Bostock RM, Silversone SE (1991) Rapid in situ assay for indole acetic acid production by bacteria immobilized on nitrocellulose membrane. Appl Environ Microbiol 57:535–538

14.

Schwyn B, Neilands JB (1987) Universal chemical assay for the detection and determination of siderophore. Anal Biochem 160:47–56

15.

Das SN, Dutta S, Anil K, Neeraja C, Sarma PVSRN, Srinivas V, Podile AR (2010) Plant growth promoting chitinolytic Paenibacillus elgii responds positively to tobacco root exudates. J Plant Growth Regul 29:409–418

16.

Joseph B, Patra RR, Lawrence R (2007) Characterization of plant growth promoting rhizobacteria associated with chickpea (Cicer arietinum L.). Int J Plant Prod 1:141–152

17.

Yousef CF, Travieso ML, Espinosa UM (2008) Different, overlapping mechanisms for colonization of abiotic and plant surfaces by Pseudomonas putida. FEMS Microbiol Lett 288:118–124

18.

OˈToole GA, Kolter R (1998) Initiation of biofilm formation in Pseudomonas fluorescens WCS365 proceeds via multiple, convergent signalling pathways: a genetic analysis. Mol Microbiol 28:449–461

19.

Li Z, Chang S, Lin L, Li Y, An Q (2011) A colorimetric assay of 1-aminocyclopropane-1-carboxylate (ACC) based on ninhydrin reaction for rapid screening of bacteria containing ACC deaminase. Lett Appl Microbiol 53(2):178–185

20.

Adriana A, Anelise B, Thais S, Felipe GP, Luciano KV, Luciane MPP (2012) Screening of plant growth promoting rhizobacteria isolated from sunflower (Helianthus annuus L.). Plant Soil 356:245–264

21.

Hemlata C, Bagyaraj DJ, Anita S (2013) Plant growth-promoting bacterial endophytes from sugarcane and their potential in promoting growth of the host under field conditions. Exp Agric 49:43–52

22.

Nowak J (1998) Benefits of in vitro ''biotization'' of plant tissue cultures with microbial inoculants. In vitro Cell Dev Biol Plant 34:122–130

23.

Poi SC, Kabi MC (1979) Effect of Azotobacter inoculation on growth and yield of jute and wheat. Indian J Agri Sci 49:478–480

24.

Hussain MI, Asghar HN, Arshad M, Shahbaz M (2013) Screening of multi-traits rhizobacteria to improve maize growth under axenic conditions. J Anim Plant Sci 23:514–520

25.

Holland MA (1997) Occams razor applied to hormonology are cytokinins produced by plants? Plant Physiol 115:865–868

26.

Ivanova EG, Doronina NV, Trossenko YA (2001) Acrobic methylobacteira are capable of synthesizing auxins. Mikrobiolgiya 70:345–347

27.

Omer ZS, Tombolini R, Broberg A, Gerhardson B (2004) Indole-3-acetic acid production by pink-pigmented facultative methylotrophic bacteria. Plant Growth Regul 43:93–96

28.

Beneduzi A, Peres D, da Costa PB, Bodanese Zanettini MH, Passaglia LM (2008) Genetic and phenotypic diversity of plant-growth-promoting bacilli isolated from wheat fields in southern Brazil. Res Microbiol 159:244–250

29.

Trivedi P, Pandey A (2008) Plant growth promotion abilities and formulation of Bacillus megaterium strain B 388 (MTCC6521) isolated from a temperate Himalayan location. Indian J Microbiol 48:342–347

30.

Husen E (2003) Screening of soil bacteria for plant growth promotion activities in vitro. Indones J Agric Sci 4:27–31

31.

Shobha G, Kumudini BS (2012) Antagonistic effect of the newly isolated PGPR Bacillus spp. on Fusarium oxysporum. Int J Appl Sci Eng Res 1:463–474

32.

Zahir ZA, Ghani U, Naveed M, Nadeem SM, Asghar HN (2009) Comparative effectiveness of Pseudomonas and Serratia sp. containing ACC-deaminase for improving growth and yield of wheat (Triticum aestivum L.) under salt-stressed conditions. Arch Microbiol 191:415–424

33.

Glick BR, Cheng Z, Czarny J, Duan J (2007) Promotion of plant growth by ACC deaminase-producing soil bacteria. Eur J Plant Pathol 119:329–339
Acknowledegments
The first two authors are grateful to The National Academy of Sciences, India (NASI), Allahabad for the financial support under the Senior Scientist Jubilee Fellowship for carrying out this study.
Ethics declarations
Conflict of interest
The authors declare that they have no conflict of interest.
About this article
Cite this article
Thilagar, G., Bagyaraj, D.J., Podile, A.R. et al. Bacillus sonorensis, a Novel Plant Growth Promoting Rhizobacterium in Improving Growth, Nutrition and Yield of Chilly (Capsicum annuum L.). Proc. Natl. Acad. Sci., India, Sect. B Biol. Sci. 88, 813–818 (2018). https://doi.org/10.1007/s40011-016-0822-z
Received:

Revised:

Accepted:

Published:

Issue Date:
Keywords
Bacillus sonorensis
Methylobacterium radiotolerans

Microbial inoculants

Plant growth response