Natural Varroa mite-surviving Apis mellifera honeybee populations
Open Access
Review article
Abstract
The Varroa destructor mite is the largest threat to apiculture worldwide and has been responsible for devastating losses of wild honeybee populations in Europe and North America. However, Varroa mite-resistant populations of A. mellifera honeybees have been reported and documented around the world with a variety of explanations for their long-term survival with uncontrolled mite infestation. This review synthesizes the work on naturally occurring survival to Varroa mites and discusses what these honeybee populations can signify for apiculture.
Keywords
Varroa destructor
mite resistance 
host-parasite adaptations 
natural selection 
apiculture 
1

Introduction

The European honeybee, Apis mellifera, is the only Apis species that does not have a natural parasitic brood mite but is nevertheless highly susceptible to at least two mites that are native to other honeybee species (Varroa destructor and Tropilaelaps clareae; Oldroyd 1999). The ectoparasitic mite, Varroa destructor, is of particular importance as it is currently considered the largest threat to apiculture worldwide and inflicts more damage and higher economic costs than all other known apicultural diseases (Boecking and Genersch 2008).

The Varroa mite's natural host is the Asian hive bee, Apis cerana. Damage to Asian honeybee colonies is rarely experienced since a stable host-parasite relationship has been established over a long evolutionary scale (Rath 1999). Such a relationship is distinguishably missing with the European honeybee. In Asian hive bee colonies, the mite's reproduction is restricted to drone brood (Boot et al. 1999). and when mites try to enter worker brood cells, the infested pupa along with the mites are removed by the hygienic behavior of adult bees (Peng et al. 1987). Also, adult bees with grooming behavior capture and kill the phoretic mites in the colony (Peng et al. 1987).

European honeybees have behavioral defenses similar to the Asian hive bee such as grooming and hygienic behavior but they are typically less pronounced (Fries et al. 1996) and variable between A. mellifera races (Moretto 2002; Moretto et al. 1991a). The specific removal of mite-infested brood has been termed Varroa-sensitive hygienic (VSH) behavior (Harris 2007; Ibrahim and Spivak 2006; Spivak 1996). Both hygienic behavior and VSH behavior remove dead or diseased brood, as well as mite-infested brood, but the later is more effective toward mite infestation (Boecking and Spivak 1999; Ibrahim and Spivak 2006; Danka et al. 2013). The distinction between VSH behavior and regular hygienic behavior may be in the detection stimulus of the adult bees which for VSH seems to be indirect effects of mite infestation such as pupal virus levels or faults in pupal development (Mondet 2014). Differentiating between these behaviors in a colony is difficult and depends on how the behavior is measured. This review distinguishes these behaviors based on the testing methods in the original work. Whether the mite removal is due to general hygienic behavior or VSH behavior, most mites are not killed and instead escape during the removal process. Nevertheless, this results in an interruption of the mite's reproductive cycle, which can slow down the mite population growth (Boecking and Spivak 1999).

Since the Varroa mite made the host switch to the European honeybee, it has successfully spread throughout the world, and today, only Australia and a few isolated locations and islands are considered mite-free (Rosenkranz et al. 2010). In Europe and North America, the Varroa mite has caused devastating losses of wild A. mellifera honeybee populations in these regions (Le Conte et al. 2010; Neumann and Carreck 2010). The Varroa destructor species includes several mitochondrial haplotypes, but only two are able to reproduce in A. mellifera colonies: the Korean haplotype that has a worldwide distribution and the Japanese haplotype that has only been reported in Japan, Thailand, and North and South America and is considered less virulent than the Korean type (Anderson and Trueman 2000; de Guzman and Rinderer 1999).

The big difference between the Asian and European bee species is that the mite is able to reproduce in worker brood cells of A. mellifera honeybees (Boot et al. 1999). This results in an exponential mite population growth (Fries et al. 1994) that can lead to colony death typically within a few years if mite population control is not practiced by beekeepers (Boecking and Genersch 2008). While feeding on bee hemolymph, the mite damages the developing worker pupae (De Jong et al. 1982; Schneider and Drescher 1987; Kralj et al. 2007) and is associated to several lethal honeybee viruses (Bailey and Ball 1991; Ball and Allen 1988). Deformed wing virus (DWV) is the most prevalent honeybee virus worldwide due to Varroa-mediated transmission and replication (de Miranda and Genersch 2010; Sumpter and Martin 2004; Rosenkranz et al. 2010).

Despite this grave situation, survival of the mite is documented in A. mellifera honeybees, most notably in the African race, Apis mellifera scutellata, in Brazil (Rosenkranz 1999) and more recently in Africa (Allsopp 2006). Even small subpopulations of European races have been well documented as surviving with uncontrolled Varroa mite infestation for a decade or longer (De Jong and Soares 1997; Fries et al. 2006; Le Conte et al. 2007; Rinderer et al. 2001; Seeley 2007). These populations of A. mellifera honeybees surviving Varroa mites may reveal genetic and ecological factors that enable mite resistance including important mite-resistant traits that could be adopted in breeding programs. This review synthesizes the documentation of Varroa mite-surviving populations and discusses what their long-term survival with Varroa can signify for apiculture.
2

Mite-surviving populations
3

Discussion

The populations reviewed here demonstrate that mite resistance is possible for

A. mellifera

honeybees around the world (Figure

1

) and that there are multiple genetic adaptive routes to achieving a sustainable mite resistance (Table

I

). In all of the populations, there seems to be a variety of mite-resistant traits that additively contribute to reducing the mite population growth within the colony, as opposed to a single super trait.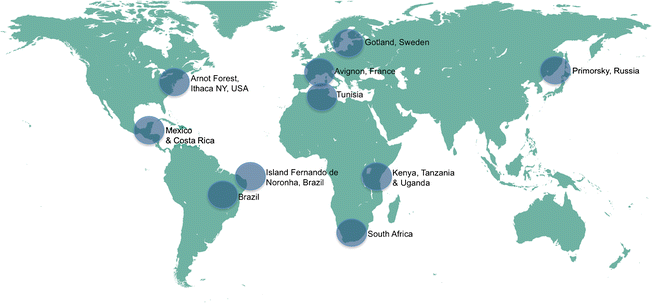 Table I
A summary of important mite-resistant traits investigated in the naturally occurring Varroa mite-surviving honeybee populations showing the variety and diversity of the importance of traits within and between populations. A check-mark indicates a significant difference from mite-susceptible honeybees, while a cross indicates a non-significant difference and an empty box indicates that trait has not yet been measured.
3.1

Mite-resistant mechanisms

Host resistance is defined as the ability of the host to reduce the fitness of the parasite, while host tolerance is defined as the ability of the host to reduce the effect of the parasite (Schmid-Hempel 2011). It remains to be clarified whether the survival of the Arnot Forest bees and the Italian bees on Fernando de Noronha is due to an adaptive resistance by the host, host tolerance to mite infestation, or reduced virulence by the mite either by the mite's haplotype or adaptive reduced virulence. While many of these populations reviewed here clearly demonstrate adapted host resistance or at least tolerance, investigations have been very bee-centric, likely due to the common acceptance that the Varroa mite has a low genetic variation in Europe due to its clonal origin (Solignac et al. 2005). A deeper understanding of the mite's passive or active role in the co-evolution among all of these populations would be insightful.

Behavioral resistant mechanisms such as hygienic behavior and grooming behavior seem to play an important role in the resistance of the A. m. scutellata honeybee populations in Brazil and South Africa and even in the honeybee population in far eastern Russia (Table I). However, they did not seem to be significantly more expressed in the Gotland mite-resistant population compared to local mite-susceptible honeybees (Table I). Studies on the mite-resistant Asian hive bee (A. cerana) have shown that hygienic and grooming behavior are less pronounced than previously stated and rather additively contribute to their overall resistance rather than explain it (Fries et al. 1996; Rosenkranz et al. 1993).

It seems clear that the Gotland, Avignon, and Russian honeybee populations have evolved mite resistance as they are able, in yet unknown ways, to reduce the mite's reproductive success (Table I). Simulation modeling of A. cerana colony dynamics has suggested that the lack of mite reproduction and limited available drone brood was sufficient enough to explain the mite resistance of this species (Fries et al. 1994). The A. mellifera honeybee populations with reduced mite reproductive success reviewed here may have unique ways of achieving this specific mite-resistant mechanism that could include changes in brood volatiles, adult VSH behavior selectively removing reproducing mites, or even both mechanisms combined.

Reduced colony size is an interesting mite-resistant parameter expressed in the honeybee populations in Brazil, South Africa, Gotland, and in the Arnot Forest but not in Russia or the Island of Fernando de Noronha (Table I). A reduced colony size and reduced brood production (specifically drone brood production) means limited opportunities for mite reproduction and is a very important mite-resistant characteristic of the Asian hive bee (Fries et al. 1994). A noteworthy observation is that small colony size seems to be a common trait of populations with wild honeybees (such as Brazil, South Africa, and the Arnot Forest) or with less intensified management (as on Gotland).
3.2

Insights on apicultural management

Importantly, all the mite-resistant populations in this review have experienced a general lack of, or less intensified, apicultural management. The apicultural industry is drastically threatened by catastrophic colony losses due to the spread of honeybee diseases and parasites, especially the Varroa mite (Neumann and Carreck 2010; Ratnieks and Carreck 2010). Ironically, the spread of these diseases in apiculture is facilitated through intensified management practices (Fries and Camazine 2001).

Co-evolutionary processes such as natural selection that lead to a stable host-parasite relationship as seen with the Asian hive bee have been hindered for the European honeybee host since apicultural practices remove the mite and consequently the selective pressure required for such an adaptive process to occur. On top of that, pesticides administered to colonies by beekeepers to treat against mite infestation can actually cause more damage to bee health (Haarmann et al. 2002; Johnson et al. 2009; Locke et al. 2012a). Adaptations by the mite towards reduced virulence depend on the available transmission routes within the honeybee population, which can be altered by apiculture. Vertical transmission from mother to daughter leads to reduced virulence adaptations, while horizontal transmission between colonies leads to increased mite virulence (Schmid-Hempel 2011). Modern apicultural practices actually favor parasitic transmission routes that select for higher virulence, mainly by preventing swarming, crowding colonies in high-density apiaries, and by exchanging hive equipment between diseased or dead colonies (Fries and Camazine 2001; Seeley and Smith 2015).

These mite-resistant A. mellifera populations have all experienced natural mite infestation pressure and have been given the opportunity for natural adaptations without the influence of typical apicultural practices. Wild honeybees in Brazil and Africa experiencing natural mite infestation selection pressure may pass heritable adaptive resistance to managed colonies that contribute to the stability of the population. This constant selection pressure may be necessary even though the A. m. scutellata honey bees in Brazil and Africa have a somewhat genetic pre-disposition for mite resistance.

Many of these natural Varroa mite-surviving A. mellifera populations are smaller colonies than seen in apiculture as the artificial selection pressure for high honey yields insisted in apiculture has been removed. The ability for colonies to swarm might not completely prevent the mite population buildup by the autumn, but when combined together with other colony population dynamics and mite-resistant traits, it can contribute to reducing the mite population growth and improving colony longevity.

Unnaturally high colony density in apiculture leads to higher mite re-infestation and increased spread of disease (Seeley and Smith 2015). However, high colony density is not typical for these mite-resistant A. mellifera populations. There is an estimated 10 million colonies in South Africa with only about 1 % of them being managed by beekeepers (Strauss et al. 2013). Apiculture is generally less intensified here, and colonies are often captured wild swarms. A similar situation is seen in Brazil with less intensified management and a larger wild population of honeybees than managed (Vandame and Palacio 2010). By contrast, most colonies in Europe and North America are managed by beekeepers and wild colonies are typically swarms that have escaped from apiaries. The Arnot Forest population on the other hand has a density of 1 colony/km2, much less than the typical colony density for managed apiaries in the region (Seeley et al. 2015).
4

Conclusions

There is an urgent need for a sustainable solution to the threat of Varroa mites for the economic viability of apiculture and agriculture, as well as for honeybee health, conservation, and for ecosystem services. Understanding the natural interactions and adaptations between honeybees and Varroa mites is an essential first step towards achieving this goal. These mite-resistant honeybee populations provide valuable insight and give hope for a potentially sustainable solution through mite resistance. Importantly, they act as examples that breeding for Varroa mite resistance is possible in all honeybee populations throughout the world. One potential avenue is by breeding genetically inheritable adapted mite-resistant traits from these populations such as behavioral defenses or reduced mite reproductive success. However, these populations also emphasize the influence that apiculture has on the development of infections in honeybee colonies, and consequently, by example suggest that the most effective solution for sustainably improving honeybee health would come from adopting better management practices.
Notes
Acknowledgments
I would like to thank the editorial board for the invitation to write this review article as well as two anonymous reviewers for providing helpful comments to improve this review. Joachim de Miranda and Ingemar Fries are also thanked for their earlier comments on the manuscript. Financial support was provided by The Swedish Research Council Formas, diarienr. 2012-1060.
Copyright information
© The Author(s) 2015
Open Access This article is distributed under the terms of the Creative Commons Attribution 4.0 International License (http://creativecommons.org/licenses/by/4.0/), which permits unrestricted use, distribution, and reproduction in any medium, provided you give appropriate credit to the original author(s) and the source, provide a link to the Creative Commons license, and indicate if changes were made.