Enzyme immobilization: an overview on techniques and support materials
Open Access
Review Article
Abstract
The current demands of the world's biotechnological industries are enhancement in enzyme productivity and development of novel techniques for increasing their shelf life. These requirements are inevitable to facilitate large-scale and economic formulation. Enzyme immobilization provides an excellent base for increasing availability of enzyme to the substrate with greater turnover over a considerable period of time. Several natural and synthetic supports have been assessed for their efficiency for enzyme immobilization. Nowadays, immobilized enzymes are preferred over their free counterpart due to their prolonged availability that curtails redundant downstream and purification processes. Future investigations should endeavor at adopting logistic and sensible entrapment techniques along with innovatively modified supports to improve the state of enzyme immobilization and provide new perspectives to the industrial sector.
Keywords
Enzyme immobilization 
Techniques 
Supports 
Applications 
Introduction
Enzymes or 'biocatalysts' are remarkable discovery in the field of bioprocess technology. Biocatalysis has been widely accepted in diverse sectors owing to their ease of production, substrate specificity and green chemistry. However, for large extent commercialization of these bio-derived catalysts, their reusability factor becomes mandatory, failing which they would no longer be economic. Maintenance of their structural stability during any biochemical reaction is highly challenging. Consequently, immobilized enzymes with functional efficiency and enhanced reproducibility are used as alternatives in spite of their expensiveness. Immobilized biocatalysts can either be enzymes or whole cells (Kawaguti et al.
2006
). Enzyme immobilization is confinement of enzyme to a phase (matrix/support) different from the one for substrates and products. Inert polymers and inorganic materials are usually used as carrier matrices. Apart from being affordable, an ideal matrix must encompass characteristics like inertness, physical strength, stability, regenerability, ability to increase enzyme specificity/activity and reduce product inhibition, nonspecific adsorption and microbial contamination (Singh
2009
). Immobilization generates continuous economic operations, automation, high investment/capacity ratio and recovery of product with greater purity (D'Souza
1998
). Several methods are used for immobilization and various factors influence the performance of immobilized enzymes (Table 
1
). Adsorption/carrier-binding method uses water-insoluble carriers such as polysaccharide derivatives, synthetic polymers and glass (Al-Adhami et al.
2002
; Rosa et al.
2002
; Wu and Lia
2008
; Cordeiro et al.
2011
). In cross-linking/covalent method, bi/multifunctional reagents such as glutaraldehyde, bisdiazobenzidine and hexamethylene diisocyanate are used (Lee et al.
2006
; Singh
2009
). Polymers like collagen, cellulose and κ-carrageenan are employed by entrapment method, while the membrane confinement method includes formulation of liposomes and microcapsules (Katwa et al.
1981
; Wang and Hettwer
1982
; Mislovicová et al.
2004
; Hilal et al.
2006
; Tümtürk et al.
2007
; Rochefort et al.
2008
; Jegannathan et al.
2010
; Chen et al.
2011a
,
b
; Klein et al.
2011
).
Table 1
Factors influencing performance of immobilized enzymes (Cao 2006)
| Factors | Implications of immobilization |
| --- | --- |
| Hydrophobic partition | Enhancement of reaction rate of hydrophobic substrate |
| Microenvironment of carrier | Hydrophobic nature stabilizes enzyme |
| Multipoint attachment of carrier | Enhancement of enzyme thermal stability |
| Spacer or arm of various types of immobilized enzymes | Prevents enzyme deactivation |
| Diffusion constraints | Enzyme activity decreases and stability increases |
| Presence of substrates or inhibitors | Higher activity retention |
| Physical post-treatments | Improvement of enzyme performance |
| Different binding mode | Activity and stability can be affected |
| Physical structure of the carrier such as pore size | Activity retention was often pore-size dependent |
| Physical nature of the carrier | Carriers with large pore size mitigate diffusion limitation, leading to higher activity retention |
This article reviews the existing techniques used for immobilization along with providing insights into the recent developments for each of them. We have tried to throw light on significant modifications with respect to the techniques and innovative support materials employed for immobilization of biocatalysts that have potential implication on future enzyme market.
Different techniques used for immobilization
Materials used for fabrication of immobilization supports
Natural polymers as supports
Synthetic polymers as supports
Ion exchange resins/polymers are insoluble supports with porous surface for enzyme trapping. Amberlite and DEAE cellulose, renewable matrices with large surface area, have been used for immobilization of α-amylase (Kumari and Kayastha 2011). During white radish peroxidase immobilization, glutaraldehyde and polyethylene glycol act as an additive and protective layer around the active center of the enzyme to prevent the attack of free radicals (Ashraf and Husain 2010). Some synthetic polymers used as enzyme supports are stated as follows: polyvinyl chloride that prevents enzyme, cyclodextrin glucosyltransferase from thermal inactivation; polyurethane microparticles derived from polyvinyl alcohol and hexamethyl diisocyanate in the ratio of 1:3 with high enzyme loading and efficiency; UV-curable methacrylated/fumaric acid-modified epoxy that is proposed to be useful for industrial applications; polyaniline in two different forms, viz. emeraldine salt and emeraldine base powder used for covalent binding of α- amylase; glutaraldehyde-activated nylon for immobilizing lipase and UV-activated polyethylene glycol having high porosity employed for wastewater treatment (Abdel-Naby 1999; Kahraman et al. 2007; Pahujani et al. 2008; Romaskevic et al. 2010; Xiangli et al. 2010; Ashly et al. 2011).
Inorganic materials as supports
Applications and scope
Biocatalysts are the key players in various industrial processes. Constant efforts are being made to improve the enzyme's activity, efficiency, reproducibility and stability during industrial processes (Wang et al. 2010). Production of regioselective and enantioselective compounds for biomedical application has been possible by immobilized enzymes (Ren et al. 2006; Lee et al. 2009). Glucose biosensors have been developed using electrospun PVA and surface-modified carbon nanotubes (Wen et al. 2011). Hydrogen peroxide biosensors have been devised using γ-aluminum trioxide nanoparticles/chitosan film-modified electrode (Liu et al. 2010). Agarose–guar has been successfully utilized for designing phenol biosensors (Bagal and Karve 2006). Currently, keen efforts are being taken for increasing the stability of biosensors. Immobilization of biosensing enzymes into nanocavities showed significant results (Vamvakaki and Chaniotakis 2007). Biosynthesis of polyester has been facilitated by immobilized C. antarctica lipase B, a greener alternative to petroleum-based conventional catalysts (Idris and Bukhari 2011). With the advent of nanotechnology, silica nanoparticles with immobilized laccase have been applied for elimination of micropollutants from wastewater (Zimmermann et al. 2011). Increasing environmental concerns have led to the use of immobilized biocatalysts for biodiesel production (Jegannathan et al. 2010).
The different factors influencing enzyme immobilization and the possible modifications for their enhancement in activity have been chalked out in Fig. 
1
.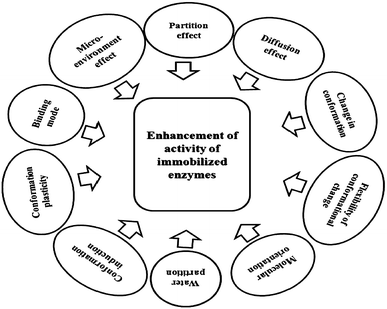 Conclusion
With the vast array of research on enzyme immobilization, we can conclude that it is one of the most promising techniques for highly efficient and economically competent biotechnological processes in the field of environmental monitoring, biotransformation, diagnostics, pharmaceutical and food industries. Enzyme-based strategies are increasingly replacing conventional chemical methods in both laboratories and industries with attributes like efficiency, quicker performance and multifarious use. However, commercialization of immobilized enzymes is still at a lower pace because of their costs and storage problems. Research should be focused to overcome the current limitations related to immobilization techniques, so as to expand the horizon for all-round application.
Notes
Acknowledgments
The authors wish to express their sincere gratitude to Dr. S. Swaminathan (Director, Centre for Nanotechnology and Advanced Biomaterials and Dean, Sponsored Research, SASTRA, Thanjavur) for his constant support and encouragement.
Conflict of interest
The authors declare that they have no conflict of interest.
Copyright information
© The Author(s) 2012
This article is published under license to BioMed Central Ltd. Open Access This article is distributed under the terms of the Creative Commons Attribution License which permits any use, distribution and reproduction in any medium, provided the original author(s) and source are credited.
Open AccessThis article is distributed under the terms of the Creative Commons Attribution 2.0 International License (https://creativecommons.org/licenses/by/2.0), which permits unrestricted use, distribution, and reproduction in any medium, provided the original work is properly cited.