Constraints to and conservation implications for climate change adaptation in plants
Open Access
Research Article
Abstract
Contemporary climate change is having widespread impacts on plant populations. Understanding how plants respond to this change is essential to our efforts to conserve them. The key climate responses of plant populations can be categorised into one of three types: migration, in situ adaptation, or extirpation. If populations are to avoid extirpation then migration and/or in situ adaptation is essential. In this review we first articulate the current and future constraints of plant populations, but trees in particular, to the different adaptation strategies (e.g. space availability, rate of change, habitat fragmentation, niche availability). Secondly, we assess the use of the most appropriate methods (e.g. natural environmental gradients, genome and transcriptome scans) for assessing and understanding adaptive responses and the capacity to adapt to future challenges. Thirdly, we discuss the best conservation approaches (e.g. assisted migration, biodiversity corridors, ex situ strategies) to help overcome adaptive constraints in plants. Our synthesis of plant, and particularly tree, responses and constraints to climate change adaptation, combined with the identification of conservation strategies designed to overcome constraints, will help deliver effective management actions to assist adaptation in the face of current and future climate change.
Keywords
Adaptive capacity 
Ecological restoration 
Genetic resource management 
Gene flow 
Genomics 
Global change 
Introduction
In response to contemporary climate change plants can adapt, migrate, or die (Aitken et al.
2008
) (Fig. 
1
a–e). During Quaternary climate fluctuations migration was a common response, particularly in the northern hemisphere (Pardi and Smith
2012
). How plants will respond during the current period of warming is less clear as plants are facing unprecedented rates of anthropogenically-induced climate change, which has no past analogue (Thomas et al.
2004
). Climatic envelopes are generally shifting polewards and upwards (Parmesan and Yohe
2003
), which is putting pressure on plant populations to shift their ranges to track optimal climatic conditions (Parmesan
2006
; Pardi and Smith
2012
; Fig. 
1
b). Indeed, shifts in species distributions in line with temperature shifts have already been observed across a range of plant taxa (Sturm et al.
2001
; Parmesan and Yohe
2003
; Jump and Peñuelas
2005
; Hickling et al.
2006
; Beckage et al.
2008
).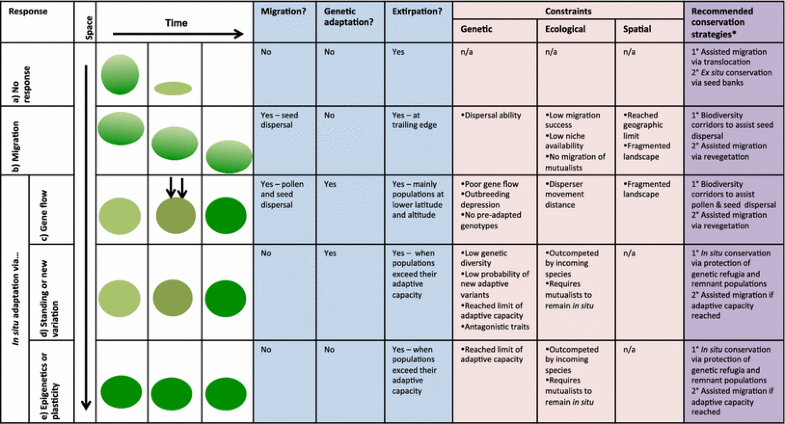 The 'first line' response to a changing climate may therefore be migration—a geographic shift in distribution via seed dispersal into climatically suitable areas (Fig. 1b). However, such shifts may not be straightforward. In an analysis of USDA Forest Inventory and Analysis data from across the eastern United States, 58.7 % of 92 tree species showed indications of range contraction at both northern and southern boundaries of their distribution (Zhu et al. 2012). Only 20.7 % of species exhibited patterns consistent with a northward shift, and crucially, evidence was particularly lacking for population spread in areas where climate had changed the most. This suggests that migration may not be as common as expected, and potentially puts populations at higher risk of becoming increasingly maladapted over time. Under the projected high rates of future climate change, successful migration may also rely on the evolution of ever longer dispersal distances in order to enable species to reach suitable new habitat.
If species fail to sufficiently migrate then adaptation in situ will be essential for persistence (Fig. 1c–d). The ability to adapt in situ will rely upon a wide range of factors. These include (1) heritable trait variation (i.e. trait variation attributable to genes) within populations for selection to act upon; (2) levels of gene flow from populations at lower latitudes/altitudes introducing 'pre-adapted' alleles to, or more generally increasing genetic variation within, populations at higher latitudes/altitudes (Sexton et al. 2011; Kremer et al. 2012); and (3) the chance occurrence of new advantageous mutations arising within populations. However, the likelihood of new adaptive alleles arising, particularly those of large effect (as may be required under rapid climate change; Reed et al. 2011), is very low. The presence of standing heritable genetic variation that can provide a fitness advantage under new climatic conditions would bestow populations with the best chances of adapting in situ.
An alternative to genetic-based adaptation is epigenetic or plastic responses (Fig. 1e). Trait plasticity can result in a wide range of phenotypes occurring in the same genetic background, acting as a buffer to environmental changes (Ghalambor et al. 2007; Nicotra et al. 2010). There is now increasing evidence that some heritable variation in ecologically relevant traits is not caused by genes but is instead stimulated by epigenetic mechanisms that alter gene activity through targeted molecular processes (Fieldes and Amyot 1999; Molinier et al. 2006; Yakovlev et al. 2011). In particular, DNA methylation and histone post-translational modifications are key mechanisms for gene-expression regulation and development in plants. These mechanisms can bring about a rapid (<1 generation) adaptive response to environmental change (Bossdorf et al. 2008; Rival et al. 2012).
If populations fail to adapt or migrate under climate change then, as conditions become more unsuitable, extirpation and extinction may be unavoidable (Fig. 1a). Mass extinction events have had a strong association with major climatic change over the past 520 million years, with low levels of global biodiversity and high extinction rates prevalent immediately following periods of major temperature change (Mayhew et al. 2008). Extinctions linked to contemporary climate change have already been observed for a number of animal groups (e.g. checkerspot butterflies, McLaughlin et al. 2002; and frogs, Pounds et al. 2006), but as yet there are no reports of climate driven extinctions in plants. There is, of course, the possibility that some species will persist without migration or genetic adaptation by, for example, exploiting microclimatic variation within their current range (e.g. populations move from sun to shade, from dry slopes to seeps), through facilitative interactions with other local plant species (Brooker et al. 2008), or endophytic relationships with soil microbes (Lau and Lennon 2012). Increasing our understanding of the ways that plant species are likely to respond under climate change, and particularly of the constraints that restrict the adaptive responses of species and populations, is integral to our attempts to conserve species.
There have been a number of recent reviews on plant responses to climate change, each with a different emphasis (e.g. Davis and Shaw 2001; Walther 2003; Jump and Peñuelas 2005; Aitken et al. 2008; Anderson et al. 2012; Corlett and Westcott 2013). For example, Aitken et al. (2008) looked specifically at trees and Corlett and Westcott (2013) predominantly considered migrational responses across all taxa. Here, we provide an updated appraisal of the most recent literature on plant responses to contemporary climate change. We focus mainly on the threats caused by direct climate effects (i.e. changes in temperature and rainfall), with climate envelopes shifting towards the poles, while acknowledging that climate change is complex and its effects will not be felt equally across all environments and locations. More complex/synergistic impacts of global change have been discussed elsewhere (e.g. Brook et al. 2008). While we consider the responses of both short- and long-lived species, our review pays particular attention to the responses of and potential impacts on tree species. Our review is focussed on three largely neglected aspects. Firstly, we focus on key constraints to responses to climate change. Secondly, we discuss the best approaches to assess adaptive potential in plants, highlighting the use of environmental gradients and genome and transcriptome scans to understand the type, magnitude and rate of adaptive responses. Thirdly, we consider the best conservation approaches to help overcome adaptive constraints in plants. We discuss how this information can be integrated into conservation actions to help prevent species extinctions as well as facilitate on-going adaptation to climate.
Constraints to climate change adaptation
Through a literature search, we have identified a non-exhaustive collection of studies that identify constraints to adaptation in a wide range of plant species (Table 
1
). These studies have expanded our understanding of the factors that constrain the adaptive capacity of plants, and can therefore be used to target conservation practices to overcome these constraints. Figure 
1
provides a summary of the constraints to each adaptive response, which have been divided into three categories: spatial (and temporal), ecological, and genetic constraints. Recommended conservation strategies for overcoming each constraint are also provided (discussed in Sect. 
4
).
Table 1
A selection of meta-analyses, empirical, and modelling studies where constraints to adaptation, via migration, in situ adaptation, or both, have been identified or predicted
Species

Plant form

Study region

Type of study

Adaptation strategy

Adaptation constraint

Main findings

Reference

92 tree species

Trees

Eastern USA

Meta-analysis

Migration

Unknown

Only 20.7 % of species showed northward migration

58.7 % showed range contractions at both northern and southern boundaries

Zhu et al. (2012)

Haleakalā silversword (Argyroxiphium sandwicense ssp. macrocephalum)

Herb

Maui, Hawai'i

Empirical

Migration

Insufficient space

Endemic species restricted to a single volcano summit

Experienced high mortality at low altitude and increased water stress, putting the entire species at risk

Krushelnycky et al. (2013)

27 northern plant species

Various

Northern hemisphere alpine and arctic zones

Modelling

Migration and in situ adaptation

Dispersal ability

Spatial distribution modelling predicted loss of genetic diversity was largely determined by dispersal ability

Short-distance dispersers (e.g. herbs) would lose more genetic diversity than long-distance dispersers

Alsos et al. (2012)

Partidge Pea (Chamaecrista fasciculata)

Herb

US Great Plains

Empirical

In situ adaptation

Trait/gene interactions

Despite significant levels of genetic variation in a number of adaptive traits, the rate of evolution of all traits together was slower than that expected for the independent evolution of individual traits

Etterson and Shaw (2001)

Dryas octopetala; Eriophorum vaginatum

Shrub; Perennial herb

Alaska

Empirical

In situ adaptation

Lack of plasticity

After 30 years of reciprocal transplant experiments, local provenances significantly outperformed foreign provenances

No evidence was found for plasticity aiding the persistence of foreign provenances

Bennington et al. (2012)

32 herbaceous plants

Herb

Temperate regions

Meta-analysis

In situ adaptation

Small population size

Meta-analysis of reciprocal transplant experiments revealed that population size had a significant effect on local adaptation

Small populations (<1000 flowering plants) showed less local adaptation, inferred to be due to low adaptive potential driven by strong genetic drift

Leimu and Fischer (2008)

52 plant species

Various

Various

Meta-analysis

In situ adaptation

Habitat fragmentation

Meta-analysis of effect of habitat fragmentation on genetic diversity showed that common species are as much at risk as rare species, thus reducing their adaptive potential under climate change

Honnay and Jacquemyn (2007)
Constraints to migration (Fig. 1b)
The ability of a species to shift its range will depend on several factors, such as the presence of suitable space to migrate into (including niche space), sufficient time to migrate (in terms of generation time, age to maturity, seed dispersal distance), a connected landscape, and the presence/migration of co-dependent species into the new range. If any of these factors are not realised then successful migration may prove difficult. We consider each of these in turn in order to illustrate their importance.
Constraints to in situ adaptation (Fig. 1c–e)
The constraints to migration discussed above may mean that this adaptation route may be very limited and potentially unsuccessful (Corlett and Westcott 2013). This puts a larger emphasis on in situ adaptation for on-going population persistence (Fig. 1c–e). Factors affecting a population's ability to adapt in situ are numerous and we have selected the most pertinent ones here for discussion.
New research tools for assessing climate adaptation in plants
A range of methods has been employed to investigate and predict plant adaptation under climate change, such as space-for-time substitutions, common garden and reciprocal transplant experiments, and genomic methods to search for signatures of selection and local adaptation. Here, we review the key methods that we feel hold great promise for advancing our understanding of responses to climate change and, in turn, can directly inform future conservation strategies.
Space-for-time substitutions, environmental gradients and phenotypic clines
Phenotypic clines in adaptive traits over latitudinal or altitudinal gradients are common in plants (e.g. Etterson 2004; Maron et al. 2004; Uribe-Salas et al. 2008; Bresson et al. 2011; Montesinos-Navarro et al. 2011; Chen et al. 2012; Woods et al. 2012). Reciprocal transplant and common garden experiments have been used to determine the degree of plastic versus heritable variation in clinal traits. A good example of adaptive clinal variation along environmental gradients is the work of Etterson (2004), who studied the partridge pea (Chamaecrista fasciculata) along a latitudinal gradient (from Minnesota to Oklahoma, USA). Across this gradient, mean annual temperature ranged from 17 to 23 °C. Clinal variation and genetic divergence had been previously shown in this species (Etterson 2000). To test for adaptive differences along the gradient, reciprocal transplant experiments were carried out in Minnesota, Kansas and Oklahoma. Northern populations grown in the south (i.e. mimicking predicted climate change) were found to have substantially lower fitness, despite demonstrating considerable phenotypic plasticity when in non-native sites. These results demonstrated that different phenotypes were favoured under different climatic conditions and Etterson (2004) suggested that, as the climate becomes warmer and drier in the Great Plains, evolutionary change will be required to maintain optimal population fitness.
A study into the altitudinal variation of functional traits in European oak and beech set out to evaluate the basis of genetic adaptation (Bresson et al. 2011). Several morphological and physiological leaf functional traits were found to vary along two altitudinal gradients. For example, leaf physiological performance (e.g. higher maximum rates of assimilation, stomatal conductance and leaf nitrogen content) was significantly greater in plants at higher altitudes. Through the use of common garden experiments Bresson et al. (2011) demonstrated that genetic differences accounted for only a small amount (0–28 %) of phenotypic variation, suggesting that trait plasticity is responsible for the majority of the observed variation. As alluded to earlier, the long generation times of tree species may have resulted in strong selection for increased trait plasticity.
Environmental gradients can also provide excellent natural laboratories for studying isolation by distance (IBD; Wright 1943) versus isolation by ecology (IBE; Sexton et al. 2014; Shafer et al. 2015), where locally adapted populations can inhabit close geographical space but disparate ecological space (particularly along altitudinal gradients). Real promise lies in the use of multiple independent transects along the same environmental gradients, which can be utilised as evolutionary replicates. Such study designs would provide great insight into adaptive evolution, its genetic basis and its redundancy, as well as the interactions between selection and migration (Savolainen et al. 2013).
The genomics era: signatures of selection and gene expression
The application of genomics technologies to conservation practice has been discussed in two recent reviews (Hoffmann et al. 2015; Shafer et al. 2015). There has also been a focus in the recent literature on the use of genomics for investigating natural selection, with particular attention paid to the promise and pitfalls of using genomic data for identifying loci associated with environment/climate (Schoville et al. 2012; Vitti et al. 2013; Tiffin and Ross-Ibarra 2014; Bragg et al. 2015). Here, we consider two genomic techniques that hold real promise in advancing our understanding of plant adaptation and highlight how we can use this knowledge to more clearly direct conservation actions. It is important to note, however, that the use of molecular markers as a measure of a population's adaptive potential can be unreliable (Mittell et al. 2015) and so the identification of levels of genetic variation among genetic markers should not be taken as direct evidence for a population's future adaptive potential.
Identifying local adaptation has historically been attempted through common garden and reciprocal transplant experiments. However, such experiments are costly and, particularly for long-lived species like trees, time consuming or even unfeasible. Molecular genetic studies provide an alternative or complementary way to study adaptation. The development of next-generation sequencing technologies has opened up new avenues for exploring the basis of multi locus/gene variation and local adaptation outside of the common garden.
The use of genome scans, where a random sample of the genome is sequenced and then explored for genes under selection, is becoming an ever more utilised approach to study adaptation. Steane et al. (2014) performed a genome scan followed by outlier detection to study signatures of climate adaptation in red ironbark (Eucalyptus tricarpa) across an aridity gradient in south-eastern Australia. They identified 94 putatively adaptive loci, whose population-level frequencies correlated strongly with temperature and moisture availability, suggesting they have most likely been the targets of selection under differing environmental conditions. Similarly, by examining sequence and expression variation in candidate genes, Chen et al. (2012) showed that variation in bud set in Norway spruce (Picea abies) along a latitudinal gradient had in part resulted from local selection. These types of approaches can prove useful for assessing climate adaptation in species and help identify climate resilient populations (Steane et al. 2014), which are likely to be important to improve the adaptive capacity of a species and therefore should be a conservation priority (Breed et al. 2012c).
Recent advances in sequencing technologies have also allowed easier access to transcriptome data (Bouck and Vision 2007; Hudson 2008; Martin and Wang 2011). The transcriptome contains RNA sequences of all genes expressed within a given tissue, and can therefore be used to determine which genes are active as well as their level of activity for specific tissues or developmental stages. This information can provide insight into the genes responsible for local adaptation under distinct climatic conditions. Transcriptome sequencing of river red gum (Eucalyptus camaldulensis) seedlings from three populations enabled an exploration of differential gene expression under water-stressed conditions (Thumma et al. 2012). Differential expression of a host of genes was found between control and stressed conditions and nearly 3000 single nucleotide polymorphisms (SNPs) showed differential allelic expression, with a proportion of these shown to be under positive selection among the populations (Thumma et al. 2012). These types of analyses can help to reveal the underlying genetic mechanisms behind adaptation and plasticity, and enable us to identify genes that are important to plastic responses in a changing/stressful environment.
Implications for conservation: what can we do?
When incorporating climate vulnerability into conservation planning, species sensitivity, adaptive capacity, and exposure to change are all important (Dawson et al. 2011). In this review, we have focused on what constrains adaptive capacity, which will therefore affect the sensitivity of a species to change. In order to reduce the chances of population extirpation and species extinction, as well as help populations to continue to adapt under climate change, conservation strategies need to aim to increase adaptive capacity. The disparity between current species ranges and their ideal range under climate change, coupled with the fact that human activities have fragmented the landscape, has resulted in populations inhabiting areas that they are struggling to adapt to or migrate away from. This is where human-intervention via well-planned and managed conservation and restoration strategies is required.
Conclusions and future directions
The survival of plant species through this next period of climate warming will depend on their ability to migrate, their genetic adaptive potential and their level of plasticity. Through past periods of climate change, migration to higher altitudes and latitudes to track preferred conditions might have been the default response. But under contemporary climate change, in a fragmented landscape, migration is likely to be impeded by a whole host of extra factors such as the fast rate of climate change, changed land use, habitat and population fragmentation, and absent niches. These factors can each constrain migration, keeping species trapped within their current range, or even restricting their range further as conditions at lower latitudes and altitudes exceed thermal limits.
If migration is hampered then adapting to novel conditions may be the answer to species persistence. By assessing the current plastic responses and genetic variability through the use of phenotypic clines along climatic gradients, common garden experiments, and genomic methods, researchers can discover the adaptive potential of plant populations to better inform conservation strategies. The species under most threat will be those in small populations with low genetic diversity, inhabiting the edge of suitable habitat (e.g. top of a mountain or along the coast). In the absence of successful in situ adaptation, these species will become under increasing threat of extinction.
In order to improve our understanding of adaptation under climate change, further exploration of the evolution of simple and more complex adaptive traits under different climate scenarios is needed. This could be achieved by simulating the effects of, for example, population size, levels of gene flow and genetic architectures to explore how changes in selection impacts the likelihood of successful adaptation to projected future environments. Mathematical and simulation tools have been developed to this end. For example, the software ALADYN (http://www.katja-schiffers.eu/research.html) has been used to investigate the spread of adaptive climate-related alleles in a hypothetical species (Schiffers et al. 2013). It was demonstrated that under gradual warming, adaptive alleles easily spread throughout a species range in the absence of local adaptation, but the presence of local adaptation hampered the spread of climate-related adaptive alleles due to increased mortality of new migrants. Similarly, the relative roles of mortality, dispersal ability and age of maturation in determining speed of adaptation have been investigated using a modeling approach for Scots pine (Pinus sylvestris) and Silver birch (Betula pendula) (Kuparinen et al. 2010). Information from these types of simulation studies, which account for evolutionary processes, will improve predictions of the likely outcomes for plant populations under climate change and can therefore be harnessed for evidence-based management actions.
Conservation and restoration efforts, through a combination of revegetation using pre-adapted and diverse provenances and the establishment of biodiversity corridors, as well as the use of seed banks, should be focused on the species identified as most threatened by climate change. The effectiveness of these strategies is yet to be fully assessed and there is a sense of great urgency for future research into conservation and restoration management actions to overcome adaptive constraints. For example, long-term field trials to explore the effectiveness of predictive or refugial provenancing for building climate-resilient plant populations would provide invaluable data to this end.
Notes
Acknowledgments
The authors wish to thank the Australian Research Council for funding support (LP110100721 awarded to AJL; DE150100542 awarded to MFB; DP150103414 awarded to AJL and MFB), the South Australian Premier's Science and Research Fund awarded to AJL, and the Field Naturalist Society of South Australia Lirabenda Endowment Fund awarded to MJC. The funding bodies played no role in the writing of this review or in the decision to submit it for publication.
Copyright information
© The Author(s) 2015
Open AccessThis article is distributed under the terms of the Creative Commons Attribution 4.0 International License (http://creativecommons.org/licenses/by/4.0/), which permits unrestricted use, distribution, and reproduction in any medium, provided you give appropriate credit to the original author(s) and the source, provide a link to the Creative Commons license, and indicate if changes were made.