Abstract
Objectives
To design a new system for the in vivo phosphorylation of proteins in Escherichia coli using the co-expression of the α-subunit of casein kinase II (CKIIα) and a target protein, (Nanofitin) fused with a phosphorylatable tag.
Results
The level of the co-expressed CKIIα was controlled by the arabinose promoter and optimal phosphorylation was obtained with 2 % (w/v) arabinose as inductor. The effectiveness of the phosphorylation system was demonstrated by electrophoretic mobility shift assay (NUT-PAGE) and staining with a specific phosphoprotein-staining gel. The resulting phosphorylated tag was also used to purify the phosphoprotein by immobilized metal affinity chromatography, which relies on the specific interaction of phosphate moieties with Fe(III).
Conclusion
The use of a single tag for both the purification and protein array anchoring provides a simple and straightforward system for protein analysis.
Access options
Buy single article
Instant access to the full article PDF.
USD 39.95
Price excludes VAT (USA)
Tax calculation will be finalised during checkout.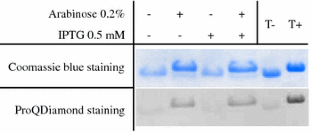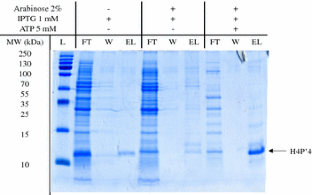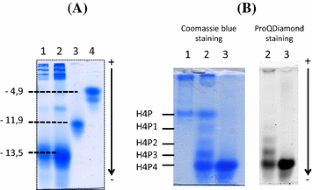 References
Berggren G, Garcia-Serres R, Brazzolotto X, Clemancey M, Gambarelli S, Atta M, Latour JM, Hernández HL, Subramanian S, Johnson MK, Fontecave M (2014) An EPR/HYSCORE, Mössbauer, and resonance Raman study of the hydrogenase maturation enzyme HydF: a model for N-coordination to [4Fe–4S] clusters. J Biol Inorg Chem 19:75–84

Blommel PG, Becker KJ, Duvnjak P, Fox BG (2009) Enhanced bacterial protein expression during auto-induction obtained by alteration of lac repressor dosage and medium composition. Biotechnol Prog 23:585–598

Buehl CJ, Deng X, Liu M, Hovde S, Xu X, Kuo MH (2014) Resolving acetylated and phosphorylated proteins by neutral urea Triton-polyacrylamide gel electrophoresis: NUT-PAGE. Biotechniques 57:72–80

Chung CT, Niemela SL, Miller RH (1989) One-step preparation of competent Escherichia coli: transformation and storage of bacterial cells in the same solution. Proc Natl Acad Sci USA 86:2172–2217

Cinier M, Petit M, Williams MN, Fabre RM, Pecorari F, Talham DR, Bujoli B, Tellier C (2009) Bisphosphonate adaptors for specific protein binding on zirconium phosphonate-based microarrays. Bioconjugate Chem 20:2270–2277

Cinier M, Petit M, Pecorari F, Talham DR, Bujoli B, Tellier C (2012) Engineering of a phosphorylatable tag for specific protein binding on zirconium phosphonate based microarrays. J Biol Inorg Chem 17:399–407

Cull MG, Schatz PJ (2000) Biotinylation of proteins in vivo and in vitro using small peptide tags. Methods Enzymol 326:430–440

Guzman LM, Belin D, Carson MJ, Beckwith J (1995) Tight regulation, modulation, and high-level expression by vectors containing the arabinose PBAD promoter. J Bacteriol 177:4121–4130

Inoue H, Nojima H, Okayama H (1990) High efficiency transformation of Escherichia coli with plasmids. Gene 96:23–28

Khlebnikov A, Datsenko KA, Skaug T, Wanner BL, Keasling JD (2001) Homogeneous expression of the P(BAD) promoter in Escherichia coli by constitutive expression of the low-affinity high-capacity AraE transporter. Microbiology 147:3241–3247

Kinoshita E, Kinoshita-Kikuta E, Koike T (2015) Advances in Phos-tag-based methodologies for separation and detection of the phosphoproteome. Biochim Biophys Acta 1854:601–608

Kinoshita-Kikuta E, Kinoshita E, Yamada A, Endo M, Koike T (2006) Enrichment of phosphorylated proteins from cell lysate using a novel phosphate-affinity chromatography at physiological pH. Proteomics 6:5088–5095

Liu HL, Ho Y, Hsu CM (2003) Molecular simulations to determine the chelating mechanisms of various metal ions to the His-tag motif: a preliminary study. J Biomol Struct Dyn 21:31–41

Liu H, Queffélec C, Charlier C, Defontaine A, Fateh A, Tellier C, Talham DR, Bujoli B (2014) Design and optimization of a phosphopeptide anchor for specific immobilization of a capture protein on zirconium phosphonate modified supports. Langmuir 30:13949–13955

Machida M, Kosako H, Shirakabe K, Kobayashi M (2007) Purification of phosphoproteins by immobilized metal affinity chromatography and its application to phosphoproteome analysis. FEBS J 274:1576–1587

Meggio F, Pinna LA (2003) One-thousand-and-one substrates of protein kinase CK2? FASEB J 17:349–368

Monot J, Petit M, Lane SM, Guisle I, Léger J, Tellier C, Talham DR, Bujoli B (2008) Towards zirconium phosphonate-based microarrays for probing DNA-protein interactions: critical influence of the location of the probe anchoring groups. J Am Chem Soc 130:6243–6251

Nonglaton G, Benitez IO, Guisle I, Pipelier M, Leger J, Dubreuil D, Tellier C, Talham DR, Bujoli B (2004) New approach to oligonucleotide microarrays using zirconium phosphonate-modified surfaces. J Am Chem Soc 126:1497–1502

Scheich C, Kümmel D, Soumailakakis D, Heinemann U, Büssow K (2007) Vectors for co-expression of an unrestricted number of proteins. Nucleic Acid Res 35:e43

Studier FW (2006) Protein production by auto-induction in high-density shaking cultures. Protein Expr Purif 41:207–234

Tsai C, Wang Y, Chen Y, Lai C, Lin P, Pan K, Chen J, Khoo K, Chen Y (2008) Immobilized metal affinity chromatography revisited: pH/acid control toward high selectivity in phosphoproteomics research articles. J Proteom Res 7:4058–4069
Acknowledgments
M.G. was supported by the "Region Pays de la Loire" within the framework of the Erasmus Mundus Program "NanoFar".
Supporting information
Supplementary Fig. 1—Sequences of Nanofitins H4P and H4P′.
Electronic supplementary material
Below is the link to the electronic supplementary material.
About this article
Cite this article
Goux, M., Fateh, A., Defontaine, A. et al. In vivo phosphorylation of a peptide tag for protein purification. Biotechnol Lett 38, 767–772 (2016). https://doi.org/10.1007/s10529-016-2040-4
Received:

Accepted:

Published:

Issue Date:

DOI: https://doi.org/10.1007/s10529-016-2040-4
Keywords
Casein kinase II

Nanofitin

Phosphorylation

Phosphorylated peptide tag

Protein purification