Abstract
The aim of the present study was to determine clinical parameters for the use of Er,Cr:YSGG laser in the treatment of dentine hypersensitivity. Two antagonist areas were determined as control and experimental areas for irradiation in 90 premolar roots. Each surface was conditioned with 24% EDTA (sub-group 1) and 35% phosphoric acid (sub-group 2) and irradiated with the following settings: 1) Er:YAG, 60 mJ, 2 Hz, defocused; groups 2 to 9: irradiation with Er,Cr:YSGG laser, 20 Hz, Z6 tip, 0% of air and water: 2) Er,Cr:YSGG 0.25 W; 3) 0.5 W; 4) 0.75 W; 5) 1.0 W; 6) 1.25 W, 7) 1.50 W, 8) 2 W; 9) 2 W. After irradiation, samples were immersed in methylene blue solution and included in epoxy resin to obtain longitudinal cuts. The images were digitalized and analyzed by computer software. Although the samples irradiated with Er:YAG laser showed less microleakage, sub-group 1 showed differences between the groups, differing statistically from groups 3, 6, and 9. The results of sub-group 2 showed that the mean values of Er:YAG samples showed a negative trend, however, no differences were detected between the groups. For scanning electron microscopy analysis, dentine squares were obtained and prepared to evaluate the superficial morphology. Partial closure of dentinal tubules was observed after irradiation with Er:YAG and Er,Cr:YSGG laser in the 0.25 and 0.50 W protocols. As the energy densities rose, open dentinal tubules, carbonization and cracks were observed. It can be concluded that none of the parameters were capable of eliminating microleakage, however, clinical studies with Er:YAG and Er,Cr:YSGG lasers should be conducted with the lowest protocols in order to determine the most satisfactory setting for dentine hypersensitivity.
This is a preview of subscription content, log in to check access.
Access options
Buy single article
Instant access to the full article PDF.
US$ 39.95
Price includes VAT for USA
Subscribe to journal
Immediate online access to all issues from 2019. Subscription will auto renew annually.
US$ 99
This is the net price. Taxes to be calculated in checkout.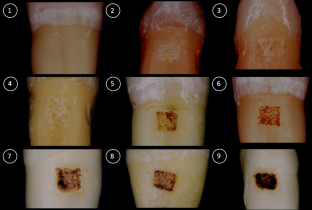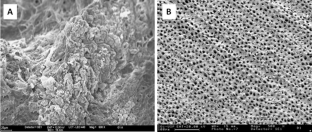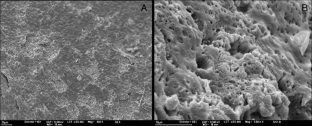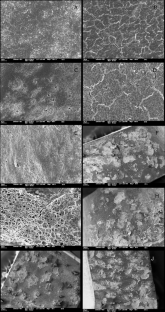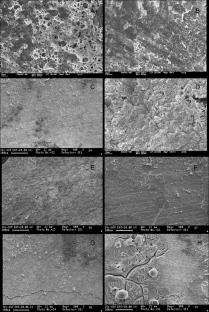 References
1.

Holland GR, Narhi MN, Addy M, Gangarosa I, Orchardson R (1997) Guidelines for the design and conduct of clinical trials on dentine hypersensitivity. J Clin Periodontol 24(11):808–813

2.

West NX (2008) Dentine hypersensitivity: preventive and therapeutic approaches to treatment. Periodontol 2000(48):31–41

3.

Addy M, Smith SR (2010) Dentine hypersensitivity: an overview on which to base tubule occlusion as a management concept. J Clin Dent 21(2):25–30

4.

Rimondini L, Baroni C, Carrassi A (1995) Ultrastructure of hypersensitive and non-sensitive dentine. A study on replica models. J Clin Periodontol 22(12):899–902

5.

Absi EG, Addy M, Adams D (1987) Dentine hypersensitivity. A study of the patency of dentineal tubules in sensitive and non-sensitive cervical dentine. J Clin Periodont 14(5):280–284

6.

Yoshiyama M, Masada J, Ishida H (1989) Scanning electron microscopic characterization of sensitive vs. insensitive human radicular dentine. J Dent Res 68(11):1498–1502

7.

Walters PA (2005) Dentineal hypersensitivity: a review. J Contemp Dent Pract 6(2):107–117

8.

Kimura Y, Wilder-Smith P, Yonaga K, Matsumoto K (2000) Treatment of dentine hypersensitivity by lasers; a review. J Clin Periodontol 27(10):715–721

9.

Badran Z, Boutigny H, Struillou X, Baroth S, Laboux O, Soueidan A (2011) Tooth desensitization with an Er:YAG laser: in vitro microscopical observation and a case report. Lasers Med Sci 26(1):139–142

10.

de Paula EC, de Freitas PM, Esteves-Oliveira M, Aranha AC, Ramalho KM, Simões A, Bello-Silva MS, Tunér J (2010) Laser phototherapy in the treatment of periodontal disease. A review. Lasers Med Sci 25(6):781–792

11.

Aranha AC, Domingues FB, Franco VO, Gutknecht N, Eduardo CP (2005) Effects of Er:YAG and Nd:YAG lasers on dentine permeability in root surfaces: a preliminary in vitro study. Photomed Laser Surg 23(5):504–508

12.

Brugnera A Jr, Zanin F, Barbin EL, Spanó JC, Santana R, Pécora JD (2003) Effects of Er:YAG and Nd:YAG laser irradiation on radicular dentine permeability using different irrigating solutions. Lasers Surg Med 33(4):256–259

13.

Schwarz F, Arweiler N, Georg T, Reich E (2002) Desensitizing effects of an Er:YAG laser on hypersensitive dentine. J Clin Periodontol 29(3):211–215

14.

Gillam DG (1995) Mechanisms of stimulus transmission across dentine—a review. J West Soc Periodontol Period 43(2):53–65

15.

Scelza MF, Pierro V, Scelza P, Pereira M (2004) Effect of three different time periods of irrigation with EDTA-T, EDTA, and citric acid on smear layer removal. Oral Surg Oral Med Oral Pathol Oral Radiol Endod 98(4):499–503

16.

Naylor F, Aranha AC, Eduardo Cde P, Arana-Chavez VE, Sobral MA (2006) Micromorphological analysis of dentineal structure after irradiation with Nd:YAG laser and immersion in acidic beverages. Photomed Laser Surg 24(6):745–752

17.

Lan WH, Lee BS, Liu HC, Lin CP (2004) Morphologic study of Nd:YAG laser usage in treatment of dentineal hypersensitivity. J Endod 30(3):131–134

18.

de Magalhães MF, Matson E, de Rossi W, Alves JB (2004) A morphological in vitro study of the effects of Nd:YAG laser on irradiated cervical dentine. Photomed Laser Surg 22(6):527–532

19.

Ciaramicoli MT, Carvalho RC, Eduardo CP (2003) Treatment of cervical dentine hypersensitivity using neodymium: yttrium-aluminum-garnet laser. Clinical evaluation. Lasers Surg Med 33(5):358–362

20.

Moritz A, Schoop U, Goharkhay K, Aoid M, Reichenbach P, Lothaller MA, Wernisch J, Sperr W (1998) Long-term effects of CO2 laser irradiation on treatment of hypersensitive dental necks: results of in vivo study. J Clin Laser Med Surg 16(4):211–215

21.

Romano AC, Aranha AC, Lopes da Silveira B, Baldochi SL, Eduardo CD (2011) Evaluation of carbon dioxide laser irradiation associated with calcium hydroxide in the treatment of dentineal hypersensitivity. A preliminary study. Lasers Med Sci 26(1):35–42

22.

Hibst R, Stock K, Gall R, Keller U (1996) Controlled tooth surface heating and sterilization by Er:YAG laser irradiation. SPIE 2922:119–127

23.

Wigdor HA, Walsh JT, Featherstone JDB, Visuri SR, Fried D, Waldvogel JL (1995) Lasers in dentistry. Lasers Surg Med 16(2):103–133

24.

Birang R, Poursamimi J, Gutknecht N, Lampert F, Mir M (2007) Comparative evaluation of the effects of Nd:YAG and Er:YAG laser in dentine hypersensitivity treatment. Lasers Med Sci 22(1):21–24

25.

Gholami GA, Fekrazad R, Esmaiel-Nejad A, Kalhori KA (2011) An evaluation of the occluding effects of Er;Cr:YSGG, Nd:YAG, CO2 and diode lasers on dentineal tubules: a scanning electron microscope in vitro study. Photomed Laser Surg 29(2):115–121

26.

Harashima T, Kinoshita J, Kimura Y, Brugnera A, Zanin F, Pecora JD, Matsumoto K (2005) Morphological comparative study on ablation of dental hard tissues at cavity preparation by Er:YAG and Er, Cr:YSGG lasers. Photomed Laser Surg 23(1):52–55
About this article
Cite this article
Aranha, A.C.C., de Paula Eduardo, C. In vitro effects of Er,Cr:YSGG laser on dentine hypersensitivity. Dentine permeability and scanning electron microscopy analysis. Lasers Med Sci 27, 827–834 (2012). https://doi.org/10.1007/s10103-011-0986-y
Received:

Accepted:

Published:

Issue Date:
Keywords
Dentine hypersensitivity

Dentine permeability

Dentinal tubules

Erbium lasers