Estimation of formamide harmonic and anharmonic modes in the Kohn-Sham limit using the polarization consistent basis sets
Open Access
Original Paper
Abstract
Formamide harmonic and anharmonic frequencies of fundamental vibrations in the gas phase and in several solvents were successfully estimated in the B3LYP Kohn-Sham complete basis set limit (KS CBS). CBS results were obtained by extrapolating a power function (two-parameter formula) to the results calculated with polarization-consistent basis sets. Anharmonic corrections using the second order perturbation treatment (PT2) and hybrid B3LYP functional combined with polarization consistent pc-n (n = 0, 1, 2, 3, 4) and several Pople's basis sets were analyzed for all fundamental formamide vibrational modes in the gas phase and solution. Solvent effects were modeled within a PCM method. The anharmonic frequency of diagnostic amide vibration C = O in the gas phase and the CCl4 solution calculated with the VPT2 method was significantly closer to experimental data than the corresponding harmonic frequency. Both harmonic and anharmonic frequencies of C = O stretching mode decreased linearly with solvent polarity, expressed by relative environment permittivity (ε) ratio (ε − 1)/(2ε + 1). However, an unphysical behavior of solvent dependence of some low frequency anharmonic amide modes of formamide (e.g., CN stretch, NH2 scissoring, and NH2 in plane bend) was observed, probably due to the presence of severe anharmonicity and Fermi resonance.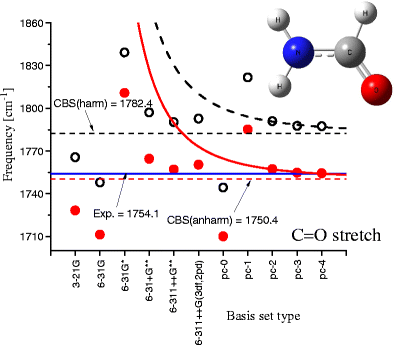 Keywords
Harmonic vibration 
Anharmonic vibration 
Complete basis set limit 
Formamide 
Solvent effect 
Introduction
IR and Raman vibrational spectroscopies are used widely for characterization of both novel chemical compounds and natural products. Calculated harmonic frequencies are usually overestimated due to neglect of anharmonicity effects [1]. For example, the high frequency wavelengths calculated by Hartree-Fock method are typically overestimated by about 10%. Although scaling of harmonic frequencies computed at the Hartree-Fock and other levels of theory gives reasonable results, the development of hardware and software allow the a priori prediction of anharmonic wavenumbers. There are three fundamental studies [2, 3, 4] on scaling factors used in frequency and ZPV calculations. Evaluation of scaling factors is very laborious work and, therefore, despite the presence of myriad methods and basis sets, only a few scaling factors are available in the literature. In particular, scaling of results obtained with the recently introduced Jensen's basis sets [5, 6, 7, 8, 9, 10] and very large Dunning's [11, 12, 13, 14] basis sets are lacking. Moreover, in more accurate theoretical vibrational studies, the effect of solvent, present in most experimental works should be also included.
Among the high number of basis sets available, the so-called Pople basis sets (see ref. [1]), though fairly old, are robust and relatively small. Sometimes, they reproduce very well the experimental parameters of medium-sized molecules. However, no regular change of atomic and molecular energy is calculated with the Pople basis sets toward the complete basis set limit (CBS). Dunning and coworkers [11, 12, 13, 14] utilized the idea of smooth and regular converging energy toward the CBS for constructing correlation-consistent basis set hierarchies. Thus, in theoretical thermochemical calculations, the energy, and some other structural and spectral parameters, have been estimated accurately using simple 2- and 3-parameter formulae [12, 15, 16, 17]. Later, Jensen [5, 6, 7, 8, 9, 10] designed another family of converging basis sets, the so-called polarized-consistent basis sets pc-n, where n = 0, 1, 2, 3 and 4. These basis set series, developed explicitly for DFT, seem to converge faster than those of Dunning while reproducing the parameters calculated with the latter in the corresponding SCF, DFT, MP2 and CCSD(T) basis set limits [18]. Despite the fact that the use of the CBS approach in DFT methods can be controversial, several studies have shown regular convergence of molecular energy and other parameters toward the corresponding Kohn-Sham (KS) limit [19, 20].
Formamide is the simplest model of a peptide bond and is often used for model experimental and theoretical studies related to protein chemistry. Cappelli [22] reported anharmonic frequencies of selected formamide modes in the gas phase and in water solution calculated by B3LYP/6-311 + + G** method. There have been several detailed and high-level studies on anharmonicity of formamide modes [23, 24, 25]. However, to the best of our knowledge, there have been no studies on formamide harmonic and anharmonic frequencies convergence toward the KS limit using a hierarchy of systematically changed basis sets and the influence of solvent on the obtained results. Do harmonic and anharmonic vibrations of formamide calculated with pc-n basis set hierarchy monotonically converge toward the KS limit? This question would be of interest for future detailed studies of vibrational problems. Boese and coworkers [21] used Dunning's and pc-1, 2 and 3 basis sets, and reported on convergence of anharmonic vibrations in case of 17 small molecules but formamide was not considered. Besides, no CBS estimates were reported in their paper.
In this work, we report on the convergence of harmonic and anharmonic fundamental frequencies of formamide modes in the gas phase and solution, calculated with second-order vibrational perturbation theory (VPT2) [26, 27] and pc-n polarization-consistent basis sets toward the B3LYP CBS. The results of individual calculations using a hierarchy of pc-n basis sets were fitted using a simple two-parameter mathematical formula. For comparison, calculations using several Pople basis sets were performed. The results obtained with individual basis sets and the estimated CBS values were critically compared with available experimental data in the gas phase [28] and solution [29].
Computational details
All calculations were performed using the Gaussian 09 program [30].
Results and discussion
The performance of the VPT2 method depends also on the method of calculation. For example, the MP2/aug-cc-pVTZ calculated anharmonic NH2 stretch modes [23] reproduced the experimental data ideally (by about 2 cm−1) while our B3LYP results with both Pople and Jensen's basis sets show large discrepancies (about 30–50 cm−1). However, both methods predict very well the CNO bending mode, probably due to the very low degree of anharmonicity.
Next, the performance of VPT2 in predicting anharmonic formamide frequencies in solution was studied using the PCM approach. Both low and high polarity solvents were tested. First, the impact of low polarity solvent (CCl4) on anharmonic vibrations for the studied Pople and Jensen basis sets was checked; a picture very similar to that presented in Fig. 1 was obtained (see Fig. S1 in the supplementary material). Similarly to formamide in the gas phase, the CBS values of anharmonic frequencies of two NH2 and C = O stretch modes reproduced very well the available experimental wavenumbers (the corresponding deviations are −30, −19 and −6 cm−1[29]). However, the anharmonic frequency of C-N stretching is very sensitive to the basis set quality and its CBS value underestimates the experimental value in CCl4 solution significantly (by −102 cm−1) [29]. On the contrary, the calculated harmonic CN stretching mode is almost independent of the basis set size and quality, and overestimates the corresponding experimental values by only 23 cm−1.
We conclude that the VPT2 method in combination with the PCM model is able to correctly predict changes of rovibrationally averaged structural parameters in response to solvent polarity. On the other hand, calculated frequencies are second derivatives of total energy of the system and changes of atomic positions. Thus, all minute errors in geometry or energy calculations are seen as if through a "magnifying glass" in the calculated anharmonic frequencies. Therefore, in the case of formamide, some anharmonic frequencies behave erratically upon increasing solvent polarity. A similar sensitivity of calculated magnetic parameters, for example, the accuracy of nuclear isotropic shieldings, is observed upon application of correlation-consistent or polarization-consistent basis set [18, 34]. Another reason for the unphysical changes in anharmonic CN stretch vibration with solvent polarity could be Fermi resonance with a 2ν11 overtone.
Conclusions
In this paper, for the first time, we showed the convergence of formamide harmonic and anharmonic (calculated using the VPT2 method) frequencies toward their corresponding B3LYP/pc-n CBS limits in the gas phase and in solution. A systematic study of the basis set convergence was carried out. From our results, the following conclusions can be drawn:
1.

In the case of polarization consistent basis sets, starting from pc-2, a regular and systematic convergence (leading mainly to a decrease in wavenumber) of both harmonic and anharmonic frequencies in the gas phase and solution is observed. In fact, harmonic and anharmonic wavenumbers practically converge for pc-2, and sometimes for pc-3, basis sets, making calculations with larger basis sets unnecessary. Only in the case of anharmonic C–N stretching mode (and contrary to the corresponding harmonic counterpart), is a very strong dependence on Jensen's basis set size observed, and the corresponding CBS limit underestimates the experimental value. Thus, this mode is difficult to predict correctly by VPT2 combined with B3LYP.

 

2.

Increasing the size and quality (flexibility) of Pople basis set leads to irregular and non-monotonic changes in formamide harmonic and anharmonic frequencies. However, the frequencies calculated with fairly large 6-311++G** and 6–311++G(3df,2pd) basis sets approach the CBS limit observed for pc-n basis sets.

 

3.

The most important and diagnostic amide mode (C = O stretching), relevant to studies on amides and peptides, is fairly well predicted by VPT2 method, both in the gas phase and in solvents of low, medium and high polarity.

 

4.

The quality of anharmonic frequencies is inferior to simple harmonic frequency scaling procedures (RMS in case of B3LYP/6-31G* calculations is 53 vs 19 cm−1, and for B3LYP/CBS results is 59 vs 23 cm−1). This fact is important for studies on peptide systems.

 

5.

Solvent dependence of some low frequency anharmonic amide modes of formamide (e.g., CN stretch, NH2 scissoring, and NH2 in plane bend) is incorrect. The VPT2 method reproduces some formamide frequencies in solution in an irregular way, probably due to the presence of severe anharmonicity and Fermi resonance.

 
Notes
Acknowledgments
A.B. is a recipient of a PhD fellowship from a project funded by the European Social Fund. Calculations were carried out in Wroclaw Centre for Networking and Supercomputing (http://www.wcss.wroc.pl), and in the Academic Computer Centre CYFRONET, AGH, Kraków, grant MEiN/SGI3700/UOpolski/063/2006. One of us (T.K.) was supported by grant 10/WCH/2010-S.
Open Access
This article is distributed under the terms of the Creative Commons Attribution Noncommercial License which permits any noncommercial use, distribution, and reproduction in any medium, provided the original author(s) and source are credited.
Copyright information
© The Author(s) 2011
Open AccessThis is an open access article distributed under the terms of the Creative Commons Attribution Noncommercial License (https://creativecommons.org/licenses/by-nc/2.0), which permits any noncommercial use, distribution, and reproduction in any medium, provided the original author(s) and source are credited.