Abstract
In this study, a rapid multi-mycotoxin approach was developed for biomonitoring and quantification of 27 important mycotoxins and mycotoxin metabolites in human blood samples. HPLC-MS/MS detection was used for the analysis of dried serum spots (DSS) and dried blood spots (DBS). Detection of aflatoxins (AFB1, AFB2, AFG1, AFG2, AFM1), trichothecenes (deoxynivalenol, DON; DON-3-glucoronic acid, DON-3-GlcA; T-2; HT-2; and HT-2-4-GlcA), fumonisin B1 (FB1), ochratoxins (OTA and its thermal degradation product 2'R-OTA; OTα; 10-hydroxychratoxin A, 10-OH-OTA), citrinin (CIT and its urinary metabolite dihydrocitrinone, DH-CIT), zearalenone and zearalanone (ZEN, ZAN), altenuene (ALT), alternariols (AOH; alternariol monomethyl ether, AME), enniatins (EnA, EnA1, EnB, EnB1) and beauvericin (Bea) was validated for two matrices, serum (DSS), and whole blood (DBS). HPLC-MS/MS analysis showed signal suppression as well as signal enhancement due to matrix effects. However, for most analytes LOQs in the lower pg/mL range and excellent recovery rate were achieved using matrix-matched calibration. Besides validation of the method, the analyte stability in DBS and DSS was also investigated. Stability is a main issue for some analytes when the dried samples are stored under common conditions at room temperature. Nevertheless, the developed method was applied to DBS samples of a German cohort (n = 50). Besides positive findings of OTA and 2'R-OTA, all samples were positive for EnB. This methodical study establishes a validated multi-mycotoxin approach for the detection of 27 mycotoxins and metabolites in dried blood/serum spots based on a fast sample preparation followed by sensitive HPLC-MS/MS analysis.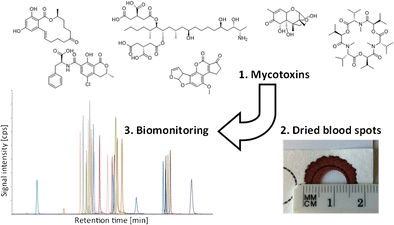 Abbreviations
2'R-OTA:

2'R-Ochratoxin A

10-OH-OTA:

10-Hydroxyochratoxin A

AFB1 :

Aflatoxin B1

AFB2 :

Aflatoxin B2

AFG1 :

Aflatoxin G1

AFG2 :

Aflatoxin G2

AFM1 :

Aflatoxin M1

ALT:

Altenuene

AME:

Alternariol monomethyl ether

AOH:

Alternariol

BEA:

Beauvericin

DBS:

Dried blood spot

DH-CIT:

Dihydrocitrinone

DON:

Deoxynivalenol

DON-3-GlcA:

DON-3-glucuronide

DSS:

Dried serum spot

EnA:

Enniatin A

EnA1 :

Enniatin A1

EnB:

Enniatin B

EnB1 :

Enniatin B1

FB1 :

Fumonisin B1

HT-2:

HT-2 toxin

HT-2-4-GlcA:

HT-2-toxin-4-glucuronide

OTA:

Ochratoxin A

OTα:

Ochratoxin α

sMRM:

Scheduled multiple reaction monitoring

T-2:

T-2 toxin

ZAN:

Zearalanone

ZEN:

Zearalenone
References
Bennett JW, Klich M. Mycotoxins. Clin Microbiol Rev. 2003;16:497–516.

van Egmond HP, Schothorst RC, Jonker MA. Regulations relating to mycotoxins in food. Anal Bioanal Chem. 2007;389:147–57.

Marin S, Ramos AJ, Cano-Sancho G, Sanchis V. Mycotoxins: occurrence, toxicology, and exposure assessment. Food Chem Toxicol. 2013;60:218–37.

Turner PC, Flannery B, Isitt C, Ali M, Pestka J. The role of biomarkers in evaluating human health concerns from fungal contaminants in food. Nutr Res Rev. 2012;25:162–79.

Serrano AB, Capriotti AL, Cavaliere C, Piovesana S, Samperi R, Ventura S, et al. Development of a rapid LC-MS/MS method for the determination of emerging Fusarium mycotoxins. Toxins. 2015;7:3554–71.

Muñoz K, Blaszkewicz M, Degen GH. Simultaneous analysis of ochratoxin A and its major metabolite ochratoxin alpha in plasma and urine for an advanced biomonitoring of the mycotoxin. J Chromatogr B. 2010;878:2623–9.

Blaszkewicz M, Muñoz K, Degen GH. Methods for analysis of citrinin in human blood and urine. Arch Toxicol. 2013;87:1087–94.

Torres O, Matute J, Gelineau-van Waes J, Maddox JR, Gregory SG, Ashley-Koch AE, et al. Urinary fumonisin B1 and estimated fumonisin intake in women from high- and low-exposure communities in Guatemala. Mol Nutr Food Res. 2014;58:973–83.

Vettorazzi A, González-Peñas E, de Cerain AL. Ochratoxin A kinetics: a review of analytical methods and studies in rat model. Food Chem Toxicol. 2014;72:273–88.

Warth B, Sulyok M, Krska R. LC-MS/MS-based multibiomarker approaches for the assessment of human exposure to mycotoxins. Anal Bioanal Chem. 2013;405:5687–95.

Gerding J, Cramer B, Humpf H-U. Determination of mycotoxin exposure in Germany using an LC-MS/MS multibiomarker approach. Mol Nutr Food Res. 2014;58:2358–68.

Stove CP, Ingels ASME, De Kesel PMM, Lambert WE. Dried blood spots in toxicology: from the cradle to the grave? Crit Rev Toxicol. 2012;42:230–43.

Mercolini L, Mandrioli R, Sorella V, Somaini L, Giocondi D, Serpelloni G, et al. Dried blood spots: liquid chromatography-mass spectrometry analysis of Δ9-tetrahydrocannabinol and its main metabolites. J Chromatogr A. 2013;1271:33–40.

Batterman S, Chernyak S. Performance and storage integrity of dried blood spots for PCB, BFR and pesticide measurements. Sci Total Environ. 2014;494–495:252–60.

Shlosberg A, Rumbeiha WK, Lublina A, Kannan K. A database of avian blood spot examinations for exposure of wild birds to environmental toxicants: the DABSE biomonitoring project. J Environ Monit. 2011;13:1547–58.

Knudsen R, Slazyk W, Richmond J, Hannon W. CDC Guidelines for the shipment of dried blood spot specimens. 2012. https://www.cdc.gov/labstandards/pdf/nsqap/Bloodspot_Transportation_Guidelines.pdf Accessed 12 July 2016.

Blumenfeld TA, Hertelendy WG, Ford SH. Simultaneously obtained skin-puncture serum, skin-puncture plasma, and venous serum compared, and effects of warming the skin before puncture. Clin Chem. 1977;23:1705–10.

Kiyoshi M, Keiko N, Minoru K, Toshiaki O, Tsuneo T. An improved assay of thyrotropin in dried blood samples on filter paper as a screening test for neonatal hypothyroidism. Clin Chim Acta. 1976;73:241–9.

O'Broin S, Gunter E. Dried-serum spot assay for folate. Clin Chem. 2002;48:1128–30.

Desbois D, Roque-Afonso AM, Lebraud P, Dussaix E. Use of dried serum spots for serological and molecular detection of hepatitis a virus. J Clin Microbiol. 2009;47:1536–42.

Cramer B, Osteresch B, Muñoz KA, Hillmann H, Sibrowski W, Humpf H-U. Biomonitoring using dried blood spots: detection of ochratoxin A and its degradation product 2'R-ochratoxin A in blood from coffee drinkers. Mol Nutr Food Res. 2015;59:1837–43.

Osteresch B, Cramer B, Humpf HU. Analysis of ochratoxin A in dried blood spots—correlation between venous and finger prick blood, the influence of hematocrit and spotted volume. J Chromatogr B. 2016;1020:158–64.

Ostry V. Alternaria mycotoxins: an overview of chemical characterization, producers, toxicity, analysis and occurrence in foodstuffs. World Mycotoxin J. 2008;1:175–88.

Sy-Cordero AA, Pearce CJ, Oberlies NH. Revisiting the enniatins: a review of their isolation, biosynthesis, structure determination and biological activities. J Antibiot. 2012;65:541–9.

Cramer B, Königs M, Humpf HU. Identification and in vitro cytotoxicity of ochratoxin A degradation products formed during coffee roasting. J Agric Food Chem. 2008;56:5673–81.

Rubert J, León N, Sáez C, Martins CP, Godula M, Yusà V, et al. Evaluation of mycotoxins and their metabolites in human breast milk using liquid chromatography coupled to high resolution mass spectrometry. Anal Chim Acta. 2014;820:39–46.

Waseem A, Shah AS, Sajjad A, Siddiqi AR, Nafees M. Human exposure to mycotoxins: a retrospective review of leading toxins and metabolites in human biological matrices. J Chem Soc Pak. 2014;36:1196–214.

Warth B, Sulyok M, Berthiller F, Schuhmacher R, Krska R. New insights into the human metabolism of the Fusarium mycotoxins deoxynivalenol and zearalenone. Toxicol Lett. 2013;220:88–94.

Mally A, Solfrizzo M, Degen GH. Biomonitoring of the mycotoxin Zearalenone: current state-of-the art and application to human exposure assessment. Arch Toxicol. 2016;90:1281–92.

Beyer M, Ferse I, Humpf H-U. Large-scale production of selected type A trichothecenes: the use of HT-2 toxin and T-2 triol as precursors for the synthesis of d 3-T-2 and d 3-HT-2 toxin. Mycotoxicol Res. 2009;25:41–52.

Hübner F, Harrer H, Fraske A, Kneifel S, Humpf H-U. Large scale purification of B-type fumonisins using centrifugal partition chromatography (CPC). Mycotoxicol Res. 2012;28:37–43.

Bretz M, Beyer M, Cramer B, Knecht A, Humpf H-U. Thermal degradation of the Fusarium mycotoxin deoxynivalenol. J Agric Food Chem. 2006;54:6445–51.

Cramer B, Harrer H, Nakamura K, Uemura D, Humpf H-U. Total synthesis and cytotoxicity evaluation of all ochratoxin A stereoisomers. Bioorg Med Chem. 2010;18:343–7.

Cramer B, Bretz M, Humpf H-U. Stable isotope dilution analysis of the fusarium mycotoxin zearalenone. J Agric Food Chem. 2007;55:8353–8.

Bittner A, Cramer B, Humpf H-U. Matrix binding of ochratoxin A during roasting. J Agric Food Chem. 2013;61:12737–43.

Welsch T, Humpf H-U. HT-2 toxin 4-glucuronide as new T-2 toxin metabolite: enzymatic synthesis, analysis, and species specific formation of T-2 and HT-2 toxin glucuronides by rat, mouse, pig, and human liver microsomes. J Agric Food Chem. 2012;60:10170–8.

Hickert S, Bergmann M, Ersen S, Cramer B, Humpf H-U. Survey of Alternaria toxin contamination in food from the German market, using a rapid HPLC-MS/MS approach. Mycotoxin Res. 2015;32:7–18.

Lohrey L, Marschik S, Cramer B, Humpf H-U. Large-scale synthesis of isotopically labeled 13C2-tenuazonic acid and development of a rapid HPLC-MS/MS method for the analysis of tenuazonic acid in tomato and pepper products. J Agric Food Chem. 2013;61:114–20.

Muñoz K, Blaszkewicz M, Campos V, Vega M, Degen GH. Exposure of infants to ochratoxin A with breast milk. Arch Toxicol. 2014;88:837–46.

Eriksen GS, Pettersson H, Lindberg JE. Absorption, metabolism and excretion of 3-acetyl don in pigs. Arch Anim Nutr. 2003;57:335–45.

Dänicke S, Brosig B, Kahlert S, Panther P, Reinhardt N, Diesing AK, et al. The plasma clearance of the Fusarium toxin deoxynivalenol (DON) is decreased in endotoxemic pigs. J Food Chem Toxicol. 2012;50:4405–11.

Maul R, Warth B, Kant J-S, Schebb NH, Krska R, Koch M, et al. Investigation of the hepatic glucuronidation pattern of the Fusarium mycotoxin deoxynivalenol in various species. Chem Res Toxicol. 2012;25:2715–7.

Šarkanj B, Warth B, Uhlig S, Abia WA, Sulyok M, Klapec T, et al. Urinary analysis reveals high deoxynivalenol exposure in pregnant women from Croatia. Food Chem Toxicol. 2013;62:231–7.

Njumbe Ediage E, Di Diana Mavungu J, Song S, Wu A, van Peteghem C, de Saeger S. A direct assessment of mycotoxin biomarkers in human urine samples by liquid chromatography tandem mass spectrometry. Anal Chim Acta. 2012;741:58–69.

Solfrizzo M, Gambacorta L, Lattanzio VMT, Powers S, Visconti A. Simultaneous LC–MS/MS determination of aflatoxin M1, ochratoxin A, deoxynivalenol, de-epoxydeoxynivalenol, α and β-zearalenols and fumonisin B1 in urine as a multi-biomarker method to assess exposure to mycotoxins. Anal Bioanal Chem. 2011;401:2831–41.

Vishwanath V, Sulyok M, Labuda R, Bicker W, Krska R. Simultaneous determination of 186 fungal and bacterial metabolites in indoor matrices by liquid chromatography/tandem mass spectrometry. Anal Bioanal Chem. 2009;395:1355–72.

Cizdziel JV. Determination of lead in blood by laser ablation ICP-TOF-MS analysis of blood spotted and dried on filter paper: a feasibility study. Anal Bioanal Chem. 2007;388:603–11.

EFSA CONTAM Panel. Scientific Opinion on the risks to human and animal health related to the presence of beauvericin and enniatins in food and feed. EFSA J. 2014;12:3802.
Ethics declarations
Conflict of interest
The authors declare that they have no conflict of interests.
Electronic supplementary material
Below is the link to the electronic supplementary material.
Rights and permissions
Open Access This article is distributed under the terms of the Creative Commons Attribution 4.0 International License (http://creativecommons.org/licenses/by/4.0/), which permits unrestricted use, distribution, and reproduction in any medium, provided you give appropriate credit to the original author(s) and the source, provide a link to the Creative Commons license, and indicate if changes were made.
About this article
Cite this article
Osteresch, B., Viegas, S., Cramer, B. et al. Multi-mycotoxin analysis using dried blood spots and dried serum spots. Anal Bioanal Chem 409, 3369–3382 (2017). https://doi.org/10.1007/s00216-017-0279-9
Received:

Revised:

Accepted:

Published:

Issue Date:

DOI: https://doi.org/10.1007/s00216-017-0279-9
Keywords
Biomonitoring

Dried blood spot

Dried serum spot

HPLC-MS/MS

Mass spectrometry

Mycotoxin