Abstract
A Cr(VI) reducing bacterial strain FM1 was isolated from heavy metal contaminated agricultural soil irrigated with tannery effluents of Jajmau, Kanpur (India), and was identified as Bacillus sp. on the basis of biochemical methods and 16S rDNA gene sequence analysis. FM1 strain was found to be resistant to some toxic heavy metals (Cr(VI), Cr(III), Cu2+, Co2+, Cd2+, Ni2+ and Zn2+) up to several fold concentrations to the normal levels occurring in highly polluted region. FM1 was resistant to very high concentration of Cr(VI) (1,000 mg/L) and completely reduced 100 mg/L Cr(VI) within 48 h. Factors (pH, temperature, initial Cr(VI) concentration) affecting Cr(VI) reduction under culture condition were also evaluated. Reduction was optimum at 37°C and pH 8. Cr(VI) reduction was enhanced by addition of glucose. The presence of heavy metal cations, such as Cu2+, Co2+, Cd2+, Ni2+ and Zn2+ showed differential effect on reduction. Since strain FM1 could grow in the presence of significant concentrations of metals and due to high Cr(VI) reduction ability, this bacterium may be potentially applicable in Cr(VI) detoxification.
Access options
Buy single article
Instant access to the full article PDF.
USD 39.95
Price includes VAT (USA)
Tax calculation will be finalised during checkout.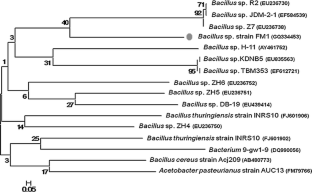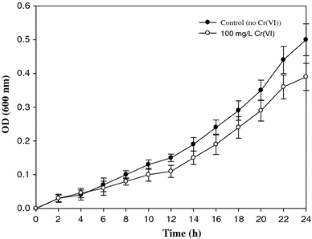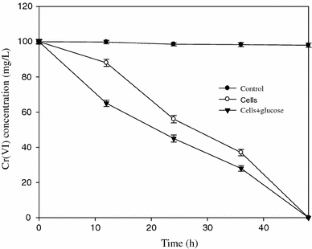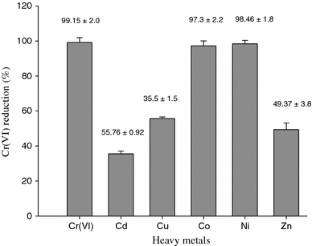 References
Alam ZM, Malik A (2008) Chromate resistance, transport and bioreduction by Exiguobacterium sp. ZM-2 isolated from agricultural soil irrigated with tannery effluent. J Basic Microbiol 48:1–5

Aleem A, Isar J, Malik A (2003) Impact of long-term application of industrial wastewater on the emergence of resistance traits in Azotobacter chroococcum isolated from rhizospheric soil. Biores Technol 86:7–13

Ansari MI, Grohmann E, Malik A (2008) Conjugative plasmids in multi-resistant bacterial isolates from Indian soil. J Appl Microbiol 104:1774–1781

Asatiani NV, Abuladze MK, Kartvelishvili TM et al (2004) Effect of chromium(VI) action on Arthrobacter oxydans. Curr Microbiol 49:321–326

Avudainayagam S, Megharaj M, Owens G et al (2003) Chemistry of chromium in soils with emphasis, on tannery waste sites. Rev Environ Contam Toxicol 178:53–91

Bae WC, Lee HK, Choe YC et al (2005) Purification and characterization of NADPH dependent Cr(VI) reductase from Escherichia coli ATCC 33456. J Microbiol 43:21–27

Camargo FAO, Okeke BC, Bento FM et al (2003) Chromate reduction by chromium-resistant bacteria isolated from soils contaminated with dichromate. J Environ Qual 32:1228–1233

Clesceri LS, Greenberg AE, Eaton AD (1998) Standard methods for the examination of water and wastewater, 20th edn. Washington

DeLeo PC, Ehrlich HL (1994) Reduction of hexavalent chromium by Pseudomonas fluorescens LB300 in batch and continuous cultures. Appl Microbiol Biotechnol 40:756–759

Desai C, Jain K, Madamwar D (2008) Evaluation of In vitro Cr(VI) reduction potential in cytosolic extracts of three indigenous Bacillus sp. isolated from Cr(VI) polluted industrial landfill. Biores Technol 99:6059–6069

Elangovan R, Abhipsa S, Rohit B et al (2006) Reduction of Cr(VI) by a Bacillus sp. Biotechnol Lett 28:247–252

Ganguli A, Tripathi AK (2002) Bioremediation of toxic chromium from electroplating effluent by chromate-reducing Pseudomonas aeruginosa A2Chr in two bioreactors. Appl Microbiol Biotechnol 58:416–420

Holt JG, Krieg NR, Sneath PHA, Staley JT, Williams ST (1994) Bergey's manual of determinative bacteriology. Williams and Wilkins, Baltimore

Liu YG, Xu WH, Zeng GM et al (2004) Experimental study on reduction by Pseudomonas aeruginosa. J Environ Sci 16(5):795–801

Liu YG, Xu WH, Zeng GM et al (2006) Cr(VI) reduction by Bacillus sp. isolated from chromium landfill. Process Biochem 41(9):1981–1986

Mabbett AN, Macaskie LE (2001) A novel isolate of Desulfovibrio sp. with enhanced ability to reduce Cr(VI). Biotechnol Lett 23:683–687

Pal A, Paul AK (2004) Aerobic chromate reduction by chromium-resistant bacteria isolated from serpentine soil. Microbiol Res 159:347–354

Pal A, Dutta S, Paul AK (2005) Reduction of hexavalent chromium by cell free extract of Bacillus sphaericus and 303 isolated from serpentine soil. Curr Microbiol 51:327–330

Park CH, Keyhan M, Wielinga B et al (2000) Purification to homogeneity and characterization of a novel Pseudomonas putida chromate reductase. Appl Environ Microbiol 66:1788–1795

Pattanapipitpaisal P, Brown NL, Macaskie LE (2001) Chromate reduction and 16S rRNA identification of bacteria isolated from a Cr(VI)–contaminated site. Appl Microbiol Biotechnol 57:257–261

Philip L, Venkobachar C (1998) Cr(VI) reduction by Bacillus coagulans isolated from contaminated soils. J Environ Eng 124(12):1165–1170

Saitou N, Nei M (1987) The neighbor-joining method: a new method for constructing phylogenetic trees. Mol Biol Evol 4:406–425

Singh KP, Mohan D, Sinha S et al (2004) Impact assessment of treated/untreated wastewater toxicants discharged by sewage treatment plants on health, agricultural and environmental quality in wastewater disposal area. Chemosphere 55:227–255

Srinath T, Khare S, Ramteke PW (2001) Isolation of hexavalent chromium-reducing facultative anaerobes from tannery effluent. J Gen Appl Microbiol 47:307–312

Stepanauskas R, Glenn TC, Jagoe CH, Tuckfield RC, Lindell AH, McArthur JV (2005) Elevated microbial tolerance to metals and antibiotics in metal-contaminated industrial environments. Environ Sci Technol 39:3671–3678

Sultan S, Hasnain S (2007) Reduction of toxic hexavalent chromium by Ochrobacterium intermedium strain SDCr-5 stimulated by heavy metals. Biores Technol 98:340–344

Tamura K, Dudley J, Nei M et al (2007) MEGA 4: molecular evolutionary genetics analysis (MEGA) software version 4.0. Mol Biol Evol 24:1596–1599

Vaimajala S, Peyton BM, Apel WA et al (2002) Chromate reduction in Shewanella oneidensis MR-1 is an inducible process associated with anaerobic growth. Biotechnol Prog 18:290–296

Viti C, Pace A, Giovanetti L (2003) Characterization of Cr(VI)-resistant bacteria isolated from chromium-contaminated soil by tannery activity. Curr Microbiol 46:1–5

Wang YT, Shen H (1995) Bacterial reduction of hexavalent chromium. J Ind Microbiol 14:159–163

Wang YT, Xiao CS (1995) Factors effecting hexavalent chromium reduction in pure cultures of bacteria. Water Res 29:2467–2474
Acknowledgments
Financial support from the Council of Scientific and Industrial Research (File no.: 24(0271)/04/EMR-II) Government of India, is gratefully acknowledged.
About this article
Cite this article
Masood, F., Malik, A. Hexavalent Chromium Reduction by Bacillus sp. Strain FM1 Isolated from Heavy-Metal Contaminated Soil. Bull Environ Contam Toxicol 86, 114–119 (2011). https://doi.org/10.1007/s00128-010-0181-z
Received:

Accepted:

Published:

Issue Date:
Keywords
Cr(VI) reduction

Bacillus sp

Bioremediation