The Role of IL-17 and Th17 Lymphocytes in Autoimmune Diseases
Abstract
The end of twentieth century has introduced some changes into T helper (Th) cells division. The identification of the new subpopulation of T helper cells producing IL-17 modified model of Th1–Th2 paradigm and it was named Th17. High abilities to stimulate acute and chronic inflammation made these cells ideal candidate for crucial player in development of autoimmune disorders. Numerous publications based on animal and human models confirmed their pivotal role in pathogenesis of human systemic and organ-specific autoimmune diseases. These findings made Th17 cells and pathways regulating their development and function a good target for therapy. Therapies based on inhibition of Th17-dependent pathways are associated with clinical benefits, but on the other hand are frequently inducing adverse effects. In this review, we attempt to summarize researches focused on the importance of Th17 cells in development of human autoimmune diseases as well as effectiveness of targeting IL-17 and its pathways in pre-clinical and clinical studies.
Keywords
Th17 
IL-17 
Autoimmune diseases 
Therapy 
Introduction
In the late twentieth century some changes in T helper cell's classification have been introduced. In 1989 Mosmann and Coffman (1989) described the relationship between functional properties of Th1 and Th2 cells and cytokines produced by them (Mosmann et al. 2005). However, in the nineties of the past century a new cytokine, interleukin (IL)-17, was identified (Rouvier et al. 1993; Yao et al. 1995). Subsequently the presence of a novel Th cell subpopulation (Th17), able to produce IL-17, was revealed.
There are six known isoforms of IL-17, from A to F, but Th17 cells are able to produce only IL-17A and IL-17F (Tesmer et al. 2008). Both of them are pro-inflammatory cytokines. Some researchers have recently shown that IL-17A and/or IL-17F are responsible for development of inflammation in many disorders, especially in autoimmune diseases like rheumatoid arthritis (RA), psoriasis, juvenile idiopathic arthritis (JIA), Crohn's disease and many others (Adami et al. 2014; Hot and Miossec 2011; Hu et al. 2011; Piper et al. 2014; Tesmer et al. 2008). This special population of CD4+ T cells produces also IL-21 (Pelletier and Girard 2007) and IL-22 (Pan et al. 2013b). Both of them are pro-inflammatory cytokines; IL-21 helps to restore the balance between Th17 and Treg cells and IL-22 is a member of IL-10 cytokine family, which is linked to chronic inflammation and participates in pathogenesis of many autoimmune diseases.
Th17, like other Th cells, need specific cytokines and transcription factors for activation and proliferation. Specific molecules regulating Th17 cells functions and properties have become more interesting, after discovery that Th17 cells take part in pathomechanisms of many diseases. Since then researchers have tried to find origin and function of Th17 cells and have been trying to use them in therapy. Today we know two ways of activation of Th17 cells and some factors, which promote and inhibit their differentiation. Th17 cells can be stimulated with the use of IL-6/transforming growth factor (TGF)-β (Ghilardi and Ouyang 2007) or IL-23p40 pathway. Main inhibitors of Th17 cells are cytokines produced by Th1 and Th2 cells, interferon (IFN)-γ and IL-4, respectively (Stumhofer et al. 2007). Noack and Miossec (2014) have described also Th17 reciprocally connections with Treg population. Cai et al. (2012) demonstrated in mouse model, that in exosomes, TGF-β1 delayed inflammatory bowel disease (IBD). At the same time, in lymph nodes, it increased proportion of Foxp3+ Tregs and decreased percentage of Th17. The interaction between Th17 and Treg populations is probably very important in pathogenesis of autoimmune diseases, because deviation of critical balance in favor of Th17 cells significantly enhances the severity of disease.
In this review, we describe recent progress in understanding of the involvement of Th17 cells and related cytokines in pathogenesis of some autoimmune diseases. To facilitate finding information about particular disorder each of them was described separately. Finally, we emphasize recent results considering effectiveness of therapies targeting Th17 pathways.
The Role of Th17 Cells and Related Cytokines in Pathogenesis of Autoimmune Diseases
Organ-Specific Autoimmune Diseases
The autoimmune organ-specific diseases are mediated by specific immune response directed against antigens characteristic for particular tissues. The role of Th1 and Th2 in this type of disorders was quite well established. Th17 seems to be a new player in organ specific autoimmunity.
Th17 Lymphocytes and Their Pathways as Target for Therapy: Clinical Trials
Although the role of Th17 lymphocytes in etiology and pathology of human diseases is quite different and multifaceted, both in vitro and in vivo studies have clearly demonstrated the pivotal role of IL-17 in the pathogenesis of various diseases, making IL-17 a perfect target for therapeutic procedures. On the basis of pre-clinical studies, immunologists predicted that blocking of IL-17/IL-17R or cytokines that promote Th17 induction or activation (IL-1, IL-6 or IL-23) could be beneficial mainly in patients with chronic inflammatory diseases. The mAbs targeting these pathways and potential use in autoimmune diseases is shown in Fig. 
1
. On the other hand, questions and skepticism surround the usefulness of animal models as direct predictors of potential therapeutics for IL-17-based drugs, so in consequence the results of human clinical trials targeting this pathway have been fervently awaited.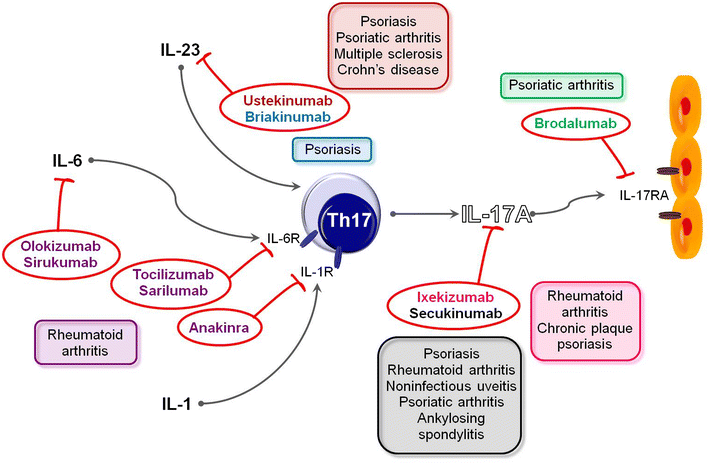 In patients with psoriasis or IBDs, treatment with different TNF inhibitors enhances Th17 activity in blood, whereas in the inflamed tissues of responding patients, it induces a potent shut down of Th17-Th1 cytokines (Bosè et al. 2011). Sugita et al. (2012) showed that anti-TNF chimeric antibody (Infliximab) inhibited Th17 differentiation in uveitis patients with Behçet's disease. Downregulation of Th17 number and functions seems to be important to achieve therapeutic effect of anti-TNF treatment in patients with RA. Studies based on human peripheral blood cells showed that number of IL-17 producing lymphocytes and concentrations of cytokines associated with Th17 development and functions are decreased in patients who responded to treatment, while in non-responding patients these levels and functions were elevated (Alzabin et al. 2012; Chen et al. 2011; Zivojinovic et al. 2012). Additionally, the study of van Hamburg et al. (2012) suggested that 1,25(OH)2D3 could be crucial for suppression of Th17 cells by anti-TNF treatment. Also combination of TNF inhibitors and methotrexate is more efficient in downregulation of Th17 response than soluble TNF receptor alone (Lina et al. 2011).
The majority of conducted clinical trials were focused on psoriasis, what led to approval of ustekinumab (fully human IgG1 mAb against p40 subunits of IL-12/IL-23) for treatment of moderate to severe plaque psoriasis (Patel et al.
2013
; Wofford and Menter
2014
). Moreover, the usefulness of ustekinumab was also evaluated in other immune-mediated diseases such as psoriatic arthritis, MS and Crohn's disease. Results of these trials are summarized in Table 
1
. In Crohn's disease the effectiveness of ustekinumab was achieved most notably in patients who had received previously biological therapy. Other researchers showed that the clinical response was better in ustekinumab group than in placebo series in patients resistant to TNF inhibitors (Toussirot et al.
2013
; Tuskey and Behm
2014
). The study comparing ustekinumab with etanercpet showed ustekinumab's superiority to high-dose etanercept in managing of moderate-to-severe psoriasis (Griffiths et al.
2010
). However, a phase 2 clinical trials investigating efficacy of ustekinumab in MS displayed its inefficiency in reducing the number of enhancing lesions (Ghosh
2012
; Scherl et al.
2010
). Despite encouraging results showing clinical benefits of IL-17 and IL-23 inhibition, recently published meta-analyses have underlined higher number of major adverse effects in comparison to placebo group and suggested that patients shall be monitored for these potential safety signals (Langley et al.
2013
; Spuls and Hooft
2012
; Tzellos et al.
2013
). Clinical trials focused on other mAbs are summarized in Table 
2
.
Table 1
Clinical studies of ustekinumab in psoriasis, psoriatic arthritis, Crohn's disease, and multiple sclerosis
Study

Immune-mediated disease

Study design

Results

Krueger et al. (2007)

Psoriasis

Phase II

Ustekinumab: 52–81 %

Placebo: 2 %

Leonardi et al. (2008) (PHOENIX 1)

Psoriasis

Phase III

Ustekinumab: 67 %

Placebo: 3 %

Papp et al. (2008)

(PHOENIX 2)

Psoriasis

Phase III

Ustekinumab: 67–76 %

Placebo: 4 %

Griffiths et al. (2010) (ACCEPT)

Psoriasis

Phase III head to head comparative study

Ustekinumab: 68–74 %

Etanercept: 57 %

Gottlieb et al. (2009)

Psoriatic arthritis

Phase II

Group 1 (ustekinumab then placebo) versus group 2 (placebo then ustekinumab) 42 vs 14 %

Sandborn et al. (2008)

Crohn's disease

Phase II

Ustekinumab: 49 %

Placebo: 40 %

Sandborn et al. (2012)

Crohn's disease

Phase III

Ustekinumab: 36–39 %

Placebo: 23.5 %

Segal et al. (2008)

Multiple sclerosis

Phase II

No difference between any ustekinumab groups vs placebo
Table 2
Clinical studies for using Th17 pathways as a target for therapy
Agent

Target

Trial phase

Disease

References

Ustekinumab

IL-12/IL-23p40

I

Psoriasis

Kauffman et al. (2004)

I

Psoriasis

Gottlieb et al. (2007)

II

Psoriasis

Krueger et al. (2007)

III

Psoriasis

Griffiths et al. (2010)

III

Psoriasis

Papp et al. (2008)

III

Psoriasis

Leonardi et al. (2008)

I

Multiple sclerosis

Kasper et al. (2006)

II

Multiple sclerosis

Segal et al. (2008)

Briakinumab

IL-12/IL-23p40

III

Psoriasis

Eggleton et al. (2011)

III

Psoriasis

Kauffman et al. (2004)

Brodalumab

IL-17RA

II

Psoriasis

Gottlieb et al. (2007)

Ixekizumab

IL-17A and IL-17A-IL-17F hetoridmers

II

Psoriasis

Krueger et al. (2007)

I

Rheumatoid arthritis

Papp et al. (2008)

Secukinumab

IL-17A

II

Psoriasis

Leonardi et al. (2008)

II

Psoriasis

Kasper et al. (2006)

II

Psoriatic arthritis

Chioato et al. (2012)

II

Rheumatoid arthritis

Krueger et al. (2007)

II

Psoriasis/rheumatoid arthritis/uveitis

Leonardi et al. (2008)

II

Crohn's disease

Hueber et al. (2012)

III

Noninfectious uveitis

Dick et al. (2013)

I

Vaccinated healthy adults

Chioato et al. (2012)

Tocilizumab

IL-6R

Approved as therapy

Rheumatoid arthritis

Hernández et al. (2013)

Anakinra

IL-1R

Approve as therapy

Rheumatoid arthritis

Cavagna and Taylor (2014)

Olokizumab

IL-6

II

Rheumatoid arthritis

Tanaka and Mola (2014)

Sarilumab

IL-6Rα

II

Rheumatoid arthritis

Huizinga et al. (2014)

Sirukumab

IL-6

II

Rheumatoid arthritis

Smolen et al. (2014)
IL-12/23p40 pathway is quite popular in therapy for autoimmune diseases. There are some more pharmaceutical substances using this pathway to inhibit Th17 cells. Briakinumab is one among them. Reich et al. (2011) showed in third phase clinical trial that it can be more effective in psoriasis than methotrexate. It also caused more adverse events; however the difference was statistically insignificant.
Brodalumab has been proposed for therapy of psoriatic arthritis. It is a human monoclonal anti-IL-17A receptor antibody. The results of second phase clinical trial displayed that brodalumab improved symptoms in patients with psoriatic arthritis compared to placebo group (Mease et al. 2014). Ixekizumab (LY2439821) has been evaluated in second phase clinical study of RA (Genovese et al. 2014) and chronic plaque psoriasis (Tham et al. 2014). This humanized mAb selectively binds to IL-17A and neutralizes this pro-inflammatory cytokine. Furthermore, ixekizumab was proved to be effective also in difficult-to-treat areas, e.g. scalp and nails (Spuls and Hooft 2012).
Secukinumab (AIN457, a recombinant, highly selective, fully human IgG1 k mAb against IL-17A) was shown to improve clinical symptoms in patients with psoriasis, RA and noninfectious uveitis. Moreover, it enabled reduction of symptoms in psoriatic arthritis and ankylosing spondylitis. In the second phase clinical trial was shown, that in both cohorts: psoriasis/psoriatic arthritis and RA, patients treated with secukinumab have shown more effective therapeutic response in comparison to placebo group. Studies displayed improvement of rates such as psoriasis area and severity index scores in psoriasis patients and rate of American College of Rheumatology 20 score in RA. Rates of adverse events (AEs) and serious AEs were comparable between secukinumab and placebo groups in psoriasis but in rheumatoid arthritis AEs rate was higher in secukinumab cohort (Patel et al. 2013). Dick et al. (2013) described three clinical trials in third phase which evaluated the effectiveness of secukinumab in treatment of noninfectious uveitis. They did not notice any statistical significance between secukinumab and placebo groups. Hueber et al. (2012) published unexpected results describing ineffectiveness of secukinumab in controlling severe Crohn's disease. Additionally they revealed higher rates of adverse events in mAb treated group comparing to placebo series.
An anti-IL6 receptor antibody (tocilizumab) and an IL-1 receptor antagonist (anakinra), which were approved for therapy of human autoimmune diseases, also target development and function of Th17 cells (Samson et al. 2012). ADACTA study displayed that tocilizumab is more effective in RA monotherapy than adalimumab (TNF antagonist) while AMBITION study revealed that tocilizumab may be considered as the first biological drug more effective than methotrexate (Hernández et al. 2013). Samson et al. (2012) demonstrated that tocilizumab may correct of imbalance between Th17 and Treg cells in patients with RA. It is worth emphasizing that it was well tolerated after subcutaneous or intravenous administration (Burmester et al. 2014; Kivitz et al. 2014). Anakinra is the first IL-1R antagonist accepted in therapy of RA and it binds to both IL-1α and IL-1β (Cavagna and Taylor 2014).
Tofacitinib (CP-690,550) is a novel JAK/STAT inhibitor directly suppressing the production of IL-17 and IFN-γ and its effect is associated with decreased concentration of IL-6 (Ghoreschi et al. 2011; Maeshima et al. 2012). This Janus kinase inhibitor was proved to enhance clinical status of patients with RA in randomized, double-blind, placebo-controlled phase 2a trial (Coombs et al. 2010).
Olokizumab, sarilumab, and sirukumab are some other drugs using blocade of IL-6 pathway in their interactions. The first is a humanized anti-IL-6 antibody, which in 2b phase clinical trial was proved to be as effective as tocilizumab in therapy of RA (Tanaka and Mola 2014). Sarilumab, a human mAb directed against IL-6Rα, can also improve symptoms of RA, which was showed in the second phase clinical trials (Huizinga et al. 2014). However, it was shown to be ineffective in ankylosing spondylitis therapy (Sieper et al. 2014). The last drug—sirukumab (anti-IL-6 mAb)—was also assessed in the second phase clinical trials in RA. In results the researchers noted an improvement of clinical status of patients treated with sirukumab when compared with placebo group (Smolen et al. 2014).
Furthermore, Eggleton et al. (2011) presented that a greater proportion of Th17 cells isolated from the peripheral blood of RA patients expressed CD20 in contrast to healthy individuals. These cells may represent an additional target for popular anti-CD20 therapies.
Conclusions
Th17 cell population has given immunologists and clinicians some new possibilities. Researchers exploring molecular pathways connected with Th17 cells try to find more effective therapies of autoimmune disease. Whether biological drugs based on inhibition of Th17 dependent pathways will emerge as front-line therapies for autoimmune and chronic inflammatory diseases is still unclear. The data from phase three clinical trials are moderately encouraging but thus far not overwhelming when considered alongside with other existent or developing therapeutics.
Copyright information
© The Author(s) 2015
Open AccessThis article is distributed under the terms of the Creative Commons Attribution 4.0 International License (http://creativecommons.org/licenses/by/4.0/), which permits unrestricted use, distribution, and reproduction in any medium, provided you give appropriate credit to the original author(s) and the source, provide a link to the Creative Commons license, and indicate if changes were made.