Flame-retardant quasi-solid polymer electrolyte enabling sodium metal batteries with highly safe characteristic and superior cycling stability
Abstract
Conventional liquid electrolytes based sodium metal batteries suffer from severe safety hazards owing to electrolyte leakage, inflammability and dendritic sodium deposition. Herein, we report a flame-retardant quasi-solid polymer electrolyte with poly(methyl vinyl ether-alt-maleic anhydride) (P(MVE-alt-MA)) as host, bacterial cellulose (BC) as reinforcement, and triethyl phosphate/vinylene carbonate/sodium perchlorate (TEP/VC/NaClO4) as plasticizer for highly safe sodium metal batteries. The as-obtained quasi-solid polymer electrolyte exhibits superior flame retardancy (self-extinguish within 1 s), complete non-leakage property and wide electrochemical windows (4.4 V). More importantly, Na3V2(PO4)3/Na metal batteries using such polymer electrolyte delivers superior long-term cycling stability (84.4% capacity retention after 1000 cycles) which is significantly better than that (only 2% after 240 cycles) of liquid electrolyte. In addition, this flame-retardant quasi-solid polymer electrolyte provides favorable cycle performance (80.2% capacity retention after 70 cycles at 50 °C and 84.8% capacity retention after 50 cycles at −10 °C) for Na3V2(PO4)3/Na metal batteries. And this battery also displayed a normal charge/discharge property even at −15 °C. These fascinating cycle properties are mainly ascribed to the effective protective layers formed on Na3V2(PO4)3 cathode and sodium metal anode. More thorough investigation elucidates that such flame-retardant quasi-solid polymer electrolyte plays a multifunctional role in the advanced sodium metal batteries: (1) Being involved in the formation of a favorable cathode electrolyte interface (CEI) to inhibit the dissolution of vanadium and maintain the structure integrity of the Na3V2(PO4)3; (2) Participating in building a stable solid electrolyte interface (SEI) to suppress the growth of Na dendrites; (3) Integrating flame-retardance into polymer sodium batteries to enhance flame-resistance, eliminate electrolyte leakage, and thus improve safety of sodium batteries. Based on these results, we further assembled Na3V2(PO4)3/MoS2 pouch cell which can withstand harsh conditions (bended or cut off a corner), confirming the obtained polymer electrolyte with superior non-leakage property. In all, these outstanding characteristics would endow this flame-retardant quasi-solid polymer electrolyte a very promising candidate for highly-safe sodium metal batteries.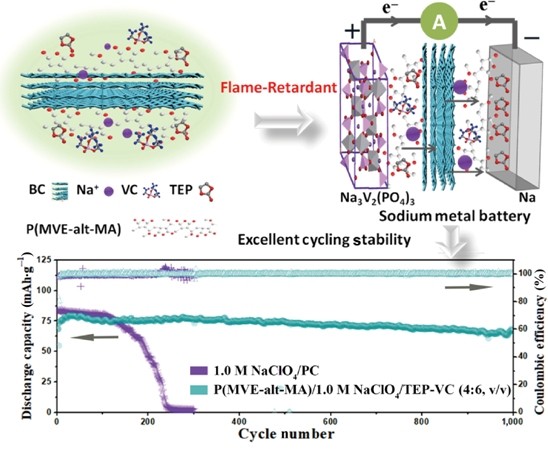 Keywords
flame-retardant 
quasi-solid polymer electrolyte 
highly safe characteristic 
sodium metal batteries 
long-term cycling stability 
Notes
Acknowledgements
This original research was financially supported by the National Natural Science Foundation of China (Nos. 51703236 and U1706229), the National Science Fund for Distinguished Young Scholars (No. 51625204), the National Key Research and Development Program of China (No. 2018YFB0104300), Think-Tank Mutual Fund of Qingdao Energy Storage Industry Scientific Research, Key Scientific and Technological Innovation Project of Shandong (No. 2017CXZC0505).
Copyright information
© Tsinghua University Press and Springer-Verlag GmbH Germany, part of Springer Nature 2019