Linking Climate Change and Groundwater
Abstract
Projected global change includes groundwater systems, which are linked with changes in climate over space and time. Consequently, global change affects key aspects of subsurface hydrology (including soil water, deeper vadose zone water, and unconfined and confined aquifer waters), surface-groundwater interactions, and water quality. Research and publications addressing projected climate effects on subsurface water are catching up with surface water studies. Even so, technological advances, new insights and understanding are needed regarding terrestrial-subsurface systems, biophysical process interactions, and feedbacks to atmospheric processes. Importantly, groundwater resources need to be assessed in the context of atmospheric CO2 enrichment, warming trends and associated changes in intensities and frequencies of wet and dry periods, even though projections in space and time are uncertain. Potential feedbacks of groundwater on the global climate system are largely unknown, but may be stronger than previously assumed. Groundwater has been depleted in many regions, but management of subsurface storage remains an important option to meet the combined demands of agriculture, industry (particularly the energy sector), municipal and domestic water supply, and ecosystems. In many regions, groundwater is central to the water-food-energy-climate nexus. Strategic adaptation to global change must include flexible, integrated groundwater management over many decades. Adaptation itself must be adaptive over time. Further research is needed to improve our understanding of climate and groundwater interactions and to guide integrated groundwater management.
Keywords
Climate Change 
Pacific Decadal Oscillation 
Vadose Zone 
Advanced Very High Resolution Radiometer 
Advanced Very High Resolution Radiometer 
5.1

Introduction and Motivation

Present understanding of how global change affects water resources around the world is limited. Potential impacts of global change on surface water, particularly projected regional climate patterns and trends have been studied in some detail. Studies of how subsurface waters will respond to climate change coupled with human activities have started to catch up only recently (Green et al. 2011; Taylor et al. 2013).

Challenges of understanding climate-change effects on groundwater are unique, because climate change may affect hydrogeological processes and groundwater resources directly and indirectly, in ways that have not been explored sufficiently (Dettinger and Earman 2007). Data limitations have made it impossible to determine the magnitude and direction of groundwater change due solely to climate change (Kundzewicz et al. 2007; Taylor et al. 2013). Even so, groundwater has been an historical buffer against climate variability , and our dependence on groundwater resources is likely to increase as water supplies are further stressed by population increase and projected increases in temperature and climatic variability over much of the globe.

Observational data and climate predictions provide abundant evidence that freshwater resources (both surface and subsurface water resources) are vulnerable and have the potential to be strongly affected by climate change, with wide-ranging consequences for society and ecosystems (Bates et al. 2008). According to Jorgensen and Yasin al-Tikiriti (2003) the effect of historical climate change on groundwater resources, which once supported irrigation and economic development in parts of the Middle East, is likely the primary cause of declining cultures there during the Stone Age. Climate change may account for approximately 20 % of projected increases in water scarcity globally (Sophocleous 2004). Integrated groundwater management and planning into the future requires careful evaluation and understanding of climatic variability over periods of decades to centuries, while considering the increasing stresses on those groundwater resources from population growth and industrial, agricultural, and ecological needs (Warner 2007).
5.1.1

Rising Interest in Impacts of Climate Change on Subsurface Water

In recent decades, a wide array of scientific research has been conducted to explore how water resources might respond to global change. However, research has been focused dominantly on surface-water systems, due to their visibility, accessibility and more obvious recognition of surface waters being affected by global change. Only recently are water resources managers and politicians recognising the important role played by groundwater resources in meeting the demands for drinking water, agricultural and industrial activities, and sustaining ecosystems, as well as in the adaptation to and mitigation of the impacts of climate change and coupled human activities.

Changes in global climate are expected to affect the hydrological cycle , altering surface-water levels and groundwater recharge to aquifers with various other associated impacts on natural ecosystems and human activities. Although the most noticeable impacts of climate change could be changes in surface-water levels and quality (Leith and Whitfield 1998; Winter 1983), there are potential effects on the quantity and quality of groundwater (Bear and Cheng 1999; Zektser and Loaiciga 1993).
5.1.2

What Is Global Change?

Global change may include natural and anthropogenic influences on terrestrial climate and the hydrologic cycle. Greenhouse gases are assumed to drive much of the contemporary climate change, and global atmospheric CO2 concentration is the primary indicator of greenhouse gases, as well as a primary regulator of global climate (Petit et al. 1999). Atmospheric CO2 concentration has been measured in the middle of the Pacific Ocean atop Mauna Loa, Hawaii at the National Centre for Environmental Prediction since 1958 (Keeling et al. 1976; Keeling et al. 2004; Thoning et al. 1989). Both CO2 concentration and its rate of change have increased continuously over most of our lifetimes. Green et al. (2011) showed a power-law increase in CO2 concentration with time, but projections of future greenhouse gas concentrations are based on complex "storylines" (IPCC 2007b) or Representative Concentration Pathways (RCPs) used in the Fifth Assessment Report (AR5) (IPCC 2013). Projected climate change is based primarily on simulated responses to these projected emissions and resulting greenhouse gases .

Atmospheric scientists are exploring complex interactions and causative factors using available data and climate models. Ice-core data have shown long-term correlation between entrapped atmospheric CO2 and (surrogate) temperature (Petit et al. 1999); however, CO2 changes lag behind temperature changes by approximately 1,300 years (Mudelsee 2001). The Earth's orbit and "Milankovitch cycles" seem to explain the apparent paradox, possibly working in tandem with global greenhouse warming and ocean circulation (Monnin et al. 2001). Loáiciga (2009) provided a helpful discussion of several factors in the debate over dominant drivers of climate as it relates to (ground)water resources. These types of issues in the theory and prediction of climate have not been fully resolved.

Although "global warming" is the topic of greatest public interest, changing patterns of surface level air humidity and precipitation are very important for predicting eco-hydrological impacts of multifaceted climate change. Projections from the Intergovernmental Panel on Climate Change (IPCC) show significant global warming and alterations in frequency and amount of precipitation in the twenty-first century (Le Treut et al. 2007; Mearns et al. 2007).
5.2

Climate Projections

Aquifers are recharged mainly by precipitation or through interaction with surface-water bodies. In order to quantify potential effects of climate change on groundwater systems, future projections of climate are needed at the scales of application.
5.2.1

Global Climate Models

Climate models come in different forms, ranging from simple energy-balance models to Earth-system models of intermediate complexity to comprehensive three-dimensional general circulation models of the atmosphere and oceans or global climate models (GCMs). GCMs are the most sophisticated tools available for simulation of the current global climate and future climate scenario projections. Over the last few decades, physical processes incorporated into these models have increased from simple rain and CO2 emissions to complex biogeochemical (including water vapor) feedbacks (Le Treut et al. 2007: Fig.  1.2). The dominant terrestrial processes that affect large-scale climate over the next few decades are included in current climate models. Some processes important on longer time scales (e.g., global glaciation), however, are not yet included. The spatial resolution of GCMs has improved, but the simulation of extreme precipitation is dependent on model resolution, parameterisation and the thresholds chosen. In general, GCMs tend to produce too many days with weak precipitation (<10 mm d−1) and too little precipitation during intense events (>10 mm d−1) (Randall et al. 2007).

Considerable advances in model design have not reduced the variability of model forecasts of climate, partially because climate predictions are intrinsically affected by uncertainty and deterministic chaos (Lorenz 1963). Lorenz (1975) defined two distinct kinds of prediction problems: (1) prediction of actual properties of the climate system in response to a given initial state due to non-linearity and instability of the governing equations, and (2) determination of responses of the climate system to changes in the external forcings. Estimating future climate scenarios as a function of the concentration of atmospheric greenhouse gases is a typical example of predictions of the second kind (Le Treut et al. 2007).

Uncertainties in climate predictions arise mainly from model uncertainties and errors. A number of comprehensive model intercomparison projects were set up in the 1990s under the auspices of the World Climate Research Programme to undertake controlled conditions for model evaluation (e.g., Taylor 2001). Use of multiple simulations from a single model (ensemble or Monte Carlo approach) is a necessary and complementary approach to assess the stochastic and chaotic behaviors of the climate system. Such single-model ensemble simulations clearly indicated a large spread in the climate projections (Le Treut et al. 2007).

The ability of any particular GCM to reproduce present-day mean climate and its historical characteristics with respectable realism and good overall performance in comparison with the other models are presumed to indicate that it can be used to project credible future climates IPCC (2007b). The atmosphere-ocean coupled climate system shows different modes of variability that range widely from intra-seasonal to inter-decadal time scales. Successful simulation and prediction over a wide range of these phenomena increase confidence in the GCMs used for climate predictions of the future (Randall et al. 2007). In addition, the IPCC (2007a) showed that the global statistics of the extreme events in the current climate, especially temperature, are generally simulated well. However, GCMs have been more successful in simulating temperature extremes than precipitation extremes (Randall et al. 2007).

Uncertainty is expected with respect to what the future "picture" of global climate will be. GCMs are forced with concentrations of greenhouse gases and other constituents derived from various emissions scenarios ranging from non-mitigation scenarios to idealised long-term scenarios. The IPCC (2007b) considered six scenarios for projected climate change in the twenty-first century. These included a subset of three IPCC Special Report on Emission Scenarios (SRES; Nakićenović and Swart 2000) non-mitigation emission scenarios representing 'low' (B1), 'medium' (A1B) and 'high' (B1) scenarios. Green et al. (2011) discussed some potential spatial patterns of these scenarios across the globe. These include different projected changes in precipitation for the tropics (Neelin et al. 2006), subtropics (Wang 2005; Rowell and Jones 2006), and high latitudes (Emori and Brown 2005).
5.2.2

Downscaling

GCMs cannot provide information at scales finer than their computational grid (typically of the order of 200 × 200 km), yet processes at smaller unresolved scales are important. Thus, the usefulness of the raw output from a GCM for climate change assessment in specific regions is limited. To bridge the spatial resolution gaps for GCMs to produce realistic local climate projections, downscaling techniques are usually applied to the GCM output.

Downscaling addresses the disparity between the coarse spatial scales of GCMs and observations from local meteorological stations (Hewitson and Crane 2006; Wilby and Wigley 1997). GCMs do not accurately predict local climate, but the internal consistency of these physically-based climate models provides most-likely estimates of ratios and differences (scaling factors) from historical (base case) to predicted scenarios (Loaiciga et al. 1996) for climatic variables, such as precipitation and temperature.

Improvements to climate projections will likely come by developing regional climate models and GCMs that couple groundwater and atmospheric processes (Cohen et al. 2006; Gutowski et al. 2002). The primary challenge is the difference in scale between the large (continental) scale of GCMs and the local scale of groundwater or surface-water models, requiring daily data and spatial resolution of a few square kilometers (Bouraoui et al. 1999; Loaiciga et al. 1996).

A clearer picture of the robust aspects of regional climate change is emerging due to improvement in model resolution, the simulation of processes of importance for regional change, and the expanding set of available simulations (Christensen et al. 2007). Downscaling techniques are grouped into two main types: (1) dynamic climate modelling, and (2) empirical statistical downscaling.

A number of different approaches have been used to derive climate data series for hydrogeological studies. The complexity of approaches for obtaining the climate data series appears to have increased in recent years, ranging from the use of global averages (Loaiciga et al. 1996; Zektser and Loaiciga 1993) to the use of regional "bulk" projections (Allen et al. 2004; Brouyere et al. 2004; Vaccaro 1992; Yusoff et al. 2002) to the direct application of downscaled climate data (Jyrkama and Sykes 2007; Scibek and Allen 2006b; Scibek et al. 2007; Serrat-Capdevila et al. 2007; Toews and Allen 2009) to the use of regional climate models (Rivard et al. 2008; van Roosmalen et al. 2007, 2009). Some of the early efforts to assess potential hydrologic impacts were reviewed by Gleik (1986). Most of these hydrologic models used daily weather series generated stochastically, with climate change shifts applied for future climate scenarios. Many studies have considered a range of GCMs or the average projection from several GCMs, and a few studies have considered different downscaling methods.

Green et al. (2011) discussed dynamic and statistical downscaling as alternatives for applying GCM results at the local scales of interest. Downscaled daily temperature generally compares well with observed data, but daily precipitation amounts often do not, particularly seasonal amounts and durations of wet and dry periods. Such discrepancies are important because of the highly nonlinear responses and sensitivities of dynamic vegetation growth and water use (transpiration) to precipitation regimes (Green et al. 2007). Allen et al. (2010) used state-of-the-art downscaling methods to predict variations in recharge. They found that the variability in recharge predictions indicates that the seasonal performance of the downscaling tool is important, and that a range of GCMs should be considered for water management planning. Yang et al. (2005) noted that sufficient potential evaporation (PE) data are rarely available to identify long term trends. Thus, they made use of limited daily data to study sub-weekly structure, and used this information to downscale weekly sequences. In this way the dual objectives of downscaling weekly data and simulating daily PE sequences could both be achieved.
5.3

An Holistic View of GroundwaterHydrology: Selected Studies

This section summarizes the current state of research and understanding of climate-change effects on subsurface hydrology and surface-subsurface hydrologic interactions. Climate change, including anthropogenic-global warming and natural climate variability , can affect the quantity and quality of various components in the global hydrologic cycle in the space, time, and frequency domains (Holman

2006

; IPCC

2007b

; Loaiciga et al.

1996

; Milly et al.

2005

; Sharif and Singh

1999

). The components of the surface hydrologic cycle (Fig. 

5.1

) affected by climate change include atmospheric water vapor content, precipitation and evapotranspiration patterns, snow cover and melting of ice and glaciers, soil water content (SWC) and temperature, and surface runoff and stream flow (Bates et al.

2008

). Such changes to the atmospheric and surface components of the global hydrologic cycle will likely result in changes to the subsurface hydrologic cycle within the soil, vadose zone, and aquifers of the world (Van Dijck et al.

2006

). However, the potential effects of climate change on groundwater and groundwater sustainability are poorly understood. Gleeson et al. (

2012

) considered groundwater sustainability to include environmental, economic, or social consequences over multigenerational time scales (50–100 years). The relation between climate variables and groundwater is considered more complicated than with surface water (Holman

2006

; IPCC

2007b

). This understanding is confounded by the fact that groundwater-residence times can range from days to tens of thousands of years, which delays and disperses the effects of climate change, and challenges efforts to detect responses in the groundwater (Chen et al.

2004

).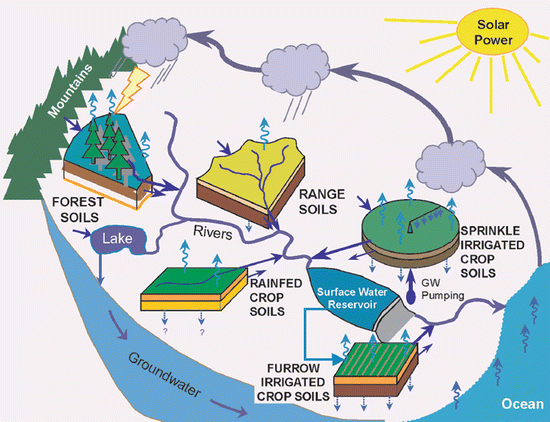 5.4

Methods for Investigating Global Change Beneath the Surface

Green et al. (2011) explored and reviewed a range of techniques for exploring subsurface effects of climate change, which are summarized here. Methods available to detect temporal changes in groundwater quantity and quality are numerous and range markedly in observation scale and "directness" of observation. The most direct, but also smallest-scale observations are obtained from head measurements in piezometers and water quality measurements of water samples obtained in wells. While in-situ measurements arguably provide the most accurate and reliable measures to detect change, spatial variability and transfer of information across scales (i.e., scaling) must be considered. Moreover, observation networks do not exist across large parts of the globe, and installing and maintaining measurement systems is expensive and labor intensive. To evaluate temporal trends at regional to global scales and to study their relationship to change in regional to global climate and human activities, studies of extensive data sets (monitoring networks) of such "point-data" are required. Hydroclimatically similar regions can be explored using a global database of historical climate data. Similarity between historical climates in different regions is a necessary starting point but may not be sufficient to constitute analogous climate change scenarios.

Most hydrogeophysical methods have the advantage that they allow detection of change over larger volumes of the subsurface, but at the expense of detail, notably regarding water chemistry. Remote sensing of systematic change in the recent past and future across the globe has limited ability to "see" watershed-scale groundwater. The major benefit of remote sensing technologies is their ability to access spatial information in remote areas where in-situ monitoring is sparse or non-existent. Furthermore, conjunctive use of well data, hydrogeophysics and remote sensing is essential.
5.4.1

Age Dating and Chemical Proxies

Tracer methods are standard tools of hydrologists to obtain constraints on the age of groundwater and on the processes and conditions experienced during recharge and upon transit in the groundwater system (Clark and Fritz 1997; Cook and Herczeg 2000; Kooi 2008b; Loosli et al. 2001; Plummer 1993). Age dating refers to methods that aim to constrain the timing of recharge, often via the time since recharge. Groundwater ages can be estimated using radioactive isotopes with well-known, stable source concentrations (e.g., 14C), radioactive isotopes with variable source concentration and a daughter isotope that can be fairly uniquely linked to the mother species (e.g., 3H/3He), or conservative chemical species which exhibit negligible decay and which have a well-known, systematically changing source concentration (e.g., 85Kr, CFC's, SF6).

These "direct methods" of age dating, in principle, allow construction of a continuous record of water age with distance along a flow path, thereby potentially revealing temporal changes in recharge. Accuracy of age-dating methods covering time scales of 100–500 years is low, making temporal changes in this age-range difficult to resolve.

Several "indirect" age-dating methods provide additional useful constraints on groundwater age. These methods generally determine whether a water sample is recharged before or after a known event. An absolute age of a water sample can only be calculated when the sample corresponds to a distinct event marker. The nuclear bomb test peaks in 3H, 14C and 36Cl are key examples. These indirect methods are most useful to study spatial variability in groundwater flow systems.

Several chemical proxies are used to trace changes in groundwater flow and changes in recharge conditions associated with climate change and surface environmental change in general. Key proxies are the stable isotopes of water (Clark and Fritz 1997) and noble gases dissolved in groundwater (Porcelli et al. 2002; Stute and Schlosser 1993). Also, chloride content of groundwater and, in particular in vertical SWC profiles collected in thick vadose zones in desert areas, have been exploited to infer changes in recharge conditions (e.g. Edmunds and Tyler 2002). Although noble gases have been applied primarily in paleohydrological reconstructions of long time scales (Kooi 2008a), they should also provide valuable constraints regarding changes in groundwater systems on timescales of decades to centuries.
5.4.2

Hydrogeophysical Techniques

Three hydrogeophysical methods are particularly relevant to the study of groundwater and the changes that arise from climate variability and change:
1.

electrical/electromagnetic methods,

 

2.

subsurface temperature logging, and

 

3.

land-based gravity surveying.

 
A wide range of electrical/electromagnetic imaging and logging methods can be used to study groundwater systems and their responses to climate-related phenomena. This group of methods includes spontaneous/self potential (SP), electrical resistivity, induced polarisation (IP), a range of time and frequency domain electromagnetic methods, and ground-penetrating radar (GPR). Their advantage over point sampling is that large areas can be covered either in land-based surveys or airborne surveys. Borehole logging methods can be used in a similar fashion to provide vertical profiles of these properties with depth and to constrain survey data.
Perhaps the most common application of these methods is to studies of saline water in aquifers (Dent 2007). Climate change is expected to result in higher sea levels, posing an even greater threat to coastal aquifers. Thus, these hydrogeophysical methods are ideally suited for monitoring changes in groundwater salinity over large coastal areas due to the effects of sea level rise. These techniques may prove invaluable for detecting changes in salinity over broad agricultural areas.
Subsurface temperature can be used to reconstruct climate change and land cover change, because the signal of surface temperature change is preserved in subsurface environment (e.g., Chapman et al. 1992; Davis et al. 2010; González-Rouco et al. 2009). Changes in surface temperature associated with changes in air temperature (Smerdon et al. 2009) can propagate into the subsurface, and can be detected by measuring ground temperatures up to several hundred meters deep (Beltrami and Mareschal 1995; Čermák et al. 1992). Temperature-depth profiles collected in boreholes can reveal and be used to help reconstruct the surface temperature changes due to climate change and land cover change during a few to several hundred years (Beltrami 2002; Huang et al. 2000; Roy et al. 2002). Effects of global warming on subsurface temperature subsequently affect the ecology and water quality.
Land-based gravity measurements have been used to detect changes in groundwater storage . Pool and Eychaner (1995) observed that measured gravity changes of about 13 microGal represented storage changes of about 0.30 m of water. Gravity meters are now sufficiently accurate to measure variations of about 2 microGal, and finer instrumental precision with temporal averaging. Gravity measurements have also been used to detect the changes in groundwater storage in situ (gravity profiling) and using the GRACE satellite data as discussed in the next section.
5.4.3

Remote Sensing of Space-Time Trends

Satellite remote sensing (RS) represents the most powerful method for detection and monitoring of environmental and climate change on a global scale. However, capabilities of RS to "look below the ground surface" and to detect properties that directly bear on groundwater conditions are extremely limited. Notable exceptions to this are satellite-based observations of the gravity field associated with changes in groundwater storage .

Remote sensing and earth observation technologies provide an important means of collecting groundwater-related data on a regional scale and to assess the state of the resource. Satellite remote sensing, despite drawbacks of temporal frequency and estimation errors, offers the advantages of global coverage, availability of data, metadata, error statistics, and the ability to provide meaningful spatial averages.

Aerial thermal infrared imaging is being used for mapping groundwater discharge zones in estuaries, rivers and oceans. Peterson et al. (2009) used aerial thermal infrared imaging to reveal that submarine groundwater discharge (SGD) along the western coast of the Big Island of Hawaii is often focused as point-source discharges that create buoyant groundwater plumes that mix into the coastal ocean.

Landsat, the Moderate-resolution Imaging Spectroradiometer (MODIS), the Advanced Very High Resolution Radiometer (AVHRR), and certain other instruments can resolve the location and type of vegetation, which can be used to infer a shallow water table. Altimetry measurements and Interferometric Synthetic Aperture Radar (InSAR) over time can show where subsidence is occurring, which is often an indicator of groundwater depletion. Microwave radar and radiometry measurements can be used to estimate snow and surface soil water, which further constrain groundwater assessments.

Perhaps the most valuable remote sensing technology for groundwater investigations is satellite gravimetry employed by the Gravity Recovery and Climate Experiment (GRACE) – a satellite gravimetry technology that may be used to assess groundwater storage changes. Since its launch in 2002, the GRACE satellites have been employed to detect tiny temporal changes in the gravity field of the Earth (Ramillien et al. 2008). Temporal changes in measured gravity are primarily caused by changes in total water (mass) storage (TWS) in the atmosphere, ocean and at and below the surface of the continents. GRACE is being used to generate time series of total terrestrial water variations (Tapley et al. 2004), which can be used to assess groundwater storage changes. Wahr et al. (2006) presented the first technique for deriving terrestrial water storage variations from global gravity field solutions delivered by GRACE. Rodell and Famiglietti (2002) showed in a pre-GRACE-launch study that interannual variations and trends in the High Plains aquifer water storage would be detectable by GRACE, pointing to new opportunities for groundwater remote sensing. Rodell et al. (2007) developed time series of groundwater storage variations averaged over the Mississippi River basin and its four major sub-basins using in situ data, and used these to evaluate GRACE-based estimates in which SWC and snow water equivalent fields output from a sophisticated land surface model were used to isolate groundwater from the GRACE terrestrial water storage data. At the smaller spatial scale of Illinois (145,000 km2), Swenson et al. (2006) showed that GRACE captures the signal of changes in total water storage very well, while Yeh et al. (2006) showed that GRACE-based estimates of groundwater storage variations compared well with borehole observations on seasonal timescales. Swenson et al. (2008) used Oklahoma Mesonet data and local groundwater level observations to further refine methods to remove the SWC signal from the total water storage change signal recorded by GRACE.

Post-launch studies using GRACE data have demonstrated that when combined with ancillary measurements of surface water and SWC, GRACE is capable of monitoring changes in groundwater storage with reasonable accuracy (temporal resolution 10 days to monthly, spatial resolution 400–500 km, mass change ~9 mm water equivalent). Syed et al. (2008) also found agreement between the storage changes estimated by GRACE and the Global Land Data Assimilation System (GLDAS), where GLDAS was used to disaggregate terrestrial water storage between soil, vegetation canopy and snow.

The need to better quantify potential changes in the water cycle associated with climate change (GEWEX1; WATCH program2) has provided a major stimulus for improvement of techniques to monitor key variables and components of the hydrological cycle using space-based platforms. Advances and new developments in monitoring of soil moisture (de Jeu et al. 2008; Liu et al. 2009), precipitation, and evapotranspiration (Anderson and Kustas 2008; Kalma et al. 2008) provide crucial elements to help constrain space-time trends in groundwater recharge . Future research will undoubtedly focus on the further integration of these multi-platform and multi-parameter observations, including GRACE data, in extensive hydrological models. Recent dedicated hydrological missions for improved monitoring of soil moisture (2009: SMOS/ESA; 2011: SMAP/NASA) and precipitation (2012: GPM/NASA) enhance RS capabilities of groundwater resources assessment.

The monthly temporal resolution of GRACE is an issue for many applications, but it should be sufficient for regional groundwater assessments. To address such scale issues, Zaitchik et al. (2008) used an advanced data assimilation approach to incorporate GRACE data into a land surface model, and hence merge them with other datasets and our knowledge of physical processes as represented in the model. In simulations over the Mississippi River basin , the GRACE-assimilation groundwater storage output fit observations better than output from the open loop, and they were of much higher spatial and temporal resolution than GRACE alone. Yamamoto et al. (2008) reported the larger difference, in particular at low latitude regions, between current terrestrial water models of global river basins and GRACE data. This technique may be the key to maximising the value of GRACE data for groundwater resources studies (e.g., Fukuda et al. 2009).
5.5

Assessments of Subsurface Hydrology: Numerical Simulations

Mathematical groundwater models play a central role, both for interpreting and integrating data and for generating general insight to the response of groundwater systems to climate change and other forcings on multiple spatial and temporal scales. While observations are essential to explore and document subsurface global change, numerical models provide key tools, not only to assist in developing a process-based understanding of observed changes (i.e., hindcasting), but also predict the future response of the subsurface parameters to climate change, land-use change and water management scenarios (forecasting). Distributed groundwater models simulate flow in the subsurface, both in saturated and unsaturated conditions, as well as for porous and fractured media. Specialised codes are used to simulate chemical processes, such as solute transport and reactions, heat transport, and density-dependent flow (e.g., for coastal regions). In addition to groundwater models, which form the basis for groundwater assessment, other potential models include coupled land surface-atmospheric models, biogeochemical models, surface-water hydrological models, coupled surface-water/groundwater models, and coupled land surface and variable-saturated groundwater models.

Process-based continental or global-scale hydrological models are rare. Thus, most studies develop watershed or smaller scale models, which are better constrained by available data and, thus, more easily calibrated. However, there remain challenges for coupling GCM predictions with hydrological models (Scibek and Allen 2006b; Toews and Allen 2009; Xu 1999), including issues discussed in the section Global Climate Projection.

The appropriate level of model complexity for a given problem may remain subjective, but some level of process interaction within the plant-soil-groundwater-atmospheric system must be present. Tietjen et al. (2009) made a case for at least two soil layers in a soil-vegetation model that simulated soil-water dynamics under different climatic conditions. Others have applied relatively complex, spatially distributed subsurface models and coupled surface-groundwater models (Goderniaux et al. 2009; Hunt et al. 2013; van Roosmalen et al. 2007, 2009).

Numerical model-based studies continue to improve, but for the most part, the approaches are similar to the limited examples given above and more comprehensive case studies discussed by Green et al. (2011). Models used to predict terrestrial and subsurface effects of climate change must incorporate appropriate processes and their interactions in space and time. Integration studies encompassing changes in human or socio-economic scenarios (apart from emissions scenarios), such as land use and water demand are generally lacking (Holman 2006).
5.6

The Role of Groundwater in the Water-Food-Energy-Climate Nexus

Food and energy are inextricably linked through water in many important ways (see also Chap.  4). In most regions, agriculture uses a dominant share of water, often based on senior (possibly "grandfathered") water rights. Urban areas and industries, including the energy sector, have growing water demands and substantial financial resources that often lead to purchases of water rights from agricultural stakeholders. Thus, the price of water tends to rise from the demand side. In many water limited areas, projected reductions in supply will further raise prices. In this way, climate change enters the water-food-energy nexus as an additional complicating factor.

Various organisations and funding agencies are aiming to address the water-food-energy nexus, by this or another term, including integrated modeling (Bazilian et al. 2011). A book by the World Economic Forum (Waughray 2011) covers the water-food-energy-climate nexus, including some discussion of groundwater issues. The interactive nature of problems related to this nexus will continue to spawn interest and exploration, hopefully with new innovations.
5.7

Adapting to Climate Change: Integrated GroundwaterManagement

Climate adaptation measures are developed to cope with the consequences of a changing climate and reduce future risks. Adaptation encompasses both national and regional strategies as well as practical measures taken at all political levels and by individuals.

In many parts of the world, groundwater is crucial to sustainable development through provision of low-cost, reliable and high-quality water supplies. About 70 % of drinking water in the European Union, 80 % of rural water supply in sub-Saharan Africa and 60 % of agricultural irrigation in India depend on groundwater (IAH 2006). Groundwater also sustains ecosystems and landscapes in humid regions in supporting wetlands and riparian areas, and also supports unique aquatic ecosystems in more arid regions and in coastal environments. The largely hidden nature of groundwater means that development is often untallied and thus uncontrolled and not incorporated into overall water resource management, resulting in over-exploitation and contamination. Thus, even without considering climate change, sustainable management of groundwater is a major challenge. Groundwater is a widely distributed resource responding at basin scales, and local stakeholders (e.g., municipalities, industrial enterprises and farmers) are influenced by national policies determining land and water use. In general, governance systems, resource policies, innovation incentives, data collection and information provision need to relate to a wide range of scales (see Chap.  6), with different adaptive management approaches in rural and urban environments (IAH 2006).

Climate change challenges the traditional assumption that past hydrological experience provides a good guide to future conditions. In times of surface-water shortages during droughts, a typical response is for groundwater resources to be abstracted as an emergency supply. Under conditions of climate change, this response could be unsustainable, especially in areas expected to experience an increase in drought frequency and duration. Also, rising sea levels under climate change will further threaten coastal freshwater aquifers, especially those already experiencing salinisation due to over-exploitation.

Alley (2006) suggested that the effects of discharge and groundwater development often take many years to become evident. Thus, governments tend to neglect the data collection and analysis needed to support informed groundwater management until problems materialize. This type of reactionary stance to groundwater management is flawed because, although some groundwater systems are renewable, many groundwater resources contain "fossil" groundwater and thus are nonrenewable natural resources on human time scales. For example, the groundwater that is removed from storage in many arid and semiarid regions was recharged during wetter periods under paleoclimate conditions (Alley et al. 2002).

Adaptation approaches can be preventative or reactive and apply to natural and social systems. Ensuring the sustainability of investments in groundwater resources planning and development, over the entire lifetime of a scheme and taking explicit account of changing climate, is referred to as climate proofing (CEC 2007). At a minimum, and in the absence of reliable projections of future changes in hydrological variables, adaptation processes and methods can be implemented, such as improved water use efficiency and water demand management , offering no-regrets options to cope with climate change.

The Netherlands are investing in "climate proofing" (Kabat et al. 2005) that uses hard infrastructure and softer measures, such as insurance schemes or evacuation planning, to reduce the risks of climate change and hydrologic variability to a quantifiable level that is acceptable by the society or economy. The Netherlands and the rest of the world's coastal delta regions are vulnerable to climate change and sea-level rise. Rather than coping with extreme climatic events, as people from all over the world have done over human history, climate proofing is a proactive approach to develop precautionary measures to address the low-probability but high-magnitude hydroclimatologic events forecasted under climate change and variability (Kabat et al. 2005). Climate proofing should be driven by opportunities for technological, institutional, and societal innovations, rather than by the fear of climate-change induced threats. The climate-proofing approach could be used by water-resource scientists, engineers, and managers to develop forward-thinking, innovative solutions and precautionary measures for a range of probable hydroclimatic events under future climate change. The discredited stationarity of hydroclimatology (Milly et al. 2008) may promote innovation and suitable precautionary measures to protect the sustainability of groundwater resources under projected hydroclimatic regimes. Thus the process of adaptation to climate change must itself be adaptive over time.

Potential adaptive responses include some combination of technological (e.g., deepening of existing boreholes), behavioral (e.g., altered groundwater use), managerial (e.g., altered farm irrigation practices), and policy oriented (e.g., groundwater abstractions licensing regulations) approaches. The IPCC (2007a) argued that while most technologies and strategies are studied and developed in certain countries, the effectiveness of various options to substantially reduce risks for vulnerable water-stressed areas is not yet known, particularly at higher levels of warming and related impacts. Shah (2009) noted an indirect feedback of pumping on climate change due to energy use and associated carbon emissions. This is one obvious example of the interactions between potential groundwater-atmosphere feedbacks and adaptation to global change that must be considered.

For integrated water resources management , two types of decisions deal with: (1) new investments, and (2) the operation and maintenance of existing systems. Information is needed about future water availability and demand, both of which are affected by climate change at the river-basin scale (Ballentine and Stakhiv 1993). As explained by the IPCC (2008), supply-side options generally involve increases in storage capacity or water abstraction. Demand-side adaptation options rely on the combined actions of individuals (industry users, farmers and individual consumers) and may be less reliable. Some options, such as those incurring increased pumping and treatment costs, may be inconsistent with climate change mitigation measures because they involve high energy consumption.

One of the major challenges facing water resources managers is coping with climate change uncertainty, particularly where expensive investment in infrastructure such as well-field design, construction and testing and laying of pipelines is required (Brekke et al. 2004; Taylor et al. 2013). Dessai and Hulme (2007) discussed this challenge and related questions, including: To what amount of uncertainty in climate change should we adapt? Are robust adaptation options socially, environmentally and economically acceptable and how do climate change uncertainties compare with other uncertainties such as changes in demand? The answers to these questions leading to robust adaptation decisions will require the development of probability distributions of specified outcomes (Wilby and Harris 2006) and negotiation between decision-makers and stakeholders involved in the adaptation process (Dessai and Hulme 2007). For lower income countries, availability of resources and building adaptive capacity are particularly important in order to meet water shortages and salinisation of fresh waters.

Examples of current adaptation to observed and anticipated climate change in the management of groundwater resources are few, with groundwater typically considered as part of an integrated water-supply system. Here, three examples serve to highlight the difference in approach in technically-advanced and developing country contexts. The ability of California's water supply system to adapt to long-term climate and demographic changes was examined by Tanaka et al. (2006) using a state-wide economic-engineering optimisation model of water supply management and considering two climate warming scenarios for the year 2100. However, recent drought conditions3 raised concerns regarding long-standing issues of groundwater quality and management in California. Even so, the prediction by Tanaka et al. (2006) that California's water supply system appears physically capable of adapting to significant changes in climate and population may remain valid, albeit at significant cost. Such adaptations would entail large changes in the operation of California's large groundwater storage capacity, significant transfers of water among water users and some adoption of new technologies. In the Sacramento Valley, California, Purkey et al. (2007) used four climate time series to simulate agricultural water management with adaptation in terms of improvements in irrigation efficiency and shifts in cropping patterns during dry periods leading to lower overall water demands in the agricultural sector with associated reductions in groundwater pumping and increases in surface-water allocations to other water use sectors. Land-use adaptation to projected climate change may include management changes within land-use classes (e.g., alternative crop rotations) or changes in land classification (e.g., converting annual cropping systems to perennial grasslands or forests). Soil and water conservation programs already encourage some of these types of land-use changes.

A similar technological approach to that demonstrated for California is presented for the Mediterranean region of Europe. This region is experiencing rapid social and environmental changes with increasing water scarcity problems that will worsen with climate change. Iglesias et al. (2007) found that these pressures are heterogeneous across the region or water use sectors and adaptation strategies to cope with water scarcity include technology, use of strategic groundwater and better management based on preparedness rather than a crisis approach. Iglesias et al. (2007) also promoted the importance of local management at the basin level but with the potential benefits dependent on the appropriate multi-institutional and multi-stakeholder coordination.

In contrast to the examples from North America and Europe, Ojo et al. (2003) discussed the downward trends in rainfall and groundwater levels, and increases in water deficits and drought events affecting water resources availability in West Africa. There, the response strategies needed to adapt to climate change emphasize the need for water supply-demand adaptations. The mechanisms needed to implement adaptation measures include: building the capacity and manpower of water institutions in the region for hydro-climatological data collection and monitoring; the public participation and involvement of stakeholders; and the establishment of both national and regional cooperation.

Furthermore, water resources management has a clear association with many other policy areas such as energy, land use and nature conservation. In this context, groundwater is part of an emerging integrated water resources management approach that recognises society's views, reshapes planning processes, coordinates land and water resources management, recognises water quantity and quality linkages, manages surface-water and groundwater resources conjunctively, and protects and restores natural systems while considering of climate change. Also, biofuel production has implications for groundwater recharge quantity and quality (IPCC 2008).

In summary, groundwater resources stored in aquifers can be managed given reasonable scientific knowledge, adequate monitoring and sustained political commitment and provision of institutional arrangements. Although there is no single approach to relieving pressures on groundwater resources, incremental improvements in resource management and protection can be achieved now and in the future under climate change. Sustainable management of groundwater will only be possible by approaching adaptation through the effective engagement of individuals and stakeholders at community, local government and national policy levels. Adaptative decision processes in the face of global change should be addressed even to improve management and decision making in an otherwise unchanging world. That is, natural and human-induced variability under historical conditions will be better quantified and managed using new scientific advances gained under the auspices of global change research, making such work a "win-win" proposition.
5.8

Future Directions

Future work must build upon progress to date, and 12 key issues have been identified to improve understanding and guide integrated groundwater management (IGM) in light of climate change:
1.

Knowledge of biophysical processes and their interactions must continue to increase, so that systems will be better understood, and estimates of projected groundwater changes and their potential feedbacks on climate will be refined, including quantification of uncertainty and associated risks.

 

2.

Effects of projected climate change on hydrological fluxes (e.g., groundwater recharge ) vary with different combinations of soils/aquifer materials, vegetation, and climate zone.

 

3.

Long-term monitoring of terrestrial systems (groundwater, surface water, vegetation and land-use patterns) must be maintained and fortified to quantify baseline properties.

 

4.

Shifts (versus gradual changes and linear trends) in the temporal means and variances of climate variables are probable forms of climate and groundwater changes which should be evaluated.

 

5.

Higher spatial resolution is needed to make satellite-based gravity measurements more practical for regional groundwater management.

 

6.

Long-term (multidecadal or greater) feedback from groundwater to atmospheric processes constitutes a knowledge gap. Paleohydrology indicates that contemporary groundwater-climate systems are not in equilibrium, due to the long memory of deep groundwater with long flow paths and large storage. Contemporary and projected climate change will have lagged and potentially amplified effects on many groundwater systems.

 

7.

The nexus of climate change with food, water and energy security is linked directly to groundwater in many systems.

 

8.

Issues of food and energy security, environmental protection, and social welfare all interact and depend upon improved understanding of terrestrial responses to climate change and feedback mechanisms.

 

9.

Scaling fluxes of water and its constituents to the domains of interest for management and policy is an overarching theme for projecting groundwater responses and feedbacks with climate.

 

10.

Information from intensive study areas must be transferred across the globe to other areas where monitoring infrastructure and research resources are not available. Mapping of global analogues in terms of climatic and terrestrial properties is a promising first-order approach.

 

11.

Artificial recharge and managed storage and recovery projects may become more important components of many local water systems to bank excess renewable-water supplies

 

12.

IGM needs to be both strategic and flexible over time (tactical) as projected climate-groundwater interactions become certainties, or otherwise unexpected realities. Climate proofing may offer no-regrets options to cope with climate change by developing precautionary measures that address low-probability but high-magnitude hydroclimatologic events.

 
Notes
Acknowledgments
I wish to thank and acknowledge my colleagues who have contributed to the UNESCO International Hydrological Program's GRAPHIC (Groundwater Resources Assessments under the Pressures of Humanity and Climate change) Project since 2004. In particular, Makoto Taniguchi, Henk Kooi, Jason Gurdak, Diana Allen, Holger Treidel and Alice Aureli, who co-authored Green et al. (2011) contributed substantially to the basis for this chapter, and the authors of Taylor et al. (2013) provided updates and additional insights on key issues related to groundwater and climate change. I also thank Prof. Tony Jakeman and co-editors of this book for inviting me to write this chapter, particularly Dr. Randall Hunt for his thoughtful editing and help integrating it with other chapters.
Copyright information
© The Author(s) 2016
Open Access This chapter is distributed under the terms of the Creative Commons Attribution-Noncommercial 2.5 License (http://creativecommons.org/licenses/by-nc/2.5/) which permits any noncommercial use, distribution, and reproduction in any medium, provided the original author(s) and source are credited.
The images or other third party material in this chapter are included in the work's Creative Commons license, unless indicated otherwise in the credit line; if such material is not included in the work's Creative Commons license and the respective action is not permitted by statutory regulation, users will need to obtain permission from the license holder to duplicate, adapt or reproduce the material.