Abstract
The flavonoid silymarin and one of its structural components, silibinin, are substances with documented hepatoprotective properties. Their mechanisms of action are still poorly understood. However, the data in the literature indicate that silymarin and silibinin act in four different ways: (i) as antioxidants, scavengers and regulators of the intracellular content of glutathione; (ii) as cell membrane stabilisers and permeability regulators that prevent hepatotoxic agents from entering hepatocytes; (iii) as promoters of ribosomal RNA synthesis, stimulating liver regeneration; and (iv) as inhibitors of the transformation of stellate hepatocytes into myofibroblasts, the process responsible for the deposition of collagen fibres leading to cirrhosis. The key mechanism that ensures hepatoprotection appears to be free radical scavenging. Anti-inflammatory and anticarcinogenic properties have also been documented.
Silymarin is able to neutralise the hepatotoxicity of several agents, including Amanita phalloides, ethanol, paracetamol (acetaminophen) and carbon tetrachloride in animal models. The protection against A. phalloides is inversely proportional to the time that has elapsed since administration of the toxin. Silymarin protects against its toxic principle α-amanitin by preventing its uptake through hepatocyte membranes and inhibiting the effects of tumour necrosis factor-α, which exacerbates lipid peroxidation.
Clinical trials have shown that silymarin exerts hepatoprotective effects in acute viral hepatitis, poisoning by A. phalloides, toxic hepatitis produced by psychotropic agents and alcohol-related liver disease, including cirrhosis, at daily doses ranging from 280 to 800mg, equivalent to 400 to 1140mg of standardised extract. Hepatoprotection has been documented by improvement in liver function tests; moreover, treatment with silymarin was associated with an increase in survival in a placebo-controlled clinical trial in alcoholic liver disease.
Pharmacokinetic studies have shown that silymarin is absorbed by the oral route and that it distributes into the alimentary tract (liver, stomach, intestine, pancreas). It is mainly excreted as metabolites in the bile, and is subject to enterohepatic circulation. Toxicity is very low, the oral 50% lethal dose being 10 000 mg/kg in rats and the maximum tolerated dose being 300 mg/kg in dogs. Moreover, silymarin is devoid of embryotoxic potential.
In conclusion, silymarin is a well tolerated and effective antidote for use in hepatotoxicity produced by a number of toxins, including A. phalloides, ethanol and psychotropic drugs. Numerous experimental studies suggest that it acts as a free radical scavenger, with other liver-specific properties that make it a unique hepatoprotective agent.
This is a preview of subscription content,
to check access.
Access this article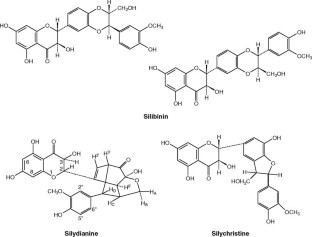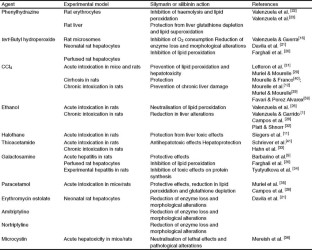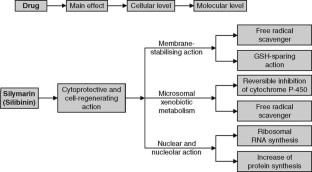 References
Valenzuela A, Garrido A. Biochemical bases of the pharmacological action of the flavonoid silymarin and of its structural isomer silibinin. Biol Res 1994; 27: 105–12

Morazzoni P, Bombardelli E. Silybum marianum (Carduus marianus). Fitoterapia 1995; LXVI: 3–42

Lecomte J. Les propriétés pharmacologiques de la silybine et de la silymarine. Rev Med Liege 1975; XXX: 110–4

Wagner H, Diesel P, Seitz M. Zur chemie und analytik von silymarin aus Silybum marianum gaertn. Arzneimittelforschung 1974; 24: 466–71

Vogel G, Trost W, Braatz R, et al. Untersuchungen zu pharmakodynamik, angriffspunkt und wirkungsmechanismsus von silymarin, dem antihepatotoxischen prinzip aus Silybum mar. (L.) gaertn. Arzneimittelforschung 1975; 25: 82–9

Desplaces A, Choppin J, Vogel G, et al. The effects of silymarin on experimental phalloidine poisoning. Arzneimittelforschung 1975; 25: 89–96

Choppin J, Desplaces A. The effects of silybin on experimental phalloidine poisoning. Arzneimittelforschung 1978; 28: 636–41

Vogel G, Trost W. Zur anti-phalloidin-aktivität der silymarine silybin und disilybin. Arzneimittelforschung 1975; 25: 392–3

Barbarino F, Neumann E, Deaciuc J, et al. Effect of silymarin on experimental liver lesions. Rev Roum Med Intern 1981; 19: 347–57

Schriewer H, Badde R, Roth G, et al. Die antihepatotoxische Wirkung des silymarins bei der leberschädigung durch thioacetamid. Arzneimittelforschung 1973; 23: 160–1

Siegers CP, Frühling A, Younes M. Influence of dithiocarb, (+)-catechin and silybine on halothane hepatotoxicity in the hypoxic rat model. Acta Pharmacol Toxicol (Copenh) 1983; 53: 125–9

Mourelle M, Muriel P, Favari L, et al. Prevention of CC14-induced liver cirrhosis by silymarin. Fundam Clin Pharmacol 1989; 3: 183–91

Luper S. A review of plants used in the treatment of liver disease: part I. Altern Med Rev 1998; 3: 410–21

Skottova N, Kreeman V. Silymarin as a potential hypocholesterolaemic drug. Physiol Res 1998; 47: 1–7

Ferenci P, Dragosics B, Dittrich H, et al. Randomized controlled trial of silymarin treatment in patients with cirrhosis of the liver. J Hepatol 1989; 9: 105–13

Valenzuela A, Guerra R. Differential effect of silybin on the Fe2+ -ADP and t-butyl hydroperoxide-induced microsomal lipid peroxidation. Experientia 1986; 42: 139–41

Mira L, Silva M, Manso CF. Scavenging of reactive oxygen species by silibinin dihemisuccinate. Biochem Pharmacol 1994; 48: 753–9

Bosisio E, Benelli C, Pirola O. Effect of the flavanolignans of Silybum marianum L. on lipid peroxidation in rat liver microsomes and freshly isolated hepatocytes. Pharmacol Res 1992; 25: 147–54

Cavallini L, Bindoli A, Siliprandi N. Comparative evaluation of antiperoxidative action of silymarin and other flavonoids. Pharmacol Res Commun 1978; 10: 133–6

Farghali H, Kamenikova L, Hynie S, et al. Silymarin effects of intracellular calcium and cytotoxicity: a study in perfused rat hepatocytes after oxidative stress injury. Pharmacol Res 2000; 41: 231–7

Davila JC, Lenherr A, Acosta D. Protective effect of flavonoids on drug-induced hepatotoxicity in vitro. Toxicology 1989; 57: 267–86

Valenzuela A, Barría T, Guerra R, et al. Inhibitory effect of the flavonoid silymarin on the erythrocyte hemolysis induced by phenhylhydrazine. Biochem Biophys Res Commun 1985; 126: 712–8

Valenzuela A, Guerra R, Garrido A. Silybin dihemisuccinate protects rat erythrocytes against phenylhydrazine-induced lipid peroxidation and hemolysis. Planta Med 1987; 53: 402–5

Ramellini G, Meldolesi J. Liver protection by silymarin: in vitro effect on dissociated rat hepatocytes. Arzneimittelforschung 1976; 26: 69–73

Valenzuela A, Guerra R. Protective effect of the flavonoid silybin dihemisuccinate on the toxicity of phenylhydrazine on rat liver. FEBS Lett 1985; 181: 291–4

Valenzuela A, Lagos C, Schmidt K, et al. Silymarin protection against hepatic lipid peroxidation induced by acute ethanol intoxication in the rat. Biochem Pharmacol 34: 1985: 12

Videla LA, Valenzuela A. Alcohol ingestion, liver glutathione and lipoperoxidation: metabolic interrelations and pathological implications. Life Sci 1982; 31: 2395–407

Campos R, Garrido A, Guerra A. Silybin dihemisuccinate protects against glutathione depletion and lipid peroxidation induced by acetaminophen on rat liver. Planta Med 1989; 55: 417–9

Muriel P, Mourelle M. Prevention by silymarin of membrane alterations in acute CC14 liver damage. J Appl Toxicol 1990; 10: 275–9

Valenzuela A, Aspillaga M, Vial S, et al. Selectivity of silymarin on the increase of the glutathione content in different tissues of the rat. Planta Med 1989; 55: 420–2

Lettéron P, Labbe G, Degott C, et al. Mechanism for the protective effects of silymarin against carbon tetrachloride-induced lipid peroxidation and hepatotoxicity in mice. Biochem Pharmacol 1990; 39: 2027–34

Platt D, Schnorr B. Biochemische und elektronenoptische Untersuchungen zur frage der beeinflussbarkeit der aethanol-schadigung der rattenleber durch silymarin. Arzneimittelforschung 1971; 21: 1206–8

Hahn G, Lehmann HD, Kurten M, et al. Zur pharmakologie und toxikologie von silymarin, des antihepatotoxischen wirkprinzipes aus Silybum marianum (L.) gaertn. Arzneimittelforschung 1968; 18: 698–704

Tyutyulkova N, Gorantcheva U, Tuneva S, et al. Effect of silymarin (carsil) on the microsomal glycoprotein and protein biosynthesis in liver of rats with experimental galactosamine hepatitis. Methods Find Exp Clin Pharmacol 1983; 5: 181–4

Muriel P, Garciapiña T, Perez-Alvarez V, et al. Silymarin protects against paracetamol-induced lipid peroxidation and liver damage. J Appl Toxicol 1992; 12: 439–42

Mereish KA, Bunner DL, Ragland DR, et al. Protection against microcystin-LR-induced hepatotoxicity by silymarin: biochemistry, histopathology and lethality. Pharm Res 1991; 8: 273–7

Fiebrich F, Koch H. Silymarin, an inhibitor of lipoxygenase. Experientia 1979; 35: 1548–60

Bindoli A, Cavallini L, Siliprandi N. Inhibitory action of silymarin of lipid peroxide formation in rat liver mitochondria and microsomes. Biochem Pharmacol 1977; 26: 2405–9

Muriel P, Mourelle M. The role of membrane composition in ATPase activities of cirrhotic rat liver: effect of silymarin. J Appl Toxicol 1990; 10: 281–4

Mourelle M, Franco MT. Erythrocyte defects precede the onset of CC14-induced liver cirrhosis. Protection by silymarin. Life Sci 1991; 48: 1083–90

Schriewer H, Weinhold F. The influence of silybin from Silybum marianum (L.) gaertn. on in vitro phosphatidyl choline biosynthesis in rat livers Arzneimittelforschung 1973; 29: 791–2

Soto CP, Perez BL, Favari LP, et al. Prevention of alloxan-induced diabetes mellitus in the rat by silymarin. Comp Biochem Physiol 1998; 119C: 125–9

Magliulo E, Carosi PG, Minoli L, et al. Studies on the regenerative capacity of the liver in rats subjected to partial hepatectomy and treated with silymarin. Arzneimittelforschung 1973; 23: 161–7

Sonnenbichler J, Zetl I. Biochemical effects of the flavonolignane silibinin on RNA, protein and DNA synthesis in rat livers. In: Cody V, Middleton E, Harborne JB, editors. Plant flavonoids in biology and medicine: biochemical, pharmacological and structure-activity relationship. New York: Alan R Liss Inc, 1986: 319–31

Floersheim GL, Eberhard M, Tschumi P, et al. Effects of penicillin and silymarin on liver enzymes and blood clotting factors in dogs given a boiled preparation of Amanita phalloides. Toxicol Appl Pharmacol 1978; 46: 455–62

El-Bahay C, Gerber E, Horbach M, et al. Influence of tumor necrosis factor-α and silibin on the cytotoxic action of α-amanitin in rat hepatocyte culture. Toxicol Appl Pharmacol 1999; 158: 253–60

Dehmlow C, Erhard J, De Groot H. Inhibition of kupffer cell functions as an explanation for the hepatoprotective properties of silibinin. Hepatology 1996; 23: 749–54

Dehmlow C, Murawski N, De Groot H. Scavenging of reactive oxygen species and inhibition of arachidonic acid metabolism by silibinin in human cells. Life Sci 1996; 58: 1591–600

De la Puerta R, Martinez E, Bravo L, et al. Effect of silymarin on different acute inflammation models and on leukocyte migration. J Pharm Pharmacol 1996; 48: 968–70

Katiyar SK, Korman NJ, Mukhtar H, et al. Protective effects of silymarin against photocarcinogenesis in a mouse skin model. J Natl Cancer Inst 1997; 89: 556–66

Lahiri-Chatterjee M, Katiyar SK, Mohan RB, et al. A flavonoid antioxidant, silymarin, affords exceptionally high protection against tumor promotion in the SENCAR mouse skin tumor-igenesis model. Cancer Res 1999; 59: 622–32

Zhao J, Lahiri-Chatterjee M, Sharma Y, et al. Inhibitory effect of a flavonoid antioxidant silymarin on benzoyl peroxide-induced tumor promotion, oxidative stress and inflammatory responses in SENCAR mouse skin. Carcinogenesis 2000; 21: 811–6

Manna SK, Mukhopadhyay A, Van NT, et al. Silymarin suppresses TNF-induced activation of NF-kB, c-Jun N-terminal kinase and apoptosis. J Immunol 1999; 163: 6800–9

Saliou C, Rihn B, Cillard J, et al. Selective inhibition of NF-kB activation by the flavonoid hepatoprotector silymarin in HepG2. Evidence for different activating pathways. FEBS Lett 1998; 440: 8–12

Saliou C, Kitazawa M, Mclaughlin L, et al. Antioxidants modulate acute solar ultraviolet radiation-induced NF-Kappa-B activation in a human keratinocyte cell line. Free Radic Biol Med 1999; 26: 174–83

Zi X, Agarwal R. Modulation of mitogen-activated protein kinase activation and cell cycle regulators by the potent skin cancer preventive agent silymarin. Biochem Biophys Res Commun 1999; 263: 528–36

Fuchs EC, Weyhenmeyer R, Weiner OH. Effects of silibinin and of a synthetic analogue on isolated rat hepatic stellate cells and myofibroblasts. Arzneimittelforschung 1997; 47: 1383–7

Boigk G, Stroedter L, Herbst H, et al. Silymarin retards collagen accumulation in early and advanced biliary fibrosis secondary to complete bile duct obliteration in rats. Hepatology 1997; 26: 643–9

Favari L, Perez-Alvarez V. Comparative effects of colchicine and silymarin on CC14 chronic liver damage in rats. Arch Med Res 1997; 28: 11–7

Baer-Dubowska W, Szafer H, Krajkakuzniak V. Inhibition of murine hepatic cytochrome P450 activities by natural and synthetic phenolic compounds. Xenobiotica 1998; 28: 735–43

Miguez MP, Anundi I, Sainz-Pardo LA, et al. Hepatoprotective mechanism of silymarin: no evidence for involvement of cytochrome P450 2E1. Chem Biol Interact 1994; 91: 51–63

Leber HW, Knauff S. Influence of silymarin on drug metabolizing enzymes in rat and man. Arzneimittelforschung 1976; 26: 1603–5

Down WH, Chasseaud LF, Grundy RK. Effect of silybin on the hepatic microsomal drug-metabolising enzyme system in the rat. Arzneimittelforschung 1974; 24: 1986–8

Morazzoni P, Montalbetti A, Malandrino S, et al. Comparative pharmacokinetics of silipide and silymarin in rats. Eur J Drug Metab Pharmacokinet 1993; 18: 289–97

Schandalik R, Gatti G, Perucca E. Pharmacokinetics of silybin in bile following administration of silipide and silymarin in cholecystectomy patients. Arzneimittelforschung 1992; 42: 964–8

Pepping J. Milk thistle: Silybum marianum. Am J Health Syst Pharm 1999; 56: 1195–7

Janiak B, Kessler B, Kunz W, et al. Die Wirkung von silymarin auf gehalt und function einiger durch einwirkung von tetrachlorkohlenstoff bzw. Halothan beeinflussten mikrosomalen Leberenzyme. Arzneimittelforschung 1973; 23: 1322–6

Bulles H, Bulles J, Krumbiegel G, et al. Untersuchungen zur verstoffwechselung und zur ausscheidung von silybin bei der ratte. Arzneimittelforschung 1975; 25: 902–5

Mennicke W. What is known about the metabolism and pharmacokinetics of silymarin. In: Braatz R, Schneider CC, editors. Symposium on the pharmacodynamic of silymarin. Munich, Berlin, Vienna: Urban & Schwarzenberg, 1976: 98–102

Zhao J, Agarwal R. Tissue distribution of silibinin, the major active constituent of silymarin, in mice and its association with enhancement of phase II enzymes: implications in cancer chemoprevention. Carcinogenesis 1999: 8

Flora K, Hahn M, Rosen H, et al. Milk thistle (Silybum marianum) for the therapy of liver disease. Am J Gastroenterol 1998; 93: 139–43

Hruby K, Csomos G, Fuhrmann M, et al. Chemotherapy of Amanita phalloides poisoning with intravenous silibinin. Hum Toxicol 1983; 2: 183–95

Boari C, Baldi E, Rizzoli O, et al. Silymarin in the protection against exogenous noxae. Drug Exp Clin Res 1981; 7: 115–20

Palasciano G, Portincasa P, Palmieri V, et al. The effect of silymarin on plasma levels of malondialdehyde in patients receiving long-term treatment with psychotropic drugs. Curr Ther Res Clin Exp 1994; 55: 537–45

Salmi HA, Sarna S. Effect of silymarin on chemical, functional, and morphological alterations of the liver. Scand J Gastroenterol 1981; 17: 517–21

Trinchet JC, Coste T, Levy VG, et al. Traitement de l'hépatite alcoolique par la silymarine. Une étude comparative en double insu chez 116 malades. Gastroenterol Clin Biol 1989; 13: 120–4

Pares A, Planas R, Torre M, et al. Effects of silymarin in alcoholic patients with cirrhosis of the liver: results of a controlled, double-blind, randomized and multicenter trial. J Hepatol 1998; 28: 615–21

Di Carlo G, Mascolo N, Izzo AA, et al. Flavonoids: old and new aspects of a class of natural therapeutic drugs. Life Sci 1999; 65: 337–53

De Groot H, Raven U. Tissue injury by reactive oxygen species and the protective effects of flavonoids. Fundam Clin Pharmacol 1998; 12: 249–55

Iwu MM. Antihepatotoxic constituents of Garcinia kola seeds. Experiential 1985; 41: 699–700

Soicke H, Leng Peschlow E. Characterisation of flavonoids from Baccharis trimera and their antihepatotoxic properties. Planta Med 1987; 53: 37–9

Markham RJ, Erhardt NP, Dininno VL, et al. Flavonoids protect against T-2 mycotoxins both in vitro and in vivo. J Gen Microbiol 1987; 133: 1589–92

Vijayaraghavan R, Sugendran K, Pant SC, et al. Dermal intoxication of mice with bis (2-chloroethyl) sulfide and the protective effect of flavonoids. Toxicology 1991; 69: 35–42
Acknowledgements
The authors wish to thank Madaus S.R.L., Bozen, Italy, for funding used to assist in the preparation of this manuscript.
About this article
Cite this article
Fraschini, F., Demartini, G. & Esposti, D. Pharmacology of Silymarin. Clin. Drug Investig. 22, 51–65 (2002). https://doi.org/10.2165/00044011-200222010-00007
Published:

Issue Date:

DOI: https://doi.org/10.2165/00044011-200222010-00007
Keywords