The Interaction of ApoA-I and ABCA1 Triggers Signal Transduction Pathways to Mediate Efflux of Cellular Lipids
Open Access
Review Article
Abstract
Reverse cholesterol transport (RCT) has been characterized as a crucial step for antiatherosclerosis, which is initiated by ATP-binding cassette A1 (ABCA1) to mediate the efflux of cellular phospholipids and cholesterol to lipid-free apolipoprotein A-I (apoA-I). However, the mechanisms underlying apoA-I/ABCA1 interaction to lead to the lipidation of apoA-I are poorly understood. There are several models proposed for the interaction of apoA-I with ABCA1 as well as the lipidation of apoA-I mediated by ABCA1. ApoA-I increases the levels of ABCA1 protein markedly. In turn, ABCA1 can stabilize apoA-I. The interaction of apoA-I with ABCA1 could activate signaling molecules that modulate posttranslational ABCA1 activity or lipid transport activity. The key signaling molecules in these processes include protein kinase A (PKA), protein kinase C (PKC), Janus kinase 2 (JAK2), Rho GTPases and Ca2+, and many factors also could influence the interaction of apoA-I with ABCA1. This review will summarize these mechanisms for the apoA-I interaction with ABCA1 as well as the signal transduction pathways involved in these processes.
Introduction
High density lipoproteins (HDLs) have been shown consistently to be related inversely to cardiovascular disease risk (1,2). An important aspect of HDL function is its role in reverse cholesterol transport (RCT), in which HDL transfers cholesterol from peripheral tissues to the liver for elimination (3, 4, 5, 6, 7). Lipid-poor apolipoprotein A-I (apoA-I), the major component of HDL, interacts with ATP-binding cassette A1 (ABCA1), which exports free cholesterol (FC) and phospholipids (PL) from cells and servers as the first step in RCT (8, 9, 10, 11). There is no unified recognition of how apoA-I interacts with ABCA1 and the lipidation of apoA-I. Understanding the mechanisms regulating the interaction of apoA-I with ABCA1 would clarify the molecular details of cellular cholesterol efflux and further help to develop strategies to increase plasma HDL concentrations. In addition to lipid metabolism regulation, apoA-I/ABCA1 interaction is involved in the process of apoptosis and inflammation, which also were thought to play crucial roles in the development of atherosclerosis (12, 13, 14). Therefore, the interaction of apoA-I with ABCA1 could connect inflammation and RCT in vivo. In this review, we will focus on the mechanisms of the interaction of apoA-I with ABCA1 as well as the signal transduction pathways involved in this process.
The Binding Between ApoA-I and Abca1
The molecular mechanism of apoA-I binding to ABCA1 is not very clear since ABCA1 has been found to have a broad specificity for multiple HDL-related apolipoproteins, including apoA-I, A-II, C-I, C-II and C-III (15). These binding sites in ABCA1 also recognize the 18-mer synthetic amphipathic α-helix and phospholipid transfer protein (16). Electron microscopy studies have shown that human fibroblasts and THP-1 macrophages expressing ABCA1 display 10- to 60-nm plasma membrane projections that bind more than 80% of exogenously added apoA-I (17). Chambenoit et al. (18) suggested that apoA-I is likely bound to phosphatidylserine (PS) that is presented at the exofacial leaflet of cell membrane by the "floppase" activity of ABCA1. Interestingly, Smith et al. reported that the increased PS was insufficient to mediate cellular apoA-I binding and lipid efflux, because annexin V, a PS-binding protein, did not compete with ABCA1-induced apoA-I binding, nor did it affect ABCA1-mediated lipid efflux to apoA-I (19,20). Furthermore, covalent cross-linking studies have revealed that apoA-I binds directly to ABCA1 with high affinity Kd <10−7mol/L) and saturability (15,21). This binding process is temperature sensitive and readily reversible. Overexpression of the full-length cDNA of ABCA1 in cells resulted in increased apoA-I binding to the cell surface (17). All these findings suggest that apoA-I directly binds to ABCA1 to form a complex that facilitates cellular cholesterol and phospholipid efflux. The current model proposed that ABCA1 creates two sites separately for binding of apoA-I and lipid efflux. Although the low capacity site was formed by direct apoA-I/ABCA1 interactions, the much higher capacity site generated by apoA-I/lipid interactions functions in the assembly of nascent HDL particles (22, 23, 24). The low capacity site for apoA-I binding on the ABCA1 has been deemed to have regulatory functions. However, this proposed model regarding ABCA1 activity creating two binding sites for apoA-I does not distinguish whether apoA-I/lipid binding precedes apoA-I/ABCA1 interaction or the opposite. Some studies support the assumption that the binding of apoA-I to ABCA1 helps targeting apoA-I to lipid domains (25). Elucidating the mechanism of interaction between apoA-I and ABCA1 will increase our understanding of the lipidation of apoA-I.
Although the majority of cholesterol resides in the plasma membrane, the second largest cellular cholesterol pool is in endosomes (26). ABCA1 is located not only in the cell surface, but also in the intracellular vesicles, including endosomes and lysosomes (27). Studies have provided evidence that extracellular apoA-I may be endocytosed and recycled back to the cell surface before its release from the cells (28,29). ABCA1 recycles rapidly between the plasma membrane and late endosomal/lysosomal compartments through the apoA-I-containing intracellular vesicles (27,30, 31, 32, 33). However, subsequent studies quantitating cholesterol efflux from the endocytic pathway indicated that the intracellular vesicles transport represented less than 5% of the total cellular efflux capacity due to the degradation of a large fraction of the resecreted apoA-I. Therefore, we concluded that the plasma membrane is the main platform where ABCA1-mediated lipidation of apoA-I (26,34).
The Reciprocal Response of the Binding of ApoA-I/ABCA1
Although apoA-I does not alter ABCA1 mRNA abundance, it increases the content of ABCA1 protein markedly, suggesting the effect of apoA-I on ABCA1 degradation (35). Studies have shown several possible mechanisms that contribute to ABCA1 protein stabilization; for example, interactions of ABCA1 and apoA-I interfered with the phosphorylation of the PEST sequence and reduced calpain-mediated proteolysis (10,36, 37, 38). ApoA-I increased levels of wild-type ABCA1, but not the mutant ABCA1 deleted by the PEST sequence. In addition, apoA-I pretreatment of cells blocked the degradation of the wild-type ABCA1 (36). ApoA-I failed to increase ABCA1-W590S levels in these studies, suggesting that apoA-I binding was not sufficient for ABCA1 stabilization (36). These results favor the hypothesis that apoA-I-mediated ABCA1 stabilization may result from local changes in membrane phospholipids that decrease the binding of ABCA1 with the calpain subunit (39). Another interpretation is that apoA-I fails to bind the W590S mutant in the correct orientation, and therefore the appropriate conformational change of ABCA1 required to decrease calpain proteolysis does not occur. Helical ApoA-I in its lipid-free form stabilizes ABCA1 by protecting it from thiol protease-mediated degradation (40). In conclusion, apoA-I facilitates ABCA1 accumulation to cell surface by inhibiting its intracellular degradation (41).
ABCA1, in turn, can stabilize apoA-I. Familial HDL deficiency diseases, such as Tangier disease, can result in increased catabolism of apoA-I (42), and ABCA1 single nucleotide polymorphisms could change the fasting and postprandial values of apoA-I (43). Initial interaction of apoA-I with ABCA1 imparts a unique conformation that partially determines the in vivo metabolic fate of apoA-I (44). If apoA-I is lipidated to form pre-β2, -3, or -4 HDLs by ABCA1, these particles will undergo further lipidation by non-ABCA1 mediated pathways, and ultimately be converted to mature plasma HDL particles by LCAT in plasma. On the other hand, when apoA-I is poorly lipidated, with only a few ABCA1 at the cell surface, it will not contain enough lipid to prevent its rapid clearance from plasma by the kidney. In addition, ABCA1 also modulates the transcytosis of apoA-I through endothelial cells (45).
The Binding Between ApoA-I and ABCAl Effects Signal Transduction Pathways
The interaction of apoA-I with ABCA1 could activate signaling molecules that modulate ABCA1 level or its mediated lipid transport activity in a posttranslational manner. The signal transduction pathways initiated by the interaction of apoA-I with ABCA1 include protein kinase A (PKA), protein kinase C (PKC), Janus kinase 2 (JAK2), Cdc42 and Ca
2+
. Various signal transduction pathways including PKA, JAK2, RhoA and Ca
2+
exist in macrophages, while PKA and Cdc42 have been found in fibroblasts, kidney cells and other cells. The presence of specific pathways in specific cell types was listed in Table
1
.
Table 1
The signaling proteins and their activities in different cells.
| Signaling | Cell type | Activity | Reference |
| --- | --- | --- | --- |
| PKA | RAW264, J774, MPM | ABCA1 mRNA↑ | 46–48 |
|   | Fibroblasts, CHO, BHK, RAW264, Human embryonic kidney cells, 293T, Flip-In 293 cells, HeLa cells, THP-1 | ABCA1 phosphorylation↑ | 49–52 |
| PKC | WI-38, HEK293 | ABCA1 protein stability↑ | 53 |
|   | COS-1, HEK293, HepG2 | ABCA1 mRNA↓ | 54 |
| JAK2 | BHK | ABCA1 activity↑, apoA-I binding↑ | 25,55,56 |
|   | J774, BHK | STAT3↑ | 57 |
| Rho GTPases | Fibroblasts, HEK293 | Cdc42↑, ABCA1 activity↑ | 58–60 |
|   | HEK293, THP-1 | RhoA↑, ABCA1 protein stability↑ | 24 |
| Ca2+ | BALB/3T3, THP-1, BHK, RAW 267.4 | ABCA1 protein stability↑ | 61,62 |
ABCA1-Mediated Lipidation of ApoA-I
Different mechanisms including ABCA1-mediated lipid efflux are suggested to account for the cellular cholesterol efflux. However, the molecular mechanism for ABCA1-mediated lipid efflux is still poorly understood, though several possible manners have been proposed. One is that ABCA1 moves FC and PL from the inner to outer leaflet of the plasma membrane, and then apoA-I loads FC and PL to generate HDL (
83
) (Figure
2A
). It is still unclear how ABCA1 translocates their substrates across membranes. Electron microscopy and X-ray crystallography analyses suggest that the two symmetrical transmembrane bundles come together to form a chamber that scans the inner leaflet of the membrane for substrates, incorporates them into the chamber and flips them to the outer leaflet for extrusion from the cells (
84
,
85
,
86
). This involves a series of conformational changes in the ABCA1 that is driven by ATP hydrolysis in the NBD domains. Another model gives emphasis to the influence of apoA-I structure on ABCA1-mediated efflux of cellular FC and PL. In the first step, apoA-I binds to ABCA1, then hydrophobic α-helices in the C-terminal domain of apoA-I insert into the region of the perturbed PL bilayer created by ABCA1. The second step is lipidation of apoA-I and the formation of nascent high-density lipoprotein particles (
87
) (Figure
2B
). The first step is the formation of a tight complex between ABCA1 and ApoA-I, which exhibits a half-life of approximately 30 min (
15
). This appears to be a necessary, but not sufficient, step for lipid efflux (
88
), because, in the case of the ABCA1 mutant (Trp590Ser) that is associated with Tangier disease, an apoA-I/ABCA1 complex also is formed, but the apoA-I is not lipidated (
15
). The third model suggests the binding between apoA-I and ABCA1 constitutively generate cholesterol- and phospholipid-rich membrane domains (
89
). These domains bend from the plasma membrane to relieve the strain of the densely packed phospholipids, generating curved and disordered lipid surfaces that favor apoA-I interactions (
90
,
91
) (Figure
2C
). This model also has been demonstrated by the interaction of apoA-I and DMPC/cholesterol vesicles (
92
). In addition, Takahashi
et al.
speculated that apoA-I can be lipidated within intracellular compartments, where ABCA1 pumps lipids into the vesicle lumen and then lipidates apoA-I 28, (
93
) (Figure
2D
).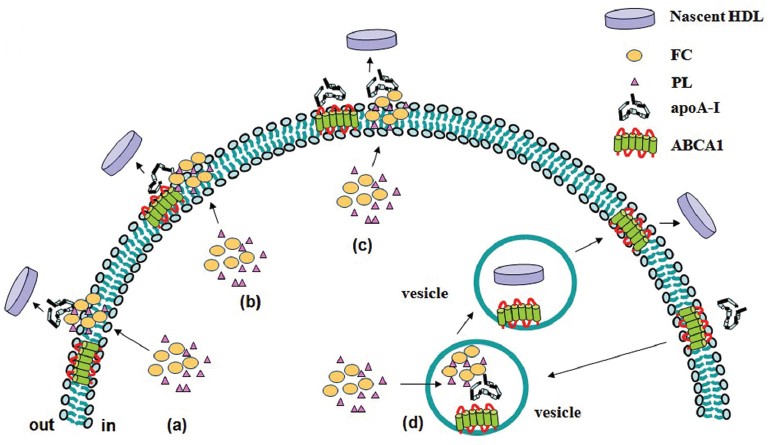 Heterogeneous nascent HDLs formation was observed in several studies when incubation of apoA-I with Chinese hamster ovary cells (94) and THP-1 macrophages (95). The presence of extracellular apoA-I induced the formation of 9 and 12 nm particles containing around 3:1 and 1:1 PL/FC (mol/mol), respectively (96). However, detailed mechanisms of formation of discrete-sized nascent HDL and their characteristics are needed for further investigations. One possible explanation is that ABCA1 lipidates apoA1 with PL first to form phospholipid rich nascent HDL particles, and then removes cholesterol from cells by diffusion 20, (97). ABCA1-mediated FC and PL efflux may be uncoupled 20 (98) and different cell lines have shown nonparallel apoA-I mediated FC and PL efflux (66).
Influencing Factors for the Binding Between ApoA-I and ABCA1
ABCA1 is highly regulated at both the transcriptional and posttranscriptional levels. Studies have proved that inhibiting ABCA1 degradation results in increased ABCA1 and HDL biogenesis. Ginkgo biloba extract (EGb761) (99), spiroquinone (100), diphenoquinone (100) and calmodulin (61) have been found to increase the protein stability of ABCA1 by reducing calpain activity without affecting ABCA1 mRNA expression. On the contrary, probucol inactivated ABCA1 in the plasma membrane with respect to its proteolytic degradation by increasing calpain activity (101). Cyclosporine A inactivated ABCA1 in a very similar manner to that of probucol for its biological functions and susceptibility to calpain in the membrane. Cyclosporin A treatment also decreased ABCA1 turnover and yielded a two-fold increase in cell-surface, but decreased apoA-I uptake, resecretion and degradation in RAW cells. Taken together, cyclosporin A treatment induced a 33% reduction of HDL levels in mice (102).
In addition, other factors also can influence the functions of ABCA1 via different mechanisms. ABCA1 degradation also is promoted by the ubiquitin proteasome pathway that is activated by an excess of free cholesterol (103). Thiol protease inhibitors increased the levels of ABCA1 protein and slowed its decay in THP-1 macrophage-derived foam cells, whereas none of the proteasome-specific inhibitor, other protease inhibitors or the lysosomal inhibitor NH4Cl showed such effects (40). Advanced glycation end product precursors impaired ABCA1-dependent cholesterol removal from cells. The reactive carbonyls glyoxal and glycoaldehyde acutely and severely impaired the ABCA1 pathway, presumably by directly damaging ABCA1 protein, and abolished its binding of apoA-I (104).
ApoA-I and ABCA1 mutants also have been used to show an association between the cross-linking of apoA-I to ABCA1 and lipid efflux. Angeliki et al. correlated the cross-linking properties of several apoA-I mutants with their ability to promote cholesterol efflux. They found that amino-terminal deletion and double amino- and carboxy-terminal deletion mutants of apoA-I competed effectively the cross-linking of apoA-I to ABCA1, while the carboxy-terminal deletion mutant apoA-I competed poorly. These findings provided a direct association of different combinations of apoA-I helices with a complementary ABCA1 domain, suggesting mutations that alter ABCA1/apoA-I association affect cholesterol efflux and inhibit biogenesis of HDL (21). ApoA-I/ABCA1 cross-linking in Tangier disease patients was reduced dramatically to 5% to 10% of the WT groups. The ABCA1 has two large extracellular loops, probably linked by a disulfide bond, located on each of the two transmembrane domains (105,106). Importantly, many ABCA1 missense mutations causing Tangier disease have been identified in these loops (107). A functional test of these mutations in transfected cells revealed defects in apoA-I binding and cellular lipid efflux. Three naturally occurring single amino acid changes in the two largest extracellular loops of ABCA1 (Q597R, C1477R and S1506L) had dramatically reduced the cross-linking efficiency of ABCA1 to apoA-I. In addition, for all ABCA1 mutants, there were profound deficits in efflux activity of lipids, which were measured by cholesterol efflux assays (105). The C-terminal VFVNFA motif of ABCA1 has been shown to be essential for its lipid efflux activity. Alteration of this motif did not prevent trafficking of the transporter to the plasma membrane, but did eliminate apoA-I binding to ABCA1 (108). Interestingly, one substitution mutation (W590S), however, reduces apolipoprotein-mediated lipid efflux severely but increased apoA-I binding moderately (105). These results suggested that apoA-I directly binds ABCA1 at the cell surface without requiring the ability of ABCA1 to mediate lipid efflux. The moderate increase in apoA-I binding to W590S may imply that dissociation of apoA-I from ABCA1 could be facilitated by lipid efflux to apolipoproteins and is consistent with the earlier finding that ABCA1 binds apoA-I but not HDL3 (17).
The observation of apoA-I mutants may provide new insight into the apoA-I/ABCA1 interactions. ABCA1-mediated efflux of cholesterol and PL were decreased moderately by apoA-I amino-terminal deletions and were diminished by carboxy-terminal deletions in which residues 220–231 were removed (109,110). These findings suggest that residues 220–231 of apoA-I are necessary to functional interactions between the full-length apoA-I and ABCA1, though the central helices of apoA-I alone can promote ABCA1-mediated lipid efflux. Phospholipid vesicles containing a natural occurring mutant form of apoA-I (R173C), called apoA-I(Milano) (apoA-1[M]), reduced atherosclerosis in animal models (111,112) or human subjects (113). While Alexander et al. demonstrated WT apoA-I and apoA-I(M) are equally efficient at promoting macrophage reverse cholesterol transport, suggesting that if apoA-I(M) is more atheroprotective than WT apoA-I it is not attributable to an enhancement of macrophage reverse cholesterol transport (114).
Conclusion
The binding of apoA-I to ABCA1 promotes cellular cholesterol and phospholipid efflux. Both apoA-I and ABCA1 play critical roles in the formation of HDL. Therefore, understanding the mechanisms by which pre-β HDLs are formed through the interaction of apoA-I with ABCA1 would fill in the molecular details into HDL formation process and further help to develop strategies to increase plasma HDL concentrations. In this article, we have reviewed the possible manners of the apoA-I and ABCA1 interactions. ApoA-I markedly increases the protein level of ABCA1, which in turn stabilizes apoA-I. The interaction not only executes inside-out effector functions, such as cholesterol and/or phospholipid efflux, but also mediates outside-in signal transduction. The apoA-I/ABCA1 interactions may have multiple biological effects that are lipid export dependent or independent. Although several possible signal transduction pathways have been mentioned in our current review, a clear consensus on which pathway acts as the critical regulator is still unknown. Additional studies are needed to identify the molecular components of the apoA-I/ABCA1 pathway mediating its antiinflammatory activity, and to determine its contribution to disease protection in humans. Many factors could influence the binding of apoA-I/ABCA1. Studies of apoA-I and ABCA1 mutants have also shown an association between apoA-I cross-linking to ABCA1 and lipid efflux. In summary, further work needs to be undertaken to unravel the functions of the binding of apoA-I to ABCA1 and the signal transduction pathways initiated by the interaction so that we can uncover novel therapeutic targets for treating interrelated diseases.
Disclosure
The authors declare that they have no competing interests as defined by Molecular Medicine, or other interests that might be perceived to influence the results and discussion reported in this paper.
Notes
Acknowledgments
The authors gratefully acknowledge the financial support from the National Natural Sciences Foundation of China (81170278, 81070220), Heng Yang Joint Funds of Hunan Provincial Natural Sciences Foundation of China (10JJ9019), and Aid Program for Science and Technology Innovative Research Team in Higher Educational Institutions (2008–244) of Human Province, China.
Copyright information
© The Author(s) 2012
Open Access This article is licensed under a Creative Commons Attribution-NonCommercial-NoDerivatives 4.0 International License, which permits any non-commercial use, sharing, distribution and reproduction in any medium or format, as long as you give appropriate credit to the original author(s) and the source, and provide a link to the Creative Commons license. You do not have permission under this license to share adapted material derived from this article or parts of it.
The images or other third party material in this article are included in the article's Creative Commons license, unless indicated otherwise in a credit line to the material. If material is not included in the article's Creative Commons license and your intended use is not permitted by statutory regulation or exceeds the permitted use, you will need to obtain permission directly from the copyright holder.
To view a copy of this license, visit (https://doi.org/creativecommons.org/licenses/by-nc-nd/4.0/)