Citrus fruits as a treasure trove of active natural metabolites that potentially provide benefits for human health
Part of the following topical collections:
Abstract
Citrus fruits, which are cultivated worldwide, have been recognized as some of the most high-consumption fruits in terms of energy, nutrients and health supplements. What is more, a number of these fruits have been used as traditional medicinal herbs to cure diseases in several Asian countries. Numerous studies have focused on Citrus secondary metabolites as well as bioactivities and have been intended to develop new chemotherapeutic or complementary medicine in recent decades. Citrus-derived secondary metabolites, including flavonoids, alkaloids, limonoids, coumarins, carotenoids, phenolic acids and essential oils, are of vital importance to human health due to their active properties. These characteristics include anti-oxidative, anti-inflammatory, anti-cancer, as well as cardiovascular protective effects, neuroprotective effects, etc. This review summarizes the global distribution and taxonomy, numerous secondary metabolites and bioactivities of Citrus fruits to provide a reference for further study. Flavonoids as characteristic bioactive metabolites in Citrus fruits are mainly introduced.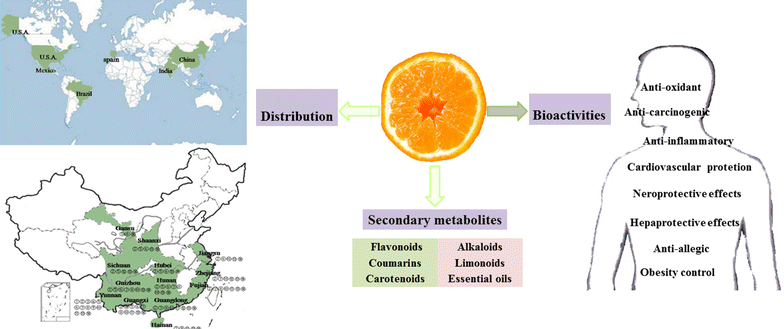 Keywords
Citrus fruits 
Secondary metabolites 
Bioactivities 
Human health 
Flavonoids 
Abbreviations
PMF

polymethoxylated flavones

ROS

reactive oxygen species

LPS

lipopolysaccharide

TNF-α

tumor necrosis factor-alpha

iNOS

inducible nitric oxide synthase

COX-2

cyclooxygenase-2

NO

nitric oxide

CH

cholesterol

TG

triglyceride

LDL

low-density lipoprotein
Background
Citrus fruits, which belong to the genus Citrus of the family Rutaceae, are of various forms and sizes (from round to oblong), commonly known as oranges, mandarins, limes, lemons, grapefruits and citrons. The sensory attributes of fruits (color, sweet taste, bitterness, and astringency) constitute decisive organoleptic and commercial properties [1]. Citrus species are consumed mainly as fresh or raw materials for juices or are canned as segments. Additionally, Citrus fruits can also be used in the food, beverage, cosmetic and pharmaceutical industries as additives, spices, cosmetic ingredients and chemoprophylactic drugs, respectively [2, 3].
Citrus fruits are good sources of nutrition with an ample amount of vitamin C. Besides, the fruits are abundant in other macronutrients, including sugars, dietary fiber, potassium, folate, calcium, thiamin, niacin, vitamin B6, phosphorus, magnesium, copper, riboflavin and pantothenic acid [4]. However, secondary metabolites are an especially popular topic in the present research. These constituents, also known as phytochemicals, are small molecules that are not strictly necessarily for the survival of the plants but represent pharmacological activity. Citrus fruits contain a number of secondary metabolites, such as flavonoids, alkaloids, coumarins, limonoids, carotenoids, phenol acids and essential oils. These active secondary metabolites show several bioactivities of vital importance to human health, including anti-oxidative, anti-inflammatory, anti-cancer, as well as cardiovascular protective effects, neuroprotective effects, etc. In addition, Citrus fruits have been used as traditional medicinal herbs in several Asian countries, such as China, Japan and Korea. Nine traditional Chinese medicines have been recorded in the Chinese Pharmacopoeia for appropriate medical use from six Citrus species [5]: C. reticulata Blanco, C. medica L. var. sarcodactylis Swingle, C. medica L., C. wilsonii Tanaka, Citrus aurantium L. and C. sinensis Osbeck. These peels or whole fruits (mature or immature) are known to treat indigestion, cough, skin inflammation, muscle pain, and ringworm infections, as well as to lower blood pressure.
This review summarizes the global distribution and taxonomy, numerous secondary metabolites and bioactivities related to human health of Citrus fruits. Especially, flavonoids as the main characteristic metabolites in Citrus fruits, which can provide benefit for human health based on their multiple bioactivities. Then, the secondary metabolites variation among different species and fruit parts were mentioned to provide a better guide for our daily use and related industries.
Distribution and taxonomy
According to statistics of FAOSTAT [
6
],
Citrus
species are grown all over the world in more than 140 countries, with more than 8.7 million hectares and about 131 million tons of fruits produced in 2012. And China, Brazil, the U.S.A., India, Mexico, and Spain are the world's leading
Citrus
fruit-producing countries (see Fig. 
1
a), representing close to two-thirds of global production. In China, citriculture has existed traditionally, and the
Citrus
varieties have been naturally selected [
7
] (see Fig. 
1
b): (1)
C.
aurantifolia
(Christm.) Swingle, (2)
C.
aurantium
L., (3)
C.
hongheensis
Ye et al., (4)
C.
hystrix
D
C.
, (5)
C.
ichangensis
Swingle, (6)
C.
junos
Sieb. ex Tanaka, (7)
C.
limon
(L.) Burm. f., (8)
C.
limonia
Osb., (9)
C. macroptera
Montrous., (10)
C.
maxima
(Burm.) Merr., (11)
C.
medica
L., (12)
C.
paradisi
Macf., (13)
C.
reticulata
Blanco, (14)
C.
sinensis
(L.) Osb.

The genus Citrus belongs to the subtribe Citrinae, tribe Citreae, subfamily Aurantioideae of the family Rutaceae. However, continual taxonomic study appears to be very complicated and controversial, mainly due to sexual compatibility between Citrus species and related genera, the high frequency of bud mutations, apomixis (e.g., adventitious embryony) [8]. Consequently, there has been no consensus among taxonomists as to the actual number of Citrus species. The most widely accepted taxonomic systems for Citrus are those of Swingle and Reece [9] and Tanaka [10], who recognized 16 and 162 species, respectively. Later, phylogenetic analysis indicated only three true species within the cultivated Citrus [11], i.e., C. medica L. (citron), C. reticulata Blanco (mandarin) and C. maxima (Burm.) Merr. (pummelo). In order to be convenient, the existing taxonomic systems are combined currently.
Because morphological characters are of limited use, studies have mainly focused on new taxonomy methods, i.e., chemotaxonomy. 66 Citrus species and near-Citrus relatives can be cited in accordance with Tanaka's classification system with 24 flavonoids [12]. Flavanones were used as chemotaxonomic markers to distinguish 77 Zhishi (traditional Chinese medicine) samples from three Citrus species [13]. Another study suggested that the content of certain monoterpenes could be as taxonomic markers between C. sinensis Osbeck and C. junos Sieb. ex Tanaka [14].
Active secondary metabolites
Plentiful active natural metabolites including flavonoids, alkaloids, coumarins, limonoids, carotenoids, phenolic acids and essential oils, have been found in Citrus fruits. Tables in additional files have summarized these secondary metabolites isolated from peel, pulp, seed, pressed oil, juice or whole fruit from 31 common species to give a systematical profile. By these at least, the types of Citrus-derived secondary metabolites vary among different Citrus species and different fruit parts. Moreover, flavanones, synephrine, auraptene and limonin are the most dominants among the flavonoids, alkaloids, coumarins and limonoids groups, respectively.
In Additional file 1, 48 types of flavonoids from 22 common Citrus species of different fruit parts (peel, pulp, seed, pressed oil, juice or whole fruit) have been summarized. These flavonoids belong to the five classes: flavones, flavonols, flavanones, flavanonols and polymethoxylated flavones. Anthocyanins, an uncommon class of flavonoid, only appears in blood oranges of limited data in different fruit parts [15]. Among Citrus-derived flavonoids, flavanones comprise approximately 95 % of the total flavonoids [16]. And flavones, flavonols and polymethoxylated flavones present in lower concentration. In addition, some of flavonoids are unique to Citrus plants. Citrus-derived flavonoids are present in glycoside or aglycone forms, and usually do not occur naturally as aglycones but rather as glycosides, in which the aglycones are linked to a sugar moiety [17]. Among the aglycone forms, naringenin, hesperetin, apigenin, nobiletin, tangeretin and quercetin are widely detected (see Additional file 1). For glycoside forms, O-glycosides, C-glycosides, rutinosides, glucosides and neohesperidosides are common. Naringin (neohesperidoside), neohesperidin (neohesperidoside), narirutin (rutinoside), and hesperidin (rutinoside) are commonly present in major quantities. Sinensetin, isosinensetin, nobiletin, tangeretin, which all belong to polymethoxylated flavones, exist only as aglycones because the binding sites for sugar moieties are not occupied by hydroxyl moieties [18].
In Additional file 2, alkaloids, coumarins, limonoids, carotenoids, phenolic acids and essential oils have also been well summarized from different Citrus species and different fruit parts. Active alkaloids are abundant in C. aurantium compared to other Citrus species, especially synephrine, which comprises more than 85 % of the total protoalkaloid content [19]. Additionally, N-methyltyramine has been found at much higher concentrations than octopamine, tyramine or hordenine [20]. Coumarins are commonly found in Citrus plants (high concentration in peels). Auraptene (7-geranyloxycoumarin) is a major coumarin in Citrus plants. Limonoids are unique compounds occurring in the Meliaceae and Rutaceae family. Citrus (a genus in the family Rutaceae) limonoids are highly oxygenated triterpenoids, which are present as aglycones, glucosides, and A-ring lactones. Also, Citrus limonoids are the metabolic precursors to limonoid aglycones and glucosides [21]. Limonin and limonin glucoside (see Additional file 2) are the most abundant limonoids for the majority of Citrus species. Carotenoids are a large family of isoprenoid compounds that impart yellow, orange, and red pigments to many plants as well as the yellow-to-orange color of Citrus fruits. Lutein, zeaxanthin and β-cryptoxanthin, β-carotene, can be found in significant quantities in tangerines and oranges ([22], see Additional file 2). Investigations have shown that the majority of phenolic acids in Citrus fruits are present in bound forms [23].
In Additional file 3, Citrus-derived volatile compounds from 15 common Citrus Species have been summarized. These compounds are roughly divided into 6 groups: monoterpene hydrocarbons, sesquiterpene hydrocarbons, alcohols, aldehydes, esters & ketones and Oxides. These volatile compounds are mainly come from peels of Citrus fruits that have many oil chambers of unique aroma flavors, differ depending on the species and variety.
Bioactivities
Owing to these metabolites, Citrus fruits exhibit plentiful bioactivities including anti-oxidant, anti-inflammatory, anti-cancer, anti-microbial and anti-allergy activities, as well as cardiovascular effect, neuroprotective effect, hepatoprotective effect, obesity control, etc. Note that flavonoids (especially flavanone, flavanonol and methoxylated flavones) are more active compared to other secondary metabolites in Citrus for their remarkable various bioactivities. Studies on plentiful bioactivities from hesperetin/hesperidin (flavanone) [24, 25, 26, 27, 28], naringenin/naringin (flavanone) [29, 30, 31, 32, 33, 34], tangeretin (polymethoxylatedflavone) [35, 36, 37] and nobiletin (polymethoxylatedflavone) [36, 38, 39, 40, 41] have been widely reported.
Application of Citrus species
Citrus species are 131 million tons of fruits produced in 2012 [6]. This large production is also relevant to the high consumption of Citrus fruits. Moreover, Citrus fruits rank first in international fruit trade in terms of its values of which cover fresh Citrus market and processed Citrus product market (such as food additives, spices, cosmetic ingredients, juice, jam, and chemotherapeutic drugs).
Given the plentiful bioactivities of Citrus fruits, the clinical use of them is of great significance. Investigation among 42,470 Japanese adults showed that Citrus consumption was associated with reduced all-cancer incidence, especially for subjects that had simultaneously high green tea consumption [121]. A cross-sectional study (2031 elderly individuals) examined the relationship between the intake of different plant foods and cognitive performance and found Citrus fruits had the strongest associations with mean test scores (positively) [122]. Another study found hesperidin (Citrus flavonoids) presented a better balance in bone metabolism on bone health [123]. And immature peels of citrus fruit are used to treat indigestion and have demonstrated potential as a chemotherapeutic agent [124, 125]. Many other studies have also shown that the consumption of Citrus fruits is associated with inhibition of various cancers, including colorectal, esophageal, and stomach cancer, as well as anti-stroke activity, improved blood lipid profiles and improved survival of the elderly [16]. And more and further studies are still required for Citrus species as chemotherapeutic drugs.
The consumption of Citrus fruits or juice is inversely associated with several diseases because of its abundant secondary metabolites. Almost 33 % of the Citrus fruits are industrially processed for juice production, however, where about half of processed Citrus including peels, segment membrane and seeds end up as wastes [126]. These solid residues are referred to as Citrus wastes with estimated worldwide production of 15 million tons per year [127]. What's more, as reviewed in additional files, these Citrus wastes are still rich in various biologically secondary metabolites associated with human health. Citrus peel contains a high content of polymethoxylated flavones and flavanones, including primarily hesperidin, nobiletin, neohesperidin, naringin and tangeretin. A study suggested that hesperetin could be exploited as a potential functional ingredient and offered opportunities to develop new formulations of functional foods [27]. Peels are also major source of essential oil as well as carotenoids, with approximately 70 % of the total fruit carotenoids, and their contents may be from two to six times higher than those of the endocarp [128]. Besides, seeds are the major sources of limonoids. Mayumi Minamisawa et al. have succeeded in extracting a large amount of limonoids from yuzu (Citrus junos) seeds which contain higher amounts of fat-soluble limonoid aglycone (330.6 mg/g of dry seed), water-soluble limonoid glycoside (452.0 mg/g of dry seed), and oil (40 mg/g of green seed) [129]. Citrus species are noticeably beneficial fruits for consumption daily both for their nutrients contents and multiple active metabolites with related bioactivities, which manifests it is worthwhile to develop more useful recycling approaches of Citrus wastes. The applications given by Citrus wastes may help the industrial processors to find new ways of increasing the profit by recycling bioactive compounds and also reducing the considerable problem of wastes.
Conclusion and prospective
The multiple secondary metabolites in Citrus, including flavonoids, alkaloids, coumarins, limonoids, carotenoids, phenolic acids and volatile compounds, provide a rational basis for various biological activities. Among them, flavonoids (especially flavanones, flavanonols and methoxylated flavones) exhibit more bioactivities compared to other secondary metabolites. However, all these active metabolites work synergistically to exhibit anti-oxidative, anti-inflammatory, anti-cancer, anti-microbial and anti-allergy effects, as well as presenting cardiovascular protection, neuroprotective effect, hepatoprotective effect, etc. Consequently, these multiple active metabolites with various bioactivities indicate that Citrus species are beneficial fruits when eaten daily, both for their nutrients contents and as chemotherapeutic or complementary medicine to promote health. Furthermore, different species, fruit parts, stages of maturity, environmental conditions during growth, storage conditions and postharvest treatments can influence the level of active metabolites and related activities. And further investigations are required in order to make optimal use of these fruits.
Notes
Authors' contributions
YL and CL provided the concept and designed the manuscript. XL, SZ, OT and MY did the literature research. ZN, CX and HZ selected and analyzed the data for the work. XL, CX and HZ drafted the manuscript. OT and MY organized the contents of manuscript and participated in discussion on views in the paper. XL, SZ, ZN, YL and CL revised the manuscript. All authors read and approved the final manuscript.
Acknowledgements
This study was financially supported by the National Science Foundation of China (Project No. 81573569, 81470177, 81001623 and No. 81373773), Beijing Nova Program (xx2014B073) and Beijing Natural Science Foundation (No. 7142144).
Competing interests
All authors declare that they have no competing interests.
Copyright information
© Lv et al. 2015
Open AccessThis article is distributed under the terms of the Creative Commons Attribution 4.0 International License (http://creativecommons.org/licenses/by/4.0/), which permits unrestricted use, distribution, and reproduction in any medium, provided you give appropriate credit to the original author(s) and the source, provide a link to the Creative Commons license, and indicate if changes were made. The Creative Commons Public Domain Dedication waiver (http://creativecommons.org/publicdomain/zero/1.0/) applies to the data made available in this article, unless otherwise stated.