Ferroptosis, a new form of cell death: opportunities and challenges in cancer
Abstract
Ferroptosis is a novel type of cell death with distinct properties and recognizing functions involved in physical conditions or various diseases including cancers. The fast-growing studies of ferroptosis in cancer have boosted a perspective for its usage in cancer therapeutics. Here, we review the current findings of ferroptosis regulation and especially focus on the function of ncRNAs in mediating the process of cell ferroptotic death and on how ferroptosis was in relation to other regulated cell deaths. Aberrant ferroptosis in diverse cancer types and tissues were summarized, and we elaborated recent data about the novel actors of some "conventional" drugs or natural compounds as ferroptosis inducers in cancer. Finally, we deliberate future orientation for ferroptosis in cancer cells and current unsettled issues, which may forward the speed of clinical use of ferroptosis induction in cancer treatment.
Keywords
Ferroptosis 
Apoptosis 
Autophagy 
NcRNAs 
Cancers 
P53 
Abbreviations
ACSL4

Acyl-CoA synthetase long-chain family member 4

AML

Acute myeloid leukemia

AMPK

Adenosine 5′-monophosphate-activated protein kinase

ART

Artesunate

As-SLC7A11

Antisense lncRNAs

ATF4

Activating transcription factor 4

Atg5

Autophagy-related 5

BAP1

Breast cancer susceptibility gene 1-associated protein 1

BECN1

Beclin1

BID

BH3 interacting domain death agonist

CARS

Cysteinyl-tRNA synthetase

CD44v

CD44 variant

CDO1

Cysteine dioxygenase type 1

CHOP

C/EBP-homologous protein

CISD1

CDGSH iron sulfur domain 1

c-Myb

Cellular homolog

C-Myc

Cellular myelocytomatosis oncogene

CN-A

Cotylenin A

CoQ10

Coenzyme Q10

CTH

Cystathionine γ-lyase

Cul3

Cullin-3

Cys

Cysteine

Cys2

Cystine

DAMPs

Damage-associated molecular patterns

DDP4

Dipeptidyl-peptidase-4

DHA

Docosahexaenoic acid

DLBCL

Diffuse large B-cell lymphoma

DMT1

Divalent metal transporter 1

EGLN1

Egl nine homolog 1

ELAVL1

Embryonic lethal, abnormal vision, Drosophila-like 1

EMT

Epithelial-mesenchymal transition

ERK

Extracellular signal-regulated kinase

FADS2

Fatty acid desaturase 2

FIN

Ferroptosis inducing agents

Flt3

Fms-like tyrosine kinase 3

FPN

Ferroportin

FTH1

Ferritin heavy chain 1

FTL

Ferritin light chain

G3BP1

Ras GTPase-activating protein-binding protein 1

GBM

Glioblastoma multiforme

Gln

Glutamine

GLS2

Glutaminase 2

Glu

Glutamate

GLUT1

Glucose transporter 1

GOT1

Glutamic-oxaloacetic transaminase 1

GPX4

Glutathione peroxidase 4

GSC

Glioblastoma stem cells

GSH

Glutathione

HIF

Hypoxia-inducible transcriptional factor

HNCs

Head and neck cancers

HO-1

Heme oxygenase-1

HSF1

Heat shock factor-1

HSPB1

Heat shock protein beta-1

IPP

Isopentenyl pyrophosphate

IRE

Iron-responsive element

IREB2

Iron response element binding protein 2

Keap1

Keleh-like ECH-associated protein 1

LDL

Low-density lipoprotein

LncRNA

Long non-coding RNA

LPCAT3

Lysophosphatidylcholine acyltransferase 3

LSH

Lymphoid-specific helicase

MEK

Ras-mitogen-activated protein kinase kinase

MON-P53

Metal organic network-P53

MT-1G

Metallothionein-1 g

MUC1-C

Mucin 1 C-terminal

MVA

Mevalonate

NCOA4

Nuclear receptor coactivator 4

NFS1

Cysteine desulfurase

NOX

Nicotinamide adenine dinucleotide phosphate-oxidase

NQO1

Quinone oxidoreductase-1

Nrf2

Nuclear factor erythroid 2-related factor 2

PHKG2

Phosphorylase kinase gamma 2

PIK3C3

Phosphatidylinositol 3-kinase catalytic subunit type 3

PL-PUFAs

Phospholipid-polyunsaturated fatty acids

PtdIns3K

Phosphatidylinositol 3-kinase

PUFAs

Polyunsaturated fatty acids

PUMA

P53 upregulated modulator of apoptosis

RB

Retinoblastoma

ROS

Reactive oxygen species

RRM

RNA recognition motif

RSL3

Ras-selective lethal small molecule 3

SAT1

Spermidine/spermine N1-acetyltransferase 1

SCD1

Stearoyl-CoA desaturase 1

Se

Selenium

SLC1A5

Solute carrier family 1 member 5

SLC3A2

Solute carrier family 3 member 2

SLC7A11

Solute carrier family 7 member 11

SOD1

Superoxide dismutase 1

SQS

Squalene synthase

STEAP3

Six-transmembrane epithelial antigen of the prostate 3

TF

Transferrin

TFR1

Transferrin receptor 1

TICs

Tumor-initiating cells

TP53

Tumor suppressor P53

TRAIL

Tumor necrosis factor-related apoptosis-inducing ligand

UPR

Unfolded protein response

VDAC2/3

Voltage-dependent anion channel 2/3

xCT

System xc-

α-KG

α-ketoglutarate
Background
Ferroptosis was first proposed by Dixon as a novel cell death in 2012 [
1
]. Unlike autophagy and apoptosis, ferroptosis is an iron-dependent and r
eactive oxygen species (
ROS)-reliant cell death with characteristics mainly of cytological changes, including decreased or vanished mitochondria cristae, a ruptured outer mitochondrial membrane, and a condensed mitochondrial membrane [
2
,
3
,
4
,
5
,
6
]. These cell abnormalities resulted from the loss of selective permeability of plasma membrane due to intense membrane lipid peroxidation and the occurrence of oxidative stress (Table 
1
) [
7
].
Table 1
The main features of ferroptosis, apoptosis, autophagy, necroptosis, and pyroptosis
Cell death

Ferroptosis

Apoptosis

Autophagy

Necroptosis

Pyroptosis

Biochemical features

Inhibition of xCT and reduced GSH, inhibition of GPX4. Iron accumulation and lipid peroxidation

Activation of caspases oligonucleosomal DNA fragmentation

Increased lysosomal activity

Drop in ATP levels; activation of RIP1, RIP3, and MLKL

Dependent on caspase-1 and proinflammatory cytokine releases

Morphological features

Small mitochondria with condensed mitochondrial membrane densities, reduction or vanishing of mitochondria crista, as well as outer mitochondrial membrane rupture

Plasma membrane blebbing; cellular and nuclear volume reduction; nuclear fragmentation

Formation of double-membraned autolysosomes

Plasma membrane rupture; organelle swelling; moderate chromatin condensation

Karyopyknosis, cell edema and membrane rupture

Key genes

GPX4, Nrf2, LSH, TFR1, xCT

Caspase, P53, Fas, Bcl-2, Bax

ATG5, ATG7, DRAM3, TFEB

LEF1, RIP1, RIP3

Caspase-1, IL-1β, IL-18

Regulatory pathways

xCT and Gpx4, MVA, HSF1-HSPB1, p62-Keap1-Nrf2 pathway, LSH signal pathway

Death receptor, Mitochondrial, Endoplasmic reticulum pathway

Csapase, P53, Bcl-2 mediated signaling pathway

PI3K-AKT-mTOR,MAPK-ERK1/2-mTOR signal pathway

TNFα,TNFR1,TLR3, TRAIL, FasL, ROS, PKC-MAPK-AP-1-mediated signaling pathway

Caspase-1, NLRP3-mediated signaling pathway.

Released DAMP

HMGB1

Ecto-CRT, HMGB1, and ATP

HMGB-1

DNA and IL-6

HMGB1, ATP, IL-1β, and IL-18

Immune features

Pro-inflammatory

Mostly anti-inflammatory

Mostly anti-inflammatory

Mostly pro-inflammatory

pro-inflammatory

Inducers

Erastin,DPI2, BSO, SAS, lanperisone, SRS, RSL3, DPI7, DPI10, FIN56, sorafenib, artemisinin

FASL, DCC, UNC5B

Rapamycin, lithium, sodium, valproate, carbamazepine, C2-ceramide, rapamycin

TNFa, zVAD-fmk, PAMPS

ZnO—NPs, Ivermectin

Inhibitors

Desferoxamine, vitamin E, U0126, ferrostatin-1, SRS, CA-1, cycloheximide, aminooxyacetic acid Liproxstatin-1 HCl

XIAP, c-IAP1, c-IAP2, ILP-2, ML-IAP/livin, NAIP, Z-VADFMK

3-ME, LY294002, wortmannin, PIK-III, compound 31, SAR 405, Vps34-In1,MRT68921, Spautin-1, Bafilomycin A1, hydrochloroquin

Nec-1, NSA, Kongensin- A

Necrosulfonami-de
Researches indicated that ferroptosis could be triggered by diverse physiological conditions and pathological stresses in humans and animals [8]. Ferroptosis is gradually accepted as an adaptive feature to eliminate the malignant cells. It plays a pivotal role in the depression of tumorigenesis by removing the cells that are deficient in key nutrients in the environment or damaged by infection or ambient stress [9]. Studies have shown that the classic oxidative stress pathway was an important causative factor to induce ferroptosis. Although cancer cells are under continuous oxidative stress with an exquisite balance between thiols and catalytic iron, ferroptosis does not often happen in the cancer development [10]. The underlying molecular mechanisms remain poorly understood. We herein review the occurrence and regulation of ferroptosis in various cancer cells. The opportunity and challenge of cancer treatment based on ferroptosis will be detailed, which was desired to prosper new strategies for cancer therapy of clinical value.
Targeted agents
Sorafenib
Sorafenib was first identified as a ferroptosis-inducer in HCC cell lines [91]. System xc- inhibition and GSH depletion, the accomplices for ROS accumulation, were the main mechanism for sorafenib-induced ferroptosis. Haloperidol, as a sigma receptor 1 antagonist, can bolster erastin and sorafenib-induced ferroptosis by stimulating cellular iron accumulation, GSH depletion, and lipid peroxidation [92]. But the overactive p62-keap1-Nrf2 pathway will weaken the ferroptosis process, owing to the target genes of Nrf2 including heme oxygenase-1 (HO-1), FTH1, and quinone oxidoreductase-1 (NQO1) which can directly inhibit ROS accretion. Nrf2 inhibition using genetic tools or drugs could remarkably reinforce the anti-tumor effect of sorafenib [93].
Lapatinib and BAY87–2243
Lapatinib is a tyrosine kinase inhibitor. It can incite ferroptosis in breast cancer cells when it was used together with siramesine [58]. BAY87-2243, a robust inhibitor of NADH-coenzyme Q oxidoreductase, can promote ferroptosis in a dose-dependent manner on a series of BRaf (V600E) melanoma cell lines [94].
Others
Lanperisone
Lanperisone promotes ROS production to kill K-Ras-mutant mouse embryonic fibroblasts in ferroptotic ways. And it also induces lung cancer cell ferroptotic death by inhibiting Cys2 uptake in the mouse model [95].
Besides the clinically approved drugs, two antibiotics such as salinomycin and ironomycin can promote ferroptosis in colon cancer cells via interfering with iron metabolism allowing for ROS production [
65
]. Other natural compounds such as bromelain [
50
], baicalein, artenimol, artemisinin, cotylenin A (CN-A) [
11
], and various vitamins can regulate cell ferroptotic death by acting on the lipid peroxidation and ROS occurrence (Table 
3
). Numerous nanomaterials have also been prospered for ferroptosis-based cancer therapy. Most of them are iron-based nanomaterials, which can be used as carriers of certain genes, such as P53 and ACSL4, to inhibit or promote the expression of certain critical molecules correlated with ferroptosis [
55
,
94
,
96
].
Table 3
Drugs and compounds associated with ferroptosis
Category

Drugs/Compounds

Target

Mechanism

Application

Cell lines

Effect

Ref

Chemothe-rapeutic agents

Sulfasalazine

System xc-

Inhibit Cys2 uptake via system xc-

SASP enhanced ferroptosis induced by piperlongumine02 (PL)

BJeLR/HT1080

Induce

[8]

HT1080/Calu-1

[108]

HCT116, CX-1, PANC1

[22]

Artesunate

Fe

React with excess intracellular iron to promote the production of ROS

The cisplatin-resistant cancer cells were less sensitive to artesunate-induced ferroptosis

HN3, HN4, HN9

Induce

[88]

Panc-1, COLO357

[109]

BxPC-3, AsPC-1

[110]

TMZ

System xc-

TMZ induces xCT expression via Nrf2 and ATF4 activation pathway

The efficacy of TMZ can be potentiated after combination with erastin and SASP. SASP potentiates chemo-sensitivity of TMZ in xCT knockdown gliomas

F98, U251

Inhibit

[90]

u87-MG, GBM-n6, GBM-n15, a172, T98G

[89]

Cisplatin

GSH-GPXs

The depletion of reduced GSH and inactivation of GPXs

Erastin enhances the effect of cisplatin in NSCLCs.

A549, HCT116

Induce

[19]

A2780

[111]

Targeted agents

Sorafenib

System xc-

Inhibit system xc--mediated Cys2 import, leading to glutathione depletion and the iron-dependent accumulation of lipid ROS

DFX remarkably reduced the toxicity of sorafenib in an HCC cell line

HT-1080

Induce

[65]

Huh7

[71]

ACHN, PLC/PRF5

[92]

HSC-LX2, HSC

[60]

Lapatinib

Fe

Cause ferroptosis through iron transport disruption leading to increased ROS

Knockdown of FPN increased ferroptosis after siramesine and lapatinib treatment

SKBR3, MCF-7, MDA-MB-231

Induce

[58]

MCF-7, ZR-75-1

[18]

Others

Lanperisone

System xc-

Lanperisone-mediated induction of intracellular reactive oxygen species

The remarkable mechanistic similarities of LP as well as erastin underscore the potential of ROS-mediated therapies as a novel strategy to treat K-ras mutant tumors

K-ras-expressing MEFs

Induce

[95]

Artenimol artemisinin

_

Increase TFRC gene expression and ROS accumulation

Ferrostatin-1 and the iron chelator deferoxamine led to a significantly reduced cytotoxicity of artenimol

CCRF-CEM

Induce

[11]

Salinomycin

Ironomycin

Fe

Interacts with the iron

Against CSCs derived from breast human mammary epithelial cells

CSCs

Induce

[65]

Bromelain

ACSL-4

Effectively causes ferroptotic cell death by modulating ACSL-4 levels.

Increased erastin-induced ferroptosis in Kras mutant CRC cells

CT-116, DLD-1

Induce

[50]

Baicalein

LOX

Suppress both lipid peroxidation and iron accumulation; Selectively activate the Keap1-Nrf2 pathway and inhibit 12/15-LOX

–

PANC1, BxPc3

Inhibit

[11]

Cotylenin A

(CN-A)

_

The combined treatment with CN-A and PEITC synergistically increased ROS levels

CN-A plus PEITC inhibited the proliferation of gemcitabine-resistant PANC-1 cells

MIAPaCa-2, PANC-1

Induce

[11]

Vitamin E

LOX

Inhibits 15-lipox-ygenase via reduction of the enzyme's non-heme iron from its active Fe3+ state to an inactive Fe2+ state

–

STHdhQ7/Q7

Inhibit

[112]

ATRA

LSH

Promotes ferroptosis through decreasing the expression of LSH

–

A549

Induce

[113]

Vitamin C

miR-93

Significantly increased Nrf2 mRNA and protein expression by decreasing miR-93

Prevents estrogen-induced breast tumor development

MCF-10A, T47D

Inhibit

[38]
Challenges
How does ferroptosis interact with other cell death at the molecular level and how could these pathways be mapped and integrated into the cellular events?
How does ncRNA regulate the process of ferroptotic cell death?
Can ferroptosis enhance the cell immunogenicity to the host and thereby evoke an adaptive immune response, as shown in necroptotic cell death?
Are the ferroptosis inducers effective in killing the cancer cells in pre-clinical or clinical trials?
Conclusion & perspective
Collectively, ferroptosis has taken a full expectation from us to provide a new approach in anti-tumor therapies. Current researches have mainly focused on the eradication of residual or resistant cancer cells, where ferroptotic cell death emerges to be a new cell death for this purpose (Fig. 
5
). Conspicuously, obtaining a mesenchymal cell state (e.g., epithelial-mesenchymal transition (EMT) or cancer stem cells) has been suggested to determine metastatic dissemination and chemo-resistance [
97
]. More recently, the cancer cells with the high-mesenchymal state have arisen as a vital mechanism of both acquired and de novo resistance to targeted therapies [
98
,
99
]. This therapy-resistant mesenchymal cancer cells have bred a state of non-oncogene addition to GPX4, which inhibition will intuitively result in ferroptosis. Consistently, persistent cancer cells which are nominated to escape from conventional cytotoxic treatment via a dormant state tumor showed an identically selective dependency on the GPX4 pathway [
100
,
101
]. Therefore, ferroptosis might be considered a viable therapeutic strategy to reverse therapy-resistance in cancer strategy.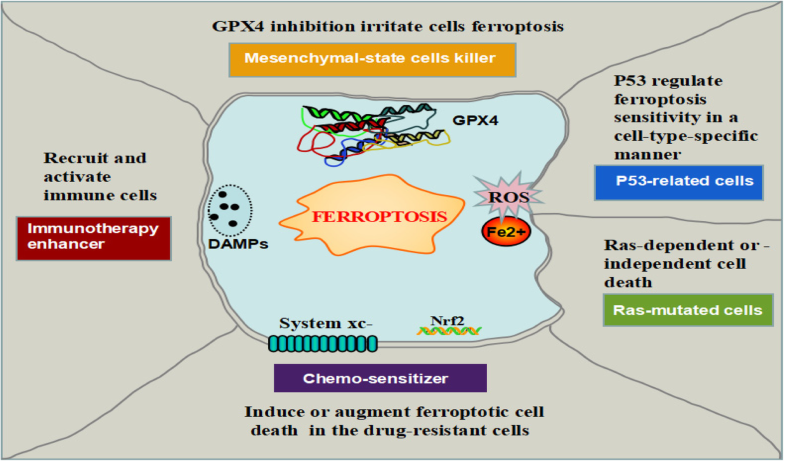 Ferroptosis is a kind of programmed necrosis, which is accepted to be more immunogenic than apoptosis. Due to damage associated with molecular patterns (DAMPs) (e.g., HMGB1) release, ferroptosis was considered as a pro-inflammatory process [102]. By deliverying chemoattractant signals, ferroptosis hold the ability to recruit and activate immune cells at tumor sites, which provide the possibility of ferroptosis inducer as a suitable enhancer for anti-tumor immunotherapy treatment such as checkpoint-inhibitor [103]. Indeed, a large number of immune cells were observed inside the tumor mass when the mouse tumor xenografts underwent cell ferroptotic death induced by ultrasmall nanoparticles [104]. However, scientist skeptics argued that ferroptosis and necroinflammation did not have an unequivocal relationship [102].
Several studies of drug re-position suggest that "conventional" agents (i.e., SASP and artesunate) have antitumor therapeutic effects by activating ferroptosis [105]. As a chemo-sensitizer by ferroptosis-induction, erastin can be used with various drugs such as cisplatin, temozolomide, doxorubicin/adriamycin, and cytarabine/ara-C in different type cancers. Albeit there is limited knowledge of the elaborated mechanism in the ferroptosis pathway that is engaged by current ferroptosis inducers, ferroptosis may provide a new form of cell death for approaching the reversal of drug-resistance and boosting the host immune system. Although it was promising from the advantages of ferroptosis in cancer therapeutics, ferroptosis is still waiting for formal addressing in a pre-clinical setting and clinical achievability, partially due to the complexity of it observed in different contexts such as P53 or Ras-mutant cancer cells. Another challenge is that ferroptosis induction such as GPX4 inhibitor affects the development and function of nervous system and kidney, by causing GPX4 gene which is fundamental for embryonic development and some adult tissue homeostasis in mice [106]. In addition, another noticeable issue is that the occurrence of ferroptotic resistance, which was originally observed in the Hela cells with the erastin treatment. The resistance mechanism was the HSP27 overactivation by suppressing cytoskeleton-mediated iron absorption [107].
Notes
Acknowledgements
Not applicable
Funding
This work was supported by grants from the National Natural Science Foundation of China (81200366,81572281,81702278,81171841) and Province Natural Science Foundation of Hunan (No.14JJ6004) and the Key Subject Education Department of Hunan ([2012]594).
Availability of data and materials
The materials supporting the conclusion of this review have been included within the article.
Authors' contributions
YHM and BL drafted the manuscript and prepared the figures and tables. JW, JCW, DH, CFZ, and CJD collected the references and participated in the discussion. All authors read and approved the final manuscript.
Ethics approval and consent to participate
This is not applicable for this review.
Consent for publication
This is not applicable for this review.
Competing interests
The authors declare that they have no competing interests.
Publisher's note
Springer Nature remains neutral with regard to jurisdictional claims in published maps and institutional affiliations.
Copyright information
© The Author(s). 2019
Open AccessThis article is distributed under the terms of the Creative Commons Attribution 4.0 International License (http://creativecommons.org/licenses/by/4.0/), which permits unrestricted use, distribution, and reproduction in any medium, provided you give appropriate credit to the original author(s) and the source, provide a link to the Creative Commons license, and indicate if changes were made. The Creative Commons Public Domain Dedication waiver (http://creativecommons.org/publicdomain/zero/1.0/) applies to the data made available in this article, unless otherwise stated.