Involuntary admission in Norwegian adult psychiatric hospitals: a systematic review
Abstract
Background
It is an important objective of the psychiatric services to keep the use of involuntary procedures to a minimum, as the use of coercion involves clinical, ethical, and legal issues. It has been claimed that Norway has a relatively high rate of involuntary admissions. We reviewed the peer-reviewed literature on the use of involuntary admission in Norway, with the purpose of identifying the current state of knowledge and areas in need of further research.
Methods
A systematic review following the PRISMA statement was conducted. We searched the electronic databases PsycInfo, PubMed, Web of Science, CINAHL, and Embase for studies relating to involuntary admission to Norwegian adult psychiatric hospitals published in the period 1 January 2001 to 8 August 2016. The database searches were supplemented with manual searches of relevant journals, reference lists, and websites.
Results
Seventy-four articles were included and grouped into six categories based on their main topics: Patients' experiences, satisfaction and perceived coercion (21 articles), the Referral and admission process (11 articles), Rates of admission (8 articles), Characteristics of the patients (17 articles), Staff attitudes (9 articles), and Outcomes (8 articles). Four of the included articles described intervention studies. Fifty-seven of the articles had a quantitative design, 16 had a qualitative design, and one a mixed-method design. There was a broad range of topics that were studied and considerable variation in study designs. The findings were largely in line with the international literature, but the particularities of Norwegian legislation and the Norwegian health services were reflected in the literature. The four intervention studies explored interventions for reducing rates of involuntary admission, such as modifying referring routines, improving patient information procedures, and increasing patients' say in the admission process, and represent an important avenue for future research on involuntary admission in Norway.
Conclusions
The review suggests that Norway has a relatively high rate of involuntary admissions. The identified studies represent a broad mix of topics and designs. Four intervention studies were identified. More studies with strong designs are needed to bring research on involuntary admission in Norway to a next level.
Keywords
Psychiatry 
Norway 
Coercion 
Involuntary admission 
Civil commitment 
Background
Involuntary admission to psychiatric hospital is problematic on several levels. The clinical benefit of admitting patients involuntarily has been disputed and there are legal and ethical issues related to coerced admission [1, 2, 3, 4, 5, 6, 7, 8]. It is a basic principle that health services should be based on consent and that coercion should be reduced to the minimum possible [1, 2, 3, 4, 5, 6, 7, 8]. Recent studies on the use of coercion in other countries, such as the EUNOMIA and the OPUS-trial, have highlighted these issues [5, 6, 7, 8]. Other studies have suggested that the use of involuntary admission in Norway is relatively high compared to other Western countries [9, 10]. There is therefore considerable societal and political pressure to reduce coercion in Norwegian psychiatric services [11].
While there have been very recent changes to the Norwegian mental health legislation [12], when the search of the present study was performed, a patient could be admitted involuntarily to psychiatric hospital if he/she suffered from a severe mental disorder (i.e. a psychosis or equivalent) and if the admission was necessary for treatment and/or the patient was considered a danger to him/herself or to others [12]. An involuntary patient must be referred to psychiatric hospital by an independent doctor who personally has examined the patient and has found that the criteria are met. Voluntary treatment must have been tried or deemed futile. At admission (i.e. within 24 h), the patient is assessed by a specialist (psychiatrist or clinical psychologist), who decides whether the legal criteria are met. If the patient is admitted involuntarily, an independent review board, usually headed by a judge, will also assess the formalities of the admission. The patient may also launch a formal complaint and get a lawyer appointed free of charge to aid in the complaints process, which may also be appealed to the civil courts system.
Many of the issues relating to involuntary admission in Norway are common to other countries. However, a relatively high rate of involuntary admissions in Norway, the specifics of the Norwegian mental health legislation, and the organisation of the Norwegian mental health services, make it necessary to investigate the topic of involuntary admission within a Norwegian context. The literature on the use of involuntary admission in Norway has grown during the past decades, but an overview of the research, its methods and results, is lacking. By systematically reviewing the literature, this issue will be addressed and it will be possible to sum up the status on this field of research in Norway, including studies on patients' experiences, the referral process, rates and characteristics of involuntary patients, staff attitudes and outcomes. The aim of the study is to identify findings that might help decision-makers and point to research areas and methodologies that can forward the field in Norway.
Methods
Search strategy
This review follows the PRISMA Guidelines [
13
]. A systematic search of the literature in relevant electronic databases, including PsycInfo (Ovid), PubMed, Embase (Ovid), CINAHL (Ebsco), and Web of Science, was carried out in order to identify relevant articles. The databases were searched out on 8 August, 2016. The search consisted of different combinations of various terms related to involuntary admission in Norway, see Additional file
1
for more details. The search terms were in English, as Norwegian researchers in this field of study usually publish in English. There is a handful of scientific journals that occasionally publish relevant articles in Norwegian. However, these journals usually provide abstracts in English that are indexed in the databases that have been searched. Additional hand searches of relevant journals, including journals publishing in Norwegian, and searches on some Norwegian websites that might report on relevant studies, were also performed. See Fig. 
1
for a flow chart describing the search process.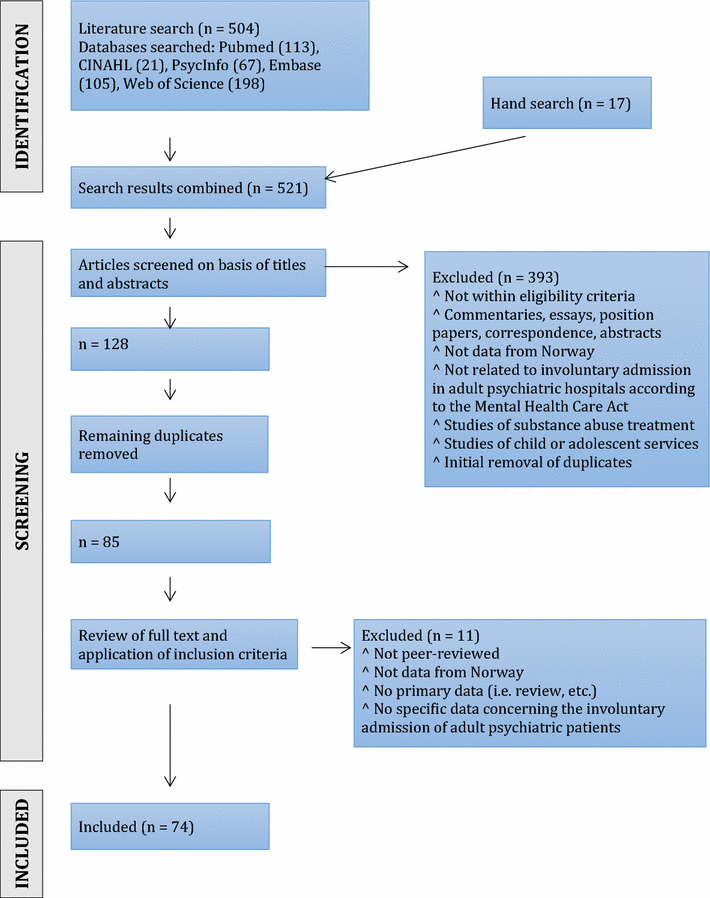 Eligibility criteria
We considered for inclusion all articles published in peer-reviewed journals with data from Norway that involved the involuntary admission of patients to adult psychiatric hospitals subject to the Norwegian Mental Health Care Act [12]. We included articles published after 1 January 2001, as this was when a new Mental Health Care Act was implemented [12]. Articles that included primary data on referrals, service organisation, attitudes, and ethical issues were also considered for inclusion provided they focused on the topic of involuntary admission. We excluded articles that did not specifically mention involuntary admission or that examined coercion only as a general concept. We excluded studies involving only, admission to substance abuse treatment, and services for children, adolescents or the intellectually disabled, as these in Norway involve separate institutions/services and/or additional regulations that may impact coercive practices overall. We excluded studies without data from Norway, and studies that did not include primary empirical data (i.e. commentaries, position papers, reviews, etc.). Studies that dealt primarily with legal theory and that did not include service-related data were excluded as were studies published only as abstracts. We excluded surveys on rates of involuntary admission in Norway not published in peer-reviewed journals, but some such surveys have nevertheless been brought into the discussion.
Discussion
Despite the relatively high number of articles dealing with the topic of involuntary admission in Norway, the variation in topics, samples, designs, methods and outcomes makes aggregating the findings challenging—an issue that has been discussed also with respect to the international literature [88, 89, 90].
The largest category of articles was on Patients' experiences, including the topics of patients' satisfaction and perceived coercion. Interestingly, this category also stands out as having the largest proportion of qualitative studies or mixed-method designs (13 of 21 articles). The most common method for data-gathering in this category was interviews (13 of 21 articles), but various qualitative and quantitative approaches were represented. The studies showed that perceived coercion did not equate with involuntary legal status, a finding supported by some of the international literature [1, 91]. However, the EUNOMIA study, which included data from 12 countries, found that involuntary admission was significantly associated with a high level of perceived coercion [7]. While some of the Norwegian studies [38, 39, 41] found that formally coerced patients were less satisfied, the finding was not consistent [42]. Some studies from other countries have also suggested that patients that are formally coerced are less satisfied [90, 92], but also in the international literature this finding has not been consistent [93]. Some of the reviewed Norwegian studies in this category [18, 21, 40, 43] described how patients experienced humiliation and stigma when being committed.
The second largest group of articles (17) concerned Characteristics of involuntary patients and predictors of involuntary status. In several studies, involuntary admission was associated with severe mental illness [60, 61, 69, 70, 71, 72, 74], being male [60, 71, 74] and low educational status [69, 71, 74]. Involuntary status was also associated with emergencies [72], patients scoring high on narcissism [64], police involvement [69, 74], non-Norwegian origin of patients [62, 74], patients having refugee status [63], centralized psychiatric beds [60], and patients not being known by the referring doctors [74]. The findings suggest that Norwegian patients that are more severely ill, male, in an emergency situation possibly with some sort of violence and police involvement, are more likely to be committed. Furthermore, being non-Norwegian and being unknown to the referring doctor also seems to increase the likelihood of being committed. These factors could possibly be explained by considering that they either represent difficulties in communication (being unknown and/or non-Norwegian) or that they represent some form of actual or perceived danger (severe illness, emergency situation, male, violence, police involvement), two themes that might be particularly important when GPs make assessment regarding referrals to involuntary admission [26, 51]. Studies from different countries suggest that predictors of involuntary admission may vary between countries, possibly because of differences in cultural factors [94], factors related to the health services, legislation, or other factors. For instance, being male has been associated with an increased risk of involuntary admission in New Zealand, Ireland, and Italy [94, 95, 96, 97], but not in China [97]. Also, with respect to other predictors, findings seem to differ much in the international literature [98]. While some studies have suggested that involuntary admission and/or coercion in general is associated with illness severity [95, 98, 99, 100], other studies have not reached the same conclusion [90, 101]. The Danish OPUS-trial did not find a significant difference in involuntary admission days between patients in three different treatment models. However, the authors remark that the sample might have been too small to detect actual differences [8]. In sum, the local context appears to be important in understanding predictors of involuntary admission, underlining the need for studies from different countries.
Eleven studies focused on the referral or admission processes specifically. These were mainly studies with a quantitative design, focusing either on the referring doctors or on the hospital-based specialist decisions. The role of the GPs working at out-of-hours clinics seems to be central in the process of referring many of the patients that are committed [48, 49]. The GPs often have little time and few available interventions [26, 47]. Similar stressful working conditions have also been described for GPs in other countries, including Denmark [102]. Studies from other countries have suggested that personal characteristics of GPs can be important to decisions to commit, as can local collaborations with mental health services [103]. The availability of alternatives to hospitalisation, such as acute day care or improved home care nursing, could reduce the need to involuntarily admit patients [6, 104]. While GPs have a very central role in referring involuntary patients in Norway [48, 49], in some other countries, emergency services may be more important as a first point of contact [105]. The proportion of patients that were disallowed by the receiving hospital-based specialists in Norway varied from 'mostly in agreement' [45] to approximately half being disallowed [44, 46]. An Australian [106] study found that 40–73% of patients that had been referred ('certified') were disallowed. The highest rate (73%) was found for referrals from ambulance officers while the rate for doctors (40%) was more comparable to the Norwegian rates [106].
Staff attitudes to coercion was the topic of nine of the reviewed articles. This category included studies with both a quantitative and qualitative design. The studies suggested that there was much variation in the proportion of staff that was willing to use coercion [77, 78, 82], but that most seemed to agree that coercion might provide both care and security [82]. Staff attitudes to coercion can be important also because they might influence how staff interpret and enforce mental health legislation [107, 108]. The Norwegian studies included in the review as well as studies from other countries have found that a range of factors may impact attitudes to the use of coercion, including age, gender, professional role, work experience, own experiences with mental illness, knowledge, personality, and values [2, 80, 81, 82, 109].
Rates of involuntary admission was the topic of eight articles. Rates varied from 135 to 418 per 100,000 [56, 57], depending on which population samples that were studied. The rates were higher with patients suffering from psychotic disorders, patients that were male, older, not working, and living alone [53, 55]. National statistics have suggested average rates of approximately 140/100,000 in recent years [10], but these figures have been criticised for being based on inconsistent reporting [55, 110]. It is not surprising that the rates varied much within Norway, as former studies have suggested that rates of different types of coercion vary within countries and even between comparable hospitals [108]. Such intra-country variation in rates can be explained by differences in study methods, study populations and hospitals/wards and local attitudes to coercion [5, 60, 72, 76, 108, 111, 112, 113, 114, 115, 116].
Rates of involuntary hospital admissions vary considerably between countries. Dressing and Salize [117] found that rates varied from 6/100,000 inhabitants in Portugal to 218/100,000 inhabitants in Finland. Compared to these figures, the rates described in the Norwegian studies seem to be on the high end. Differences in rates between countries may in part be due to differences in legislation [118, 119]. Recently, changes have been introduced to the Norwegian legislation, including a requirement of a lack of capacity to consent and for an exhaustive written justification for involuntary admission [12]. These changes could help reduce rates, although such an effect on coercion has not been consistent in other countries that have changed their legislation [120, 121, 122].
The category outcomes of involuntary admission comprised eight articles. One study found that first-time psychosis coerced patients improved more than non-coerced patients [84]. This Norwegian study supports the finding from some studies from other countries that involuntary patients' symptoms improve on the short term and over time [123, 124, 125]. Other studies from other countries have, however, found that formal coercion has little or no impact on clinical outcomes [126, 127], but may negatively impact satisfaction and quality of life [90]. Different methodological approaches might explain some of the differences in findings regarding outcomes of involuntary admission [124]. An interesting finding in the Norwegian literature is that self-referral to hospital appears to reduce the rates of coercion [16, 17] as does including patients in ACT-teams [86, 87]. These, in Norway, relatively new services therefore seem to show promise in this respect and should be studied further [128].
A main finding was that, with the exception of four articles, all the identified studies relating to involuntary admission in Norwegian adult psychiatric hospitals were observational. It is clearly more challenging to perform intervention studies in this field of research, especially as ethical concerns and the often acute nature of involuntary admissions pose constraints on research designs [3]. However, the four intervention studies show that it is possible to use such designs, although they might be criticised for flaws (i.e. lack of control groups, etc.). One of the studies [14] implemented changes in procedures among the referring doctors, one study [15] improved patient information routines, and in two studies [16, 17] patients were given more powers in deciding when they should be admitted. As these studies have shown promising results, more high-quality intervention studies would help forwarding this field of research in Norway.
Strengths and limitations
It is a limitation that the search process was carried out only by one researcher. The search strategy supplemented with the hand searches and searches on some Norwegian websites most likely identified the relevant scientific peer-reviewed studies. However, one cannot rule out that some studies can have been missed because they were not published in journals that were indexed by the databases that were searched and that they were missed in the supplemental searches. As this review is based on the Norwegian literature only, the findings cannot be generalized to other countries.
Conclusions
Seventy-four studies were included in the review, and a wide variation in topics and approaches were identified, which makes aggregating the findings challenging—an issue that has been discussed also with respect to the international literature. Main topics that were identified were on patients' experiences, the referral process, rates and characteristics of involuntary patients, staff attitudes, and outcomes. Some studies showed that patients could feel humiliated when involuntarily admitted, but that patients' legal status did not equate with level of perceived coercion. The severely ill, male and those in an emergency were more likely to be involuntarily admitted. GPs working at out-of-hours clinics were often involved in the admission process, and they typically had little time and few available alternatives. While staff differed in their attitudes to coercion, many saw coercion as an expression of care and security. Admission rates varied between 135 and 418 per 100,000. Overall, the findings were in line with the international literature, although the review supports the notion that Norway has a relatively high rate of involuntary admissions compared to international figures. Four interventional studies were identified. These were of particular interest, as they explored interventions for reducing rates of involuntary admission, such as modifying referring routines, improving patient information procedures, and increasing patients' say in the admission process. However, these interventional studies also had methodological limitations, and more high-quality interventional studies are needed to forward this field of research in Norway. Additional interventions that might reduce rates and could be explored in future studies are educating staff on patients' perceptions and providing referring GPs with alternatives to involuntary admission.
Notes
Authors' contributions
RW designed the study, performed the searches, analyzed the data, and drafted and revised the manuscript. The author read and approved the final manuscript.
Acknowledgements
The publication of this article was supported by the Open Access Fund of UiT The Arctic University of Norway.
Competing interests
The author declares that there is no conflict of interest. The study did not receive external funding.
Availability of data and materials
The datasets used and/or analysed during the current study are available from the corresponding author on reasonable request.
Consent for publication
Not applicable.
Ethics approval and consent to participate
Not applicable.
Funding
The study did not receive external funding.
Publisher's Note
Springer Nature remains neutral with regard to jurisdictional claims in published maps and institutional affiliations.
Copyright information
© The Author(s) 2018
Open AccessThis article is distributed under the terms of the Creative Commons Attribution 4.0 International License (http://creativecommons.org/licenses/by/4.0/), which permits unrestricted use, distribution, and reproduction in any medium, provided you give appropriate credit to the original author(s) and the source, provide a link to the Creative Commons license, and indicate if changes were made. The Creative Commons Public Domain Dedication waiver (http://creativecommons.org/publicdomain/zero/1.0/) applies to the data made available in this article, unless otherwise stated.