Non-viral gene delivery systems for tissue repair and regeneration
Part of the following topical collections:
Abstract
Critical tissue defects frequently result from trauma, burns, chronic wounds and/or surgery. The ideal treatment for such tissue loss is autografting, but donor sites are often limited. Tissue engineering (TE) is an inspiring alternative for tissue repair and regeneration (TRR). One of the current state-of-the-art methods for TRR is gene therapy. Non-viral gene delivery systems (nVGDS) have great potential for TE and have several advantages over viral delivery including lower immunogenicity and toxicity, better cell specificity, better modifiability, and higher productivity. However, there is no ideal nVGDS for TRR, hence, there is widespread research to improve their properties. This review introduces the basic principles and key aspects of commonly-used nVGDSs. We focus on recent advances in their applications, current challenges, and future directions.
Keywords
Non-viral vector 
Tissue engineering 
Gene therapy 
Abbreviations
TE

tissue engineering

TRR

tissue repair and regeneration

nVGDS

non-viral gene delivery systems

NAs

nucleic acids

pDNAs

plasmid deoxyribonucleic acids

siRNA

small interfering ribonucleic acids

miRNA

microRNAs

NA

nucleic acid

RNAi

RNA interference

VVs

viral vectors

nVVs

non-viral vectors

PEI

polyethylenimine

CaPs

calcium phosphates

VGCs

vector-gene complexes

GAMs

gene-activated matrices

nVGCs

non-viral vector/gene complexes

nVGD

non-viral gene delivery

CME

clathrin-mediated endocytosis

CvME

caveolae-mediated endocytosis

NPC

nuclear pore complex

NLS

nuclear location sequence

3D

three-dimensional

CPPs

cell-penetrating proteins

GAGs

glycosaminoglycans

PAMAM

polyamidoamine

DTS

DNA nuclear targeting sequence

NF

nuclear factor

LDHs

layered double hydroxides

BMP

bone morphogenetic proteins

PDGF

platelet-derived growth factor

GDS

gene delivery system

TGF-β1

transforming growth factor beta 1

BMSCs

bone marrow stromal cells

FDB

freeze-dried allograft bone

PLL

poly(l-lysine)

HA

hydroxyapatite

nHA

nanohydroxyapatite

hMSCs

human mesenchymal stromal cells

VEGF

vascular endothelial growth factor

TMC

N,N,N-trimethyl chitosan chloride

BDE

bilayer dermal equivalent

HIF-1alpha

hypoxia-inducible transcription factor 1alpha

IGF-1

insulin-like growth factor-1
Background
Critical tissue defects are clinically common because of trauma or pathology such as extensive burns and non-union bone fractures [1, 2]. The standard treatment for such tissue loss is autografting [3]. However, the supply of donor tissues is often limited and the capability of self-repair following damage is insufficient or delayed [4]. Tissue engineering (TE) is an inspiring alternative for tissue repair and regeneration (TRR) [5]. Cells, biomolecules, and biomaterials have been widely used to induce in situ wound healing and tissue regeneration, or to produce in vitro TE constructs [6]. The delivery of proteins such as growth factors [7] generally exhibit shortcomings such as short half-life times, large dosages, and high costs of the delivered molecules [8]. To avoid these drawbacks and further improve TRR, therapeutic nucleic acids (NAs), e.g. plasmid deoxyribonucleic acids (pDNAs), small interfering ribonucleic acids (siRNA) and microRNAs (miRNA), provide better promotion of high-quality TRR [9].
The advantages of nucleic acid (NA)-based TRR include: (1) more sustained expression of the encoded genes, or prolonged up-regulation or down-regulation of the targeted genes exerted by RNA interference (RNAi); (2) exemption from immunologic reaction; (3) improved cost efficiency. A variety of methods can be used to deliver NAs into target cells, e.g. physical techniques, viral vectors (VVs) and chemical or biochemical vectors [10]. The physical methods, e.g. gene gun, electric perforation and ultrasonic are usually realised within a small number of cells at one time, and the manipulated cells often show low activity because of physical damage, resulting in poor TRR. Viral vectors such as adenovirus, lentivirus, and retrovirus, however, can transfect cells in large quantities, achieve high transfection rates and generate life-long expression of the transgenes or regulation of the host genome. But insertion mutation and other adverse effects have been observed during the post-transfection periods after viral gene delivery [11], resulting in the uncertainty and controversy about the application of VV for TRR.
Chemical or biochemical vectors, also known as non-viral vectors (nVVs), are primarily composed of two groups of vectors, namely organic and inorganic vectors. The former consists of lipid-based vectors, natural and synthetic polymers and peptide-based vectors [12, 13, 14]. There are a variety of types of nVVs that are commonly used with Lipofectamine 2000 [15] and polyethylenimine (PEI) [16, 17] as the gold standard for sufficient transfection efficiency. Inorganic vectors mainly include calcium phosphates (CaPs) [18] and metal nanoparticles [19]. These nVVs have several advantages over VVs, such as lower immunogenicity and toxicity, better cell specificity, better modifiability and enhanced productivity [20]. They are a better alternative to deliver genes responsible for the repair and regeneration of damaged tissues. However, the transfection efficiency of an nVV is often lower, restricting its application compared to a VV [21] and varies depending on the type of vector and target cell.
Scaffolds or matrices in TE are primarily designed to preserve tissue volume and provide a sequential transition during which the regenerated tissue assumes function as the scaffold degrades. Porous scaffolds are good reservoirs for the release of biomolecules and, furthermore, provide structural support for cells to adhere and proliferate during migration toward the center of the wound [22]. Scaffolds/matrices loaded with vector-gene complexes (VGCs) or naked NAs are termed gene-activated matrices (GAMs) [23]. GAMs with VGCs seem to be more suitable for gene delivery because of their better protection of NAs, and they excel at local and controlled delivery of VGCs in the specific region of the damaged tissue [24]. This avoids off-target effects and increases the efficiency of gene transfer.
A typical model of the state-of-the-art non-viral gene delivery system (nVGDS) for TRR is composed of three major elements: scaffold or matrices, cells including stem cells, and non-viral vector/gene complexes (nVGCs) [25]. However, there is no perfect engineered tissue that has the identical properties of normal tissues. Optimisation of existing TE constructs or development of novel TE products, especially those involving nVGDS, is a major trend in the field. Herein, we introduce the basic principles and key aspects of commonly used nVGDSs, followed by descriptions of recent advances in their applications, current challenges, and future directions.
Mechanism of non-viral gene delivery
Gene delivery is the transfer of exogenous NA from the extra-cellular environment to intracellular compartments, i.e. the nucleus for pDNA or cytoplasm for siRNA or miRNA. The detailed mechanism of non-viral gene delivery (nVGD) is still not clear. However, it can be generally divided into five stages through which the cargo overcomes several biological barriers, i.e. the extra-cellular environment, cell membrane, endolysomal system, nuclear envelope, and transcription/translation interruptions [
26
]. We use the typical scaffold/nVGC-pDNA/cell system to illustrate the multi-stage process of nVGD (Fig. 
1
).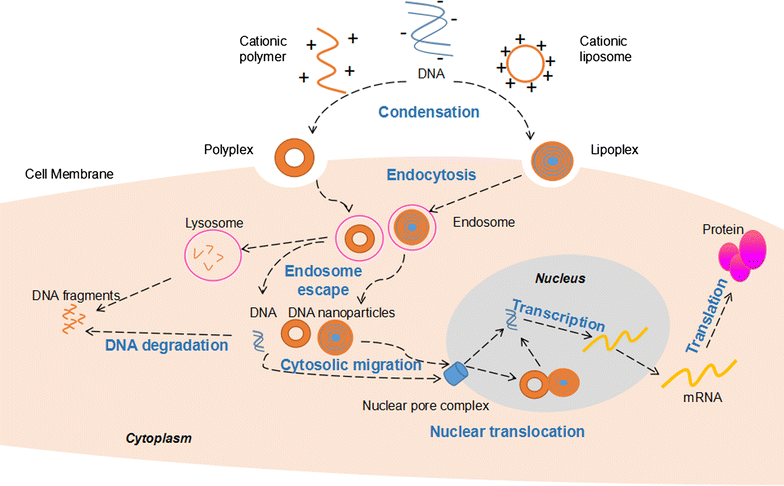 Non-viral gene delivery system design
Based on the advanced understanding of nVGDSs, several factors should be considered in their design to increase transfection efficiency and decrease cytotoxicity. These include DNA condensation, complex stability, membrane activity, cellular uptake, endosome buffering capacity, vector degradability, and targeting property (Table 
1
). Additionally, combinations of different kinds of materials or transfection enhancers can significantly increase the efficiency and reliability, and minimise side effects [
60
].
Table 1
Modifications for novel non viral gene delivery vectors
| Function | Target stage | Description | Examples | References |
| --- | --- | --- | --- | --- |
| Increase transfection efficiency | DNA condensation | Hydrophobic moieties | Polyethylene glycol (PEG) | |
|   | Complex protection | Hydrophobic side chains | PEG | |
|   |   | Imidazole groups |   | [76] |
|   | Cellular uptake | Cell penetrating peptides (CPPs) | Arginine | |
|   |   | CPP like proteins | Glucosamine residues | |
|   |   |   | Syndecans | [75] |
|   |   | Long hydrophobic chains | PEG | [48] |
|   | Endosolysomal escape | Increase buffering capacity | Poly(l-histidine) | [185] |
|   |   |   | Imidazole groups | [76] |
|   |   |   | Glycosides | [78] |
|   |   |   | Xylitol | [77] |
|   |   |   | Cyclodextrins | [85] |
|   |   |   | Glycerol | [36] |
|   |   |   | Hydroxyl groups | [80] |
|   | Nuclear translocation |   | Nuclear location sequence | [81] |
|   | Transcription and translation |   | Transcriptional factors | [45] |
|   | Balancing buffering capacity and cytotoxicity | Hydrophobic side chains | PEG | |
|   |   |   | Guanidine groups | [27] |
| Decrease adverse effects | Degradability | Decrease cytotoxicity | Imidazole groups | [76] |
|   | Tissue/cell targeting property | Peptides | ATS-9R | [82] |
|   |   |   | RGV | [83] |
|   |   |   | Mannose | [52] |
|   |   |   | Tet1 | [84] |
|   |   |   | Melittin | [85] |
|   | Stimuli-responsive moieties | Biochemistry reaction | Disulfide bonds | [186] |
|   |   |   | Nitrobenzene moiety | [29] |
| Other novel nVV |   | Inorganic nVV | Graphene | [87] |
|   |   |   | Inorganic coating of calcium phosphate (CaP) | [88] |
|   |   |   | Layered double hydroxide (LDH) | |
|   |   |   | SiO2@LDH core–shell nanoparticles | [91] |
|   |   | Combinatorial nVV | Cationic polymers and liposomes | [93] |
|   |   |   | Nanoporous silicon-PEI nanoparticles | [86] |
|   |   |   | Magnetic nanoparticles | [92] |
|   |   |   | PAMAM conjugated gold nanoparticles (AuPAMAM) | [19] |
Improve transfection efficiency
The expression rate of a target protein is a key metric for transfection efficiency [9]. The approach for improving transfection efficiency varies according to the different stages targeted during transfection.
Targeting moieties
The targeting design of an nVV is a way to limit reaction in local tissue. Some peptides have the ability to demonstrate a target delivery. For example, ATS-9R, an adipocyte-targeting sequence, was combined with a short-hairpin RNA (shRNA) for silencing the fatty-acid-binding protein shFABP4. The ATS-9R/shFABP4 oligopeptide complex targeted mature adipocytes via binding to inhibitin and silencing of the targeted sequence peptide resulted in reduced lipidosis [82]. A 29-amino acid cell-binding peptide, RGV, conjugated to the redox-sensitive biodegradable dendrimer PAM-ABP, provided a low toxicity compound that increased transfection rates of both hMSC and hESC (about 60 and 50%, respectively) and retained expression of pluripotent stem cell markers [83]. Mannosylated CPP was bound to PEI to form the polymer Man-PEI1800-CPP, which was targeted at the mannose receptor on antigen-presenting cells (APC); its transfection rate was higher than 25KDa PEI but with lower toxicity, and in vivo experiments showed that this kind of nVGDS was mainly distributed in the epidermis and dermis [52]. The Tet1 peptide can bind to gangliosides highly expressed on GT1b neurons. When Tet1 was grafted to polypeptides in different amounts and constructed with oligopeptide and HPMA, it transfected neuron-like PC-12 cells with an increase in transfection rate and no cytotoxicity increase was found [84]. Grafting melittin, a 26 amino acid peptide, to HPMA-oligolysine formed a polymer that transfected HeLa cells and PC-12 cells. Because of its membrane lysis capacity, the melittin-grafted polymer had increased cytotoxicity and must be modified for satisfactory safety [85].
Inorganic materials and combinatorial nVGDSs
Inorganic materials have an important role in nVGD and can be incorporated into hybrid materials to optimise nVGDSs, e.g. nanoporous silica-PEI nanoparticles [86]. For example, graphene binds to single-stranded DNA effectively but not to double-stranded DNA and can protect oligonucleotides from enzymatic cleavage. Graphene has recently been investigated for gene delivery applications, mostly using PEI-functionalised graphene oxide (GO) for the delivery of pDNA. Graphene and its derivatives can be modified and functionalised so that they do not exhibit acute or chronic toxicity, and can be cleared from the body over time. They can thus be used for biomedical applications including TE [87]. Li et al. used the EDC/sulpho-NHS crosslinking reaction to alter the dynamics of PAMAM-conjugated gold nanoparticles (AuPAMAM). The sMUA AuPAMAM constructs showed the highest stability, gene transfection efficacy, and a reasonable cytotoxicity profile [19].
Inorganic CaP coatings have been investigated to improve the vectors' property. Mineral coatings resulted in widely variable transfection, and optimised coatings led to greater than tenfold increases in transgene expression by multiple target cell types when compared to standard techniques [88]. Layered double hydroxides (LDHs), commonly known as hydrotalcite-like materials and anionic clays, can be used as potential vectors because of their low cytotoxicity, good biocompatibility, and total protection of loaded DNA vaccines and LDH nanoparticles, which can be taken up by MDDCs efficiently and have an adjuvant activity for DC maturation [89, 90]. The novel vector SiO2@LDH, which is composed of core–shell nanoparticles with mesoporous silica as the core and LDH as the shell, activated macrophages and thereby enhanced systemic immune responses in animals, delivering HBVsAg DNA vaccine [91]. However, further in vivo experiments still need to be conducted to verify this kind of nVGV for future clinical application. Functional magnetic nanoparticles can also be used for gene delivery, either in the stand-alone form or as a modification of other chemical vectors; these have been reviewed by Xing et al. [92]. Cationic polymers and liposomes have their own advantages, and their combination contribute to the improvements in the property of hybrid nVGDS, e.g. lipopolyplexes [93]. Additionally, ultrasound and other physical methods have been used to modulate the transfection process for TRR [94, 95].
Non-viral gene delivery systems for tissue repair and regeneration
Tissue repair and regeneration in critical defects is based on the induction, restoration and enhancement of the capability of self-repair or TE in different tissues [
96
]. The key requirements of an nVGDS for TRR are good biocompatibility and a high transfection rate [
97
,
98
]. A typical model of non viral gene therapy for TRR is gene activated scaffold/matrice, such as polyplex loaded dermal scaffold (Fig. 
2
). However, different tissues have their unique characteristics that demand specific biomaterials, stimulators or inhibitors [
99
,
100
,
101
,
102
,
103
].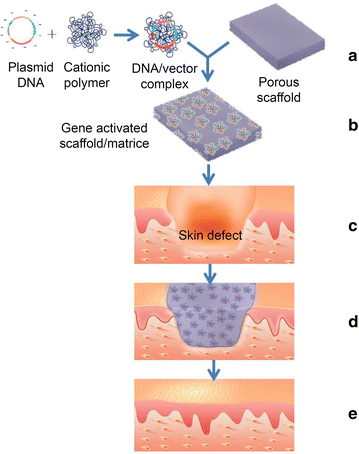 Conclusions
nVGDSs have been widely investigated and are promising for TRR. Though the detailed mechanisms underlying nVGDs remain unknown, barriers that impede efficient transfection via nVGDSs should be taken into account when designing new nVGVSs or platforms. Investigations into the delivery of interfering RNA or the combination of nucleic acids, optimised stem-cell management, and the incorporation of a advanced strategy such as three dimentional printing are promising trends in nVGDS-mediated TE. Further steps from bench-to-bed of the research results can be anticipated in the forthcoming decades.
Notes
Authors' contributions
PW, HC and XW designed the major structure of this review. PW, HC and RJ conducted the search on related literature. PW, HC, RJ, TW, JKH, CY, LZ and XW were involved the in literature review. All authors were involving in drafting the article or revising it critically for important intellectual content, and all authors approved the final version to be published. All authors read and approved the final manuscript.
Acknowledgements
The authors wish to thank Rui Guo, Yong Lan, Yunfei Mo, Xuan Liu and Yan Liu for their advice on the generation of this review.
Competing interests
The authors declare that they have no competing interests.
Availability of data and materials
All data or related information supporting the conclusions of the review is included in the article.
Consent for publication
Not applicable.
Ethics approval and consent to participate
Not applicable.
Funding
This work was financially supported by the National Natural Science Foundation of China (81772069, 81401591), the National Key Research Project of China (2016YFC1100800, 2016YFC1100803) and the Project of Medical Science and Technology of Zhejiang Province, China (2014KYB113).
Publisher's Note
Springer Nature remains neutral with regard to jurisdictional claims in published maps and institutional affiliations.
Copyright information
© The Author(s) 2018
Open AccessThis article is distributed under the terms of the Creative Commons Attribution 4.0 International License (http://creativecommons.org/licenses/by/4.0/), which permits unrestricted use, distribution, and reproduction in any medium, provided you give appropriate credit to the original author(s) and the source, provide a link to the Creative Commons license, and indicate if changes were made. The Creative Commons Public Domain Dedication waiver (http://creativecommons.org/publicdomain/zero/1.0/) applies to the data made available in this article, unless otherwise stated.