Recent advances in the use of PI3K inhibitors for glioblastoma multiforme: current preclinical and clinical development
Abstract
Glioblastoma multiforme (GBM) is the most common and aggressive malignant primary tumor in the central nervous system. One of the most widely used chemotherapeutic drugs for GBM is temozolomide, which is a DNA-alkylating agent and its efficacy is dependent on MGMT methylation status. Little progress in improving the prognosis of GBM patients has been made in the past ten years, urging the development of more effective molecular targeted therapies. Hyper-activation of the phosphatidylinositol 3-kinase (PI3K)/Akt pathway is frequently found in a variety of cancers including GBM, and it plays a central role in the regulation of tumor cell survival, growth, motility, angiogenesis and metabolism. Numerous PI3K inhibitors including pan-PI3K, isoform-selective and dual PI3K/mammalian target of rapamycin (mTOR) inhibitors have exhibited favorable preclinical results and entered clinical trials in a range of hematologic malignancies and solid tumors. Furthermore, combination of inhibitors targeting PI3K and other related pathways may exert synergism on suppressing tumor growth and improving patients' prognosis. Currently, only a handful of PI3K inhibitors are in phase I/II clinical trials for GBM treatment. In this review, we focus on the importance of PI3K/Akt pathway in GBM, and summarize the current development of PI3K inhibitors alone or in combination with other inhibitors for GBM treatment from preclinical to clinical studies.
Keywords
Glioblastoma 
GBM 
PI3K 
mTOR 
Abbreviations
4EBP

Eukaryotic initiation factor 4E–binding protein

ALT

Alanine aminotransferase

AST

Aspartate transaminase

BBB

Blood–brain barrier

CR

Complete remission

CSC

Cancer stem cell

DLT

Dose-limiting toxicity

EGFR

Epidermal growth factor receptor

EMT

Epithelial-to-mesenchymal transition

GBM

Glioblastoma multiforme

GPCR

G protein-coupled receptor

GSLC

Glioblastoma stem-like cell

H&N

Head and neck

HCC

Hepatocellular carcinoma

Hh

Hedgehog

IC50

Half maximal inhibitory concentration

LSCC

Lung squamous cell carcinoma

MTD

Maximum tolerated dose

mTOR

Mammalian target of rapamycin

mTORC

mTOR complex

NSCLC

Non-small cell lung cancer

OS

overall survival

PDK-1

Phosphoinositide-dependent kinase 1

PFS

Progression-free survival

PHLPP

PH domain and leucine rich repeat protein phosphatase

PI3K

Phosphatidylinositol 3-kinase

PIP2

Phosphatidylinositol 4,5-bisphosphate

PIP3

Phosphatidylinositol 3,4,5-triphosphate

PR

Partial remission

PTEN

Phosphatase and tensin homolog deleted on chromosome 10

RR

Response ratio

RTK

Receptor tyrosine kinase

Smo

Smoothened

TCGA

The Cancer Genome Atlas

TRAIL

Tumor necrosis factor-related apoptosis inducing ligand

TSC

Tuberous sclerosis complex
Background
Glioblastoma multiforme (GBM), classified as WHO grade IV glioma, is the most common, aggressive and malignant primary tumor in the central nervous system [1]. The incidence rate of GBM is the highest in malignant brain tumors, with 3.19 new cases per 100,000 populations per year [1, 2]. Glioblastoma is characterized by rapid growth, extensive infiltration to neighboring brain tissues, pseudopalisading necrosis and angiogenesis, which contribute to poor prognosis. Despite the standard treatment including maximal surgical resection followed by adjuvant radiotherapy and chemotherapy, the prognosis of GBM patients remains poor. The 2-year relative survival rate for GBM patients is approximately 26.5%, and the median overall survival is 14.6 months [3].
Genetic aberrations in glioblastoma including
EGFR
,
PDGFRA, PIK3CA
,
PTEN, TP53
and
CDKN2A/B
etc., drive the dysfunction of signaling pathways such as PI3K/Akt/mTOR, p53 and RB1 pathways, and open up possible therapies for GBM by targeting these pathways with selective inhibitors [
4
]. The phosphatidylinositol 3-kinases (PI3Ks)/Akt signaling pathway plays a central role in the regulation of signal transduction, which mediates various biological processes including cell proliferation, apoptosis, metabolism, motility and angiogenesis in GBM. Generally, activation of PI3K/Akt pathway starts with activation of receptor tyrosine kinases (RTKs) or G protein-coupled receptors (GPCRs). Class I
A
and I
B
PI3Ks mainly respond to the activation of RTKs and GPCRs, respectively. Epidermal growth factor receptor (EGFR, ErbB-1), a transmembrane protein, belongs to a RTK subfamily – ErbB family. After binding to its ligand EGF, EGFR undergoes a transition from an inactive monomeric form to an active homodimer. Its variant III mutation (EGFRvIII), characterized by an in-frame deletion in exons 2–7, is common (25%–50%) in GBM and produces a truncated EGFR protein without the extracellular ligand-binding domain, leading to its ligand-independent constitutive activation [
5
]. A simplified schematic diagram showing PI3K/Akt signaling is presented in Fig.
1
. When a ligand such as EGF or PDGF binds to its corresponding RTK, the intracellular C-terminal kinase domain of RTK undergoes conformational alterations and autophosphorylation, which provides binding sites for the regulatory subunits of PI3K. The interaction between RTK and PI3K regulatory subunits subsequently relieves the inhibitory effect on the catalytic subunits, leading to elevated lipid kinase activity of PI3K. Activation of PI3K transforms phosphatidylinositol 4,5-bisphosphate (PtdIns(4,5)P2, PIP2) to phosphatidylinositol 3,4,5-triphosphate (PtdIns(3,4,5)P3, PIP3) in plasma membrane. Subsequently, PIP3 binds to Akt and anchors it to the plasma membrane. Akt at Thr308 and Ser473 residues are then phosphorylated by phosphoinositide-dependent kinase −1 (PDK-1) and mammalian target of rapamycin complex 2 (mTORC2), respectively, leading to its complete activation. PTEN (phosphatase and tensin homolog deleted on chromosome 10) and PHLPP (PH domain and leucine rich repeat protein phosphatase) are two tumor suppressors, the former transforms PIP3 to PIP2 and blocks the recruitment of Akt to the plasma membrane, while the latter dephosphorylates Ser473 in Akt and subsequently suppresses Akt activation [
6
,
7
]. Activated Akt, in turn, phosphorylates downstream pathway molecules to mediate metabolism, cell growth, angiogenesis, motility and apoptosis [
8
]. It mediates protein synthesis by phosphorylating tuberous sclerosis complex (TSC) and then activating mTOR. mTOR and its partner Raptor (mTORC1) bind to p70 S6 K and eukaryotic initiation factor 4E–binding protein 1 (4EBP1), leading to their phosphorylation and initiation of protein translation [
9
].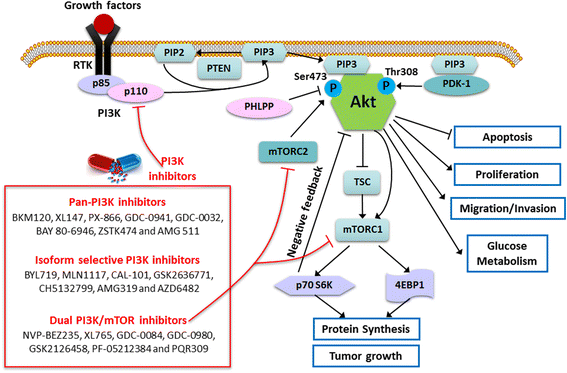 Hyper-activation of PI3K/Akt pathway confers rapid growth, tumor progression and multidrug resistance upon GBM cells. Inhibition of PI3K alone or in combination with other molecules may result in GBM cell death and retarded tumor progression. Here, we summarize the roles of PI3K in GBM and highlight recent advances and challenges in the development of PI3K inhibitors as targeted therapeutic agents for GBM. The most recent experimental, preclinical and clinical studies are presented to emphasize the prospect of PI3K inhibitors for GBM treatment.
Conclusions
Targeting PI3K signaling as a therapeutic approach for cancer treatment has been discussed for more than a decade based on a solid foundation of experimental and preclinical studies. Recently, the p110δ inhibitor CAL-101 has been approved by FDA for certain types of lymphoma, offering hopes of PI3K inhibitors for cancer treatment [129]. Due to many challenges, clinical data do not favor PI3K inhibitors in GBM treatment, suggesting that targeting PI3K alone is not sufficient to treat GBM.
The future strategies to promote the potential of PI3K inhibitors for GBM treatment need to focus upon: [1] identifying genetic alternations such as PI3KCA mutations, PTEN mutations/loss and RAS mutations prior to the treatment regime; [2] rational combinations with other molecules' inhibitors or other therapies, on the basis of understanding of the crosstalks between PI3K and other signaling molecules/pathways; [3] employing a BBB-permeable drug delivering system specifically targeting GBM cells to decrease toxicities on normal cells. Implement of these ideas may guide us in the right directions and develop more effective therapeutic approaches for GBM treatment.
Notes
Acknowledgements
The authors would like to thank Wen-lan Liu, Zong-yang Li, Yuan Zhang and Hui Tan for the discussion of the manuscript.
Funding
This work was supported by Grants from National Natural Science Foundation of China (No. 81602195), China Postdoctoral Science Foundation (No. 2016M592588), Shenzhen Science and Technology Innovation Commission (No. JCYJ20160425104157183, No. ZDSYS20140509173142601, and No. GCZX2015050411225563), the Open Funds of State Key Laboratory of Oncology in South China (No. HN2016–09), and the Fund of High Level Medical Discipline Construction in Shenzhen (No. 2016031638).
Availability of data and materials
Not applicable.
Authors' contributions
HFZ is the major contributor in writing the manuscript. JW, WS, CPW and ZPC provided suggestions to revise the manuscript. SSTT and WPL designed and revised the manuscript. All authors have reviewed the final manuscript.
Competing interests
No competing of interest exits in the submission of this manuscript, and it has been approved by all authors for publication.
Consent for publication
Not applicable.
Ethics approval and consent to participate
Not applicable.
Publisher's Note
Springer Nature remains neutral with regard to jurisdictional claims in published maps and institutional affiliations.
Copyright information
© The Author(s). 2017
Open AccessThis article is distributed under the terms of the Creative Commons Attribution 4.0 International License (http://creativecommons.org/licenses/by/4.0/), which permits unrestricted use, distribution, and reproduction in any medium, provided you give appropriate credit to the original author(s) and the source, provide a link to the Creative Commons license, and indicate if changes were made. The Creative Commons Public Domain Dedication waiver (http://creativecommons.org/publicdomain/zero/1.0/) applies to the data made available in this article, unless otherwise stated.