Resistance a major hindrance to chemotherapy in hepatocellular carcinoma: an insight
Abstract
Hepatocellular carcinoma (HCC) is one of the leading causes of cancer mortality, accounting for almost 90% of total liver cancer burden. Surgical resection followed by adjuvant and systemic chemotherapy are the most meticulously followed treatment procedures but the complex etiology and high metastatic potential of the disease renders surgical treatment futile in majority of the cases. Another hindrance to the scenario is the acquired resistance to drugs resulting in relapse of the disease. Hence, to provide insights into development of novel therapeutic targets and diagnostic biomarkers, this review focuses on the various molecular mechanisms underlying chemoresistance in HCC. We have provided a comprehensive summary of the various strategies adopted by HCC cells, extending from apoptosis evasion, autophagy activation, drug expulsion to epigenetic transformation as modes of therapy resistance. The role of stem cells in imparting chemoresistance is also discussed. Furthermore, the review also focuses on how this knowledge might be exploited for the development of an effective, prospective therapy against HCC.
Keywords
Cancer 
HCC 
Chemoresistance 
Metastasis 
Apoptosis 
Autophagy 
Introduction
Hepatocellular carcinoma is currently considered as a rapidly evolving disease. According to the Globocan report, an estimated 782,451 new liver cancer cases and 745,517 cancer deaths have occurred worldwide in 2012. Also, as per the National Cancer Institute's Surveillance Epidemiology and End Results (SEER) the relative 5-year survival rate of HCC between 2002 and 2008 has been as low as 15%. The main causative factors contributing to the disease have been chronic alcohol abuse, infection with hepatitis B or hepatitis C virus and food contaminations [
1
]. As a consequence of such varied etiologies, HCC is a heterogeneous malignancy with complex carcinogenesis. Also despite advances in development of early detection methodologies, the ineffective and expensive procedures available for treatment of HCC pose a challenge for the disease management. In fact, 80% of HCC patients are currently diagnosed at an advanced stage of the disease with a median survival of 6–8 months only. Surgical resection followed by chemotherapy is the most established curative treatment for HCC. However, operating on the liver can be both complicated and unachievable due to size and distribution of the tumor in the liver, blood vessels and other vital organs. Also, complete surgical removal is mostly not possible for more than two-third of HCC patients where the disease have already metastasized and the patients are at an advanced stage [
2
,
3
,
4
]. Current treatment procedures mainly include cryosurgery, radiofrequency ablation and embolization but they are mostly palliative approaches without much success rate [
5
]. Moreover, post-surgery recurrence of the tumor has been a major issue for more than 90% of HCC patients. This has forced to shift the treatment regime towards systemic chemotherapy. Drugs that are used in HCC as monotherapy are listed in Table 
1
. But currently the use of single agents in therapy is practically non-existent because of their low response. For example, in a large study of doxorubicin, no responses were noted among 109 patients; also among 475 patients who received doxorubicin in various studies, only 16% response rate was documented, with a median survival of 3–4 months only [
6
]. This led to the evolution of combined regimen drugs. A combination of capecitabine + oxaliplatin + cetuximab showed modest activity only [
7
]. Among cisplatin-based regimens, the best response rate was obtained with the treatment of PIAF (cisplatin + adriamycin + 5-FU + INF) [
8
]. More recently, GEMOX (gemcitabine + oxaliplatin) has also been evaluated in a phase-II study, with promising results [
9
]. Other chemotherapeutic drugs like, sorafenib are also often used to attenuate HCC tumor [
10
,
11
]. But, acquisition of chemoresistance continues to be a major constraint in chemotherapy-based treatment of the disease. An alternative strategy adopted was the administration of chemo-drugs like cisplatin, mitomycin C and doxorubicin through hepatic artery infusion [
12
]. However, surgical catheter insertion into the hepatic artery and inoperable conditions of the tumor owing to HCC's high metastatic potential became a limiting factor. Thus despite recent advancements in chemotherapy, HCC still remain a fatal disease. Hence, focus should be reoriented more on unraveling the molecular mechanisms behind chemoresistance with an objective to develop novel therapeutic targets and diagnostic biomarkers.
Table 1
List of drugs and their targets used against HCC
S. No.

Name of the drug

Target molecule

Mechanism

Limitation

Year and references

1

Tamoxifen

Antagonist of estrogen receptor

To inhibit P-glycoprotein-mediated drug resistance

Minimum effect

2000 [88]

2

5-Fluoracil

Thymidylate synthase

Incorporated its metabolites into RNA and DNA

Requires co-treatment with leucovorin and methotrexate, to increase the anticancer activity of 5-Fu

2003 [89]

3

Thalidomide

VEGF, inhibits TNF-α synthesis, inhibition of Ikβ kinase activity

Anti-angiogenic activity and immune-modulatory

Fatigue, somnolence, constipation

4

Octreotide

Analogue of somatostatin receptors

Anti-tumor effect.

Somatostatin receptor type 2 (SSTR2) was found in some but not all patients with HCC

5

Sorafenib

Raf, VEGFR2, VEGFR3, PDGFRs

Inhibits tumor angiogenesis by blocking the activation of the tyrosine kinase receptors

Hypertension, diarrhea, proteinuria, skin-related toxicities, an increased risk for thromboembolism and bleeding events

6

Sunitinib

PDGFRs, KIT, RET, and FLT3

Inhibits tumor angiogenesis by blocking the activation of the tyrosine kinase receptors

Modest clinical efficacy

2009 [94]

7

Bevacizumab

VEGF

Blocks VEGF binding to its receptor

Low rate of response, gastrointestinal bleeding, including variceal bleeding

2009 [95]

8

Erlotinib, gefitinib and cetuximab

EGFR

Tyrosine kinase inhibitor, acts on the epidermal growth factor receptor (EGFR)

Minimum effect

2009 [96]

9

Doxorubicin

DNA topoisomerase II inhibitors

Induce histone eviction

The use of single agents in therapy is practically non-existent currently because of its erratic and low response

2013 [97]

10

Cisplatin

DNA

Cross link with purine causes DNA damage and ultimately induces apoptosis

Allergic reactions, gastrointestinal disorders, decrease immunity to infections, kidney problems, hemorrhage

2014 [98]

11

Oxaliplatin

DNA

Binds to guanine and cytosine leading to cross-linking of DNA

Increase autophagy level results in a tumor resistance

Reduction of DYRK2 promotes cell proliferation, and resistance to Oxaliplatin

2016 [99]
Various mechanism of chemoresistance in HCC cells
Conclusion
We believe that drug companies are currently fighting a losing battle against advanced HCC tumors. The various chemotherapeutic drugs currently in use against HCC have shown strong chemoresistance providing a massive setback to therapeutic regimens targeting HCC. Also, liver cancer patients generally have a poor tolerance to chemotherapy due to liver dysfunction. Characterization of molecular strategies underlying chemoresistance is hence essentially needed to identify appropriate targets to effectively sensitize these resistant cells. However, designing such strategies are by no means easy. Till date development of targeted drugs has not yet improved the outcome much significantly. This might be attributed to various factors extending from apoptosis evasion, stem cell activation, enhanced DNA repair, topoisomerase activation, lack of proper targets for immunotherapy to dynamic changes in TME and others, as discussed in this literature (Fig. 
2
). These factors either independently or in unison contribute to emergence of refractoriness to drug therapy in HCC. To compound the scenario, therapeutic effectiveness may also vary depending on patient properties and at various stages of tumor development. Hence, formulating a unified molecular targeted therapeutic strategy for all HCC patients is unlikely to succeed. Therefore, future therapies targeting HCC should be based on combination of context and stage dependent molecular targeted drugs against resistance with or without conventional drugs to successfully treat HCC.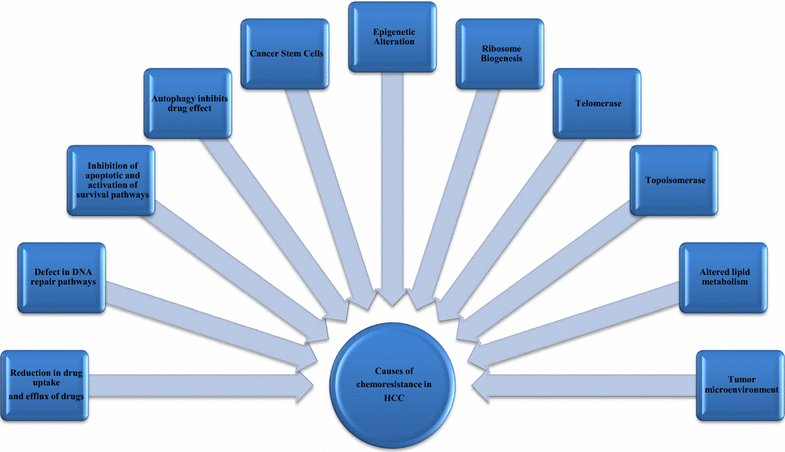 Notes
Authors' contributions
KL, RC and SM wrote the review. SM and RC conceptualized the content and did corrections as well. All authors read and approved the final manuscript.
Acknowledgements
The authors express their thanks to the funding agency and Birla Institute of Technology and Science, Pilani for all the support and assistance required for the work.
Competing interests
The authors declare that they have no competing interests.
Availability of data and materials
Not applicable.
Consent for publication
Our paper is a review of the literature and we do not need an informed consent.
Ethics approval and consent to participate
This review article does not contain any research with human participants or animals performed by any of the authors. Our paper is a review of the literature and we do not need an informed consent.
Funding
DST-SERB Young Scientist award (SB/YS/LS-97/2013) of Dr. Sudeshna Mukherjee.
Publisher's Note
Springer Nature remains neutral with regard to jurisdictional claims in published maps and institutional affiliations.
Copyright information
© The Author(s) 2018
Open AccessThis article is distributed under the terms of the Creative Commons Attribution 4.0 International License (http://creativecommons.org/licenses/by/4.0/), which permits unrestricted use, distribution, and reproduction in any medium, provided you give appropriate credit to the original author(s) and the source, provide a link to the Creative Commons license, and indicate if changes were made. The Creative Commons Public Domain Dedication waiver (http://creativecommons.org/publicdomain/zero/1.0/) applies to the data made available in this article, unless otherwise stated.