Perceptions of residents, medical and nursing students about Interprofessional education: a systematic review of the quantitative and qualitative literature
Open Access
Research article
Part of the following topical collections:
Abstract
Background
To identify facilitators and barriers that residents, medical and nursing students perceive in their Interprofessional Education (IPE) in a clinical setting with other healthcare students.
Methods
A systematic review was carried out to identify the perceptions of medical students, residents and nursing students regarding IPE in a clinical setting. PubMed, CINAHL, ERIC and PsycInfo were searched, using keywords and MeSH terms from each database's inception published prior to June 2014. Interprofessional education involving nursing and medical students and/or residents in IPE were selected by the first author. Two authors independently assessed studies for inclusion or exclusion and extracted the data.
Results
Sixty-five eligible papers (27 quantitative, 16 qualitative and 22 mixed methods) were identified and synthesized using narrative synthesis. Perceptions and attitudes of residents and students could be categorized into 'Readiness for IPE', 'Barriers to IPE' and 'Facilitators of IPE'. Within each category they work at three levels: individual, process/curricular and cultural/organizational. Readiness for IPE at individual level is higher in females, irrespective of prior healthcare experience. At process level readiness for IPE fluctuates during medical school, at cultural level collaboration is jeopardized when groups interact poorly. Examples of IPE-barriers are at individual level feeling intimidated by doctors, at process level lack of formal assessment and at cultural level exclusion of medical students from interaction by nurses. Examples of IPE-facilitators are at individual level affective crises and patient care crises situations that create feelings of urgency, at process level small group learning activities in an authentic context and at cultural level getting acquainted informally.
These results are related to a model for learning and teaching, to illustrate the implications for the design of IPE.
Conclusions
Most of the uncovered barriers are at the cultural level and most of the facilitators are at the process level. Factors at the individual level need more research.
Keywords
Facilitators 
Barriers 
Readiness for IPE 
Affective component of learning process 
Background
Interprofessional Education (IPE) has been defined as situations "where two or more professions learn with, from and about each other to improve collaboration and the quality of care" [1]. IPE is considered important to prepare students for successful Interprofessional Collaboration, which is critical for patient safety and quality of care [2, 3]. Numerous IPE initiatives are launched every year all across the globe, but till now there is no generalizable theory which can explain how, why or when learning through IPE is successful [4, 5].
Over the years some theories have been proposed to understand IPE [6]. The Intergroup Contact Theory (ICT) which concerns the 'learning with and about' out-groups, states that learners need to overcome prejudice, stereotyped views and discrimination of the group they do not belong to [7]. The theory of social capital suggests that creating sociable relationships between students of different professions during IPE activities leads to trust in other professional groups during practice [6]. The D'Amour model of interprofessionality proposes how IPE initiatives and interprofessional practice are connected and includes the relationships between sociological factors that are involved in IPE and IPC [3]. Still there is no consensus on which theory prevails.
Along with sociological aspects covered in the abovementioned theories, psychological components of learning, like perceptions and processes for learning, can impact the effect of IPE, but have not been investigated. The affective component of learning (motivation and emotion) has been largely neglected in curricular changes in medical education and attention has been mainly directed towards the cognitive and metacognitive components [8].
Perceptions and attitudes are affective factors that contribute to the behavior of students; more specifically strong attitudes guide behavior and weak attitudes follow behavior [9]. When students are expected to exhibit interprofessional collaboration (IPC) in real or simulated health care situations, their attitudes should be strong enough to guide their behavior. For IPE, this implies that when IPC is the learning goal for our students, we need to ascertain the strength of their attitudes rather than (just) observing their behavior.
We were interested in exploring to what extent IPE interventions investigate and integrate the affective component of learning in their designs, so we reviewed the literature to address the research question "What are the perceptions and attitudes of nursing and medical students and residents towards Interprofessional education?"
Results
The literature search retrieved 7957 articles, of which 65 were included in the review (see PRISMA Flow Diagram - Fig.
1
) after removing the duplicates and applying the inclusion and exclusion criteria.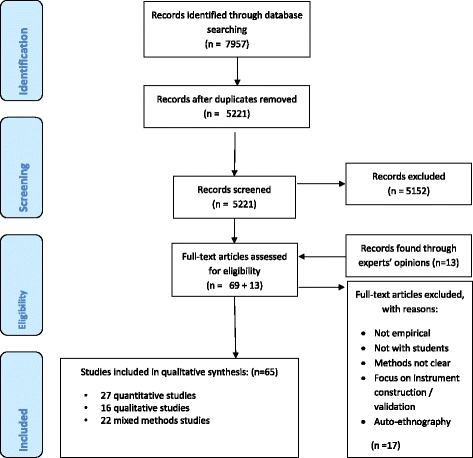 The categories we distinguished in the data were Readiness for IPE, Facilitators of IPE and Barriers to IPE, which were at 3 levels – cultural/ organizational, process/curricular and individual. We will present the results at each of these levels in the abovementioned three categories in this section.
At the cultural or organizational level the factors originate from and are present in the immediate surroundings, are beyond the individual and the curriculum and may be overt or covert. The process or curricular level entails the factors in the curriculum design and delivery. The individual level entails the factors residing within an individual. Readiness for IPE implies the degree of willingness for team-working and team-learning, the significance students give to acquiring their professional identity, the power of their professional culture and the view students hold of professional boundaries or overlap in roles and responsibilities [15]. Facilitators of IPE mean factors that (to some extent) led to achievement of goals and satisfaction of students with the IPE, whereas barriers to IPE mean factors because of which goals were not attained and students were not satisfied. In this section we first report our findings as a combination of a category and a level. We then report a synthesis of the findings across categories and levels.
We present an overview of the number of studies at each level that report readiness for, facilitator of or barrier to IPE in Table
1
. Some studies reported both facilitators and barriers, so the total of all studies in Table
1
works out to be more than 65. In the paragraphs following this, the results per category are described at each level in the same sequence as in Tables
2
,
3
, and
4
. The subcategories we distinguish, are in italics.
Cultural level
Readiness for IPE at cultural level
Lack of interactions
The low quantity and poor quality of the interactions between medical students and nurses jeopardized their collaboration. Medical students scored high on interpersonal sensitivity (feelings of personal inadequacy and inferiority) compared to nurses. Nurses scored high on hostile thoughts, feelings and actions compared to medical students [16].
Facilitators at cultural level
Getting acquainted
IPE was facilitated when there was time for different professional groups to meet informally, [17] to get to know members of other professions [18, 19] and by being immersed in an IP-team [20].
Work experience in healthcare practice
Positive attitudes towards IPC and perceptions of IPC were maintained and even strengthened once students practiced as qualified professionals [21].
Barriers at cultural level
Process or curricular level
Readiness for IPE at process level
Readiness for IPE fluctuates
Readiness for IPE was high at the beginning and decreased from year 1 to the end of the education [29]. A small but significant positive relationship between professional identity and Readiness for IPE was maintained over time [30]. Medical students scored lower on readiness for IPE than nursing students, but higher on the perceived need for collaboration and the actual collaboration [31]. The use of simulation or standardized patients in IPE had a positive effect on readiness for IPE [32].
Facilitators at process level
Barriers at process level
Combination of professions specific and IPE learning objectives
The combination of profession-specific and IPL objectives to be achieved in the same placement created confusion and tension about what to focus on [17, 22, 23, 24, 30, 60].
Teacher who just transmits knowledge
Students indicated that a teacher just transmitting knowledge was counterproductive for their IPE intervention [44].
Lack of assessment
Medical students were reluctant to value learning that is not discipline-specific and particularly if it is not assessed [23]. Concerns of 2nd year medical students were adoption of inappropriate roles, difficulties in scheduling of the intervention and that others would encroach on their professional tasks (e.g. prescribing) [61].
Overall at the process level, readiness for IPE fluctuated during the years of training. Active participation and more self-guided learning of students in the IPE activity led to more satisfaction and improvement of the perceptions of other professions. In one study [43] medical students felt they could achieve the profession specific goals in combination with the IPE goals on the Interprofessional Training Unit (ITU), whereas the findings in 6 papers [17, 22, 23, 24, 30, 60] indicate that medical students experienced confusion and stress, but this could well have to do with the philosophy which the Danish ITU held that "emphasis is put on training professional competency because this is considered necessary for Interprofessional collaboration".
Individual level
Readiness for IPE at individual level
Facilitators at individual level
Availability and receptiveness
Nurses and residents indicated that working together is facilitated by physical proximity and conveyance of trust, respect and interest in collaboration [66].
Relatedness within and outside own group
Relatedness is the basic psychological need to perceive that one belongs to a group, associated with open interaction. In health care teams, medical students were perceived to interact the best with residents and the worst with nurses, scoring higher on feelings of inferiority and personal inadequacy than nurses. Conversely, nurses interacted the best with other nurses and the worst with medical students, displaying more hostile feelings, thoughts and actions than medical students [16]. In another study, these feelings could be overcome when situations created a feeling of urgency, through patient deterioration or a personal crisis of the individual [67].
Barriers at individual level
Unprofessional behavior
Arrogant and aggressive behavior were barriers to IPE, sometimes resulting in nurses who, when they disagreed with the order, went over the residents' head to get orders changed. In such cases, nurses felt that they were protecting the patient [66].
Emphasizing professional knowledge at the cost of teamwork skills
In an Interprofessional Training Unit medical students tended to focus on professional knowledge and on learning profession specific skills rather than team work skills [40]. Nurses or nursing students felt intimidated by some doctors [53].
Overall at the individual level the requirements for learning their own professional skills and existing stereotyped views of the students, can stand in their way of IP learning.
Findings across categories and levels
Discussion
In this review, facilitators of and barriers to Interprofessional learning were found on three levels: cultural, process and individual. Most studies in our review have explored interventions at the process level and have mainly described the facilitators, as can be seen in Table 1. At the cultural level, experience in health care practice can work as a facilitator as well as a barrier. Barriers at the process level and at the individual level seem to be underreported. Findings at the individual level reveal higher readiness for IPE in females, in students below 25 years of age, in students who think positively about themselves in their own profession and have prior experience in health care. At the individual level, facilitators of IPE are conveyance of respect, trust and role clarity among professions. Emphasis on professional knowledge rather than team work skills or arrogance are barriers to IPE. These findings together substantiate the role of affective factors in learning for IPC.
This review focused on the affective domain which we believe is a prerequisite for the long-term success of IPE, meaning that it leads to IPC. Although most published IPE initiatives have shown changes in self-reported perceptions or attitudes as outcomes of learning, the mechanisms of the changes have remained largely unexplained, because the evaluation was at a level that is not suited to give an insight into these mechanisms.
Conclusions
In this literature review we found that facilitators of IPE at the process level are reported the most and barriers are relatively underreported. Investigating the facilitators and barriers at the individual level and facilitators at cultural level needs attention. We propose that integration of the affective domain in planning, delivering and assessing IPE could be a useful learning oriented approach of teaching interprofessional skills and attitudes.
Notes
Acknowledgements
Not applicable.
Availability of data and materials
All data generated and analysed during this study are included in this published article and its supplementary information file.
Competing interests
The authors declare that they have no competing interests.
Authors'contribution
CLFV, GC and RAK contributed to designing the study. CLFV and JCFK conducted the search and refined it. CLFV and RAK analysed all papers. All authors contributed to the interpretation of the results. All authors contributed important intellectual content to the paper and approved the final version.
Consent for publication
Not applicable.
Ethics approval and consent to participate
Not applicable
Publisher's Note
Springer Nature remains neutral with regard to jurisdictional claims in published maps and institutional affiliations.
Copyright information
© The Author(s). 2017
Open AccessThis article is distributed under the terms of the Creative Commons Attribution 4.0 International License (http://creativecommons.org/licenses/by/4.0/), which permits unrestricted use, distribution, and reproduction in any medium, provided you give appropriate credit to the original author(s) and the source, provide a link to the Creative Commons license, and indicate if changes were made. The Creative Commons Public Domain Dedication waiver (http://creativecommons.org/publicdomain/zero/1.0/) applies to the data made available in this article, unless otherwise stated.