Investigating the patterns and determinants of seasonal variation in vitamin D status in Australian adults: the Seasonal D Cohort Study
Open Access
Study protocol
Part of the following topical collections:
Abstract
Background
Vitamin D status generally varies seasonally with changing solar UVB radiation, time in the sun, amount of skin exposed, and, possibly, diet. The Seasonal D Study was designed to quantify the amplitude and phase of seasonal variation in the serum concentration of 25-hydroxyvitamin D, (25OH)D)) and identify the determinants of the amplitude and phase and those of inter-individual variability in seasonal pattern.
Methods
The Seasonal D Study collected data 2-monthly for 12 months, including demographics, personal sun exposure using a diary and polysulphone dosimeters over 7 days, and blood for serum 25(OH)D concentration. The study recruited 333 adults aged 18–79 years living in Canberra (35°S, n = 168) and Brisbane (27°South, n = 165), Australia.
Discussion
We report the study design and cohort description for the Seasonal D Study. The study has collected a wealth of data to examine inter- and intra-individual seasonal variation in vitamin D status and serum 25(OH)D levels in Australian adults.
Keywords
Vitamin D 
Cohort 
Season 
Australia 
Adult 
Determinants 
Abbreviations
1,25(OH)D3

1,25-dihydroxyvitamin D3

25(OH)D

25-hydroxyvitamin D

IU

International units

QUT

Queensland University of Technology

SED

Standard Erythemal Dose

SMS

Short message service

UV

Ultraviolet

UVB

Ultraviolet radiation in the UVB wavelengths (280 nm to 315 nm)
Background
Vitamin D is a fat soluble steroid pre-hormone that is produced endogenously following exposure of the skin to solar ultraviolet (UV) radiation. In many regions of the world, including Australia, this endogenous synthesis is the major source of vitamin D, with only a small proportion deriving from exogenous sources such as diet, fortified foods and supplements [1].
The amount of UV radiation that is present at Earth's surface, and the wavelength composition, varies according to distance from the Equator (latitude), the hemisphere [
2
], the time of day, and the time of year. That is, UV irradiance is higher closer to the Equator (lower latitude), at solar noon, and in mid-summer when the sun is most directly overhead. In addition, seasonal variation in UV radiation has a greater amplitude with increasing latitude (Fig. 
1
).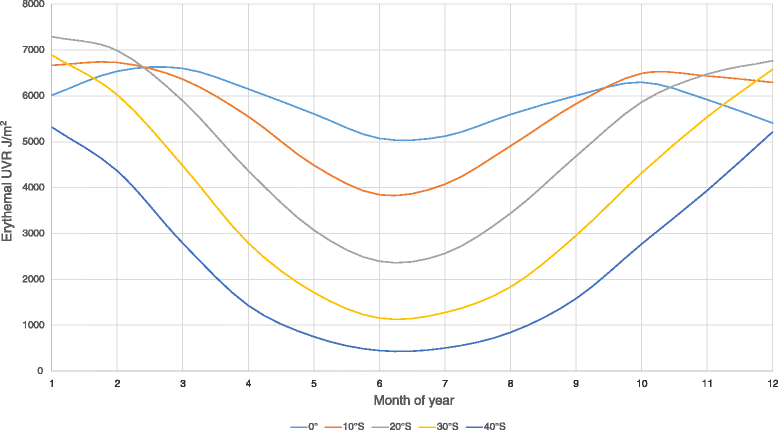 It is generally accepted that only shorter wavelength UVB radiation initiates vitamin D synthesis [3]. UVB photons are absorbed by the vitamin D precursor, 7-dehydrocholesterol (7-DHC), which is present in the lipid bilayer of the plasma membrane of epidermal keratinocytes and dermal fibroblasts [4]. This results in chemical rearrangement of 7-DHC and the formation of pre-vitamin D3, which is rapidly (within 2 h) converted to vitamin D3. The latter is released from the plasma membrane into the extracellular space, where is it adsorbed by vitamin D binding protein in the dermal capillary bed and introduced into the circulation. Vitamin D3 is metabolised in the liver to 25-hydroxyvitamin D [25(OH)D, the usual measure of vitamin D status], and then in the kidney (or in target tissues) to its biologically active form, 1,25-dihydroxyvitamin D3 (1,25(OH)D3) [4].
Based on the seasonal variation in ambient solar UVB radiation, seasonal variation in 25(OH)D levels, of greater amplitude at higher latitudes, is expected. But there are moderating effects, particularly the amount of time spent outdoors, clothing cover, and use of sun protection. For example, in very hot locations (typically low latitude), people may spend more time indoors during summer, while in cool locations, the warmer weather of summer leads people to spend more time outdoors [5, 6]. In addition, more skin is typically covered by clothing in the winter and this is particularly apparent at higher latitudes. In cross-sectional studies where participants have had a single blood draw that occurs at different times during the year for different participants, there is a clear seasonal pattern to the mean 25(OH)D level [1, 7]. Only a few studies have examined an individual's 25(OH)D levels across more than one time period. In these studies, although winter and summer 25(OH)D levels were correlated (e.g. r = 0.46 in Japanese women [8]) or minimum and maximum 25(OH)D levels were (r = 0.68 in Swedish blood donors [9]), there was substantial inter-individual variation in the seasonal pattern. A similar study of 60 healthy free-living adults from southeast Queensland, Australia aged 18–87 years (70 % female) showed that 25(OH)D level increased in summer for most individuals; however, for some individuals, 25(OH)D levels decreased in summer (correlation of winter and summer 25(OH)D levels r = 0.38) [10]. A key missing component of the vitamin D and health story, recently identified from a review of studies in the United Kingdom [11], is to understand the determinants of seasonal variation in vitamin D status. Identifying what determines whether and how quickly people become vitamin D depleted during winter, and what drives the differences in the amplitude of seasonal variation between individuals, is critical to advancing knowledge in this area.
There are important reasons to better understand inter- and intra-individual seasonal changes in 25(OH)D levels. First, observational studies typically test the association between the result of a single 25(OH)D test against disease risk, statistically "adjusting" for the seasonal effect based on the mean seasonal variation in 25(OH)D levels of the whole sample. The aim is to achieve measures of 25(OH)D level that are as though all participants had their blood taken on the same day. In longitudinal studies, more than one previous blood sample may be used, but in comparing either intra-individually or inter-individually, adjustment for season is usually required, as logistic considerations result in samples being taken at different times of the year. However, if there is poor correlation between winter and summer 25(OH)D, as has been previously observed [10], then an adjustment based on an individual maintaining their relationship to the mean, may not be valid. Failure to account adequately for inter-individual variation in seasonal pattern may result in spurious findings. Second, the degree of seasonal variation in 25(OH)D level itself may be a determinant of health. Increased disease risks at higher latitude may not be directly related to 25(OH)D level per se, but to the duration that a person remains vitamin D deficient in any given year, following winter (when ambient UV-B is at its lowest and clothing coverage is maximal). This possibility is difficult to investigate. Finally, understanding the amplitude and period of seasonal variation and their determinants may allow prediction of who is at risk of wintertime vitamin D deficiency based on demographic factors and 25(OH)D level measured in a different season. For example, the end of summer 25(OH)D level may allow prediction of the need for supplementation to avoid winter/early spring deficiency.
Here we report the study design and cohort description for the Seasonal D Study. This is a two-centre cohort study in which participants are tracked for 12 months, in order to assess and quantify the contribution of phenotypic, behavioural and environmental factors to inter- and intra-individual seasonal variation in vitamin D status. The novelty of the present study lies in the regular objective measurement of sun exposure and skin phototype, with two-monthly standardised measurements across two locations within Australia with very different climates.
Methods
The Seasonal D Study was conducted in Canberra (35.3°S) which has a temperate climate with a marked summer/winter difference in temperature and ambient UV radiation; and Brisbane (27.5°S) which has a sub-tropical climate that remains relatively warm and humid year-round (Table 
1
).
Table 1
Location, Temperature, Rainfall and UV Radiation for 2013–4 in the two Seasonal D Study Regions, Canberra and Brisbane, Australia (Source: Australian Bureau of Meteorology www.bom.gov.au, and Australian Radiation and Nuclear Safety Agency, www.arpansa.gov.au)
 

Latitude

Longitude

Average noon clear sky UV Index

Average Temperature °C

Average Rainfall (mm)

 
 
 

Summer (Jan)

Winter (July)

Summer (Jan)

Winter (July)

Summer (Jan)

Winter (July)

Brisbane

27.5 °S

153°E

10.7

3.8

30.6

22.1

212.7

26.6

Canberra

35.3°E

149°E

11.5

2.2

31.9

12.8

38.7

29.5
Study progress
The Seasonal D Study has recruited a total of 333 adult participants aged 18 to 79 years. This includes 168 participants from the Canberra study region and 165 participants from the Brisbane study region. Of 2124 sun diaries completed, 87 % were completed in full for the seven days (n = 1848); 8.5 % had 6 days complete (n = 180), and 4.5 % of diaries had five or fewer days complete (n = 96). Complete data for seven sun diaries is available for 255 participants.
Discussion
How to achieve and maintain vitamin D sufficiency, however it is defined, is a highly topical and contentious issue in many countries. Most studies investigating vitamin D status have been cross-sectional surveys that examine the prevalence of vitamin D insufficiency and deficiency, or the determinants of vitamin D status at a single time point. Seasonal variation is commonly reported, but relates to the mean 25(OH)D level of the study group who are sampled at different times of the year [1, 7].
Data from the Seasonal D Study will contribute to understanding how 25(OH)D levels vary across the year in locations with very different climates, as well as the determinants of intra-individual variation and inter-individual differences in seasonal patterns of 25(OH)D depletion/repletion. We will characterise seasonal impacts on a range of lifestyle factors, including diet, indoor/outdoor activities, physical activity, clothing cover, and climatic factors (principally temperature and ambient UV radiation), and quantify their effects on 25(OH)D levels.
The Seasonal D Study was purpose-designed to analyse seasonal variation in 25(OH)D concentration and vitamin D status and their determinants. Strengths include that the study included two locations with different climates to provide considerable variability in ambient UV radiation and other seasonally-varying factors. All data collection tools and methods were standardised across the two centres and research officers were trained to use a Standard Operating Procedure. The assays of 25(OH)D concentration were completed in a single laboratory in a batched analysis at the completion of the study, with good intra- and inter-batch agreement. One limitation of the study is that cohort is older (median age 49 years) and women are over represented, relative to the Australian population. These factors limit the generalisability of the findings. Furthermore the study is set solely in Australia, a country with high levels of ambient UV radiation. While this provides the potential for high variability in levels of exposure to UV radiation (ranging from individuals who work indoors and have indoor pastimes to the outdoor worker in a high ambient UV setting), it may further limit the generalisablity of the results to other populations in less sunny locations.
Current recommendations specify maintaining circulating 25(OH)D levels above 50 nmol/L throughout the year, yet are based on studies in which 25(OH)D concentration is measured at a single time point, without knowledge of, or consideration for, what may be a natural cyclical pattern of variability in 25(OH)D level by season. The Seasonal D Study will describe the typical rhythm of vitamin D production over the year for adults living in different climatic conditions. We will better understand the profile of Australian adults who are vitamin D deficient/sufficient all year round and understand which characteristics of individuals contribute to greater (or lesser) duration of time replete (above 50 nmol/L).
Although many studies, in various scientific fields, have quantified seasonality (usually using "cosinor analysis"), few have explicitly investigated its determinants using statistical models. Those few that do have limited their explorations to determinants of the magnitude of seasonal variation, as summarised through statistics such as the Gini coefficient. We aim to model the detailed characteristics of seasonal patterns, and determine how many data points per person are needed to accurately estimate an individual's seasonal vitamin D profile, so that the profile itself, not just a single 25(OH)D level, can be tested in relation to disease risks.
Here we have provided the rationale, design, and methods for the Seasonal D Study which has followed 333 Australian adults over 12 months, with data collection on 7 occasions separated by approximately 2 months, providing detailed measurement of personal sun exposure and sun protection in relation to measured vitamin D status. Future work using these data will be to better understand the determinants of seasonal variation across the whole cohort, inter-individual variability within the cohort, and define intra-individual trajectories to support evidence-based sun protection and vitamin D maintenance recommendations.
Notes
Acknowledgements
The authors would like to acknowledge the contributions of the research officers who assisted with data collection for the Seasonal D Study and the study participants.
Funding
The Seasonal D Study was funded by the National Health and Medical Research Council (Project Grant #1023987). The funding body had no role in the design of the study, data collection, analysis and interpretation of the data or in writing the manuscript.
Availability of data and materials
Not applicable at this stage.
Authors' contributions
RML, MGK, and KD designed the study, with assistance from SLH and IvDM; RML, MGK and AB undertook data collection; LK analysed the data; RML wrote the initial draft of the paper. All authors contributed to refining drafts and read and approved the final manuscript.
Competing interests
The authors declare that they have no competing interests.
Consent for publication
Not applicable.
Ethics approval and consent to participate
The Seasonal D Study was approved by the ethics committees of the Australian National University (2012/004) and Queensland University of Technology (1100001457). All participants signed written informed consent prior to participation in the study.
Copyright information
© The Author(s). 2016
Open AccessThis article is distributed under the terms of the Creative Commons Attribution 4.0 International License (http://creativecommons.org/licenses/by/4.0/), which permits unrestricted use, distribution, and reproduction in any medium, provided you give appropriate credit to the original author(s) and the source, provide a link to the Creative Commons license, and indicate if changes were made. The Creative Commons Public Domain Dedication waiver (http://creativecommons.org/publicdomain/zero/1.0/) applies to the data made available in this article, unless otherwise stated.