Abstract
The presence of soil seed bank of broomrape weed (Orobanche crenata Forsk.) causes a severe biotic stress towards faba bean (Vicia faba L.) preventing its sustainable cultivation. Thus, the current work aimed to estimate the relative efficiency of biochar and compost as untraditional means of broomrape weed control at farm level. The current study aims to investigate the use of biochar or compost as a spot placement compared to glyphosate-isopropylammonium herbicide and unweeded treatment for combating broomrape weed in two faba bean cultivars (Misr–3 and Sakha–1). The experimental design was a strip-plot based on completely randomized block arrangement with six replications. Significant reduction in number and weight of broomrape shoots plot−1 and number of infected faba bean plants plot−1 was noticed with Misr–3 plants treated by glyphosate-isopropylammonium, compost, or biochar. Planting of Misr–3 cultivar with application of biochar or glyphosate-isopropylammonium as well as Sakha–1 with application of glyphosate-isopropylammonium were the remarkable combinations for increasing faba bean seed yield ha−1. Regression relationships proved that broomrape shoots weight plot−1 was the most negatively correlated parameter with faba bean seed yield, since its R2 (72.9%) value was higher than that of broomrape shoots number plot−1 (58.5%) and number of broomrape-infected plants plot−1 (44.7%). Planting Misr–3 cultivar plus treating soil by biochar or compost (spot placement) represents a promising practice for sustaining faba bean productivity in broomrape-infested lands.
Access options
Buy single article
Instant access to the full article PDF.
US$ 39.95
Tax calculation will be finalised during checkout.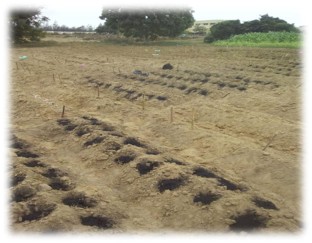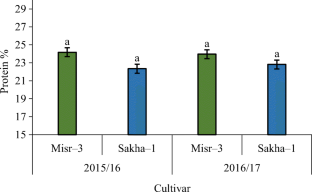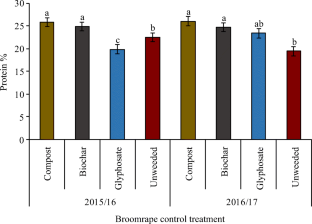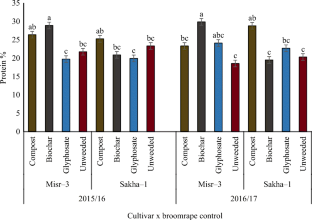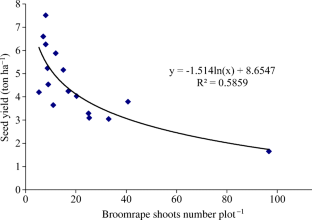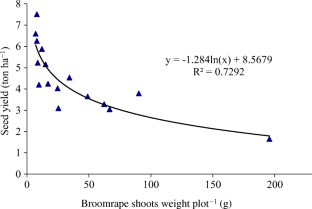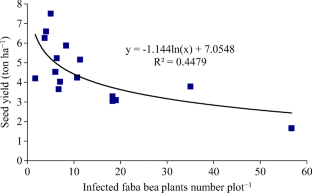 References
Abbes Z, Kharrat M, Delavault P, Chaïbi W, Simier P (2009) Osmoregulation and nutritional relationships between Orobanche foetida and faba bean. Plant Signal Behav 4:336–338 10.4161%2Fpsb.4.4.8192

Abbes Z, Bouallegue A, Trabelsi I, Trabelsi N, Taamalli A, Amri M, Mhadhbi H, Kharrat M (2020) Investigation of some biochemical mechanisms involved in the resistance of faba bean (Vicia faba L.) varieties to Orobanche spp. Plant Prot Sci 56:317-328 https://doi.org/10.17221/103/2019-PPS

Abu–Irmaileh BE, Abu–Rayyan AM (2006) Pre–plant black plastic mulching and manure composting for controlling hemp broomrape (Orobanche ramosa) in tomato. Jord J Agric Sci 2:54–63

Abu–Rayyan AM, Abu–Irmaileh BE (2004) Efficiency of fermenting poultry manure for weed control in organically grown eggplants (Solanum melongena L.). Arab J Plant Prot 22:35–40

Adekiya AO, Agbede TM, Aboyeji CM, Dunsin O, Simeon VT (2019) Biochar and poultry manure effects on soil properties and radish (Raphanus sativus L.) yield. Biol Agric Hortic 35:33–45. https://doi.org/10.1080/01448765.2018.1500306

Agegnehu G, Bass AM, Nelson PN, Bird MI (2016) Benefits of biochar, compost and biochar–compost for soil quality, maize yield and greenhouse gas emissions in a tropical agricultural soil. Sci Total Environ 543:295–306. https://doi.org/10.1016/j.scitotenv.2015.11.054

Amri M, Trabelsi I, Abbes Z, Kharrat M (2019) Release of a new faba bean variety "Chourouk" resistant to the parasitic plants Orobanche foetida Poir, and Orobanche crenata Forsk, in Tunisia. Int J Agric Biol 23:499–505 https://doi.org/10.17957/IJAB/15.0921

AOAC (2012) In: Hormitz W (ed) Association of Official Agriculture Chemists, Official methods of analysis 19th edn, Washington, DC, USA

Barker AV, Bryson GM (2002) Bioremediation of heavy metals and organic toxicants by composting. Sci World J 2:407–420. https://doi.org/10.1100/tsw.2002.91

Bolan NS, Hedley MJ (2003) Role of carbon, nitrogen and sulfur cycles in soil acidification, Rengel, 2., (Ed.) edn. Handbook of Soil Acidity. Marcel Dekker AG, New York, pp 29–56

Bouwmeester HJ, Matusova R, Zhongkui S, Beale MH (2003) Secondary metabolite signaling in host–parasitic plant interactions. Curr Opin Plant Biol 6:358–364. https://doi.org/10.1016/s1369-5266(03)00065-7

Butler TJ, Han KJ, Muir JP, Weindorf DC, Lastly L (2008) Dairy manure compost effects on corn silage production and soil properties. Agron J 100:1541-1545. https://doi.org/10.2134/agronj2008.0033

Casella G (2008) Statistical Design, 1st edn. Springer, Gainesville, FL 32611–545, USA

Charles A, Rochette P, Whalen JK, Angers DA, Chantigny MH, Bertrand N (2017) Global nitrous oxide emission factors from agricultural soils after addition of organic amendments: a meta–analysis. Agric Ecosyst Environ 236:88–98. https://doi.org/10.1016/j.agee.2016.11.021

Crepona K, Marget P, Peyronnet C, Carrouea B, Arese P, Duc G (2010) Nutritional value of faba bean (Vicia faba L.) seeds for feed and food. Field Crop Res 115:329–339. https://doi.org/10.1016/j.fcr.2009.09.016

DeLuca TH, MacKenzie MD, Gundale MJ, Holben WE (2006) Wildfire–produced charcoal directly influences nitrogen cycling in ponderosa pine forests. Soil Sci Soc Amer J 70:448–453. https://doi.org/10.2136/sssaj2005.0096

Doan TT, Henry–Des–Tureaux T, Rumpel C, Janeau JL, Jouquet P (2015) Impact of compost, vermicompost and biochar on soil fertility, maize yield and soil erosion in northern Vietnam: a three year mesocosm experiment. Sci Total Environ 514:147–154. https://doi.org/10.1016/j.scitotenv.2015.02.005

Dor E, Alperin B, Wininger S, Ben–Dor B, Somvanshi VS, Koltai H, Kapulnik Y, Hershenhorn J (2010) Characterization of a novel tomato mutant resistant to Orobanche and Phelipanche spp. weedy parasites. Euphytica 171:371–380. https://doi.org/10.1007/s10681-009-0041-2

Draper NR, Smith H (1998) Applied regression analysis, 3rd edn. John Wiley & Sons, New York

El–Halmouch Y, Benharrat H, Thalouarn P (2006) Effect of root exudates from different tomato genotypes on broomrape (O. aegyptiaca) seed germination and tubercle development. Crop Prot 25:501-507. https://doi.org/10.1016/j.cropro.2005.08.005

El–Halmouch Y, Mehesen A, El–Shanshoury AR (2013) The potential of cell–free cultures of Rhizobium leguminosarum, Azotobacter chroococcum and compost tea as biocontrol agents for faba bean broomrape (Orobanche crenata, Forsk.). J Plant Pathol Microb 4:205. https://doi.org/10.4172/2157-7471.1000205

Ennami M, Mbasani–mansi J, Briache FZ, Oussible N, Gaboun F, Ghaouti L, Belqadi L, Ghanem ME, Aberkani K, Westwood J, Mentag R (2020) Growth–defense tradeoffs and source–sink relationship during both faba bean and lentil interactions with Orobanche crenata Forsk. Crop Prot 127:104924. https://doi.org/10.1016/j.cropro.2019.104924

Fernández–Aparicio M, Kisugi T, Xie X, Rubiales D, Yoneyama K (2014) Low strigolactone root exudation: a novel mechanism of broomrape (Orobanche and Phelipanche spp.) resistance available for faba bean breeding. J Agric Food Chem 62:7063–7071. https://doi.org/10.1021/jf5027235

Fernández–Aparicio M, Flores F, Rubiales D (2016) The effect of Orobanche crenata infection severity in faba bean, field pea and grass pea productivity. Front Plant Sci 7:1049. https://doi.org/10.3389/fpls.2016.01409

Glaser B, Lehmann J, Zech W (2002) Ameliorating physical and chemical properties of highly weathered soils in the tropics with charcoal–a review. Biol Fertil Soils 35:219–230. https://doi.org/10.1007/s00374-002-0466-4

Gomes MP, Smedbol E, Chalifour A, Hénault-Ethier L, Labrecque M, Lepage L, Lucotte M, Juneau P (2014) Alteration of plant physiology by glyphosate and its by–product aminomethylphosphonic acid: an overview. J Exp Bot 65:4691–4703. https://doi.org/10.1093/jxb/eru269

Gosling P, Hodge A, Goodlass G, Bending GD (2006) Arbuscular mycorrhizal fungi and organic farming. Agric Ecosyst Environ 113:17–35. https://doi.org/10.1016/j.agee.2005.09.009

Inckel M, Smet PD, Tersmette T, Veldkamp T (2005) The preparation and use of compost. Agromisa Foundation, Wageningen. Digigrafi, Wageningen, the Netherland.P:22–24

Jensen ES, Peoples MB, HauggaardNielsen H (2010) Faba bean in cropping systems. Field Crop Res 115:203–216. https://doi.org/10.1016/j.fcr.2009.10.008

Jha P, Biswas AK, Lakaria BL, Subba Rao A (2010) Biochar in agriculture–prospects and related implications. Curr Sci 99:1218–1225 http://www.ias.ac.in/currsci

Joel DM, Hershenhorn J, Eizenberg H, Aly R, Ejeta G, Rich PJ, Ransom JK, Sauerborn J, Rubiales D (2007) Biology and management of weedy root parasites. Hortic Rev 33:267–349. https://doi.org/10.1002/9780470168011.ch4

Kasozi GN, Zimmerman AR, Nkedi–Kizza P, Gao B (2010) Catechol and humic acid sorption onto a range of laboratory–produced black carbons (biochars). Environ Sci Technol 44:6189–6195. https://doi.org/10.1021/es1014423

Khazaei H, Subedi M, Nickerson M, Martínez–Villaluenga C, Frias J, Vandenberg A (2019) Seed protein of lentils: current status, progress, and food applications. Foods 8:391. https://doi.org/10.3390/foods8090391

Laird DA, Fleming P, Davis DD, Horton R, Wang B, Karlen DL (2010) Impact of biochar amendments on the quality of a typical Midwestern agricultural soil. Geoderma 158:443–449 10.1016

Lehmann J, Joseph S (2009) Biochar for environmental management. Science and technology, Earthscan, London, EC1N 8XA, UK, pp 67–102

Lehmann J, Rondon M (2006) Bio char soil management on highly weathered soils in the humid tropics. In: Uphoff N et al (eds) biological approaches to sustainable soil systems. CRC press, Taylor and Francis Group, Florida, pp 517–530

Lim LY, Lee CT, Bong CPC, Lim JS, Sarmidi MR, Klemeš JJ (2018) A review on the impacts of compost on soil nitrogen dynamics. Chem Eng Trans 63:349–354. https://doi.org/10.3303/CET1863059

Mandal M, Chandran RS, Sencindiver JC (2013) Amending subsoil with composted poultry litter–I: effects on soil physical and chemical properties. Agron 3:657–669. https://doi.org/10.3390/agronomy3040657

Manirakiza N, Şeker C (2020) Effects of compost and biochar amendments on soil fertility and crop growth in a calcareous soil. J Plant Nutr 43:3002–3019. https://doi.org/10.1080/01904167.2020.1806307

Moorman TB, Becerril JM, Lyndon J, Duke SO (1992) Production of hydroxybenzoic acids by Bradyrhizobium japonicum strains after treatment with glyphosate. J Agric Food Chem 40:289–293. https://doi.org/10.1021/jf00014a025

Nartey OD, Zhao B (2014) Biochar preparation, characterization, and adsorptive capacity and its effect on bioavailability of contaminants: an overview. Adv Mater Sci Eng 2014:1–12. https://doi.org/10.1155/2014/715398

Nebiyu A, Diels J, Boeckx P (2016) Phosphorus use efficiency of improved faba bean (Vicia faba) varieties in low–input agro–ecosystems. J Plant Nutr Soil Sci 179:347–354. https://doi.org/10.1002/jpln.201500488

Ouyang L, Yu L, Zhang R (2014) Effects of amendment of different biochars on soil carbon mineralisation and sequestration. Soil Res 52:46–54. https://doi.org/10.1071/SR13186

Page AL, Miller RH, Keeney DR (1982) Methods of soil analysis: part 2, chemical and microbiological properties. Agronomy series no 9, American Society of Agronomy, Madison, WI

Pérez–De–Luque A, Gonzalez–Verdejo CI, Lozano MD, Dita MA, Cubero JI, Gonzalez–Melendi P, Risueno MC, Rubiales D (2006a) Protein cross–linking, peroxidase and ß–1.3–endoglucanase involved in resistance of pea against Orobanche crenata. J Exp Bot 57:1461–1469. https://doi.org/10.1093/jxb/erj127

Pérez–De–Luque A, Lozano MD, Cubero JI, Gonzalez–Melendi P, Risueño MC, Rubiales D (2006b) Mucilage production during the incompatible interaction between Orobanche crenata and Vicia sativa. J Exp Bot 57:931–942. https://doi.org/10.1093/jxb/erj078

Pérez–De–Luque A, Lozano MD, Moreno MT, Testillano PS, Rubiales D (2007) Resistance to broomrape (Orobanche crenata) in faba bean (Vicia faba): cell wall changes associated with pre–haustorial defensive mechanisms. Ann Appl Biol 151:89–98. https://doi.org/10.1111/j.1744-7348.2007.00164.x

Rashad FM, Kesba HH, Saleh WD, Moselhy MA (2011) Impact of rice straw composts on microbial population, plant growth, nutrient uptake and root–knot nematode under greenhouse conditions. Afr J Agric Res 6:188–1203. https://doi.org/10.5897/AJAR10.986

Rondon MA, Lehmann J, Ramirez J, Hurtado M (2007) Biological nitrogen fixation by common beans (Phaseolus vulgaris L.) increases with biochar additions. Biol Fertil Soils 43:699–708. https://doi.org/10.1007/s00374-006-0152-z

Rose TJ, Julia CC, Shepherd M, Rose MT, Van Zwieten L (2016) Faba bean is less susceptible to fertiliser N impacts on biological N2 fixation than chickpea in monoculture and intercropping systems. Biol Fertil Soils 52:271–276. https://doi.org/10.1007/s00374-015-1062-8

Rubiales D (2014) Legume breeding for broomrape resistance. Czech J Genet Plant Breed 50:144-150. https://doi.org/10.17221/106/2013-CJGPB

Simpson K (1986) Fertilizers and manures. Longman, London Chapter 8, pp.: 83–108

Soil Survey Staff (1999) Soil taxonomy: a basic system of soil classification for making and interpreting soil surveys. In: Natural Resources Conservation Service, 2nd edn. U.S. Department of Agriculture Handbook 436. https://doi.org/10.1016/S0016-7061(00)00097-5

Trabelsi I, Abbes Z, Amri M, Kharrat M (2015) Performance of faba bean genotypes with Orobanche foetida Poir. And Orobanche crenata Forsk. Infestation in Tunisia. Chil J Agric Res 75:27–34. https://doi.org/10.4067/S0718-58392015000100004

Trabelsi I, Abbes Z, Amri M, Kharrat M (2016) Study of some resistance mechanisms to Orobanche spp. infestation in faba bean (Vicia faba L.) breeding lines in Tunisia. Plant Prod Sci 19:562–573. https://doi.org/10.1080/1343943X.2016.1221734

Trabelsi I, Yoneyama K, Abbes Z, Xie X, Amri M, Kharrat M, Yoneyama K (2017) Characterization of strigolactones produced by Orobanche foetida and Orobanche crenata resistant and susceptible faba bean genotypes and effect of phosphorous, nitrogen, and potassium deficiencies on strigolactone production. South Afr J Bot 108:15–22. https://doi.org/10.1016/j.sajb.2016.09.009

Warnock DD, Lehmann J, Kuper TW, Rillig MC (2007) Mycorrhizal responses to biochar in soil–concepts and mechanisms. Plant Soil 300:9–20. https://doi.org/10.1007/s11104-007-9391-5

Yoder JI (1999) Parasitic plant response to host plant signals: a model for subterranean plant–plant interactions. Curr Opin Plant Biol 2:65–70. https://doi.org/10.1016/s1369-5266(99)80013-2

Yoneyama K, Awad AA, Xie X, Yoneyama K, Takeuchi Y (2010) Strigolactones as germination stimulants for root parasitic plants. Plant Cell Physiol 51:1095–1103. https://doi.org/10.1093/pcp/pcq055

Yu L, Tang J, Zhang R, Wu Q, Gong M (2013) Effects of biochar application on soil methane emission at different soil moisture levels. Biol Fertil Soils 49:119–128. https://doi.org/10.1007/s00374-012-0703-4

Zhen Z, Liu H, Wang N, Guo L, Meng J, Ding N, Wu G, Jiang G (2014) Effects of manure compost application on soil microbial community diversity and soil microenvironments in a temperate cropland in China. PLoS One 9:e108555. https://doi.org/10.1371/journal.pone.0108555
Acknowledgements
The authors would like to appreciate the technical support provided by the Faculty of Agriculture, Ain Shams University and National Research Centre, Egypt.
Ethics declarations
Conflict of Interest
The authors declare no competing interests.
Additional information
Publisher's note
Springer Nature remains neutral with regard to jurisdictional claims in published maps and institutional affiliations.
About this article
Cite this article
Saudy, H.S., Hamed, M.F., El–Metwally, I.M. et al. Assessing the Effect of Biochar or Compost Application as a Spot Placement on Broomrape Control in Two Cultivars of Faba Bean. J Soil Sci Plant Nutr (2021). https://doi.org/10.1007/s42729-021-00485-1
Received:

Accepted:

Published:
Keywords
Genotypic variation

Glyphosate

Orobanche

Root parasitic weeds

Soil rhizosphere