Islam, culture and authoritative voices in the UK and the US
Patterns of orientation and autonomy among Muslims in art
Abstract
British and North American Muslim performing artists have the opportunity to translate Islamic knowledge in relation to art in various ways and in circumstances in which religion may be no longer obviously anchored in culture. At the same time, a reversed autonomisation in the field of Muslim artists seems at stake. If the main drive of the agents in the field is to improve social positions, according to Bourdieu, how can the level of autonomy of the field of Muslim performing artists in the UK and the US be understood? Taking the Bourdieusian concepts of field, habitus, capital into account, this paper intends to investigate in which ways the fields of art and religion intersect and how the orientations to art, culture and Islam are distributed among Muslim artists in the Muslim-minority contexts of the West.
The present chapter will explore the kind of authoritative voices and the significance of relative autonomy in the field of Muslim artists in hip-hop, stand-up comedy, poetry, theatre and contemporary art considered from empirical data through in-depth interviews, content analysis of secondary sources and structural analysis of cultural events in the UK and the US. The disparate ideological orientations are influenced by views to restrict or, in contrast, reinforce the significance of art and culture and imply distinct struggles for social and artistic autonomy. Ranging from strict to secular perspectives, the encountered cultural views are assessed by their relatively weak and strong ties with the field of religion and the field of art. Reflecting gender, race and ethnic background as categories of difference, the scheme of cultural orientations might be transferable to other settings in which culture, religion and ideology are involved.
Keywords
Religious Authority 
Muslim Performing Artists 
Field of Art 
Culture and Race in Islam 
Islamic knowledge 
North American Sufism 
British Salafism 
Islam, Kultur und autoritative Stimmen im Vereinigten Königreich und den USA
Orientierungs- und Autonomiemuster unter Muslimen in der Kunst
Zusammenfassung
Muslimischen darstellenden Künstlern aus Großbritannien und Nordamerika bietet sich die Gelegenheit islamisches Wissen im Verhältnis zur Kunst auf verschiedenste Weise und unter verschiedenen Umständen umzusetzen. Hierbei kann es passieren, dass Religion nicht mehr offensichtlich in Kultur verankert ist. Gleichzeitig scheint auf dem Gebiet der muslimischen Kunst eine umgekehrte Autonomisierung im Gange zu sein. Wenn die Verbesserung der sozialen Position, so Bourdieu, der Hauptanreiz der Handelnden auf diesem Gebiet ist, wie kann das Level an Autonomie im Bereich der muslimischen darstellenden Künstler im Vereinigten Königreich und den USA verstanden werden? Dieser Artikel untersucht, unter Berücksichtigung der Bourdieu'schen Konzepte von Bereich, Habitus und Kapital, wie sich Kunst und Religion überschneiden und wie die Einstellungen zu Kunst, Kultur und Islam unter muslimischen Künstlern im Minderheiten-Kontext des Westens verteilt sind.
Das vorliegende Kapitel erforscht die Arten autoritativer Stimmen und die Bedeutung relativer Autonomie der muslimischen Künstler in den Bereichen Hip-Hop, Stand-up-Comedy, Poesie, Theater und zeitgenössischer Kunst. Einbezogen werden empirische Daten aus Tiefeninterviews, Inhaltsanalysen von Sekundärquellen und strukturellen Analysen kultureller Veranstaltungen im Vereinigten Königreich und den USA. Die verschiedenartigen ideologischen Einstellungen werden beeinflusst durch Sichtweisen, die die Bedeutung der Kunst und Kultur entweder einschränken oder aber verstärken und bedeuten deutliche Anstrengungen um soziale und künstlerische Autonomie. Die gefundenen kulturellen Sichtweisen, deren Perspektiven von streng-religiös bis säkular reichen, werden auf Grundlage ihrer relativ schwachen oder starken Verbindungen zu den Bereichen Religion und Kunst bewertet. Das hier angewandte Schema kultureller Einstellung könnte durch die Berücksichtigung von Geschlecht, Rasse und ethnischem Hintergrund als unterscheidende Kategorien auch auf andere Situationen angewandt werden, die Kultur, Religion und Ideologie beinhalten.
Schlüsselwörter
Religiöse Autorität 
Muslimische darstellende Künstler 
Bereich der Kunst 
Kultur und Rasse im Islam 
Islamisches Wissensschatz 
Nordamerikanischer Sufismus 
Britischer Salafismus 
1

Introduction: Autonomisation in the field of art

The theme of the (in)compatibility of (popular) art and music with practised religion reflects the struggle for cultural capital and legitimate knowledge among religious authorities and people of faith. In particular, this is the case concerning Muslims and Islam. Similar to discussions in Christianity in Western Europe about whether art can serve as praise of God and motivate ethical action or, on the contrary, stirs immodest behaviour (Brown 2000, p. 55), there is an ongoing discourse among many Muslims on the (im)permissibility of (popular) art in Islam even in Western democracies (see also Aidi 2014, pp. 44–70; Mandaville 2009; Abdul-Khabeer 2007; Van Tilborgh 2016b). Disputes about dance are found in hadiths during the lives of the Prophet Muhammad and his Companions (Abd-Allah 2004), those about musical instruments among theologians from the time after the Prophet (Shiloah 1995, pp. 31–35) and those about hip-hop music, singing Muslim women and stage behaviour can be found in current times, such as at the debate 'Music—Singing or Sinning?', which I attended in the East London Mosque in 2009. In these discussions, authoritative voices play a role. Authority can be understood as a relation to religious specialists (e. g. imams, teachers and scholars) and movements that mediate interpretations of scripture or that justify and empower certain beliefs and practices.1 'Authoritative voices' is a slightly broader conception of this notion.

Since many Muslims still perceive the Middle East to be the centre of Islamic knowledge, views on the (im)permissibility of music and entertainment in Islam among Arab authoritative voices influence debates globally. Based on the categorisation by Otterbeck, the 'hard-line' view holds that music should be largely forbidden because it arouses the kind of passion that is not religiously centred and destroys public morality (Otterbeck 2004, pp. 15–16, 2008, 2016). The exponents of this counter power stance regard (popular) music as a part of North American cultural imperialism, which acts as a serious rival to Islam. In contrast, the 'liberal' view tends to minimise censorship in the domain of art while upholding the understanding that competing worldviews are good for Islam. In between, scholars and teachers of the 'moderate' view judge productions of popular art as conditionally permissible. That is, when art springs from halal intentions and is morally and socially beneficial to Islam and society at large.

In the history of Western Europe, there is a long tradition of combining art and craftsmanship with civilising goals and religious morals. Throughout Christian history, theologians have attempted to set forth universal guidelines for art, such as the desiderata of dignity and restraint (Brown 2000, p. 55). Since the Middle Ages, specific Christian orders issued commissions among craftsmen to artistically express warnings against hell and damnation as well as recommendations to good conduct and communal spirit (Kempers 1992, pp. 21–77). From the Renaissance on, however, craftsmen became increasingly less dependent on church or state. Musicians, visual artists and theatre performers received assignments of a growing middle class (De Swaan 1991). Through the reduction of moral censure, religious proselytising programmes and the political use of art for propaganda, this process of autonomisation meant the growing importance of aesthetic standards while individual expressions became dominant (Bourdieu 2009, pp. 112–4; Gombrich 1982, p. 398; Oosterbaan Martinius 2005, p. 209). Over the course of time, regarding the political and economic fields in Western Europe, professional artists have formed a relatively autonomous field of cultural production that imposes its own principles of legitimacy, meanwhile rejecting external demands from one single source (Bourdieu 2009, pp. 21, 52–54; Oosterbaan Martinius 2005). This autonomy and the related Western ideal of autonomous art are even more crucial with regard to the field of religion.

Yet, questions have arisen on the autonomy of the field of contemporary West European and North American Muslim performing artists. From the 1990s onward, public discussion among Muslims focusing on contested expressions of (popular) art by Muslims has grown. At the debate 'Music—Singing or Sinning?', the dispute over the justification of controlling cultural habits versus loosening cultural restrictions became heated. The art and Islam discourse is reinforced by the popularity of the tenet that tends to severely restrict forms of art and music: Salafi Islam. This phenomenon makes it crucial to put the assumed independency of the field of Muslim performing artists in the West into perspective.
2

Theoretical framework: The fields of art and religion & accommodationism

Because the coherent concepts of field, capital and practices of Pierre Bourdieu are meant to explain struggles in culture, they will guide, among others, the study of the field of Muslim performing artists in the UK and the US. Just like those in the field of art, agents and institutions in the field of religion, compete for the control of legitimate forms of capital (Bourdieu 1971; Rey 2004). Cultural and symbolic capital apply to social status in the religious community, to knowledge concerning religious doctrines and traditions, and to recognised authority with regard to moral approval and the insurance of salvation (Rey 2004), which are all the more important in case the fields of art and religion intersect. At stake is the legitimation of the social order, the sanction of those holding power and the definition of meaning that religion brings to people's lives. In terms of defining power, agents with relevant capital can become dominant with their specific interpretation of legitimate art (Bourdieu 1996, pp. 223–7, 2009). Although fields are embedded in social space and influenced by adjacent and dominant fields and their habitus, they are relatively autonomous due to their unique underlying rules, purposes and varying structures (Bourdieu 1966, 2009; Bourdieu and Wacquant 1992, p. 97).

Connected to habitus, the set of cultural dispositions, and capital, Olivier Roy's concept of accommodationism pertaining to religion is used in the present paper to discuss the different attitudes towards practising Islam in culture and vice versa.
2.1

Accommodationism: Embedded religion and Islamic knowledge

More specifically, the field of Muslim performing artists can be understood from the conceptions of embedded religion, universal religion and religious individualisation with regard to authority in Islam. Olivier Roy argues that, as a result of globalisation and migration, religions have become standardised, generating forms of religiosity that transcend space, ethnicity and culture (Roy 2004, 2010; Hamid 2016). The quest for purity has led to a focus on the fundamentals by stripping religious expressions of particular local and ethnic properties (Roy 2010). One of these expressions is Salafi Islam, which can be interpreted as textual literalism driven by a modernist reform movement that emphasises strict behavioural standards of the early period in Islam (Esposito 1998, p. 823; Lapidus 2002, pp. 315–6). Its aim is to revitalize the Islamic society of today.

When stating that religious beliefs are no longer embedded in contemporary culture, Roy refers to symbolic systems as well as the ethnic, local and national understanding of culture (2010, p. 26). Religious orientations that are anchored in the philosophy and literature of cultures display the 'accommodationist attitude' by adapting beliefs to the cultural environment and, reversed, by allowing that the norms and traditions of one's society shape how religion is expressed through art, music and language.

Although globalised Islam has lost its dependence on localised social authority, i. e. imams and parents, new types of informal popular religious authority have been created in the context of Westernisation (Roy 2004; Van Bruinessen and Allievi 2011; Hamid 2016). Aligned with greater access to religious knowledge, the process of individualisation has lead Muslims to compose personal forms of Islamic wisdom (Van Bruinessen and Allievi 2011, p. 2; Sunier 2011, p. 149). At the same time, a most noticeable relative stability of Islamic dogmas is found (Mandaville 2007; Van Bruinessen and Allievi 2011, p. 19; Wiktorowicz 2006). Concerning Islamic authoritative directions, Volpi and Turner distinguish the 'traditionalist perspective', which employs aspects of the tradition conducive to keeping in tune with the expectations of ordinary believers; the 'reformist perspective', which is eager to revise certain institutions that justify traditional forms of Islamic authority but not all; and the 'radical perspective', which questions Islamic authority and challenges the very foundations of the corpus of religious knowledge (2007). The individualisation of religious beliefs has, however, not resulted in questioning complete religious dogmas but differs strikingly per religious theme (Göle 2003; Pedziwiatr 2011). It is also arguable whether individual choice in the privatised religious practice may disentangle the presumed ties between the ethno-national identity, cultural tradition and religious strand (Yukleyen 2010; Cesari 2004, pp. 43–64; Volpi and Turner 2007, p. 4).

Translating the perspectives discussed above, British and North American Muslim performing artists have the opportunities to translate Islamic knowledge in relation to art in various ways and in circumstances in which religion may be no longer obviously anchored in culture. At the same time, a reversed autonomisation in the field of Muslim artist seems at stake. If the main drive of the agents in the field is to improve social positions, how can the level of autonomy of the field of Muslim performing artists in the UK and the US be understood? Taking the Bourdieusian concepts of field, habitus, capital into account, this paper intends to investigate in which ways the fields of art and religion intersect and how the orientations to art, culture and Islam are distributed among Muslim artists in the Muslim-minority contexts of the West. It will discuss the kind of interaction with the field of Islam and the significance of relative autonomy.2
3

Context: Muslims in the UK and the US

From the 1960s on, the UK recruited many uneducated labourers for their growing industries—in contrast to the US, which attracted mainly educated immigrants from the Middle East and South Asia. For most first-generation Muslims, Islam was an aspect of their ethnic identity, and faith adherence had more to do with participating in communal life (Hamid 2016, p. 8). The educated offspring came to perceive their parents' religiosity as 'folk Islam' ruled by culturally tainted, ethnic habits (Jacobson 1998, pp. 143–51; Mandaville 2009; Roy 2004, p. 138). They needed a new approach to get ahead. Generally, there is an ongoing discursive attempt to separate core Islamic values from problematic ethnic practices (Van Tilborgh 2009; Hamid 2016, p. 101).

The new approaches to distinguish Islam from culture also targeted Sufism, the mystical dimension of Islam. Although Sufism, which pursues the interior path of spiritual purification and closeness to God, is based on accepted ideas about devotion among Muslims in general (Bowen 2012, p. 119; Hamid 2016), it also engenders disapproval. Represented by the Barelwi school, the kind of Sufi Islam popular among South Asian Muslims emphasises personal piety, but leaves, along with stringently following just one of the Sunni (Hanafi, Maliki, Shafi'i, Hanbali) schools of Islamic jurisprudence, little room for independent reasoning: ijtihad (Hamid 2008, 2016, p. 10; Lapidus 1997). Particularly, the general use of music and dance in tasawwuf—Sufi—devotional practices has caused distrust among many Muslims (see also Van Bruinessen and Howell 2007).3

The British popularisation of Salafism, which strives to purify Islam from what are considered inauthentic elements, can be understood as a way of many young Asian Muslims as well as Black and White convert Muslims to reflect on dominant cultural habits and dispose Islam of misrepresentations. Salafism has provided a faction of disgruntled, humiliated young people with the possibility to identify with a strong kind of community membership, as a special sect with access to 'the Truth' (Hamid 2009, p. 390; Meijer 2009, p. 13). Disregarding the complexities of theology and the subtleties of Sufism to detract evidence from religious sources, when consciousness was raised about the worldwide unjust position of Muslims, the kind of religious identities formed in these networks transcended the bonds based on nationality, ethnicity and race (Hamid 2009; Volpi and Turner 2007).

Although an important number of British Muslims with immigrant backgrounds have chosen to seek a strict kind of Islam, in contrast, a major faction became largely secular in the UK (Mandaville 2007). In the US, previous Muslim newcomers had tried to gain acceptance within mainstream national culture by distancing themselves from Islamic practices but were caught up by successful professional immigrants who pursued to develop an Islamic identity that countered the assimilated migrant identity (Khan 2003). Mandaville observed a comprehensive, inclusive Islam among those who regarded Islam compatible with common values found in other moral systems (2007, p. 294).

The impressive success of the Salafi movement in the West, brought about in literalist, political and reformist currents that contested each other, prompted a reaction of leaders following the Sunni schools of Islamic jurisprudence (Hamid 2008, 2009, 2016). Recognising tassawuf—Sufism—as being an essential part of original Islam, the success of the 'Sufi fightback' was brought on by their appeal to the earlier Islamic tradition and orthodoxy through ideas of great methodological and rhetorical value. Initially popularised by American scholar and convert Muslim Hamza Yusuf, born Mark Hanson, this renewed classical Islam has countered the literalist Salafi trends and appropriated some of the authority of Salafi teachers by explaining an alternative scholarly and activist form of Sufism (Hamid 2008, 2009, 2016). Sufism's popularity can also be understood as being a spiritual response to secularisation while avoiding the activist excesses of the radical Islamic movements (Geaves 2010). In the transnational Anglo-American 'Traditional Islam' network,4 several like-minded convert Muslim scholars have popularised Hamza Yusuf's message by attempting to deconstruct Salafis' claims to textual orthodoxy and accommodate sophisticated understandings of Islamic civilisation (Hamid 2009, 2016). Apparently, these styles have increased Sufism's symbolic capital.

Also structuring the field, a large number of Muslims experience an in-group power imbalance between indigenous Blackamerican Muslims, who developed Islam from the institutions of Black Religion such as the Nation of Islam, and immigrant Muslims. While the first consider that original Islam was brought to the US by their enslaved ancestors, the latter brought the kind of Islam from the Middle East and South Asia after the inclusive Immigration and Nationality Act of 1965 and have occupied notable positions in Muslim institutions in the West since then (Abdul-Khabeer 2007; Jackson 2005, pp. 3–21; McCloud 2006, pp. 123–37). Generating a picture of dominant and dominated religiosity, the definitions of Islam expressed by indigenous (Blackamerican)5 Muslims are considered to be less easily accepted socially than those of successful immigrant professionals (McCloud 2003; Jackson 2009).

Made clear by the previous context, to understand the distribution of orientations among Muslim artists in the UK and the US on the meta-level, it will be necessary to look beyond the indicators of class and education to race and ethnicity as well.
4

Research methodology

In the present paper, the empirical findings, based on an ethnographic study of Muslim performing artists in the UK and the US between 2009 and 2012, are discussed by linking the concept of habitus with the concept of intersectionality through identifying the significance of ethnic and religious background. Intersectionality studies the modalities of social formations regarding boundaries and hierarchies in social life (Anthias 2013). At the time of research, the artists were engaged in cultural production in Anglophone hip-hop and alternative music, spoken word and poetry, storytelling, theatre and acting, stand-up comedy, film performance and contemporary art on stage.6 They are mainly self-acclaimed Muslims who have brought Islam, or experiences related to being Muslim, to the fore in at least one of their artistic performances. To study how Muslim artists synthesise their artistic identity with their religious conceptions, British and North American artists are chosen for reasons of comparability in terms of language and background while at the same time, at first sight, they display contrasting religious leanings. Besides drawing on secondary literature from academic sources as well as traditional and digital media, semi-structured in-depth interviews on art, culture and Islam were conducted with sixty-five Muslim performing artists and eight stakeholders, including art managers and Islamic teachers in the UK and the US.7 In addition, twenty-three similar participants in art (artists and stakeholders) were studied through short interviews and/or secondary sources.8 The eventual focus group of seventy artists includes religiously strictly practising, moderately practising and less strictly practising Muslims; for reasons of comparison, there is also a small category of artists with just a Muslim background.9 Specifically, I attended seventy religio-artistic events, including biographical artistic performances, to collect additional ethnographic data on the orientations of Muslim artists through participant observations.10

The artists in the broader study include (a) 'born Muslims' and (b) 'convert Muslims', who have chosen the religion of Islam later in life. Also comprising 'born-again Muslims',11 the first are predominantly born in South Asian and Middle Eastern Muslim, immigrant families. The latter artists range from indigenous Muslims including African Americans and (White) Natives to immigrants from the Caribbean and African countries, such as Jamaica and Mozambique. Although some Black artists are 'born Muslims' from Nigerian and Somali Muslim families, along racial lines more Black artists are found among convert Muslim artists in the present study.
5

Empirical findings: Categories in cultural orientations

Based on systematic analysis of (predominantly in-depth) interviews with Muslim performing artists in the UK and the US, analysis of secondary sources regarding their ideas and productions and participant observation of numerous Muslim cultural events, the religio-artistic views of British and North American Muslim performing artists can be distinguished by five partly overlapping ideological standpoints related to habitus and cultural tastes. These views range between the

strict view

, the

civilisational view

, the

secular view

and the

artistic view

, and these are more or less centred by the

conditional view

. They differentiate from each other by their varying relationships with the field of religion and the field of art. The artists can have relatively weak or relatively strong ties to these crucial fields, based on the level on which they take notice of relevant religious advice and aim to connect with the institutions of cultural heritage and those representing contemporary art.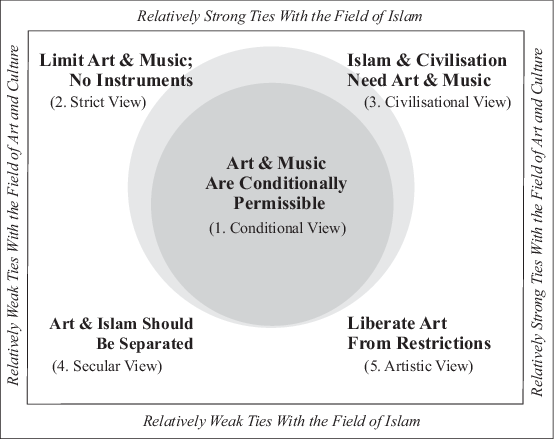 6

Conclusion

Empirically inspired by the longstanding discourse on the (in)compatibility of (popular) art with practised Islam and theoretically by Bourdieu's conception of the relatively autonomous field of art, this article has investigated the relationship between art, Islam and authoritative voices by way of Muslim performing artists in the UK and the US. Academic perspectives on culture, religion and Islamic authority as well as on the phenomena of the anchoring of religion in cultures and its withdrawal from cultures are taken into account in the analysis of the findings, which have revealed a considerably relevant pattern of cultural orientations among Muslims. These orientations illuminate how British and North American artists perceive and shape their social positions in the UK and the US since 2001.

Associated with preferences concerning musical styles, gender comportment and cultural differentiation, in the Anglophone field of Muslim performing artists, the five socio-cultural ideological views to the relation between art, religion and authoritative voices can be considered positions between which artists may shift in time depending on their professional and religious careers. The different culture vs religion views can be generally understood as matters of strategy to improve social positions. In the most central conditional view, art takes care of guidelines acquired from religion moderately. In the strict view, art anticipates on restrictions deduced from religion. In the civilisational view, culture and art are integral to religion. In the secular view, art and religion belong to different domains of life. Lastly, in the artistic view, art and religion are combined in an unconditional and reciprocal way. The civilisational view represents a new perspective with regard to academic perspectives on authoritative interpretations in the Arab world about the integration of art and faith, while the artistic view is generally underexposed in literature on Islam.

Besides noticeable differentiation, the overall field of British and North American Muslim performing artists has evolved underlying principles and purposes, which are to gain, firstly, an equal position in culture, media and society through the mode of normalising. Related is the second aim to upgrade the cultural tastes and capital of internal (disadvantaged) Muslim communities. The third goal is to create dominant Muslim leadership by means of cultural distinction to established notions and structures in the West. This goal is particularly encountered in the centre and upper part of the field, which is definitely interconnected with the field of Islam.

Although in reality more complex, the relatively strong ties between artists of the strict, conditional and civilisational views with imams and preachers are inspired by Salafi-orientations as far as the strict view is concerned, and Sufi-orientations where the civilisational view is involved. Artists of the conditional and civilisational views have salient relationships with Islamic scholars and teachers, such as from the Sufi-oriented network of 'Traditional Islam', which has been countering the huge popularity of Salafism. These authoritative voices have often given Muslim performing artists support in their distinctive expressions and sometimes advised them to restrain. Hence, in the context of particularly the civilisational view, there is little question of fragmented authority. Artists of the strict view, which is encountered predominantly among male artists in the UK, are eager to follow artistic restrictions drawn from classical and specific contemporary Islamic authoritative voices. In this sense, external moral criteria have returned to the field of art, interestingly putting Bourdieu's conception of the relative autonomy of the field of art into perspective.

Whereas the secular and artistic views are found among artists with South Asian and Middle Eastern immigrant backgrounds—born-again and born Muslims—the strict and civilisational views emerge more often among Black convert and born-again Muslim artists, for instance of African American and Jamaican descent. Particularly the artists upholding these views have a tense relationship to culture. The strict view is often adhered to by male artists in hip-hop who have personally experienced the dangers of street and gang culture or other fatal excesses of life or know those who have. In terms of withdrawal from culture, through believing artistic restrictions may prepare them for the afterlife, they are eager to escape from the cultures surrounding them.

In contrast, identifying with the roots of Islam and its development in the West, the civilisational view achieves to upgrade the indigenous cultural tradition in the Islamic hierarchy of those whose cultural past has been wiped out, except for their social activist and musical heritage as embedded in the national histories, what meant the liberation of a people. Although 'cultural Islam' and its 'cultural explanations' of Islam, deriving from ethnic customs, are treated with small belittlements in the field, particularly artists with the civilisational view are critical towards the South Asian and Middle Eastern Muslim-majority kinds of discourse outside the field. Perceived to reduce the significance of the spiritual and artistic musical tradition of (indigenous) Muslim (American) culture, they oppose the exclusively pietist focus on religion and aim to anchor their (activist) cultural legacy in Islam instead. The accommodationist kind of civilisational view is therefore emancipative in the collective sense.

From different angles on mediating Islam and the contemporary world, the strict, conditional and civilisational views have reformist tendencies by expressing that some of the traditional institutions of Islamic authority ought to be revised. However, the latter view also holds that alternative indigenous institutions ought to be broadly recognised, which makes the civilisational view quite radical for claiming defining power. Almost collaborating with the American taste, for instance in the sense of being part of its global success in originally Black music, they extend and redirect the field's purposes from autonomy in the culture and media of the West to autonomy with regard to dominant Islamic notions from outside the field.

The secular and artistic orientations are much less influenced by the central moderate view in the field and its conditions to the performing arts. Whereas the civilisational view reflects several collective notions based on relatively strong ties of friendship with (Black) Islamic teachers, the secular and, especially, the artistic views comprise very individualised notions, which is common in Bourdieu's concept of the field of art. These artists with South Asian and Middle Eastern backgrounds were raised in more affluent and open-minded circumstances or, in contrast, have escaped from the perceived narrow mindsets of their former social environments. The artistic view is therefore rather emancipative with regard to the individual way. Tending to equalise the essence of art with the essence of religion, the artistic view appears to comprise the most radical perspective. Some of the encountered notions challenge the very foundations of the corpus of religious knowledge. Negotiating their view to art and Islam in oxymoron expressions, such as Sufi Punk, the artists embed their artistic faith-inspired performances in local, national Western contexts.

Compared with the UK, in the US, where religiosity is a dominant disposition, the central moderate stance has a broader presence in the field of Muslim performing artists. Due to the adherence of Blackamerican convert Muslims, this counts for the civilisational stance as well. While the Muslim concentration is higher in the UK and Islam discourse more significant, the British context displays, through the manifestation of strict as well as artistic views, the extremes of the field. American Muslim teachers and artists are regularly invited to the UK by reason of their authoritative voices.

In sum, besides the five socio-cultural views discussed above, the pattern of orientation and relative autonomy in the Anglophone field of Muslim performing artists displays two dimensions on autonomy. By seeking public recognition for cultural distinction from a dominant strand of religiosity in the overall Muslim community, the civilisational view endeavours relative social autonomy that counters the prevalent hierarchies and views representing the hegemony of the old Muslim world in Islam. The artistic view, resembling the established Western ideal of modern art, strives in seeking to liberate art from restrictions of artistic autonomy by positioning the acts of questioning and revisiting values and morals at the core of the faith of Islam.
Notes
Funding
This study is partly funded by the Netherlands Organisation for Scientific Research NWO, and has taken place at Radboud University Nijmegen and University of Amsterdam.
Copyright information
© The Author(s) 2018
Open Access This article is distributed under the terms of the Creative Commons Attribution 4.0 International License (http://creativecommons.org/licenses/by/4.0/), which permits unrestricted use, distribution, and reproduction in any medium, provided you give appropriate credit to the original author(s) and the source, provide a link to the Creative Commons license, and indicate if changes were made.