Abstract
Postharvest dehydration temperature is important for the quality of grapes, especially the content of anthocyanin. Therefore, this article investigated the changes in the contents of total phenolic and anthocyanin compounds as well as the tissue microstructure of grapes. Furthermore, the correlation between the drying temperature and the total phenolic and anthocyanin compounds was analyzed. The results showed that the total phenol content was 1188.25 ± 37.32 mg/kg in the control group and 998.13 ± 52.28 mg/kg and 886.00 ± 12.33 mg/kg in the groups treated at 25 °C and 45 °C, respectively, with 60% mass loss. The microstructure of the grape peel showed shrinkage, rupture, and collapse with the disappearance of fine structures during dehydration at different temperatures. The drying temperature was positively correlated with the dehydration rate (p < 0.01, sig = 0.781), which was negatively correlated with the total phenolic content (p < 0.01, sig =  − 0.985). Overall, the results provide a reliable scientific basis for the extraction and utilization of anthocyanins in grapes.
Graphic abstract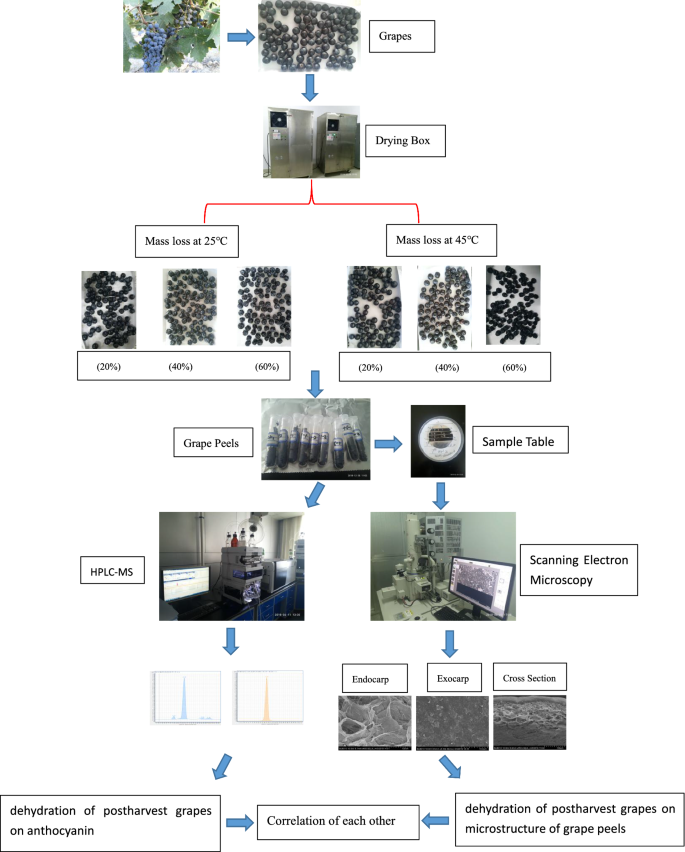 Access options
Buy single article
Instant access to the full article PDF.
US$ 39.95
Tax calculation will be finalised during checkout.



References
Antelmi G, Bellincontro A, Mencarelli F (2010) How dehydration temperature and weight loss affect the biosynthesis of nutritional compounds in irrigated aleatico grapes. Acta Horticulturae 877:693–698. https://doi.org/10.17660/ActaHortic.2010.877.91

Bengtson C, Larsson S, Liljenberg C (1978) Effect of water stress on cuticular transpiration rate and amount and composition of epicuticular wax in seedlings of six oat varieties. Physiol Plant 44:319–324. https://doi.org/10.1111/j.1399-3054.1978.tb01630.x

Blanke M, Prung R, Baker E (1999) Structure and elemental compositon of grapes berry stomata. J Plant Physiolol 154:477–481. https://doi.org/10.1016/S0176-1617(99)80286-7

Bonada M, Sadras V, Fuentes S (2013a) Effect of elevated temperature on the onset and rate of mesocarp cell death in berries of shiraz and chardonnay and its relationship with berry shrivel. Aust J Grape Wine R 19:87–94. https://doi.org/10.1111/ajgw.12010

Bonada M, Sadras V, Moran M, Fuentes S (2013b) Elevated temperature and water stress accelerate mesocarp cell death and shrivelling and decouple sensory traits in shiraz berries. Irrig Sci 31:1317–1331. https://doi.org/10.1007/s00271-013-0407-z

Camire M, Chaovanalikit A, Dougherty M, Briggs J (2002) Blueberry and grapes anthocyanins as breakfast cereal colorants. J Food Sci 67:438–441. https://doi.org/10.1111/j.1365-2621.2002.tb11425.x

Castellarin S, Pfeiffer A, Sivilotti P, Degan M, Peterlunger E, Gaspero G (2007) Transcriptional regulation of anthocyanin biosynthesis in ripening fruits of grapesvine under seasonal water deficit. Plant Cell Environ 30:1381–1399. https://doi.org/10.1111/j.1365-3040.2007.01716.x

Cheynier V, Souquet J, Kontek A, Moutounet M (1994) Anthocyanin degradation in oxidising grapes musts. J Sci Food Agric 66:283–288. https://doi.org/10.1002/jsfa.2740660304

Choueiri L, Chedea V, Calokerinos A, Kefalas P (2012) Antioxidant pro-oxidant properties of model phenolic compounds. Part II: studies on mixtures of polyphenols at different molar ratios by chemiluminescence and LC–MS. Food Chem 133:1039–1044. https://doi.org/10.1016/j.foodchem.2012.01.057

Considine J, Knox R (1979) Development and histochemistry of the cells cell walls and cuticle of the dermal system of fruit of the grapes vitis vinifera L.. Protoplasma 99:347–365. https://doi.org/10.1007/BF01275807

Esmaiili M, Sotudeh-Gharebagh R, Cronin K, Rezazadeh G (2007) grapes drying: a review. Food Rev Int 23:1317–1331. https://doi.org/10.1080/87559120701418335

Figueiredo-González M, Cancho-Grande B, Simal-Gandara J (2013) Effects on colour and phenolic composition of sugar concentration processes in dried-on- or dried-off-vine grapes and their aged or not natural sweet wines. Trends Food Sci Technol 31:36–54. https://doi.org/10.1016/j.tifs.2013.02.004

Gonzalez M, Barrett D (2010) Thermal high pressure and electric field processing effects on plant cell membrane integrity and relevance to fruit and vegetable quality. J Food Sci 75:R121–R130. https://doi.org/10.1111/j.1750-3841.2010.01763.x

Gonzalez-Neves G, Gómez-Cordovés C, Barreiro L (2001) Anthocyanic composition of tannat cabernet sauvignon and merlot young red wines from uruguay. J Wine Res 12:125–133. https://doi.org/10.1080/09571260120095030

Hardie W, O'Brien T, Jaudzems V (2008) Morphology anatomy and development of the pericarp after anthesis in grapes vitis vinifera. Aust J Grape Wine Res 2:97–142. https://doi.org/10.1111/j.1755-0238.1996.tb00101.x

Hattersley K, Hein L, Fuller M (2013) Lipid composition of membrane rafts isolated with and without detergent from the spleen of a mouse model of gaucher disease. Biochem Biophys Res Commun 442:62–67. https://doi.org/10.1016/j.bbrc.2013.11.009

Holton T, Cornish E (1995) Genetics and biochemistry of anthocyanin biosynthesis. Plant Cell 7:1071–1083. https://doi.org/10.2307/3870058

Iland P, Cynkar W, Francis I, Williams P, Coombe B (1996) Optimisation of methods for the determination of total and red-free glycosyl glucose in black grapes berries of vitis vinifera. Aust J Grape Wine Res 2:171–178. https://doi.org/10.1111/j.1755-0238.1996.tb00105.x

Javanmardi J, Stushnoff C, Locke E, Vivanco J (2003) Antioxidant activity and total phenolic content of iranian ocimum accessions. Food Chem 83:547–550. https://doi.org/10.1016/S0308-8146(03)00151-1

Kliewer WM (1977) Influence of temperature solar radiation and nitrogen on coloration and composition of emperor grapes. Am J Enol Viticult 28:96–103. https://doi.org/10.1016/S0065-2911(08)60050-8

Larrauri J, Rupérez P, Saura-Calixto F (1997) Effect of drying temperature on the stability of polyphenols and antioxidant activity of red grapes pomace peels. J Agric Food Chem 45:1390–1393. https://doi.org/10.1021/jf960282f

Li S, He F, Zhu B, Xing R, Reeves M, Duan C (2016) A systematic analysis strategy for accurate detection of anthocyanin pigments in red wines: accurate detection of anthocyanin pigments in red wines. Rapid Commun Mass Spectrom 30:1619–1626. https://doi.org/10.1002/rcm.7584

Liu J, Meng J, Guo Z, Geng W, Qiao L, Zhang A, Zhang Z, Fang Y (2012a) Effect of enlargement treatment on phenolic content and antioxidant activities of red globe grapes. Food Sci 33:7–12

Liu X, Zhang S, He H, Xu H (2012b) Drying characteristics and its effects on quality of jujube treated by combined microwave-hot-air drying. Nongye Gongcheng Xuebao/Trans Chin Soc Agric Eng 28:280–286. https://doi.org/10.3969/j.issn.1002-6819.2012.24.038

López J, Shun Ah-Hen K, Vega-Gálvez A, Morales A, García-Segovia P, Uribe E (2017) Effects of drying methods on quality attributes of murta (ugni molinae turcz) berries: bioactivity nutritional aspects texture profile microstructure and functional properties. J Food Process Eng 40:e12511. https://doi.org/10.1111/jfpe.12511

Marquez A, Serratosa M, Varo M, Merida J (2014) Effect of temperature on the anthocyanin extraction and color evolution during controlled dehydration of tempranillo grapes. J Agric Food Chem 62:1–15. https://doi.org/10.1021/jf502235b

Mateus N, De Pascual-Teresa S, Rivas-Gonzalo J, Santos-Buelga C, Freitas V (2002) Structural diversity of anthocyanin-derived pigments detected in port wines. Food Chem 76:335–342

Mazza G (1995) Anthocyanins in grapes and grapes products. Crit Rev Food Sci 35:341–371. https://doi.org/10.1080/10408399509527704

Moreno J, Cerpa-Calderón F, Cohen S, Fang Y, Qian M, Kennedy J (2008) Effect of postharvest dehydration on the composition of (Vitis vinifera L.) pinot noir grapes and wine. Food Chem 109:755–762. https://doi.org/10.1016/j.foodchem.2008.01.035

Nieto A, Salvatori D, Castro M, Alzamora S (2004) Structural changes in apple tissue during glucose and sucrose osmotic dehydration: shrinkage porosity density and microscopic features. J Food Eng 61:269–278. https://doi.org/10.1016/S0260-8774(03)00108-0

Oliveira J, Santos-Buelga C, Silva A, Freitas V, Mateus N (2006) Chromatic and structural features of blue anthocyanin-derived pigments present in port wine. Anal Chim Acta 563:2–9. https://doi.org/10.1016/j.aca.2005.11.027

Petrozziello M, Torchio F, Piano F, Giacosa S, Ugliano M, Bosso A, Rolle L (2018) Impact of increasing levels of oxygen consumption on the evolution of color phenolicand volatile compounds of nebbiolo wines. Front Chem 6:1–15. https://doi.org/10.3389/fchem.2018.00137

Possingham J, Chambers T, Radler F, Grncarevic M (1967) Cuticular transpiration and wax structure and composition of leaves and fruit of vitis vinifera. Aust J Biol Sci 20:1149–1154. https://doi.org/10.1071/BI9671149

Pretto P, Bordignon L (2017) Impact of grapes dehydration process on the phenolic composition of wines during bottle ageing. J Food Biochem 41:e12417. https://doi.org/10.1111/jfbc.12417

Pretto P, Gomes T, Gois J, Borges D, Bordignon L (2013) Effect of dehydration process on mineral content phenolic compounds and antioxidant activity of cabernet sauvignon and merlot grapes. Food Res Int 54:1343–1350. https://doi.org/10.1016/j.foodres.2013.10.016

Rodriguez K, Ah H, Vega G, López J, Quispe I, Lemus M, Ranilla L (2013) Changes in bioactive compounds and antioxidant activity during convective drying of murta (Ugni molinae T.) berries. Int J Food Sci Technol 49:990–1000. https://doi.org/10.1111/ijfs.12392

Rogiers S, Jm H, Jaudzems V, White R, Keller M (2004) grapes berry cv. Shiraz epicuticular wax and transpiration during ripening and preharvest weight loss. Am J Enol Viticult 55:121–127. https://doi.org/10.1021/bk-2004-0887.ch012

Ruiz M, Zea L, Moyano L, Medina M (2010) Aroma active compounds during the drying of grapes cv. Pedro ximenez destined to the production of sweet sherry wine. Eur Food Res Technol 230:429–435. https://doi.org/10.1007/s00217-009-1183-0

Samoticha J, Wojdyło A, Lech K (2015) The influence of different the drying methods on chemical composition and antioxidant activity in chokeberries. LWT 66:484–489. https://doi.org/10.1016/j.lwt.2015.10.073

Sarni M, Fulcrand H, Souillol V, Souquet J, Cheynier V (1995) Mechanisms of anthocyanin degradation in grapes must-like model solutions. J Sci Food Agric 69:385–391. https://doi.org/10.1002/jsfa.2740690317

Steyn W, Wand S, Holcroft D, Jacobs G (2002) Anthocyanins in vegetative tissues: a proposed unified function in photoprotection. New Phytol 55:349–361. https://doi.org/10.1046/j.1469-8137.2002.00482.x

Torchio F, Delia S, Lin L, Gerbi V, Giacosa S, Segade S, Pop N, Lambri M, Rolle L (2016) Influence of different withering conditions on phenolic composition of avanà chatus and nebbiolo grapes for the production of 'Reinforced' wines. Food Chem 194:247–256. https://doi.org/10.1016/j.foodchem.2015.08.009

Villiers A, Vanhoenacker G, Majek P, Sandra P (2004) Determination of anthocyanins in wine by direct injection liquid chromatography–diode array detection–mass spectrometry and classification of wines using discriminant analysis. J Chromatogr A 1054:195–204. https://doi.org/10.1016/j.chroma.2004.07.087

Wojdyło A, Figiel A, Oszmiański J (2009) Effect of drying methods with the application of vacuum microwaves on the bioactive compounds color and antioxidant activity of strawberry fruits. J Agric Food Chem 57:1337–1343. https://doi.org/10.1021/jf802507j

Zänglein M, Schwarz M, Winterhalter P (2007) Pyranoanthocyanins an overview on structures occurrence and pathways of formation. Trends Food Sci Technol 18:526–534. https://doi.org/10.1016/j.tifs.2007.04.014

Zoccatelli G, Zenoni S, Savoi S, Dal Santo S, Tononi P, Cin A, Guantieri V, Pezzotti M, Tornielli G (2013) Skin pectin metabolism during the postharvest dehydration of berries from three distinct grapesvine cultivars. Aus J Grape Wine Res 19:171–179. https://doi.org/10.1111/ajgw.12014
Acknowledgements
Funds for this study were provided by the Research Cooperation Fund Project of China Agricultural University and Xinjiang Agricultural University (Joint Fund of China Agricultural University and Xinjiang Agricultural University, Grant Number: 2017TC010).
Ethics declarations
Conflict of interest
The authors declare that they have no conflict of interest.
Additional information
Publisher's Note
Springer Nature remains neutral with regard to jurisdictional claims in published maps and institutional affiliations.
Communicated by Ali Sarkhosh.
About this article
Cite this article
Zheng, W., Alim, A., Bai, Y. et al. Effect of postharvest dehydration on the microstructure and anthocyanin content of grapes. Hortic. Environ. Biotechnol. (2021). https://doi.org/10.1007/s13580-020-00331-w
Received:

Revised:

Accepted:

Published:
Keywords
Anthocyanin

Correlation

Grapes

Microstructure

Postharvest dehydration