Abstract
Trial comprising fifty lentil genotypes was conducted at three locations in India during year 2013–2014 for estimation of grain Fe and Zn concentrations and to analyze G × E interactions by employing the additive main effect and multiplication interaction model. The study revealed significant effects for genotype, environment and genotype by environment interaction for both grain Fe and Zn concentration. In this model genotypes with the IPCA score of nearly zero and mean greater than grand mean are considered as adaptable to the studied environments. For grain Fe concentration genotypes P13143, P13135, ILL2581, P2130, LL147, L4603, PL101 and Globe mutant and for grain Zn concentration genotypes P13122, P2239, P3204 and L11-245 were found stable. The diversity analysis using 20 genomic and 54 EST-SSR markers indicated that the studied genotypes were diverse. The EST-SSRs revealed lower polymorphism as compare to genomic SSRs. Two major clusters were identified with 37 % similarity. Indigenous genotypes were grouped in cluster I and all exotic accessions were grouped in cluster II indicating the role of geographic origin in diversity. Based on multi location evaluation for grain Fe and Zn concentrations and molecular characterization crosses are proposed for development of grain Fe and Zn rich varieties (P3220 × L4649 and VL103 × P2130) and development of mapping populations (P13122 × L11-287 and LL931 × P3220) for study of genetics and mapping of QTLs/gene(s).
Access options
Buy single article
Instant access to the full article PDF.
USD 39.95
Price includes VAT (USA)
Tax calculation will be finalised during checkout.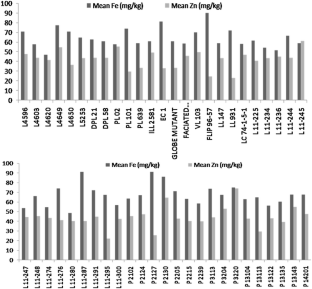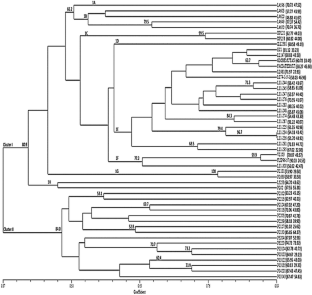 References
Ahmed M, McNiel DJ (1996) Comparison of cross ability, RAPD, SDS-PAGE and morphological markers for revealing genetic relationships within and among Lens species. Theor Appl Genet 93:788–793

Bashir K, Nozoye T, Ishimaru Y, Nakanishi H, Nishizawa NK (2013) Exploiting new tools for iron bio-fortification of rice. Biotechnol Adv 31:1624–1633

Botstein D, White RL, Skolnick M, Davis RW (1980) Construction of a genetic linkage map in man using restriction fragment length polymorphisms. Am J Hum Genet 32:314–331

Broadley M, White PJ, Hammond JP, Zelko I, Lux A (2007) Zinc in plants. New Phytol 173:677–702

Cakmak I (2002) Plant nutrition research: priorities to meet human needs for food in sustainable ways. In: Progress in plant nutrition: plenary lectures of the XIV international plant nutrition colloquium. Springer, pp 3–24

Cakmak I (2008) Enrichment of cereal grains with zinc: agronomic or geneticbiofortification? Plant Soil 302:1e17

Cakmak I, Pfeiffer W, Mcclafferty B (2010) Biofortification of durum wheat with zinc and iron. Cereal Chem 87:10–20

Chakraborti M, Prasanna BM, Hossain F, Mazumdar S, Singh AM, Guleria S, Gupta HS (2011) Identification of kernel iron-and zinc-rich maize inbreds and analysis of genetic diversity using microsatellite markers. J Plant Biochem Biotechnol 20(2):224–233

Erskine W, Muehlbauer FJ (1991) Allozyme and morphological variation, out crossing rate and core collection formation in lentil germplasm. Theor Appl Genet 83:119–125

Erskine W, Chandra S, Chaudhary M, Malik IA, Sarker A, Sharma B, Tufail M, Tyagi MC (1998) A bottleneck in lentil: widening its genetic base in South Asia. Euphytica 101:207–211

Ferguson ME, Newbury HJ, Maxted N, Ford-Lloyd BV, Robertson LD (1998) Population genetic structure in Lens taxa revealed by isozyme and RAPD analysis. Genet Resour Crop Evolut 45:549–559

Ford R, Pang ECK, Taylor PWJ (1997) Diversity analysis and species identification in Lens using PCR generated markers. Euphytica 9:247–255

Gauch HG (1992) Statistical Analysis of Regional Trials, AMMI Analysis of Factorial Designs. Elsevier, New York, p 278

Gauch H, Zobel RW (1997) Identifying mega-environments and targeting genotypes. Crop Sci 37(2):311–326

Hamwieh A, Udupa SM, Choumane W, Sarker A, Dreyer F, Jung C, Baum M (2005) A genetic linkage map of Lens sp. based on microsatellite and AFLP markers and the localization of Fusarium vascular wilt resistance. Theor Appl Genet 110:669–677

Hamwieh A, Udupa M, Sarker A, Jung C, Baum M (2009) Development of new microsatellite markers and their application in the analysis of genetic diversity in lentils. Breed Sci 59:77–86

Harvey MJ, Muehlbauer FJ (1989) Linkages between restriction fragment length, isozyme and morphological markers in lentil. Theor Appl Genet 77:395–401

Inder P, Materne M, Taylor PW, Ford R (2008) Genotyping elite genotypes within the Australian lentil breeding program with lentil-specific sequenced tagged microsatellite site (STMS) markers. Crop Pasture Sci 59(3):222–225

Jain N, Dikshit HK, Singh D, Singh A, Kumar H (2013) Discovery of EST-derived microsatellite primers in the legume Lens culinaris (Fabaceae). Appl Plant Sci 1(7):1200539

Jeffreys AJ, Wilson V, Thein SL (1985) Individual-specific 'fingerprints' of human DNA. Nature 316:76–79

Karimizadeh R, Mohammadi M (2010) Ammi adjustment for rainfed lentil yield trials in Iran. Bulg J Agric Sci 16(1):66–73

Karimizadeh R, Mohammadi M, Shefazadeh MK (2011) Evaluation of reliability and stability of lentil (Lens culinaris Medik.) genotypes in dry land areas of Iran. J Food Agric Environ 9(1):432–437

Kaur S, Cogan NO, Pembleton LW, Shinozuka M, Savin KW, Materne M, Forster JW (2011) Transcriptome sequencing of lentil based on second-generation technology permits large-scale unigene assembly and SSR marker discovery. BMC Genom 12:265

Kumar H, Dikshit HK, Singh AM, Singh D, Kumari J, Singh A, Kumar D (2013) Characterization of elite lentil genotypes for seed iron and zinc concentration and genotype × environment interaction studies. Indian J Genet Plant Breed 73(2):169–176

Kumar H, Dikshit HK, Singh A, Jain N, Kumari J, Singh AM, Singh D, Sarker A, Prabhu KV (2014) Characterization of grain iron and zinc in lentil (Lens culinaris Medikus culinaris) and analysis of their genetic diversity using SSR markers. Aust J Crop Sci 8(7):1005–1012

Murray MG, Thompson WF (1980) Rapid isolation of high molecular weight plant DNA. Nucleic Acids Res 8(19):4321–4326

Oikeh SO, Menkir A, Maziya-Dixon B, Welch RM, Glahn RP, Gauch GJR (2004) Environmental stability of iron and zinc concentrations in grain of elite early-maturing tropical maize genotypes grown under field conditions. J Agric Sci 142:543–551

Powell W, Machray GC, Provan J (1996) Polymorphism revealed by simple sequence repeats. Trends Plant Sci 1:215–222

Prevost A, Wilkinson MJ (1999) A new system of comparing PCR primers applied to ISSR finger printing of potato cultivars. Theor Appl Genet 102:440–449

Rana MK, Kumari R, Singh S, Bhat KV (2007) Genetic analysis of Indian lentil (Lens culinaris Medikus) cultivars and landraces using RAPD and STMS markers. J Plant Biochem Biotechnol 16(1):53–57

Rohlf FJ (2000) NTSYS-PC: numerical taxonomy and multivariate analysis system. Version 2.11T. Exeter Software, Setauket

Sabaghnia N, Dehghani H, Sabaghpour SH (2008) Graphic analysis of genotype by environment interaction for lentil yield in Iran. Agron J 100:760–764

Saha GC, Sarker A, Chen W, Vandemark GJ, Muehlbauer FJ (2010) Identification of markers associated with genes for rust resistance in Lens culinaris Medik. Euphytica 175:261–265

Sharma SK, Dawson IK, Waugh R (1995) Relationships among cultivated and wild lentils revealed by RAPD analysis. Theor Appl Genet 91:647–654

Sharma SK, Knox MR, Ellis THN (1996) AFLP analysis of diversity and phylogeny of Lens and its comparison with RAPD analysis. Theor Appl Genet 93:751–758

Singh D, Chonkar PK, Dwivedi BS (2005) Manual on soil, plant and water analysis. Westville Publishers, New Delhi

Somers DJ, Banks T, DePauw R, Fox S, Clarke J, Pozniak C, McCartney C (2007) Genome-wide linkage disequilibrium analysis in bread wheat and durum wheat. Genome 50:557–567

Tewari K, Dikshit HK, Jain N, Kumari J, Singh D (2012) Genetic differentiation of wild and cultivated Lens based on molecular markers. J Plant Biochem Biotechnol 21(2):198

Thangavel P, Anandan A, Eswaran R (2011) AMMI analysis to comprehend genotype-by-environment (GE) interactions in rainfed grown mungbean (Vigna radiata L.). Aust J Crop Sci 5(13):1767–1775

Verma P, Sharma TR, Srivastava PS, Abdin MZ, Bhatia S (2014) Exploring genetic variability within lentil (Lens culinaris Medik.) and across related legumes using a newly developed set of microsatellite markers. Mol Biol Report 41(9):5607–5625

Wessells KR, Brown KH (2012) Estimating the global prevalence of zinc deficiency: results based on zinc availability in national food supplies and the prevalence of stunting. PLoS ONE 7:e50568

Zobel RW, Wright MJ, Gauch HG (1988) Statistical analysis of a yield trial. Agron J 80(3):388–393
Acknowledgments
Authors express their sincere gratitude to Head, Division of Genetics, Joint Director Research and Director, IARI, New Delhi for providing the necessary facilities for carrying out the experiment. This study was carried out under the Harvest Plus lentil biofortification project. The authors acknowledge the funding support received from Harvest Plus through ICARDA.
Ethics declarations
Conflict of interest
The authors declare that they have no conflict of interest.
Electronic supplementary material
Below is the link to the electronic supplementary material.
About this article
Cite this article
Singh, A., Sharma, V.K., Dikshit, H.K. et al. Microsatellite marker-based genetic diversity analysis of elite lentil lines differing in grain iron and zinc concentration. J. Plant Biochem. Biotechnol. 26, 199–207 (2017). https://doi.org/10.1007/s13562-016-0382-6
Received:

Accepted:

Published:

Issue Date:
Keywords
Lens culinaris

Germplasm

Iron

Zinc

Molecular diversity