Abstract
The Eastern Mediterranean and the Middle East (EMME) is suffering from abnormal cooling of weather conditions and existence of an extreme weather phenomenon known as ice storm Alexa. The present paper investigates the weather conditions over Europe that causes this abnormal weather over the EMME through December of 2013. Daily data sets of several meteorological elements (temperature, precipitation, relative humidity, sea level pressure, and geopotential height at level 500 hPa, etc.) over the northern hemisphere, including Europe and EMME of December of 2013, have been used through the present work. In addition, to that, a time cross section analysis of the daily operational data for meteorological elements (mean surface temperature, temperature and geopotential height at level 500 hPa, relative humidity, precipitation rate, and sea surface pressure) was done over the EMME for December 2013. The methodology of anomaly and correlation coefficient techniques for the data sets has been used. The results uncovered that the EMME has abnormal and very cold weather conditions due to the inference of meridional blocking persisted over Europe and the existence of the extremely negative geopotential height anomaly aloft over Eastern Europe throughout this month.
Access options
Buy single article
Instant access to the full article PDF.
USD 39.95
Price excludes VAT (USA)
Tax calculation will be finalised during checkout.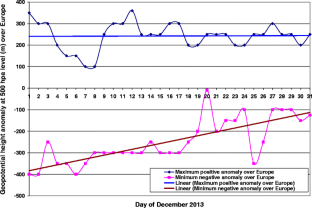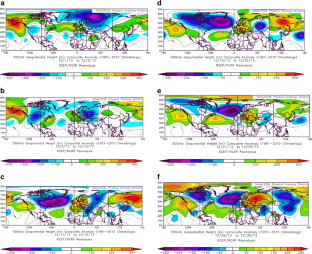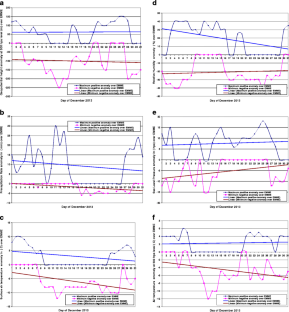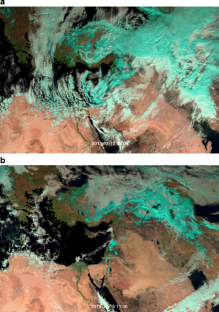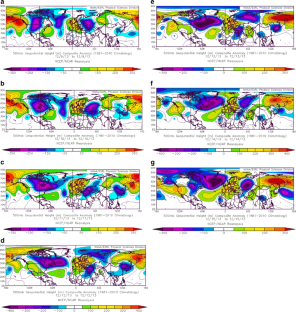 References
AMS (2008) Cold Wave. Glossary of Meteorology. Retrieved 2008–09 - 25.

Barriopedro D, Garria-R LA, Hemandez E (2006) A climatology of northern hemisphere blocking. J Climate 19:1042–1063

Barry R, Chorley R (2003) Atmosphere, weather and climate. Routledge; 8 edition, pp 472

Barth HJ, Steinkohl F (2004) Origin of winter precipitation in the central coastal lowlands of Saudi Arabia. J Arid Environ 57:101–115

Bolle HJ (ed) (2003) Mediterranean climate variability and trends. Springer, Berlin, p 372

Buehler T, Raible CC, Stocker TF (2011) The relationship of winter season North Atlantic blocking frequencies to extreme cold or dry spells in the ERA-40. Tellus 63A:212–222

Cheung H, Zhou NW, Mok HY, Wu MC (2012) Relationship between Ural-Siberian blocking and the East Asian winter monsoon in relation to the Arctic Oscillation and El Nino-Southern Oscillation. J Clim 25:4242–4257

Cheung HN, Zhou W, Shao Y, Chen W, Mok HY, Wu MC (2013) Observational climatology and characteristics of wintertime atmospheric blocking over Ural–Siberia. Clim Dyn 41:63–79

Cohen J, Saito K, Entekhabi D (2001) The role of the Siberian high in northern hemisphere climate variability. Geo Res Lett 28(2):299–302

Dickson RR, Namis J (1976) North America influences on the circulation and climate of the North Atlantic sector. Mon Weather Rev 104:1255–1265

Dole RM (1986) Persistent anomalies of the extratropical Northern Hemisphere wintertime circulation: structure. Mon Weather Rev 114:178–207

Dole RM, Gordon ND (1983) Persistent anomalies of the extratropical northern hemisphere wintertime circulation: geographical distribution and regional persistence characteristics. Mon Weather Rev 111(8):1567–1586

Evans JP (2009) 21st century climate change in the Middle East. Climate Change 92:417–432

Fujii A, Kuroda Y, Mukougawa H (2012) Mechanism and predictability of persistent Euro-Russian blocking in summer of 2010 examined by ensemble hindcast and forecast dataset. Geophys Res Abst 14:EGU2012–EGU3829

Giorgi F (2006) Climate change hot-spots. Geophys Res Lett 33:L08707. doi:10.1029/2006GL025734

Hafez YY (2008) The role played by blocking over the Northern Hemisphere on Hurricane Katrina. The J Amer Sci 4(2):10–25

Hafez Y Y (2012) Blocking systems persist over North Hemisphere and its role in extreme hot waves over Russia during summer 2010. Atmospheric Model Applications, I. Yucel, Ed., pp. 978–953, InTech, 2012

Hafez YY (2007) The connection between the 500 hpa geopotential height anomalies over Europe and the abnormal weather in eastern Mediterranean during winter 2006. I J Meteo U K 32(324):335–348

Hafez YY, Almazroui M (2013) The role played by blocking systems over Europe in abnormal weather over Kingdom of Saudi Arabia in summer 2010. Adv Meteor Vol. 2013, Article ID 705406, 20 pages. http://dx.doi.org/10.1155/2013/705406

Hafez YY, Almazroui M (2014) Recent study of anomaly of global annual geopotential height and global warming. Atmos Clim Sci 4:347–357, http://dx.doi.org/10.4236/acs.2014.43035

Hafez YY, Almazroui M (2015) A recent study on the relationship between global radiative forcing and global annual climatic variability. Atmos Clim Sci 5:23–55, http://dx.doi.org/10.4236/acs.2015.51003

H. M. S. O. (1962) Weather in the Mediterranean I: general meteorology. 2nd edition, London, pp 362

Hussain A, Lupo AR, Strong C, Dostoglou S (2007) A diagnostic study of atmospheric blocking using Lyapunov exponents over a 50 – year period. The 87th annual meeting of the American Meteorological Society, 19th conference on climate variability and change, San Antonio, TX

Issar AS, Zohar M (2007) Climate change, environment and civilization in the Middle East. Springer-Verlag Berlin Heidelberg. doi: 10.1007/978-3-540-69852-4

Kalnay E, Kanamitsu M, Kistler R et al (1996) The NCEP/NCAR 40-year reanalysis project. Bull Amer Meto Soc 77(3):437–471

Kostopoulou E, Jones PD (2005) Assessment of climate extremes in the East Mediterranean. Meteorol Atmos Phys 89:69–85. doi:10.1007/s00703-005-0122-2

Krichak SO, Tsidulko M, Alpert P (2000) Monthly synoptic patterns with wet/dry conditions in the eastern Mediterranean. Theor Appl Climatol 65:215–229

Lejenas H (1989) The severe winter in Europe 1941–1942: the large-scale circulation, cut-off lows, and blocking. Bull Am Meteorol Soc 70(3):271–281

Lelieveld J, Hadjinicolaou P, Kostopoulou E, Chenoweth J, El Maayar M, Giannakopoulos C, Hannides C, Lange MA, Tanarhte M, Tyrlis E, Xoplaki E (2012) Climate change and impacts in the Eastern Mediterranean and the Middle East. Clim Change 114:667–687. doi:10.1007/s10584-012-0418-4

Lionello P, Bhend J, Buzzi A, Della-Marta PM, Krichak S, Jansa A, Maheras P, Sanna A, Trigo IF, Trigo R (2006) Cyclones in the Mediterranean region: climatology and effects on the environment. In: Lionello P, Malanotte- Rizzoli P, Boscolo R (eds) Mediterranean climate variability. Elsevier, Amsterdam, pp 324–372

Liu Q (1994) On the definition and persistence of blocking. Tellus 46A:286–298

Lupo AR (1997) A diagnosis of two blocking events that occurred simultaneously in the midlatitude Northern Hemisphere. Mon Wea Rev 125:1801–1823

Lupo AR, Mokhov II, Akperov MG, Chernokulsky AV, Athar H (2012) A dynamic analysis of the role of the planetary- and synoptic-scale in the summer of 2010 blocking episodes over the European Part of Russia. Adv Meteor 584257:11

Namias J (1964) Seasonal persistence and recurrence of European blocking during 1958–1960. Tellus 6:394–407, J

Pelly L, Hoskins BJ (2003) A new perspective on blocking. J Atmos Sci 60:743–755

Pfahl S, Wernli H (2012) Quantifying the relevance of atmospheric blocking for co-located temperature extremes in the Northern Hemisphere on (sub-)daily time scales. Geo Res Lett 39:L12807. doi:10.1029/2012GL052261

Porebska M, Zdunek M (2013) Analysis of extreme temperature events in central Europe related to high pressure blocking situations in 2001–2011. Meteorologische eitschrift 22(5):533–540. doi:10.1127/0941-2948/2013/0455

Rex DF (1950a) Blocking action in the middle troposphere and its effect on regional climate I: an aerological study of blocking action. Tellus 3:196–211

Rex DF (1950b) Blocking action in the middle troposphere and its effect on regional Climate II: the climatology of blocking action. Tellus 3:275–301

Rex DF (1951) The effect of Atlantic blocking action upon European climate. Tellus 3:100–111

Schalge B, Blender R, Fraedrich K (2011) Blocking detection based on synoptic filters. Adv Meteor 717812:11. doi:10.1155/2011/717812

Sinclair MRA (1996) Climatology of anticyclones and blocking for the southern hemisphere. Mon Weather Rev 124:245–263

Sillmann J, Croci-Maspol M, Kallache M, Katz RW (2011) Extreme cold winter temperatures in Europe under the influence of north Atlantic atmospheric blocking. J Climate 24:5899–5913

Spiegel MR, (1961) Theory and problems of statistics, Schaum

Tibaldi S, Molteni F (1990) On the operational predictability of blocking. Tellus 42A:343–365

Wiedenmann JM et al (2002) The climatology of blocking anticyclones for the Northern and Southern Hemisphere block intensity as a diagnostic. J Climate 15:3459–3473

Renwinck JA (2005) Persistent positive anomalies in the Southern Hemisphere circulation. Mon Weather Rev 133:977–988

Xoplaki E (2002) Climate variability over the Mediterranean, PhD thesis, University of Bern, Switzerland, Available through: http://sinus.unibe.ch/ klimet/docs/phd_xoplaki.pdf.
Acknowledgments
It is a pleasure for the authors to thank the Earth System Research Laboratory, Physical Sciences Division, Climate Diagnostics Centre, for supporting the data used throughout this study. Also, many thanks to EUMETSAT for supporting satellite images.
About this article
Cite this article
Hafez, Y.Y., Almazroui, M. Study of the relationship between geopotential height anomaly over Europe and extreme abnormal weather over the Eastern Mediterranean and Middle East during December 2013. Arab J Geosci 9, 409 (2016). https://doi.org/10.1007/s12517-016-2424-8
Received:

Accepted:

Published:

DOI: https://doi.org/10.1007/s12517-016-2424-8
Keywords
Geopotential height

Extreme cooling

Abnormal weather

Alexa

Europe

EMME