Abstract
Ischemic stroke is a major public health problem worldwide. Although the circadian clock is involved in the process of ischemic stroke, the exact mechanism of the circadian clock in regulating angiogenesis after cerebral infarction remains unclear. In the present study, we determined that environmental circadian disruption (ECD) increased the stroke severity and impaired angiogenesis in the rat middle cerebral artery occlusion model, by measuring the infarct volume, neurological tests, and angiogenesis-related protein. We further report that Bmal1 plays an irreplaceable role in angiogenesis. Overexpression of Bmal1 promoted tube-forming, migration, and wound healing, and upregulated the vascular endothelial growth factor (VEGF) and Notch pathway protein levels. This promoting effect was reversed by the Notch pathway inhibitor DAPT, according to the results of angiogenesis capacity and VEGF pathway protein level. In conclusion, our study reveals the intervention of ECD in angiogenesis in ischemic stroke and further identifies the exact mechanism by which Bmal1 regulates angiogenesis through the VEGF-Notch1 pathway.
Access options
Buy single article
Instant access to the full article PDF.
USD 39.95
Price excludes VAT (USA)
Tax calculation will be finalised during checkout.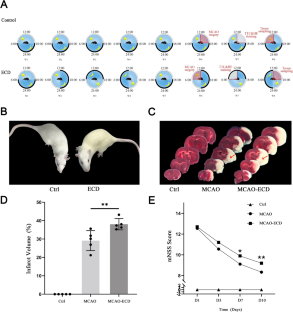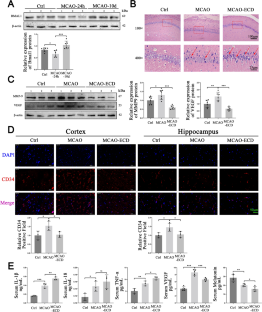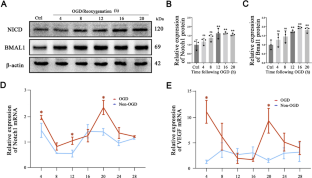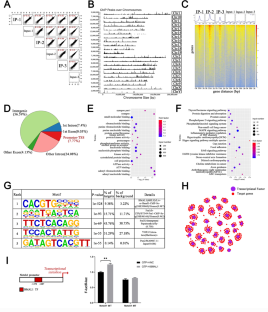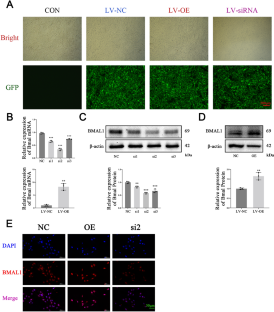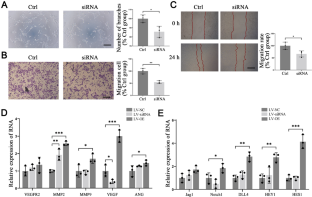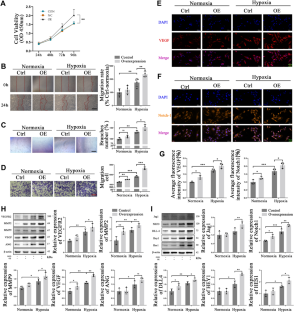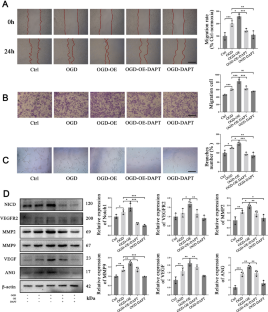 References
Johnson W, Onuma O, Owolabi M, Sachdev S. Stroke: A global response is needed. Bull World Health Organ 2016, 94: 634-634A.

Avan A, Hachinski V. Global, regional, and national trends of dementia incidence and risk factors, 1990–2019: A Global Burden of Disease study. Alzheimers Dement 2022, https://doi.org/10.1002/alz.12764.

Katan M, Luft A. Global burden of stroke. Semin Neurol 2018, 38: 208–211.

Tsao CW, Aday AW, Almarzooq ZI, Alonso A, Beaton AZ, Bittencourt MS. Heart disease and stroke statistics-2022 update: A report from the American heart association. Circulation 2022, 145: e153–e639.

Faizy TD, Mlynash M, Marks MP, Christensen S, Kabiri R, Kuraitis GM, et al. Intravenous tPA (tissue-type plasminogen activator) correlates with favorable venous outflow profiles in acute ischemic stroke. Stroke 2022, 53: 3145–3152.

Herpich F, Rincon F. Management of acute ischemic stroke. Crit Care Med 2020, 48: 1654–1663.

Peña-Martínez C, Durán-Laforet V, García-Culebras A, Cuartero MI, Moro MÁ, Lizasoain I. Neutrophil extracellular trap targeting protects against ischemic damage after fibrin-rich thrombotic stroke despite non-reperfusion. Front Immunol 2022, 13: 790002.

Hirano T. Evaluation of cerebral perfusion in patients undergoing intravenous recombinant tissue plasminogen activator thrombolysis. Neurol Med Chir (Tokyo) 2015, 55: 789–795.

Esposito E, Li W, Mandeville ET, Park JH, Şencan I, Guo S, et al. Potential circadian effects on translational failure for neuroprotection. Nature 2020, 582: 395–398.

Ruan L, Wang B, ZhuGe Q, Jin K. Coupling of neurogenesis and angiogenesis after ischemic stroke. Brain Res 2015, 1623: 166–173.

Jiang X, Suenaga J, Pu H, Wei Z, Smith AD, Hu X, et al. Post-stroke administration of omega-3 polyunsaturated fatty acids promotes neurovascular restoration after ischemic stroke in mice: Efficacy declines with aging. Neurobiol Dis 2019, 126: 62–75.

Uzdensky AB, Demyanenko S. Histone acetylation and deacetylation in ischemic stroke. Neural Regen Res 2021, 16: 1529–1530.

Bikfalvi A. History and conceptual developments in vascular biology and angiogenesis research: A personal view. Angiogenesis 2017, 20: 463–478.

Jin F, Zheng X, Yang Y, Yao G, Ye L, Doeppner TR, et al. Impairment of hypoxia-induced angiogenesis by LDL involves a HIF-centered signaling network linking inflammatory TNFα and angiogenic VEGF. Aging 2019, 11: 328–349.

Shweiki D, Itin A, Soffer D, Keshet E. Vascular endothelial growth factor induced by hypoxia may mediate hypoxia-initiated angiogenesis. Nature 1992, 359: 843–845.

Yang Y, Torbey MT. Angiogenesis and blood-brain barrier permeability in vascular remodeling after stroke. Curr Neuropharmacol 2020, 18: 1250–1265.

Krupinski J, Kaluza J, Kumar P, Kumar S, Wang JM. Role of angiogenesis in patients with cerebral ischemic stroke. Stroke 1994, 25: 1794–1798.

Wei L, Erinjeri JP, Rovainen CM, Woolsey TA. Collateral growth and angiogenesis around cortical stroke. Stroke 2001, 32: 2179–2184.

Chen J, Zhang ZG, Li Y, Wang L, Xu YX, Gautam SC, et al. Intravenous administration of human bone marrow stromal cells induces angiogenesis in the ischemic boundary zone after stroke in rats. Circ Res 2003, 92: 692–699.

Logan RW, McClung CA. Rhythms of life: Circadian disruption and brain disorders across the lifespan. Nat Rev Neurosci 2019, 20: 49–65.

Liu H, Qiu Z. Overexpression of MECP2 in the suprachiasmatic nucleus alters circadian rhythm and induces abnormal social behaviors. Neurosci Bull 2021, 37: 1713–1717.

Kollias GE, Stamatelopoulos KS, Papaioannou TG, Zakopoulos NA, Alevizaki M, Alexopoulos GP, et al. Diurnal variation of endothelial function and arterial stiffness in hypertension. J Hum Hypertens 2009, 23: 597–604.

Crnko S, Du Pré BC, Sluijter JPG, Van Laake LW. Circadian rhythms and the molecular clock in cardiovascular biology and disease. Nat Rev Cardiol 2019, 16: 437–447.

Lowrey PL, Takahashi JS. Genetics of circadian rhythms in mammalian model organisms. In: The Genetics of Circadian Rhythms. 1st ed. Amsterdam: Elsevier, 2011: 175–230.

Weber F, Zorn D, Rademacher C, Hung HC. Post-translational timing mechanisms of the Drosophila circadian clock. FEBS Lett 2011, 585: 1443–1449.

Preitner N, Damiola F, Luis-Lopez-Molina, Zakany J, Duboule D, Albrecht U, et al. The orphan nuclear receptor REV-ERBα controls circadian transcription within the positive limb of the mammalian circadian oscillator. Cell 2002, 110: 251–260.

Zhang Y, Fang B, Emmett MJ, Damle M, Sun Z, Feng D, et al. GENE REGULATION. Discrete functions of nuclear receptor Rev-erbα couple metabolism to the clock. Science 2015, 348: 1488–1492.

Mitsui S, Yamaguchi S, Matsuo T, Ishida Y, Okamura H. Antagonistic role of E4BP4 and PAR proteins in the circadian oscillatory mechanism. Genes Dev 2001, 15: 995–1006.

Cowell IG. E4BP4/NFIL3, a PAR-related bZIP factor with many roles. Bioessays 2002, 24: 1023–1029.

Gachon F, Fonjallaz P, Damiola F, Gos P, Kodama T, Zakany J, et al. The loss of circadian PAR bZip transcription factors results in epilepsy. Genes Dev 2004, 18: 1397–1412.

Lo EH, Albers GW, Dichgans M, Donnan G, Esposito E, Foster R, et al. Circadian biology and stroke. Stroke 2021, 52: 2180–2190.

Ramsey AM, Stowie A, Castanon-Cervantes O, Davidson AJ. Environmental circadian disruption increases stroke severity and dysregulates immune response. J Biol Rhythms 2020, 35: 368–376.

Koyanagi S, Kuramoto Y, Nakagawa H, Aramaki H, Ohdo S, Soeda S, et al. A molecular mechanism regulating circadian expression of vascular endothelial growth factor in tumor cells. Cancer Res 2003, 63: 7277–7283.

Sato F, Bhawal UK, Kawamoto T, Fujimoto K, Imaizumi T, Imanaka T, et al. Basic-helix-loop-helix (bHLH) transcription factor DEC2 negatively regulates vascular endothelial growth factor expression. Genes Cells 2008, 13: 131–144.

Jensen LD, Cao Y. Clock controls angiogenesis. Cell Cycle 2013, 12: 405–408.

Luo W, Garcia-Gonzalez I, Fernández-Chacón M, Casquero-Garcia V, Sanchez-Muñoz MS, Mühleder S, et al. Arterialization requires the timely suppression of cell growth. Nature 2021, 589: 437–441.

Lawson ND, Vogel AM, Weinstein BM. sonic hedgehog and vascular endothelial growth factor act upstream of the Notch pathway during arterial endothelial differentiation. Dev Cell 2002, 3: 127–136.

Liu ZJ, Shirakawa T, Li Y, Soma A, Oka M, Li Y, et al. Regulation of Notch1 and Dll4 by vascular endothelial growth factor in arterial endothelial cells: Implications for modulating arteriogenesis and angiogenesis. Mol Cell Biol 2003, 23: 14–25.

Al Haj Zen A, Oikawa A, Bazan-Peregrino M, Meloni M, Emanueli C, Madeddu P. Inhibition of delta-like-4-mediated signaling impairs reparative angiogenesis after ischemia. Circ Res 2010, 107: 283–293.

Cristofaro B, Shi Y, Faria M, Suchting S, Leroyer AS, Trindade A, et al. Dll4-Notch signaling determines the formation of native arterial collateral networks and arterial function in mouse ischemia models. Development 2013, 140: 1720–1729.

Castanon-Cervantes O, Wu M, Wu M, Paul K, Gamble KL, Johnson RL, et al. Dysregulation of inflammatory responses by chronic circadian disruption. J Immunol 2010, 185: 5796–5805.

Hill AM, Crislip GR, Stowie A, Ellis I, Ramsey A, Castanon-Cervantes O, et al. Environmental circadian disruption suppresses rhythms in kidney function and accelerates excretion of renal injury markers in urine of male hypertensive rats. Am J Physiol Renal Physiol 2021, 320: F224–F233.

Shen H, Pei H, Zhai L, Guan Q, Wang G. Salvianolic acid C improves cerebral ischemia reperfusion injury through suppressing microglial cell M1 polarization and promoting cerebral angiogenesis. Int Immunopharmacol 2022, 110: 109021.

Zhang L, Wei W, Ai X, Kilic E, Hermann DM, Venkataramani V, et al. Extracellular vesicles from hypoxia-preconditioned microglia promote angiogenesis and repress apoptosis in stroke mice via the TGF-β/Smad2/3 pathway. Cell Death Dis 2021, 12: 1068.

Yang D, Oike H, Furuse M, Yasuo S. Effect of regular and irregular stimulation cycles of dexamethasone on circadian clock in NIH3T3 cells. Chronobiol Int 2022, 39: 97–105.

Zong DD, Liu XM, Li JH, Ouyang RY, Long YJ, Chen P, et al. Resveratrol attenuates cigarette smoke induced endothelial apoptosis by activating Notch1 signaling mediated autophagy. Respir Res 2021, 22: 22.

Majumder S, Thieme K, Batchu SN, Alghamdi TA, Bowskill BB, Kabir MG, et al. Shifts in podocyte histone H3K27me3 regulate mouse and human glomerular disease. J Clin Invest 2018, 128: 483–499.

Lv S, Cai H, Xu Y, Dai J, Rong X, Zheng L. Thymosin-β 4 induces angiogenesis in critical limb ischemia mice via regulating Notch/NF-κB pathway. Int J Mol Med 2020, 46: 1347–1358.

Zhang Y, Liu T, Meyer CA, et al. Model-based analysis of ChIP-Seq (MACS). Genome Biol 2008, 9: R137.

Yu G, Wang LG, He QY. ChIPseeker: an R/Bioconductor package for ChIP peak annotation, comparison and visualization. Bioinformatics 2015, 31: 2382–2383.

Sellix MT, Evans JA, Leise TL, Castanon-Cervantes O, Hill DD, DeLisser P, et al. Aging differentially affects the re-entrainment response of central and peripheral circadian oscillators. J Neurosci 2012, 32: 16193–16202.

Fahey E, Doyle SL. IL-1 family cytokine regulation of vascular permeability and angiogenesis. Front Immunol 2019, 10: 1426.

Zhang C, Zhu M, Wang W, Chen D, Chen S, Zheng H. TNF-α promotes tumor lymph angiogenesis in head and neck squamous cell carcinoma through regulation of ERK3. Transl Cancer Res 2019, 8: 2439–2448.

Cipolla-Neto J, Amaral FGD. Melatonin as a hormone: New physiological and clinical insights. Endocr Rev 2018, 39: 990–1028.

Ma Q, Reiter RJ, Chen Y. Role of melatonin in controlling angiogenesis under physiological and pathological conditions. Angiogenesis 2020, 23: 91–104.

West AC, Smith L, Ray DW, Loudon ASI, Brown TM, Bechtold DA. Misalignment with the external light environment drives metabolic and cardiac dysfunction. Nat Commun 2017, 8: 417.

Ding SL, Zhang TW, Zhang QC, Ding W, Li ZF, Han GJ, et al. Excessive mechanical strain accelerates intervertebral disc degeneration by disrupting intrinsic circadian rhythm. Exp Mol Med 2021, 53: 1911–1923.

Brown DL, Feskanich D, Sánchez BN, Rexrode KM, Schernhammer ES, Lisabeth LD. Rotating night shift work and the risk of ischemic stroke. Am J Epidemiol 2009, 169: 1370–1377.

Vyas MV, Garg AX, Iansavichus AV, Costella J, Donner A, Laugsand LE, et al. Shift work and vascular events: Systematic review and meta-analysis. BMJ 2012, 345: e4800.

Earnest DJ, Neuendorff N, Coffman J, Selvamani A, Sohrabji F. Sex differences in the impact of shift work schedules on pathological outcomes in an animal model of ischemic stroke. Endocrinology 2016, 157: 2836–2843.

Yamazaki S, Numano R, Abe M, Hida A, Takahashi R, Ueda M, et al. Resetting central and peripheral circadian oscillators in transgenic rats. Science 2000, 288: 682–685.

Davidson AJ, Yamazaki S, Arble DM, Menaker M, Block GD. Resetting of central and peripheral circadian oscillators in aged rats. Neurobiol Aging 2008, 29: 471–477.

Thosar SS, Butler MP, Shea SA. Role of the circadian system in cardiovascular disease. J Clin Invest 2018, 128: 2157–2167.

Tian J, Popal MS, Huang R, Zhang M, Zhao X, Zhang M, et al. Caveolin as a novel potential therapeutic target in cardiac and vascular diseases: A mini review. Aging Dis 2020, 11: 378–389.

Dahl Jensen L, Cao Z, Nakamura M, Yang Y, Bräutigam L, Andersson P, et al. Opposing effects of circadian clock genes Bmal1 and Period2 in regulation of VEGF-dependent angiogenesis in developing zebrafish. Cell Rep 2012, 2: 231–241.

Manoonkitiwongsa PS, Schultz RL, McCreery DB, Whitter EF, Lyden PD. Neuroprotection of ischemic brain by vascular endothelial growth factor is critically dependent on proper dosage and may be compromised by angiogenesis. J Cereb Blood Flow Metab 2004, 24: 693–702.

Zhu H, Zhang Y, Zhong Y, Ye Y, Hu X, Gu L, et al. Inflammation-mediated angiogenesis in ischemic stroke. Front Cell Neurosci 2021, 15: 652647.

Esposito E, Zhang F, Park JH, Mandeville ET, Li W, Cuartero MI, et al. Diurnal differences in immune response in brain, blood and spleen after focal cerebral ischemia in mice. Stroke 2022, 53: e507–e511.

Xu Y, Cui K, Li J, Tang X, Lin J, Lu X, et al. Melatonin attenuates choroidal neovascularization by regulating macrophage/microglia polarization via inhibition of RhoA/ROCK signaling pathway. J Pineal Res 2020, 69: e12660.

Rahbarghazi A, Siahkouhian M, Rahbarghazi R, Ahmadi M, Bolboli L, Keyhanmanesh R, et al. Role of melatonin in the angiogenesis potential; highlights on the cardiovascular disease. J Inflamm 2021, 18: 4.

Míková H, Kuchtiak V, Svobodová I, Spišská V, Pačesová D, Balík A, et al. Circadian regulation of GluA2 mRNA processing in the rat suprachiasmatic nucleus and other brain structures. Mol Neurobiol 2021, 58: 439–449.

Xu L, Liu Y, Cheng Q, Shen Y, Yuan Y, Jiang X, et al. Bmal1 downregulation worsens critical limb ischemia by promoting inflammation and impairing angiogenesis. Front Cardiovasc Med 2021, 8: 712903.

Liu J, Li Q, Zhang KS, Hu B, Niu X, Zhou SM, et al. Downregulation of the long non-coding RNA Meg3 promotes angiogenesis after ischemic brain injury by activating Notch signaling. Mol Neurobiol 2017, 54: 8179–8190.

Guruharsha KG, Kankel MW, Artavanis-Tsakonas S. The Notch signalling system: Recent insights into the complexity of a conserved pathway. Nat Rev Genet 2012, 13: 654–666.

Noguera-Troise I, Daly C, Papadopoulos NJ, Coetzee S, Boland P, Gale NW, et al. Blockade of Dll4 inhibits tumour growth by promoting non-productive angiogenesis. Nature 2006, 444: 1032–1037.

Takeshita K, Satoh M, Ii M, Silver M, Limbourg FP, Mukai Y, et al. Critical role of endothelial Notch1 signaling in postnatal angiogenesis. Circ Res 2007, 100: 70–78.

Tian JQ, Zheng JJ, Hao XZ, Yin LK, Zhang XX, Li CC, et al. Dynamic evaluation of Notch signaling-mediated angiogenesis in ischemic rats using magnetic resonance imaging. Behav Neurol 2018, 2018: 8351053.

Zhu J, Liu Q, Jiang Y, Wu L, Xu G, Liu X. Enhanced angiogenesis promoted by human umbilical mesenchymal stem cell transplantation in stroked mouse is Notch1 signaling associated. Neuroscience 2015, 290: 288–299.

Walker WH, Borniger JC, Gaudier-Diaz MM, Hecmarie Meléndez-Fernández O, Pascoe JL, Courtney DeVries A, et al. Acute exposure to low-level light at night is sufficient to induce neurological changes and depressive-like behavior. Mol Psychiatry 2020, 25: 1080–1093.
Acknowledgements
We would like to thank researcher Ping Li for excellent technical support. This work was supported by the National Natural Science Foundation for Young Scholars of China (82004346 and 82104766), the Natural Science Foundation of Hunan Province (2021JJ30521 and 2021JJ40424), the Open Fund for the First-class Discipline of Integrated Traditional Chinese and Western Medicine of Hunan University of Chinese Medicine (2020ZXYJH38 and 2020ZXYJH39), Natural Science Foundation of Changsha (kq2208202), and the University-level Fund Project of Hunan University of Chinese Medicine (2021XJJJ039).
Ethics declarations
Conflict of interest
The authors declare that there are no conflicts of interest.
Rights and permissions
Springer Nature or its licensor (e.g. a society or other partner) holds exclusive rights to this article under a publishing agreement with the author(s) or other rightsholder(s); author self-archiving of the accepted manuscript version of this article is solely governed by the terms of such publishing agreement and applicable law.
About this article
Cite this article
Zhang, Y., Zhao, X., Guo, C. et al. The Circadian System Is Essential for the Crosstalk of VEGF-Notch-mediated Endothelial Angiogenesis in Ischemic Stroke. Neurosci. Bull. (2023). https://doi.org/10.1007/s12264-023-01042-9
Received:

Accepted:

Published:

DOI: https://doi.org/10.1007/s12264-023-01042-9
Keywords
Circadian clock

Ischemic stroke

Angiogenesis

VEGF

Notch pathway