Historical Land Use, Nitrogen, and Coastal Eutrophication: A Paleoecological Perspective
Abstract
Organisms and chemicals preserved in sediment cores from the Chesapeake estuary in mid-Atlantic USA are consistent with a precolonial landscape covered with a diversity of forests and marshes, large and small. During the past 300 years, many of the wetlands have been drained, and the landscape was converted to agricultural fields and urban and suburban development. During this time, sources of nitrogen have diversified, and loadings have increased. Since precolonial time, the mesohaline estuary has become increasingly eutrophic and anoxic. Estuaries and coastal regions throughout the world have experienced similar conditions in their recent history. These changes are recorded in Chesapeake sediment cores by increases in ragweed pollen, dry taxa, sedimentation rates, nitrogen influxes, and a major change in estuarine autotrophs from benthic to planktonic. In many areas, attempts to reverse estuarine eutrophication and anoxia have centered on restoring streams and riparian areas and reducing fertilizer use on agricultural lands. However, data from soils and historical reports and the paleoecological record suggest that to reduce the effects of modern nitrogen inputs, it may be necessary to locate and enhance denitrifying areas throughout the watershed.
Keywords
Estuary 
Landscape 
Paleoecology 
Nitrogen fixation 
Eutrophication 
Anoxia 
Denitrification 
Introduction
An important and largely unanswered question in many coastal areas throughout the world is how can aquatic ecosystems be restored to functionally coupled autotrophic detrital food webs, where inorganic material is converted to organic by primary producers, used by consumers, and converted back to inorganic by decomposers and recycled to primary producers. The large coastal shellfish and fishery resource, which has provided food for much of the world's human populations, has been greatly reduced as excess nutrients and over-harvesting have altered energy flows through aquatic food webs. Excess nitrogen is a major cause of ecosystem deterioration both on land and in water and is particularly difficult to amend due to multiple sources, the complexity of nitrogen transformations, and the necessity of anaerobic conditions for its return to the atmosphere as elemental nitrogen, via denitrification (e.g., Vitousek et al.
1997
; Galloway et al.
2004
; Seitzinger et al.
2006
). In this discussion, I concentrate on the Chesapeake Bay, a large estuary on the Atlantic coast of USA (Fig. 
1
). I use the stratigraphic record of organisms and materials preserved in Chesapeake Bay sediments spanning 1,000 to 14,000 years, along with available historical records (past 300 years; Fig. 
2
) to trace the history of changes associated primarily with nitrogen loadings into the estuary since precolonial time. I briefly review the known history of coastal eutrophication and deterioration worldwide. And finally, based on the historical and paleoecological records, I propose that a significant reduction in nitrogen both on the land and in the estuary can be accomplished most effectively by multiple denitrifying processors, both natural and engineering, positioned throughout the watershed.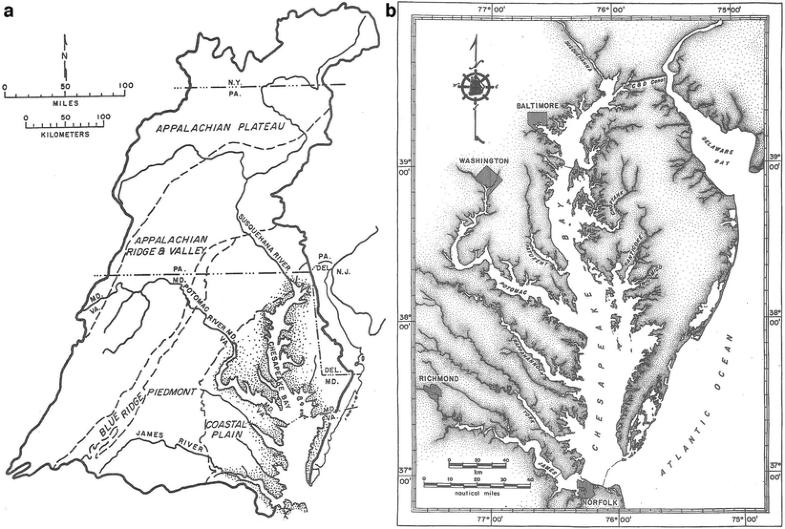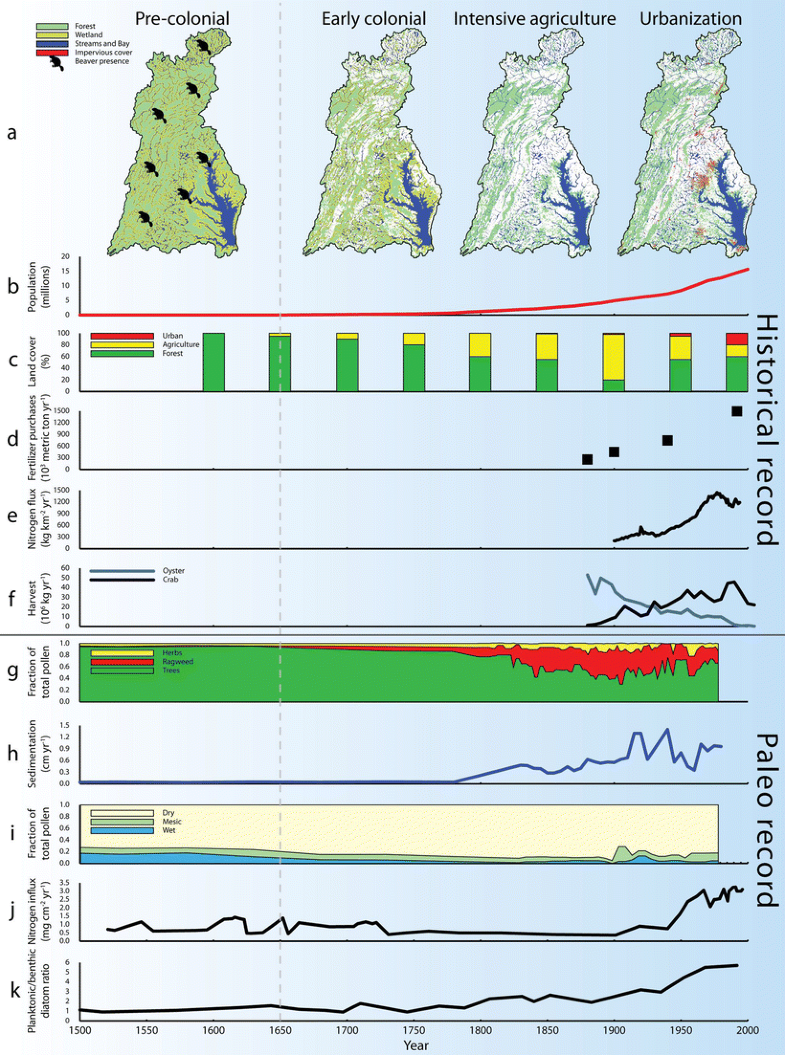 The Evolution of the Chesapeake Watershed
Summary and Discussion
Sediment, nitrogen, pollen, diatom, and seed profiles from sediment cores throughout the Chesapeake Bay suggest a precolonial nitrogen cycle consisting of a balance between biological nitrogen fixation and denitrification. This condition was maintained through periods of climate change such as the Medieval Warm Period 1,000 years ago and subsequent droughts. The landscape was for the most part wet and forested. In early precolonial time, the balance was maintained and according to the sediment record, did not change for a century or so while agriculture consisted of small farms separated by patches of forest. Later, crop rotation increased biological nitrogen fixation, and growing agricultural crops increased nitrogen uptake. But the paleoecological record of nutrients and diatoms preserved in estuarine sediments shows no change in estuarine water quality. Starting in the middle eighteenth century, draining of wetlands and floodplains to provide more arable land for an increasing population leading to the vast deforestation of eastern North America, changed landscape vegetation, hydrology, and geochemistry, so that opportunities for denitrification were greatly reduced. At the same time, along with greater biological fixation, sources of nitrogen increased, including guano, nitrate deposits, and later synthetic nitrogen. These changes are recorded in the sediment cores by increasing sedimentation rates, planktonic diatoms, and nitrogen influxes.
The basic reason for this change was the need to provide food for an increasing population. Even though the estuary supplied an abundance of various species of fish and shellfish, including striped bass, perch, shad, crabs, and oysters, human diets also require plant products, particularly grains, which are not the primary product of a forest ecosystem. Hence, the forests were changed to grasslands. This was accomplished by massive disturbance and huge subsidies in the form of fertilizers, drainage, and irrigation. The excess nutrients, along with sediment eroded off the land, led to eutrophication and anoxia and eventually extreme stress on the estuarine ecosystem.
Aquatic deterioration as described here, resulting primarily from fertilizers used on agricultural land, is not unique to the Chesapeake. Coastal regions throughout the world are experiencing similar difficulties, and most are not showing any notable recovery. In the Chesapeake, eutrophication has resulted mainly in hypoxia and anoxia. But eutrophication can also result in toxic algal blooms. Diaz and Rosenberg (2008) have reported more than 400 systems throughout the world where eutrophication has resulted in "dead zones" characterized by low dissolved oxygen and/or toxic algal blooms. However, the number of reported dead zones, as significant as it is, does not account for large areas of the Earth where monitoring is inadequate or non-existent, such as parts of Africa, Asia, and Latin America (Selman et al. 2008). Diaz and Rosenberg (2008) also report that in the USA and Europe where monitoring is more intense and has extended over a longer period of time, 78% of the continental US coastal area and 65% of Europe's Atlantic coast show varying degrees of eutrophication. The formation of dead zones is caused primarily by runoff of fertilizers from the land and an increased use of fossil fuel (Diaz and Rosenberg (2008), both of which are associated with the needs of increasing populations. These conditions are exacerbated by local geomorphological and hydrodynamic conditions such as enclosed basins and low flushing rates. Examples of dead zones which appear to have formed recently are the Baltic Sea, the Black Sea, the Gulf of Mexico, and the East China Sea. Bricker et al. (2007) and Xiao et al.( 2007) characterize eutrophic conditions in the East China Sea, reporting observations of acute toxic blooms since the 1990s, and in Jiaozhou Bay, which drains into the Yellow Sea, toxic blooms have been reported since the 1960s. Where monitoring has occurred for a sufficiently long time, hypoxia appears to have increased significantly over the past approximate 50 years, similar to the very pronounced increase in nitrogen influxes and hypoxia in the Chesapeake Bay in the mid twentieth century.
Paleoecological records have been compiled for some hypoxic coastal areas in order to determine the onset of hypoxia, whether or not hypoxic events since the middle of the twentieth century are unique, and possible historical causes. For example, lead-210-dated sediment cores collected in the northern Gulf of Mexico, into which the Mississippi River flows, show that phytoplankton production, as well as other chemical indicators of hypoxia, increased sharply in the mid twentieth century (Rabalais et al. 2007). The most severe hypoxic events coincide with land clearance, agricultural expansion, land drainage, and the reduction of denitrification in the drainage area. Analysis of ecosystem indicators from areas draining into Laajalahti Bay in Finland, a part of the north Baltic Sea, records the history of pollution, beginning with preindustrial time (prior to 1815), followed by decreasing water quality with the increase in humans from around 1900 to 1955 and acute pollution from about 1955 to 1975 (Kauppila et al. 2005). The accelerated decrease in water quality was caused by increasing agriculture and in some estuaries also the discharge of waste water. Clarke et al. (2006) studied paleoecological records of fjords in Denmark. In one case, total nitrogen increased by 85% during the last century, with the greatest and most rapid increase happening after the 1950s, corresponding with the use of artificial fertilizers in Denmark. Paleoecological studies of another fjord in Denmark (Clarke et al. 2006) show an increase, in the mid 1980s, in total dissolved nitrogen inferred from the diatom record and sedimentary chlorophyll A, which coincides in this case with the discharge of sewage waste water between the mid 1950s and 1986. In 1986, the waste water discharge was removed, and water quality improved somewhat.
Cloern (2001) proposed that the intensity of coastal eutrophication is influenced by tidal energy, horizontal transport processes, which determine flushing rates and residence time, and light characteristics. Existing paleoecological records show that the extent and degree of eutrophication in coastal regions is related to the geomorphological–hydrologic characteristics of the basins, which alter the effect of excess nutrients through flushing rates (residence time) and also the strength of water column stratification. But recent monitoring also indicates that because of the length of time and chronic nature of nutrient inputs from agricultural fields, eutrophication effects are spreading from near-shore areas and semi-enclosed basins to offshore regions. Spreading anoxia/hypoxia into these regions may have contributed to major changes in fisheries populations, which have also been altered by overfishing and the introduction of invasive species (Diaz and Rosenberg 2008).
There are some instances of varying degrees of recovery. The reduction in intensity of hypoxia in the Black Sea in the mid twentieth century is synchronous with a two- to fourfold reduction in fertilizers from the Soviet Union at that time (Diaz and Rosenberg 2008). Management of nutrients has eliminated or greatly reduced dead zones in the Hudson and East Rivers along the east coast of the USA and also the Mersey and Thames estuaries in England (Diaz and Rosenberg 2008). Bricker et al. (2007) report improvement in a number of coastal areas following large reductions in nitrogen loads, including Moreton Bay, Australia, the Venice Lagoon, Italy, and in the USA Tampa Bay, Florida, Long Island Sound, New York, and the upper Potomac River in Maryland and Virginia. In all of these cases, improvements have been accomplished by reducing point-source pollutants, which may or may not have a lasting effect, due to the increasing dominance of nonpoint sources as coastal populations continue to grow (Bricker, personal communication).
Existing historical, long-term monitoring, and paleoecological records indicate that around the middle of the twentieth century, there was a unique and sudden shift to a new phase of eutrophication in Chesapeake Bay and other coastal systems. The loss of many species of submerged macrophytes in most of the tributaries of the Chesapeake Bay has been recorded both in historical monitoring and paleoecological records (Brush and Hilgartner 2000; Kemp et al. 2005). Zimmerman and Canuel (2002) describe increased abundances of dinoflagellates, cyanobacteria, and small flagellates during the last part of the twentieth century in the Chesapeake Bay, based on pigments preserved in sediment cores. Hagy et al. (2004) report that the volume of hypoxic water in mid summer in the Chesapeake Bay increased by at least three times between 1950 and 2001, based on approximately 50-year synchronous records of estuarine bottom water dissolved oxygen and watershed nitrate loading in the Bay. Almost all long-term monitoring and paleoecological records show human-driven increases in nitrogen loads to coastal systems since around the 1950s.
Sediment cores from Europe also show that where fertilizers are the primary source of nutrients, there has been a pronounced shift to greater hypoxia from the middle to the latter part of the twentieth century (e.g., Clarke et al. 2006). There are variations among different estuaries related to local geomorphology, hydrodynamics, and human activities. However, the majority of evidence indicates that increased hypoxia beginning in the mid twentieth century is a globally distributed phenomenon, reflecting intense eutrophication in many coastal ecosystems. Recent analyses suggest that large-scale depletion of bottom water oxygen drives changes in the system state that tend to accelerate nitrogen regeneration and alter the overall nitrogen cycle (e.g., Kemp et al. 2005; Conley et al. 2007). It is important to find out if indeed this is a worldwide change and if so, what it really means with respect to the structure and composition of future coastal ecosystems.
Looking Ahead
What can be done? Diaz and Rosenberg (2008) succinctly advise that "the key to reducing dead zones will be to keep fertilizers on the land and out of the sea." But how? It is not possible to restore the landscape to precolonial conditions. One of the initial responses to reversing aquatic deterioration was the planting of vegetation in riparian areas that would prevent nitrogen from the land reaching the streams and eventually estuaries and coastal regions. In addition, there were calls for best management agricultural practices such as reduced and precision fertilizer use and no-till farming. All of these practices would be expected to be helpful, but so far, have not proven effective. This failure was demonstrated by the findings of Harding et al. (1998) who compared the diversity of stream invertebrates in watersheds in North Carolina with different histories of land use. Results of their study indicated that the long-term history of agricultural land use resulted in changes in stream invertebrate diversity that were not restored by more recent riparian reforestation, at least not on the time scale of years to decades. The legacy of fertilizers applied to agricultural fields decades ago on nitrogen cycling in today's forests has been documented (e.g., Compton and Boone 2000) and modeled (Magill et al. 2000). More recently, expensive and extensive stream restoration projects aimed at restoring streams to their "natural" state by removing agricultural legacy sediments, which tend to separate the stream from the floodplain as well as increasing conditions for low velocity flow by creating riffles and pools that increase hydraulic retention, are aimed at improving aquatic water quality (Craig et al. 2008.) It remains to be seen how effective these projects are. Kaushal et al. (2008) showed that when streams were restored so that the stream channels are connected with the floodplain, denitrification rates increased, but they also cautioned that there is much variability in the efficiency of stream restoration designs. Mulholland et al.( 2008) in a study that included 72 streams in eight regions showed that although biological nitrate uptake and denitrification increased with stream nitrate concentration in agricultural and urban streams, they declined as concentrations increased beyond a certain threshold. They showed that at low nitrogen loading rates, biotic nitrogen removal was high and occurred primarily in the smaller streams; at moderate loading rates, removal in small streams decreased and that which was not removed migrated into the larger streams where it could be removed, but at high loading rates, removal became ineffective across all stream sizes.
Intuitively, it seems possible and appropriate to design a system for nitrogen cycling on today's landscape that mimics the function of the precolonial wet and marshy condition, where denitrification occurred throughout the watershed and was not confined to riparian areas. Suggestions have been made as to how this can be accomplished. Remote sensing has provided inputs to models that allow optimal areas for denitrification on the landscape to be identified (Kulkarni et al. 2008). Seitzinger et al. (2006) proposed watershed strategies for disposing of nitrogen, including reduction of drainage from agricultural lands. Recently, the states within the Chesapeake watershed have proposed a tributaries plan that includes augmenting nitrate uptake and denitrification throughout the watershed (Maryland's Chesapeake Bay Tributary Strategy Statewide Implementation Plan 2008). The recommendations are wide ranging. In addition to increasing opportunities for denitrification, nitrogen loads would be reduced using precision agriculture and cover crops, upgrading waste water treatment plants to enhance nutrient removal, improved management of animal waste, reducing and retrofitting impervious surfaces, retrofitting septic systems to include enhanced denitrification, reducing suburban sprawl, and restoring wetlands.
Other possibilities include planting forest stands on appropriate soils throughout the watershed. McNeil et al. (2008) have shown that the spatial pattern of nitrogen cycling in the canopy biomass of forests in the Adirondacks identified by remote sensing is related to species functional traits, nitrogen deposition, and historic disturbance. Lovett et al. (2002) showed that although nitrate leaching is strongly related to the carbon nitrogen ratio (C/N) of the watershed soils, vegetation can play an important part in the C/N ratio in the soil, e.g., nitrogen leaching from soils into streams was greater in sugar maple forests than in red oak forests in the Catskills of New York. The paleoecological record of the Chesapeake system indicates that nitrogen influxes did not increase in the estuary until approximately 40% of the land was deforested. Runoff from agricultural fields could be decreased by surrounding fields with retention ditches with circulating water. Not only would such structures decrease runoff into adjacent streams but also, if anerobic conditions were present, would provide denitrifying sites. Wetlands situated in all hydrologically feasible locations throughout the watershed would also increase its denitrifying capacity by large amounts.
Removing nitrogen from the environment is an expensive proposition and presently is aimed primarily at restoring the estuarine and coastal fishery. But the desires and needs of human populations have changed so that the decision to proceed with the many tools that might improve coastal systems is also a political choice. For example, the composition of the Chesapeake population has changed from a majority of watermen relying for their living on fish and shellfish harvests to a population of residents, many of whom are commuters who value the estuary for its aesthetics and recreation more than as a food resource. The future of the Chesapeake and coastal regions in general will depend very much on the recognition of the importance of nitrogen removal for goals other than restoring the fishery, how successful the various tools for nitrogen removal are, and the willingness of the public to pay for the implementation of those tools that can successfully achieve multiple goals.
Notes
Acknowledgments
I thank Mike Martin for drafting Fig. 2 and Emily Elliott, Walter Boynton, Suzanne Bricker, Michael Kemp, and Charles O'Melia for comments on the manuscript.
Copyright information
© Coastal and Estuarine Research Federation 2008