MicroRNAs: New Therapeutic Targets for Familial Hypercholesterolemia?
Abstract
Familial hypercholesterolemia (FH) is the most common inherited form of dyslipidemia and a major cause of premature cardiovascular disease. Management of FH mainly relies on the efficiency of treatments that reduce plasma low-density lipoprotein (LDL) cholesterol (LDL-C) concentrations. MicroRNAs (miRs) have been suggested as emerging regulators of plasma LDL-C concentrations. Notably, there is evidence showing that miRs can regulate the post-transcriptional expression of genes involved in the pathogenesis of FH, including LDLR, APOB, PCSK9, and LDLRAP1. In addition, many miRs are located in genomic loci associated with abnormal levels of circulating lipids and lipoproteins in human plasma. The strong regulatory effects of miRs on the expression of FH-associated genes support of the notion that manipulation of miRs might serve as a potential novel therapeutic approach. The present review describes miRs-targeting FH-associated genes that could be used as potential therapeutic targets in patients with FH or other severe dyslipidemias.
Keywords
Apolipoprotein B 
Low-density lipoprotein cholesterol 
LDL receptor 
LDLRAP1 
microRNA 
PCSK9 
Necessity of New Therapeutic Options for FH Patients
Familial hypercholesterolemia (FH) is a frequent, severe, and mostly autosomal dominant genetic disorder associated with elevated plasma low-density lipoprotein cholesterol (LDL-C) levels that predisposes patients to premature cardiovascular disease (CVD), especially if remain undiagnosed or inadequately treated [1, 2, 3].
The disorder most commonly results from loss-of-function mutations in the LDLR gene encoding LDL receptor protein, and genes encoding for proteins that interact with the receptor, including apolipoprotein B (APOB), proprotein convertase subtilisin/kexin type 9 (PCSK9), or LDLR adaptor protein 1 (LDLRAP1) [4, 5]. These pathogenic mutations cause deficient clearance of circulating LDL particles via hepatic LDLR leading to increased plasma LDL-C levels from birth and deposition in the arterial wall, thus accelerating atherosclerosis and the risk of premature CVD [6, 7].
Statins, ezetimibe, bile acid sequestrants, and more recently PCSK9 inhibitors are the main therapeutic drugs for the treatment of heterozygous FH (HeFH); all of which work solely or predominantly via increased LDLR activity and LDL-C clearance. Additional LDL-C-lowering can be achieved in homozygous FH (HoFH) patients by decreasing production of LDL-C, or its precursors, with either the microsomal triglyceride transfer protein (MTP) inhibitor, lomitapide, or the antisense oligonucleotide which reduces apoB synthesis, mipomersen. LDL-C reduction can also be achieved by regular LDL apheresis which mechanically removes LDL. Statins and ezetimibe are the most commonly used cholesterol-lowering drugs and are now generically available at low cost in most countries [8, 9, 10]. Nevertheless, despite the 50 to 60% LDL-C reduction achievable by these two generally well-tolerated agents, a large number of FH patients still do not reach the recommended LDL-C goals due to their very high baseline LDL-C levels [2, 3]. In HeFH patients who already have evidence of CVD, less than 10 to 20% achieve a LDL-C level below 70 mg/dL on conventional drug therapy [11]. In HoFH patients, where the typical phenotype has untreated LDL-C > 500 mg/dL and at only minimal to moderate residual LDLR activity, even high doses of atorvastatin or rosuvastatin reduce mean LDL-C by only 22–25% [12, 13], and ezetimibe achieves an additional 20% reduction [14], thus few, if any, HoFH patients can reach anywhere near optimal LDL-C levels.
Therefore, alternative therapeutics either alone or in combination with current approved therapies can be considered to reduce residual disease burden in patients with FH [15]. In this context, modulation of microRNAs (miRs)-dependent gene expression represents a promising approach.
RNA-Based Therapeutic Approaches
In the past decade, RNA-based approaches have shown potential as novel therapies for human disorders. These therapeutic approaches are indebted to the advances in knowledge of the RNA field. As revealed by ENCODE (Encyclopedia of DNA Elements) project, a multi-center study aiming to find a collection of functional elements in the human genome via sequencing RNA from various sources, more than 90% of the human genome contains non-coding RNAs that can affect other coding sequences of the genome [16]. Several new classes of non-coding RNAs associated with the most disparate and critical functions have been identified [17]. Among these, small interfering RNAs (siRNAs) and miRs have attracted considerable interest for drug discovery and development because of their important role in gene regulation [18].
RNA Interference Pathway
miRs and siRNAs are endogenously transcribed non-coding short hairpin RNAs that inhibit gene expression through RNA interference (RNAi) pathways [19, 20, 21]. RNAi is a highly conserved cellular mechanism present in the most eukaryotic cells that interferes with post-transcription steps and consequently silences the expression of homologous genes [21, 22]. Either double-stranded miRs or siRNAs, composed of a passenger strand (sense strand) and a guide strand (antisense strand), can interact with and activate the RNA-induced silencing complex (RISC). The passenger strand is cleaved by the endonuclease argonaute 2 (AGO2) of the RISC, while the guide strand remains associated with the RISC. Subsequently, the guide strand directs the active RISC to target mRNA that is cleaved by AGO2 component [22, 23]. miRs inhibit the expression of genes by hybridizing guide strand to partially complementary binding sites typically localized in the 3′ untranslated regions (3′ UTR) of target mRNAs, while siRNA guide strand only binds to mRNA that is fully complementary to it, causing specific gene silencing [24, 25]. In rare cases, mRNAs contain highly complementary miRNA-binding sites and therefore miRs guide the sequence-specific cleavage of the mRNA in a process similar to that mediated by siRNAs [25]. Mechanistically, efficient inhibition is either supplied by interfering with translation or by predisposing mRNAs to degradation that is initiated by deadenylation and decapping of the mRNAs [24].
Therapeutic Potential of RNAi-Based Therapeutics
The therapeutic potential of miRs and siRNAs has been shown in the treatment of many different diseases such as cancers [26, 27, 28, 29], infections [29, 30, 31, 32], and cardiovascular diseases [33, 34]. The siRNA-based therapeutic approaches involve the delivery of a synthetic siRNA into the target cells aimed at suppressing the expression of a specific mRNA, and provide a gene silencing effect [35]. The siRNA-based cholesterol-lowering agent inclisiran (formerly ALN-PCS) has recently successfully completed a phase II trial in 497 patients with a baseline LDL-C of ~130 mg/dL [36]. Patients receiving a single subcutaneous injection of 300 mg of inclisiran achieved mean LDL-C reductions of 51 and 45% at Days 60 and 90, respectively (p < 0.0001 compared to placebo). Inclisiran was generally well tolerated with treatment emergent adverse events of 54% both in patients randomized to placebo or inclisiran, and with no differences between inclisiran doses. Injection site reactions (ISRs) with inclisiran were seen in 3.2% of patients, and were mild or moderate, and mostly transient. Inclisiran thus appears to provide a durable reduction in PCSK9 and LDL-C levels with small and infrequent subcutaneous injections [36].
In contrast to the siRNA approach, therapeutic procedures based on miRs embrace two different strategies including miR inhibition and miR replacement. The former strategy exploits antisense therapy to suppress the action of the endogenous miRs by using synthetic single-stranded RNAs acting as miR antagonists with sequences complementary to the endogenous miR [37]. The miR antagonists include anti-miRs, locked-nucleic acids (LNA) or antagomiRs carrying chemical modifications that magnify the affinity for the target miR and trap the endogenous miR in a configuration that cannot be incorporated into RISC complex, or cause degradation of the endogenous miR [38].
In the case of replacement strategy, synthetic miRs (miR mimics) are applied to mimic the function of the endogenous miRs causing mRNA inhibition/degradation, and exert a gene silencing effect [38].
Although siRNAs have been frequently used for silencing the target genes, and even a few siRNAs are studied in clinical trials [39], there are several fundamental disadvantages which considerably limit therapeutic use of siRNA methodology. The most important drawbacks include scrambling in the biogenesis of the endogenous miR, evocation of the interferon response, and the off-target effects [40, 41, 42, 43]. On the other hand, the unique biogenesis and mechanism of miR action enables it to be freed from aforementioned limitations. Impressive advantages of miR-based tools, such as specificity and safety, and the fascinating feature of multiple-targeting potential nominate miRs as a useful therapeutic approach [44].
miRs as Therapeutic Target and Tool for FH Therapy
Since miRs are known to have a pivotal role in LDL-C metabolism [45] and dysregulated miRs have been frequently found to be involved in the pathogenesis of FH and various CVDs, they have been suggested as potential targets for therapeutic intervention [46, 47, 48, 49].
Different lines of evidence support the legitimacy of considering miRs as therapeutic targets for FH teatmenttr. First, miR-based therapy with miR-34- and miR-122-based drugs has reached phase 2 clinical trial development [
50
,
51
,
52
]. Second, a number of in vitro and in vivo studies have revealed the importance of miRs in controlling plasma LDL-C through modulating LDLR, apoB, and PCSK9 expression. Hence, in attention to critical and well-established role of
LDLR
,
APOB
, and
PCSK9
genes in LDL-C hemostasis and metabolism, therapeutic manipulation of related miRs, via miR mimics or inhibitors, can be an efficient and attractive approach for lowering elevated LDL-C and reducing risk of CV events in FH patients (Fig.
1
).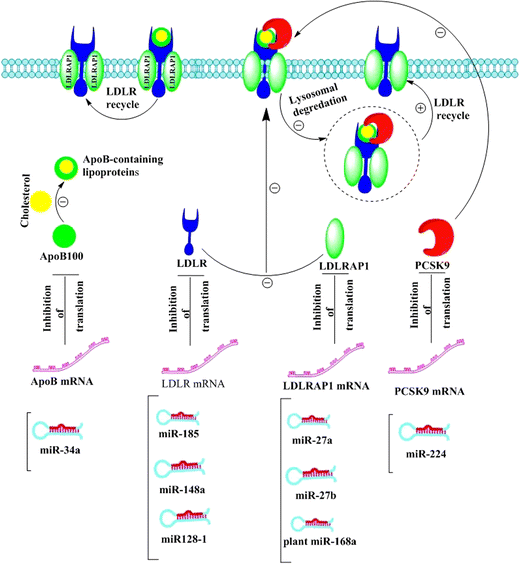 Concluding Remarks
miRs regulating critical genes closed to FH, including LDL, APOB, PCSK9, and LDLRAP1, can be considered as potential therapeutic targets for FH patients. LDLR can be upregulated through inhibition of miRs including miR128-1, miR-148a, and miR-185 and consequently enhances liver clearance of LDL-C. In the case of PCSK9, use of therapeutic miRs mimic miR-224, miR-132 and miR-499, miR-185, and miR-342, and also inhibition of miR-27a can downregulate PCSK9 expression, and therefore, can also lower elevated LDL-C in FH patients. Notably, reduction of atherogenic apoB-containing lipoproteins, as an efficient therapeutic approach in HoFH, can be achieved via miR-122, miR-34a and miR-30c mimics, which are known to reduce atherogenic lipoproteins independent of LDLR. In the case of LDLRAP1, inhibition of miR-27a and miR-27b can be a reliable and efficient approach for upregulation of LDLRAP1 protein and enhancing LDLR activity leading to improved clearance of LDL-C from sera of hypercholesterolemic patients. Overall, among the aforementioned miRs, miR-27a is suggested to be the most putative therapeutic target as it can regulate three of the 4 important photogenic genes in FH patients including LDLR, PCSK9, and LDLRAP1.
Notes
Compliance with Ethical Standards
Conflict of Interest
Dr. Banach has served on speaker's bureau of Abbott/Mylan, Abbott Vascular, Actavis, Akcea, Amgen, Biofarm, KRKA, MSD and Sanofi-Aventis, served as a consultant to Abbott Vascular, Amgen, Daichii Sankyo, Esperion, Lilly, MSD and Resverlogix, and received grant from Sanofi and Valeant. Dr. Stein has received consulting fees related to development of PCSK9 inhibitors from Amgen, Regeneron/Sanofi, Genentech/Roche and BMS and other LDL drugs from AstraZeneca, Catabasis, CymaBay, Gemphire. He is also an advisor on lipid altering drugs for CVS/Caremark. Other authors have no competing interests to declare.
Funding
There is no funding source.
Ethical Approval
This is an extensive review and therefore no ethical approval is necessary.
Informed Consent
This is an extensive review and therefore no informed consent is necessary.
Copyright information
© The Author(s) 2017
Open Access This article is distributed under the terms of the Creative Commons Attribution 4.0 International License (http://creativecommons.org/licenses/by/4.0/), which permits unrestricted use, distribution, and reproduction in any medium, provided you give appropriate credit to the original author(s) and the source, provide a link to the Creative Commons license, and indicate if changes were made.