Abstract
Six Lamiaceae from Morocco were screened for their antioxidant, photoprotective, anti-tyrosinase, and anti-urease effects in the aim to assess their possible use as a source of bioactive compounds. The amounts of different phenolic compounds were also quantified using calorimetric methods. The highest total phenolic content was recorded with Lavandula pinnata (400.67 ± 3.39 μg GAE/mg), while he uppermost amounts of total flavonoids and condensed tannins were observed with Mentha pulegium (208.31 ± 12.18 µg QE/mg and 43.81 ± 4.07 µg CE/mg, respectively). The strongest antioxidant effect against the DPPH radical was exhibited by Salvia officinalis with an IC50 of 4.33 ± 0.41 µg/mL, which was similar to the value presented by the standard BHA (5.73 ± 0.41 µg/mL) and 5 times less than that obtained with BHT (22.32 ± 1.19 µg/mL). Salvia officinalis also showed remarkable scavenging activity of the radical ABTS with an IC50 of 4.75 ± 0.47 µg/mL, which was slightly higher than those recorded with BHA and BHT (1.81 ± 0.10 and 1.29 ± 0.30 µg/mL, respectively). All the plants gave high values of SPF ranged between 34.66 ± 0.28 and 39.07 ± 1.06. Salvia officinalis presented the best inhibitory effects against tyrosinase and urease with IC50 values of 20.43 ± 1.39 and 10.38 ± 0.10 µg/mL, respectively and was more powerful than kojic acid and thiourea used as standards for each assay, respectively. These results showed the variety of actions exerted by the plants studied, which make them potential candidates as a source of bioactive substances for various applications.
Access options
Buy single article
Instant access to the full article PDF.
USD 39.95
Price excludes VAT (USA)
Tax calculation will be finalised during checkout.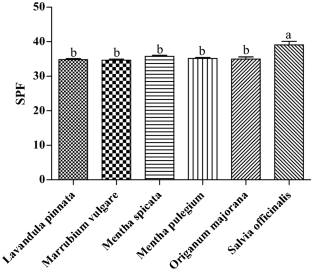 References
R.M. Harley, S. Atkins, A.L. Budantsev, P.D. Cantino, B.J. Conn, R. Grayer, M.M. Harley, R. de De Kok, T. de Krestovskaja, R. Morales, Labiatae. Plants Dicotyl. 7, 167–275 (2004)

M. Bakha, N. El Mtili, N. Machon, K. Aboukhalid, F.Z. Amchra, A. Khiraoui, M. Gibernau, F. Tomi, C. Al Faiz, Intraspecific chemical variability of the essential oils of Moroccan endemic Origanum elongatum L. (Lamiaceae) from its whole natural habitats. Arab. J. Chem. 13, 3070–3081 (2020)

A. El-Gharbaoui, G. Benítez, M.R. González-Tejero, J. Molero-Mesa, A. Merzouki, Comparison of Lamiaceae medicinal uses in eastern Morocco and eastern Andalusia and in Ibn al-Baytar's Compendium of Simple Medicaments (13th century CE). J. Ethnopharmacol. 202, 208–224 (2017)

N. Khaled-Khodja, L. Boulekbache-Makhlouf, K. Madani, Phytochemical screening of antioxidant and antibacterial activities of methanolic extracts of some Lamiaceae. Ind. Crops Prod. 61, 41–48 (2014)

F. El-Akhal, R. Guemmouh, S. Maniar, K. Taghzouti, A. El Ouali Lalami, Larvicidal activity of essential oils of Thymus vulgaris and Origanum majorana (Lamiaceae) against of the malaria vector Anopheles labranchiae (diptera: Culicidae). Int. J. Pharm. Pharm. Sci. 8, 372–376 (2016)

S. El Bardai, B. Lyoussi, M. Wibo, N. Morel, Comparative study of the antihypertensive activity of Marrubium vulgare and of the dihydropyridine calcium antagonist amlodipine in spontaneously hypertensive rat. Clin. Exp. Hypertens. 26, 465–474 (2004)

S. El Bardai, N. Morel, M. Wibo, N. Fabre, G. Llabres, B. Lyoussi, J. Quetin-Leclercq, The vasorelaxant activity of marrubenol and marrubiin from Marrubium vulgare. Planta Med. 69, 75–77 (2003)

U. Özgen, A. Mavi, Z. Terzi, A. Yιldιrιm, M. Coşkun, P.J. Houghton, Antioxidant properties of some medicinal Lamiaceae (Labiatae) species. Pharm. Biol. 44, 107–112 (2006)

A. Bouyahya, J. Abrini, A. El-Baabou, Y. Bakri, N. Dakka, Determination of phenol content and antibacterial activity of five medicinal plants ethanolic extracts from north-west of Morocco. Plant Pathol. Microbiol. 7, 7–14 (2016)

M. Ait-Sidi-Brahim, M. Markouk, M. Larhsini, New Look to Phytomedicine: Advancements in Herbal Products as Novel Drug Leads (Academic Press, London, 2019), pp. 91–142

V. López, S. Akerreta, E. Casanova, J.M. García-Mina, R.Y. Cavero, M.I. Calvo, In vitro antioxidant and anti-rhizopus activities of lamiaceae herbal extracts. Plant Foods Hum. Nutr. 62, 151–155 (2007)

M.A.M. Nawwar, A.M.D. El-Mousallamy, H.H. Barakat, J. Buddrus, M. Linscheid, Flavonoid lactates from leaves of Marrubium vulgare. Phytochemistry 28, 3201–3206 (1989)

M. Wang, J. Li, M. Rangarajan, Y. Shao, E.J. LaVoie, T. –Chi Huang, C. –Tang Ho, Antioxidative phenolic compounds from sage (Salvia officinalis). J. Agric. Food Chem. 46, 4869–4873 (1998)

Y. Lu, L.Y. Foo, Antioxidant activities of polyphenols from sage (Salvia officinalis). Food Chem. 75, 197–202 (2001)

A. Boudjelal, C. Henchiri, L. Siracusa, M. Sari, G. Ruberto, Compositional analysis and in vivo anti-diabetic activity of wild Algerian Marrubium vulgare L. infusion. Fitoterapia 83, 286–292 (2012)

W. Jin Jun, B.K. Han, K.W. Yu, M.S. Kim, I.S. Chang, H.Y. Kim, H.Y. Cho, Antioxidant effects of Origanum majorana L. on superoxide anion radicals. Food Chem. 75, 439–444 (2001)

A. Herrera-Arellano, L. Aguilar-Santamaría, B. García-Hernández, P. Nicasio-Torres, J. Tortoriello, Clinical trial of Cecropia obtusifolia and Marrubium vulgare leaf extracts on blood glucose and serum lipids in type 2 diabetics. Phytomedicine 11, 561–566 (2004)

F. Brahmi, K. Madani, F. Dahmoune, T. Rahmani, K. Bousbaa, S. Oukmanou, M. Chibane, Optimisation of solvent extraction of antioxidants (phenolic compounds) from Algerian Mint (Mentha spicata L.). Phcog. Commun. 2, 72–86 (2012)

M.H.H. Roby, M.A. Sarhan, K.A.-H. Selim, K.I. Khalel, Evaluation of antioxidant activity, total phenols and phenolic compounds in thyme (Thymus vulgaris L.), sage (Salvia officinalis L.), and marjoram (Origanum majorana L.) extracts. Ind. Crops. Prod. 43, 827–831 (2013)

A. Bouyahya, A. Et-Touys, Y. Bakri, T. Ahmed, H. Fellah, J. Abrini, N. Dakka, Chemical composition of Mentha pulegium and Rosmarinus officinalis essential oils and their antileishmanial, antibacterial and antioxidant activities. Microb. Pathog. 111, 41–49 (2017)

F. Brahmi, A. Abdenour, M. Bruno, P. Silvia, P. Alessandra, F. Danilo, Y.-G. Drifaa, E.M. Fahmie, K. Madani, M. Chibane, Chemical composition and in vitro antimicrobial, insecticidal and antioxidant activities of the essential oils of Mentha pulegium L. and Mentha rotundifolia (L.) Huds growing in Algeria. Ind. Crops. Prod. 88, 96–105 (2016)

N.R. Perron, J.L. Brumaghim, A review of the antioxidant mechanisms of polyphenol compounds related to iron binding. Cell Biochem. Biophys. 53, 75–100 (2009)

L.A. Pham-Huy, H. He, C. Pham-Huy, Free radicals, antioxidants in disease and health. Int. J. Biomed. Sci. IJBS. 4, 89 (2008)

M. Najafi, M. Cheki, S. Rezapoor, G. Geraily, E. Motevaseli, C. Carnovale, E. Clementi, A. Shirazi, Metformin: prevention of genomic instability and cancer: a review. Mutat. Res. Toxicol. Environ. Mutagen. 827, 1–8 (2018)

B. Poljšak, R.G. Dahmane, A. Godić, Intrinsic skin aging: the role of oxidative stress. Acta Dermatovenerol. Alp Pannonica Adriat. 21, 33–36 (2012)

V.T. Natarajan, P. Ganju, A. Ramkumar, R. Grover, R.S. Gokhale, Multifaceted pathways protect human skin from sUV radiation. Nat. Chem. Biol. 10, 542–551 (2014)

F. Shahidi, P. Ambigaipalan, Phenolics and polyphenolics in foods, beverages and spices: antioxidant activity and health effects—a review. J. Funct. Foods. 18, 820–897 (2015)

J.E.N. Dolatabadi, S. Kashanian, A review on DNA interaction with synthetic phenolic food additives. Food Res. Int. 43, 1223–1230 (2010)

A. Djeridane, M. Yousfi, B. Nadjemi, D. Boutassouna, P. Stocker, N. Vidal, Antioxidant activity of some Algerian medicinal plants extracts containing phenolic compounds. Food Chem. 97, 654–660 (2006)

M. Quiñones, M. Miguel, A. Aleixandre, Beneficial effects of polyphenols on cardiovascular disease. Pharmacol. Res. 68, 125–131 (2013)

L. Montenegro, L. Santagati, Use of vegetable oils to improve the sun protection factor of sunscreen formulations. Cosmetics. 6, 25 (2019)

V.L. Singleton, J.A. Rossi, Colorimetry of total phenolics with phosphomolybdic-phosphotungstic acid reagents. Am. J. Enol. Vitic. 16, 144–158 (1965)

L. Müller, S. Gnoyke, A.M. Popken, V. Böhm, Antioxidant capacity and related parameters of different fruit formulations. LWT Food Sci. Technol. 43, 992–999 (2010)

G. Topçu, M. Ay, A. Bilici, C. Sarikürkcü, M. Öztürk, A. Ulubelen, A new flavone from antioxidant extracts of Pistacia terebinthus. Food Chem. 103, 816–822 (2007)

A. Kumaran, R. Joel Karunakaran, In vitro antioxidant activities of methanol extracts of five Phyllanthus species from India. LWT Food Sci. Technol. 40, 344–352 (2007)

F. Saci, M. Bachir Bey, H. Louaileche, L. Gali, C. Bensouici, Changes in anticholinesterase, antioxidant and related bioactive coumpounds of carob pulp (Ceratonia siliqua L.) during ripening stage. J. Food Measur. Character. 14, 937–945 (2020)

M. Blois, Antioxidant determinations by the use of a stable free radical. Nature 181, 1199 1200 (1958)

R. Re, N. Pellegrini, A. Proteggente, A. Pannala, M. Yang, C. Rice-Evans, Antioxidant activity applying an improved ABTS radical cation decolorization assay. Free Radic. Biol. Med. 26, 1231–1237 (1999)

L. Gali, F. Bedjou, Antioxidant and anticholinesterase effects of the ethanol extract, ethanol extract fractions and total alkaloids from the cultivated Ruta chalepensis. South Afr. J. Bot. 120, 163–169 (2019)

M. Cristina, P.P.R. Mansur, S. Guimaraes, C. Cerqueiracoutinho, A. Beatriz, R.S. Silva, O.A.F. Presgrave, A.A.C. Leitao, G.G. Leitao, E. Riccijunior, E.P. Santos, In vitro and in vivo evaluation of efficacy and safety of photoprotective formulations containing antioxidant extracts. Rev. Bras. Farmacogn. 26, 6–13 (2016)

R.M. Sayre, P.P. Agin, G.J. LeVee, E. Marlowe, A comparison of in vivo and in vitro testing of sunscreening formulas. Photochem. Photobiol. 29, 559–566 (1979)

E. Deveci, G. Tel-çayan, M.E. Duru, M. Emin, D. Published, and anti-tyrosinase activities of the various extracts of Ferula elaeochytris and Sideritis stricta. Int. J. Food Prop. 21, 771–783 (2018)

M. Taha, H. Ullah, L. Muhammad, R. Al, M. Naseem, F. Rahim, N. Ahmat, M. Tariq, M. Ali, K. Mohammed, Bisindolylmethane thiosemicarbazides as potential inhibitors of urease: synthesis and molecular modeling studies. Bioorg. Med. Chem. 26, 152–160 (2018)

R. Gyawali, S.A. Ibrahim, Natural products as antimicrobial agents. Food Control 46, 412–429 (2014)

B. Tepe, O. Eminagaoglu, H.A. Akpulat, E. Aydin, Antioxidant potentials and rosmarinic acid levels of the methanolic extracts of Salvia verticillata (L.) subsp. verticillata and S verticillata (L.) subsp amasiaca (Freyn & Bornm.) Bornm. Food Chem. 100, 985–989 (2007)

K. Herrmann, On the occurrence of flavonol and flavone glycosides in vegetables. Rev. Ubersichtsbericht. 186, 1–5 (1988)

T.M. Upson, R.J. Grayer, J.R. Greenham, C.A. Williams, F. Al-Ghamdi, F.H. Chen, Leaf flavonoids as systematic characters in the genera Lavandula and Sabaudia. Biochem. Syst. Ecol. 28, 991–1007 (2000)

M.S. Stankovi, Total phenolic content, flavonoid concentration and antioxidant activity of Marrubium peregrinum L. extracts. Kragujevac J. Sci. 33, 63–72 (2011)

R. Scherer, M.F. Lemos, M.F. Lemos, G.C. Martinelli, J.D.L. Martins, A.G. da Silva, Antioxidant and antibacterial activities and composition of Brazilian spearmint (Mentha spicata L.). Ind. Crops Prod. 50, 408–413 (2013)

H. Hajlaoui, N. Trabelsi, E. Noumi, M. Snoussi, H. Fallah, R. Ksouri, A. Bakhrouf, Biological activities of the essential oils and methanol extract of tow cultivated mint species (Mentha longifolia and Mentha pulegium) used in the Tunisian folkloric medicine. World J. Microbiol. Biotechnol. 25, 2227–2238 (2009)

M. Then, K. Vásárhelyi-Perédi, R. Szöllosy, K. Szentmihályi, Polyphenol-, mineral element content and total antioxidant power of sage (Salvia officinalis L.) extracts. Acta Hortic. 629, 123–129 (2004)

A. Boussadia, A. Beghidja, L. Gali, C. Beghidja, M. Elhabiri, P. Rabu, G. Rogez, Coordination properties of two new Schiff-base phenoxy-carboxylates and comparative study of their antioxidant activities. Inorganica Chim. Acta. 508, 119656 (2020)

D. Huang, B. Ou, R.L. Prior, The chemistry behind antioxidant capacity assays. J. Agric. Food Chem. 53, 1841–1856 (2005)

B. Amri, E. Martino, F.V. Id, F. Corana, L.B. Ben-ka, M. Rui, D. Rossi, M. Mori, S. Rossi, S. Collina, Marrubium vulgare L. leave extract: phytochemical composition antioxidant and wound healing properties. Molecules 22, 1851 (2017)

N. Saewan, A. Jimtaisong, Photoprotection of natural flavonoids. J. Appl. Pharm. Sci. 3, 129–141 (2013)

P. Schroeder, J. Krutmann, Do we need infrared a photoprotection? Expert Rev. Dermatol. 5, 627–631 (2010)

W.A.S. da Almeida, A.A. Antunes, R.G. Penido, H.S.G. da Correa, A.M. Nascimento, Â.L. Andrade, V.R. Santos, T. Cazati, T.R. Amparo, G.H.B. de Souza, K.M. Freitas, O.D.H. dos Santos, L.R.D. Sousa, V.M.R. dos Santos, Photoprotective activity and increase of SPF in sunscreen formulation using lyophilized red propolis extracts from Alagoas. Braz. J. Pharmacogn. 29, 1–5 (2019)

S. Albrecht, S. Jung, R. Müller, J. Lademann, T. Zuberbier, L. Zastrow, C. Reble, I. Beckers, M.C. Meinke, Skin type differences in solar-simulated radiation-induced oxidative stress. Br. J. Dermatol. 180, 597–603 (2019)

Y.P. Lim, S.F. Pang, M.M. Yusoff, S.K. Abdul Mudalip, J. Gimbun, Correlation between the extraction yield of mangiferin to the antioxidant activity, total phenolic and total flavonoid content of Phaleria macrocarpa fruits. J. Appl. Res. Med. Aromat. Plants. 14, 100224 (2019)

M.A. Ebrahimzadeh, R. Enayatifard, M. Khalili, M. Ghaffarloo, M. Saeedi, J.Y. Charati, Correlation between sun protection factor and antioxidant activity, phenol and flavonoid contents of some medicinal plants. Iran. J. Pharm. Res. 13, 1041–1048 (2014)

M.S.K. Souza, A.T. Dos Santos, F.C.A. Alves, O.A. Paula, A.V. Almeida, S.F.J. Alves, A.E. Cavalcante da Cruz, A.J.R. Guedes da Silva, S.N. DarkleiSantos, N.X. Pereira, Identification of flavonol glycosides and in vitro photoprotective and antioxidant activities of Triplaris gardneriana Wedd. J. Med. Plants Res. 9, 207–215 (2015)

S. Afonso, K. Horita, J.P.S. e Silva, I.F. Almeida, M.H. Amaral, P.A. Lobão, P.C. Costa, M.S. Miranda, J.C.G.E. da Silva, J.M.S. Lobo, Photodegradation of avobenzone: stabilization effect of antioxidants. J. Photochem. Photobiol. B 140, 36–40 (2014)

A. Lohani, A.K. Mishra, A. Verma, Cosmeceutical potential of geranium and calendula essential oil: Determination of antioxidant activity and in vitro sun protection factor. J. Cosmet. Dermatol. 18, 550–557 (2019)

N.M. Nurilmala, E. Anwar, N. Luthfiyana, T. Hidayat, Identification of bioactive compounds of seaweed sargassum sp. and Eucheuma cottonii doty as a raw sunscreen cream. Proc. Pakistan Acad. Sci. Part B. 54, 311–318 (2017)

E. Gregoris, S. Fabris, M. Bertelle, L. Grassato, R. Stevanato, Propolis as potential cosmeceutical sunscreen agent for its combined photoprotective and antioxidant properties. Int. J. Pharm. 405, 97–101 (2011)

V.S. Thibane, A.R. Ndhlala, H.A. Abdelgadir, J.F. Finnie, J. Van Staden, The cosmetic potential of plants from the Eastern Cape Province traditionally used for skincare and beauty. South Afr. J. Bot. 122, 475–483 (2018)

M.U. Mazumder, K. Das, A.D. Choudhury, P. Khazeo, Determination of sun protection factor (spf) number of some hydroalcoholic vegetable extracts. Pharma J. 6, 41–45 (2018)

L.C. Cefali, J.A. Ataide, A.R. Fernandes, E. Sanchez-Lopez, I.M.O. de Sousa, M.C. Figueiredo, A.L.T.G. Ruiz, M.A. Foglio, P.G. Mazzola, E.B. Souto, Evaluation of in vitro solar protection factor (SPF), antioxidant activity, and cell viability of mixed vegetable extracts from dirmophandra mollis benth, Ginkgo biloba L., Ruta graveolens L., and Vitis vinifera L. Plants 8, 453 (2019)

W.-M. Chai, Q. Huang, M.-Z. Lin, C. Ou-Yang, W.-Y. Huang, Y.-X. Wang, K.-L. Xu, H.-L. Feng, Condensed tannins from longan bark as inhibitor of tyrosinase: structure, activity, and mechanism. J. Agric. Food Chem. 66, 908–917 (2018)

S. Parvez, M. Kang, H. Chung, H. Bae, Naturally occurring tyrosinase inhibitors: mechanism and applications in skin health, cosmetics and agriculture industries. Phyther. Res. 21, 805–816 (2007)

Y.-J. Kim, H. Uyama, Tyrosinase inhibitors from natural and synthetic sources: structure, inhibition mechanism and perspective for the future. Cell. Mol. Life Sci. C 62, 1707–1723 (2005)

T.-S. Chang, An updated review of tyrosinase inhibitors. Int. J. Mol. Sci. 10, 2440–2475 (2009)

B. Fatiha, H. Didier, G. Naima, M. Khodir, K. Martin, K. Léocadie, S. Caroline, C. Mohamed, D. Pierre, Phenolic composition, in vitro antioxidant effects and tyrosinase inhibitory activity of three Algerian Mentha species: M. spicata (L.), M. pulegium (L.) and M. rotundifolia (L.) Huds (Lamiaceae). Ind. Crops Prod. 74, 722–730 (2015)

S.T.S. Hassan, M. Žemlička, Plant-derived urease inhibitors as alternative chemotherapeutic agents. Arch. Pharm. Chem. Life Sci. 349, 1–16 (2016)

L.S.B. Upadhyay, Urease inhibitors: a review. Indian J. Biotechnol. 11, 381–388 (2012)

P. Kosikowska, Ł Berlicki, Urease inhibitors as potential drugs for gastric and urinary tract infections: a patent review. Expert Opin. Ther. Pat. 21, 945–957 (2011)

L.P. Horta, Y.C.C. Mota, G.M. Barbosa, T.C. Braga, I.E. Marriel, Â. Fátima, L.V. Modolo, Urease inhibitors of agricultural interest inspired by structures of plant phenolic aldehydes. J. Braz. Chem. Soc. 27, 1512–1519 (2016)

S. Shabana, A. Kawai, K. Kai, K. Akiyama, H. Hayashi, Inhibitory activity against urease of quercetin glycosides isolated from Allium cepa and Psidium guajava. Biosci. Biotechnol. Biochem. 74, 878–880 (2010)

A. Tosun, S. Khan, Y.S. Kim, Á. Calín-Sánchez, X. Hysenaj, Á.A. Carbonell-Barrachina, Essential oil composition and anti-inflammatory activity of Salvia officinalis L (Lamiaceae) in murin macrophages. Trop. J. Pharm. Res. 13, 937–942 (2014)

S. Jedidi, F. Aloui, H. Selmi, K. Rtibi, Ethnobotanical survey on the traditional use of officinal sage (Salvia officinalis L.) in Tabarka and Aïn Draham (Northwestern of Tunisia). J. New Sci. 18, 3402–3412 (2018)

K.L. Lemle, Salvia officinalis used in pharmaceutics. IOP Conf. Ser. Mater. Sci. Eng. 294, 012037 (2018)

I. Cinbilgel, Y. Kurt, Oregano and/or marjoram: traditional oil production and ethnomedical utilization of Origanum species in southern Turkey. J. Herb. Med. 16, 100257 (2019)

S.G. Deans, K.P. Svoboda, The antimicrobial properties of marjoram (Origanum majorana L.) volatile oil. Flavour Fragr. J. 5, 187–190 (1990)

M. Marrelli, Origanum spp.: an update of their chemical and biological pro fi les. Phytochem. Rev. 17, 873–888 (2018)

M.Y. Hadi, I.H. Hameed, I.A. Ibraheam, Mentha pulegium: Medicinal uses, anti-hepatic, antibacterial, antioxidant effect and analysis of bioactive natural compounds: a review. Res. J. Pharm. Technol. 10, 3580–3584 (2017)

A. Ahmed, K. Ayoub, A.J. Chaima, L. Hanaa, C. Abdelaziz, Effect of drying methods on yield, chemical composition and bioactivities of essential oil obtained from Moroccan Mentha pulegium L. Biocatal. Agric. Biotechnol. 16, 638–643 (2018)

H. Akdime, S. Boukhira, L.E.L. Mansouri, A.H. El Youbi, D. Bousta, Ethnobotanical study and traditional knowledge of medicinal plants in Ain Leuh Region (Middle-Atlas of Morocco ). Am. J. Adv. Drug Deliv. 3, 248–263 (2015)

S. Amalich, H. Zerkani, A. Cherrat, N.D.K. Soro, M. Bourakhouadar, M. Mahjoubi, F.E.L. Hilali, T. Zair, Research article study on Mentha pulegium L from M'rirt (Morocco): antibacterial and antifungal activities of a pulegone-rich essential oil. J. Chem. Pharm. 8, 363–370 (2016)

E. Martino, S. Della Volpe, V. Cavalloro, B. Amri, L.B.B. Kaab, G. Marrubini, D. Rossi, S. Collina, The use of a microwave-assisted solvent extraction coupled with HPLC-UV/PAD to assess the quality of Marrubium vulgare L. (white horehound) herbal raw material. Phytochem. Anal. 30, 377–384 (2019)

W. Elbali, A. Djouahri, Z. Djerrad, B. Saka, S. Aberrane, N. Sabaou, A. Baaliouamer, L. Boudarene, Chemical variability and biological activities of Marrubium vulgare L. essential oil, depending on geographic variation and environmental factors. J. Essent. Oil Res. 30, 470–487 (2018)

P.S. Karunanithi, P. Dhanota, J.B. Addison, S. Tong, O. Fiehn, P. Zerbe, Functional characterization of the cytochrome P450 monooxygenase CYP71AU87 indicates a role in marrubiin biosynthesis in the medicinal plant Marrubium vulgare. BMC Plant Biol. 19, 1–14 (2019)

M.P. Argentieri, B. De Lucia, G. Cristiano, P. Avatoa, Compositional analysis of Lavandula pinnata essential oils. Nat. Prod. Commun. 11, 287–290 (2016)

M.J.O. Dragovic, Utilisation of Lavandula pinnata L. f. as an ornamental plant. Acta Hortic. 1097, 107–116 (2015)

T.M. Upson, S.L. Jury, A revision of native Moroccan species of Lavandula L. section Pterostoechas Ging. (Lamiaceae). Taxon 51, 309–327 (2002)

R. Erenler, İ Telci, M. Elmastaş, H. Aksit, F. Gül, A.R. Tüfekçi, I. Demi̇Rtaş, Ö. Kayir, Quantification of flavonoids isolated from Mentha spicata in selected clones of Turkish mint landraces. Turkish J. Chem. 42, 1695–1705 (2018)

A. Piras, S. Porcedda, D. Falconieri, A. Maxia, M. Goncalves, C. Cavaleiro, L. Salgueiro, Antifungal activity of essential oil from Mentha spicata L. and Mentha pulegium L. growing wild in Sardinia island (Italy). Nat. Prod. Res. 0, 1–7 (2019)
Acknowledgments
We are grateful to the Biotechnology Research Center, Constantine, (Algeria) helping us bring the present work to light.
Ethics declarations
Conflict of interest
The authors declare that they have no conflicts of interest concerning this article.
Additional information
Publisher's Note
Springer Nature remains neutral with regard to jurisdictional claims in published maps and institutional affiliations.
About this article
Cite this article
El Aanachi, S., Gali, L., Rammali, S. et al. In vitro study of the antioxidant, photoprotective, anti-tyrosinase, and anti-urease effects of methanolic extracts from leaves of six Moroccan Lamiaceae. Food Measure 15, 1785–1795 (2021). https://doi.org/10.1007/s11694-020-00759-9
Received:

Accepted:

Published:

Issue Date:

DOI: https://doi.org/10.1007/s11694-020-00759-9
Keywords
Lamiaceae

Phenolic contents

Antioxidant activity

Sun protection factor

Tyrosinase

Ureas