Zusammenfassung
Datenjournalismus zählt 2013 zu den Top-Themen in Branchenmagazinen und der Journalistenausbildung. Die vorliegende Studie versucht erstmalig, den Datenjournalismus in Deutschland in seinen Grundzügen empirisch zu beschreiben. Es stellt sich dabei die Frage, ob sich ein neuer Typus von Journalismus herausbildet. Die Studie befasst sich hierfür insbesondere mit den Berufs- und Rollenbildern von Datenjournalisten. Der Untersuchung liegt die struktur-funktionalistische Rollentheorie zugrunde. Mit Hilfe von Leitfadeninterviews wurden 35 Datenjournalisten befragt. Das sind nahezu alle im Frühjahr 2013 bekannten Datenjournalisten in Deutschland. In ihrem Rollenverständnis und Tätigkeitsprofil unterscheiden sie sich von der Gesamtheit der Journalisten in Deutschland. Insbesondere die Service- und Unterhaltungsfunktion, aber auch die Informationsfunktion werden geringer bewertet, während die Kritik- und Kontrollfunktion besonders ausgeprägt ist. Das Rollenverständnis ist zudem stark davon geprägt, neue Meinungen zu ermöglichen sowie neue Trends und Ideen zu vermitteln. Das Tätigkeitsprofil unterscheidet sich naturgemäß, da beim Datenjournalismus die Sammlung, Auswertung, Interpretation und Darstellung großer Datenmengen zum zentralen Handwerkzeug gehören.
Abstract
Data journalism is increasingly practiced and taught in journalism schools. The present study attempts to describe empirical data journalism in Germany for the first time in its fundamentals. The question is whether a new type of journalism is emerging. The study here is concerned in particular with the role models of data journalists. The investigation is based on the structural functionalist role theory. Structured interviews with 35 data journalists served as an empirical data base. We found that their role and activity profile differs in various dimensions compared to the average journalist in Germany. While the information function of journalists scored relatively low, the criticism and control function was particularly pronounced. The self perception was also strongly marked by allowing readers and users new opinions and to communicate new trends and ideas.
Access options
Buy single article
Instant access to the full article PDF.
US$ 39.95
Tax calculation will be finalised during checkout.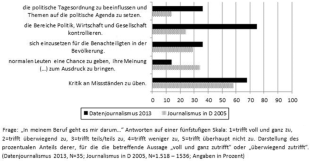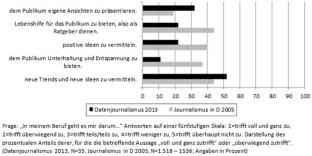 Notes
1.

Natürlich hätten auch andere Veröffentlichungen zu journalistischen Rollenbildern herangezogen werden können (z. B. Esser und Wessler 2002; Neuberger 2002; Kepplinger und Maurer 2008; Meyen und Riesmeyer 2009; Meyen und Springer 2009). Allerdings untersuchten diese teilweise andere Teilpopulationen der Berufsgruppe der Journalisten, was die Vergleichbarkeit in Frage stellt. Umgekehrt haben Weischenberg et al. (2006) die wohl größte Zahl an Journalisten befragt, weshalb ihre Studie als Referenzstudie gewählt wurde.

2.

Interviewpartner: Aisch, Gregor; Blickle, Paul; Domscheit-Berg, Daniel; Dowideit, Martin; Drepper, Daniel; Elmer, Christina; Glauch, Lothar; Grieß, Andreas; Heiser, Sebastian; Hesseling, Claus; Hörz, Michael; Jansson, Kurt; Jöchler, Thomas; Kayser-Bril, Nicolas; Kreil, Michael; Kreutz, Christian; Kuhrt, Nicola; Lindemann, Marcus; Lindenberg, Friedrich; Lorenz, Mirko; Maas, Marco; Mandalka, Markus; Matzat, Lorenz; Mondial, Sebastian; Nagel, Lars-Marten; Pulg, Judith; Schäfer, Maximilian; Schwentker, Björn; Spielkamp, Matthias; Stegers, Fite; Steinbach, Marian; Stollorz, Volker; Venohr, Sascha; Virtel, Martin; Wehrmeyer, Stefan.
Literatur
Beckedahl, M. (2011). Datenjournalismus und die Zukunft der Berichterstattung. http://netzpolitik.org/2011/gastbeitrag-datenjournalismus-und-die-zukunft-der-berichterstattung. Zugegriffen: 29. Sept. 2012.

Biddle, B. J. (1979). Role theory. expectations, identities and behaviors. New York: Academic Press.

Biddle, B. J. (1986). Recent developments in role theory. Annual Review of Sociology, 12, 67–92.

Biddle, B. J., & Thomas, E. J. (Hrsg.). (1966). Role theory: Concepts and research. New York: John Wiley and Sons.

Bounegru, L. (2011). What are the training needs for data-driven journalists? Preliminary survey results. Open Knowledge Conference Berlin, 19.

Bradshaw, P. (2011). Data journalism survey: a mixed picture. http://datadrivenjournalism.net/news_and_analysis/data_journalism_survey_analysis. Zugegriffen: 29. Sept. 2013.

Bradshaw, P. (2012). What is data journalism? In J. Gray, L. Bounegru, & L. Chambers (Hrsg.), The Data Journalism Handbook. http://datajournalismhandbook.org/1.0/en/introduction_0.html. Zugegriffen: 26. Okt. 2013.

Bunz, M. (2011). Das offene Geheimnis: Zur Politik der Wahrheit im Datenjournalismus. In M. Bunz, et al. (Hrsg.), WikiLeaks und die Folgen. Die Hintergründe. Die Konsequenzen (S. 134–151). Berlin: Suhrkamp.

Dahrendorf, R. (2010). Homo Sociologicus. Ein Versuch zur Geschichte, Bedeutung und Kritik der Kategorie der sozialen Rolle (17. Aufl.). Wiesbaden: Verlag für Sozialwissenschaften. (zuerst 1959).

Esser, F., & Wessler, H. (2002). Journalisten als Rollenträger. Redaktionelle Organisation und berufliches Selbstverständnis. In O. Jarren & H. Wessler (Hrsg.), Journalismus – Medien – Öffentlichkeit (S. 165–240). Wiesbaden: Westdeutscher Verlag.

Haase, A. (2011). Das Potential von Daten und ihr Einfluss im Journalismus. Unveröffentlichte Bachelorarbeit, Hochschule Mittweida.

Haller, M. (2008). Recherchieren. Ein Handbuch für Journalisten (7. Aufl.). Konstanz: UVK.

Ihle, A. (2011). Datenjournalismus – ein neues journalistisches Arbeitsfeld. Unveröffentlichte Bachelorarbeit, Technische Universität Ilmenau.

Kepplinger, H. M., & Maurer, M. (2008). Das fragmentierte Selbst. Rollenkonflikte im Journalismus – Das Beispiel der Berliner Korrespondenten. In: B. Pörksen, W. Loosen, & A. Scholl (Hrsg.), Paradoxien des Journalismus. Theorie – Empirie – Praxis (S. 165–182). Wiesbaden: Westdeutscher Verlag.

Leßmöllmann, A. (2012). Datenjournalismus: Chance für den Journalismus von morgen. http://journalistik-journal.lookingintomedia.com/?p=843. Zugegriffen: 2. Feb. 2012.

Linton, R. (1965). The study of man. New York: Appleton-Century. (zuerst 1936).

Matzat, L. (2011). Datenjournalismus. Bilanz 2011 und Ausblick. http://www.datenjournalist.de/datenjournalismus-bilanz-2011-und-ausblick/#more-1644. Zugegriffen: 29. Sept. 2012.

Matzat, L., & Langer, U. (2011). Aus Zahlen werden Informationen: Datenjournalismus. In C. Jakubetz, U. Langer, & R. Hohlfeld (Hrsg.), Universalcode. Journalismus im digitalen Zeitalter (S. 333–358). München: euryclia.

Mayring, P. (2003). Qualitative Inhaltsanalyse. Grundlagen und Techniken (8. Aufl.). Weinheim: Beltz.

Merton, R. K. (1949). Social theory and social structure. New York: Free Press.

Meyen, M., & Riesmeyer, C. (2009). Diktatur des Publikums. Journalisten in Deutschland. Konstanz: UVK.

Meyen, M., & Springer, C. (2009). Freie Journalisten in Deutschland. Konstanz: UVK.

Meyer, P. (2002). Precision journalism. A reporter's introduction to social science methods (4. Aufl.). Lanham: Rowman und Littlefield.

Neuberger, C. (2002). Zum Wandel der journalistischen Berufskultur. Umrisse einer Kulturanalyse des Journalismus. In M. Haller (Hrsg.), Die Kultur der Medien. Untersuchungen zum Rollen- und Funktionswandel des Kulturjournalismus in der Mediengesellschaft (S. 189–200). Münster: Lit.

Parsons, T. (1951). The social system. London: Routledge und Kegan Paul.

Patterson, T. E. (2013). Informing the news. The need for knowledge based journalism. New York: Vintage.

Przyborski, A., & Wohlrab-Sahr, M. (2010). Qualitative Sozialforschung. München: Oldenbourg.

Schnell, R., Hill, P.B., & Esser, E. (2008). Methoden der empirischen Sozialforschung (8. Aufl.). München: Oldenbourg.

Scholl, A. (1997). Journalismus als Gegenstand empirischer Forschung. Ein Definitionsvorschlag. Publizistik, 42, 468–486.

Schülein, J. A. (1989). Rollentheorie revisited. Soziale Welt, 40(4), 481–496.

Söffjer, J. (2010). Datenjournalismus. Vom Keller in den Newsroom. Journalist, 11. http://www.journalist.de/aktuelles/meldungen/datenjournalismus-sprich-mit-daten.html. Zugegriffen: 29. Sept. 2012.

Walker Guevara, M. (2013). ICIJ Releases Offshore Leaks Database Revealing Names Behind Secret Companies, Trusts. http://www.icij.org/offshore/icij-releases-offshore-leaks-database-revealing-names-behind-secret-companies-trusts. Zugegriffen: 30. Juni 2013.

Weinacht, S., & Spiller, R. (2013). Wie wissenschaftlich ist Datenjournalimus? WPK Quarterly, 1, 14–15. http://www.wpk.org/quarterly/fruehjahr-2013-datenfriedhoefe.html. Zugegriffen: 11. Sept.2013.

Weischenberg, S., Malik, M., & Scholl, A. (2006). Die Souffleure der Mediengesellschaft. Report über die Journalisten in Deutschland. Konstanz: UVK.
About this article
Cite this article
Weinacht, S., Spiller, R. Datenjournalismus in Deutschland. Publizistik 59, 411–433 (2014). https://doi.org/10.1007/s11616-014-0213-5
Schlüsselwörter
Journalismusforschung

Datenjournalismus

Berufsfeldstudie

Struktur-funktionalistische Rollentheorie

Rollenselbstverständnis

Qualitative Studie
Keywords
Journalism studies

Data journalism

Study on the journalistic profession

Structural functionalist role theory

Role of self-understanding

Qualitative study