Abstract
The objective was to assess the performance and robustness of a novel strategy for automatic control of heart rate (HR) during cycle ergometry. Control design used a linear plant model and direct shaping of the closed-loop input-sensitivity function to achieve an appropriate response to disturbances attributable to broad-spectrum heart rate variability (HRV). The controller was evaluated in 73 feedback control experiments involving 49 participants. Performance and stability robustness were analysed using a separately identified family of 73 plant models. The controller gave highly accurate and stable HR tracking performance with mean root-mean-square tracking error between 2.5 beats/min (bpm) and 3.1 bpm, and with low average control signal power. Although plant parameters varied over a very wide range, key closed-loop transfer functions remained invariant to plant uncertainty in important frequency bands, while infinite gain margins and large phase margins (> 62∘) were preserved across the whole plant model family. Highly accurate, stable and robust HR control can be achieved using LTI controllers of remarkably simple structure. The results highlight that HR control design must focus on disturbances caused by HRV. The input-sensitivity approach evaluated in this work provides a transparent method of addressing this challenge.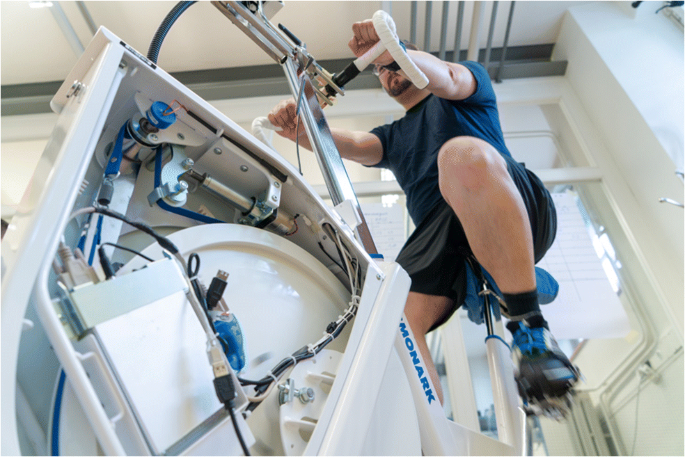 Data availability statement
The raw data supporting the conclusions of this manuscript will be made available by the authors, without undue reservation, to any qualified researcher.
Abbreviations
BMI::

Body mass index

bpm::

Beats/min

HR::

Heart rate

HR∗::

Target heart rate

HRmax::

Maximal heart rate

HRmid::

Mid-level heart rate

HRnom::

Nominal (simulated) heart rate

HRMI::

Heart rate monitor interface

HRV::

Heart rate variability

k::

Steady-state gain

LTI::

Linear, time-invariant

P ∇u::

Average control signal power

PC::

Personal computer

PI::

Proportional-integral

PID::

Proportional-integral-derivative

RMS::

Root-mean-square

RMSE::

RMS tracking error

RPE::

Rating of perceived exertion

rpm::

Revolutions per minute

τ::

Time constant

USB::

Universal serial bus

v::

Speed

WR::

Work rate
References
Riebe D, Ehrman JK, Liguori G, Magal M (eds) (2018) ACSM's guidelines for exercise testing and prescription, 1st edn. Philadelphia, Wolters Kluwer

Borg G (1990) Psychophysical scaling with applications in physical work and the perception of exertion. Scand J Work Environ Health 16(Suppl. 1):55–58

Kawada T, Sunagawa G, Takaki H, Shishido T, Miyano H, Miyashita H, Sato T, Sugimachi M, Sunagawa K (1999) Development of a servo-controller of heart rate using a treadmill. Jpn Circ J 63:945–950

Scalzi S, Tomei P, Verrelli CM (2012) Nonlinear control techniques for the heart rate regulation in treadmill exercises. IEEE Trans Biomed Eng 59(3):599–603

Hunt KJ, Fankhauser SE (2016) Heart rate control during treadmill exercise using input-sensitivity shaping for disturbance rejection of very-low-frequency heart rate variability. Biomed Signal Process Control 30:31–42

Kawada T, Ikeda Y, Takaki H, Sugimachi M, Kawaguchi O, Shishido T, Sato T, Matsuura W, Miyano H, Sunagawa K (1999) Development of a servo-controller of heart rate using a cycle ergometer. Heart Vessels 14(4):177–184

Paradiso M, Pietrosanti S, Scalzi S, Tomei P, Verrelli CM (2013) Experimental heart rate regulation in cycle-ergometer exercises. IEEE Trans Biomed Eng 60(1):135–139

Argha A, Su SW, Celler BG (2017) Heart rate regulation during cycle-ergometer exercise via event-driven biofeedback. Med Biol Eng Comput 55(3):483–492

Aseltine RG, Feldman CL, Paraskos JA, Moruzzi RL (1979) A simple device for closed loop heart rate control during cardiac rehabilitation. IEEE Trans Biomed Eng BME-26(8):456– 464

Tennant LK, Allen RE, Pollock ML, Graves JE, Carmichael M, Conti R (1989) Evaluation of a heart rate controlled cycle ergometer for use in cardiac rehabilitation. J Cardiopulm Rehabil 9(5):195–201

Hunt KJ, Zahnd A, Grunder R (2019) A unified heart rate control approach for cycle ergometer and treadmill exercise. Biomed Signal Process Control 54

Su SW, Chen W, Liu D, Fang Y, Kuang W, Yu X, Guo T, Celler BG, Nguyen HT (2010) Dynamic modelling of heart rate response under different exercise intensity. Open Med Inform J 4:81– 85

Zhang Y, Haddad A, Su SW, Celler BG, Coutts AJ, Duffield R, Donges CE, Nguyen HT (2014) An equivalent circuit model for onset and offset exercise response. BioMedical Engineering OnLine 13:145

Cheng TM, Savkin AV, Celler BG, Su SW, Wang L (2008) Nonlinear modeling and control of human heart rate response during exercise with various work load intensities. IEEE Trans Biomed Eng 55(11):2499–2508

Su SW, Huang S, Wang L, Celler BG, Savkin AV, Guo Y, Cheng TM (2010) Optimizing heart rate regulation for safe exercise. Ann Biomed Eng 38(3):758–768

Su SW, Wang L, Celler BG, Savkin AV, Guo Y (2007) Identification and control for heart rate regulation during treadmill exercise. IEEE Trans Biomed Eng 54(7):1238–1246

Nguyen TN, Su S, Celler B, Nguyen H (2014) Advanced portable remote monitoring system for the regulation of treadmill running exercises. Artif Intell Med 61(2):119–126

Malik M (1996) Heart rate variability. Standards of measurement, physiological interpretation, and clinical use. Eur Heart J 17(3):354–381

Hunt KJ, Saengsuwan J (2018) Changes in heart rate variability with respect to exercise intensity and time during treadmill running. BioMedical Engineering OnLine 17:128

Hunt KJ, Fankhauser SE, Saengsuwan J (2015) Identification of heart rate dynamics during moderate-to-vigorous treadmill exercise. BioMedical Engineering OnLine 14:117

Hunt KJ, Gerber S (2017) A generalised stochastic optimal control formulation for heart rate regulation during treadmill exercise. Systems Science & Control Engineering 5(1):481–494

Hunt KJ, Grunder R, Zahnd A (2019) Identification and comparison of heart-rate dynamics during cycle ergometer and treadmill exercise. PLoS ONE 14(8):e0220826

Åstrȯm KJ, Wittenmark B (2011) Computer controlled systems: Theory and design, 3rd edn. Dover Publications, Mineola

Shargal E, Kislev-Cohen R, Zigel L, Epstein S, Pilz-Burstein R, Tenenbaum G (2015) Age-related maximal heart rate: examination and refinement of prediction equations. J Sports Med Phys Fitness 55:1207–1218

Roecker K, Striegel H, Dickhuth H-H (2003) Heart-rate recommendations: transfer between running and cycling exercise?. Int J Sports Med 24:173–178

Hunt KJ, Maurer RR (2016) Comparison of linear and nonlinear feedback control of heart rate for treadmill running. Systems Science & Control Engineering 4(1):87–98
Funding
This research did not receive any specific grant from funding agencies in the public, commercial, or not-for-profit sectors.
Ethics declarations
Conflict of interest
The authors declare that they have no conflict of interest.
Ethical approval
All procedures performed in this study involving human participants were in accordance with the ethical standards of the Ethics Committee of the Swiss Canton of Bern (Ref. 2017-01894) and with the 1964 Helsinki declaration and its later amendments or comparable ethical standards. Full ethical approval was obtained.
Informed consent
Informed consent was obtained from all individual participants included in the study.
Consent for publication
Written informed consent for publication was obtained from the individual depicted in the image in Fig. 3.
Additional information
Publisher's note
Springer Nature remains neutral with regard to jurisdictional claims in published maps and institutional affiliations.
Rights and permissions
Open Access This article is distributed under the terms of the Creative Commons Attribution 4.0 International License (http://creativecommons.org/licenses/by/4.0/), which permits unrestricted use, distribution, and reproduction in any medium, provided you give appropriate credit to the original author(s) and the source, provide a link to the Creative Commons license, and indicate if changes were made.
About this article
Cite this article
Hunt, K.J., Hurni, C.C. Robust control of heart rate for cycle ergometer exercise. Med Biol Eng Comput 57, 2471–2482 (2019). https://doi.org/10.1007/s11517-019-02034-6
Received:

Accepted:

Published:

Issue Date:

DOI: https://doi.org/10.1007/s11517-019-02034-6
Keywords
Heart rate control

Heart rate dynamics

Heart rate variability

System identification

Physiological control

Cycle ergometers