Abstract
Background
Measuring acetabular anteversion is relevant to routine follow-up of total hip arthroplasties (THAs) and for malfunctioning THAs. Imageless navigation facilitates acetabular component orientation relative to the anterior pelvic plane (APP) or to the APP adjusted for sagittal pelvic tilt (PT). The optimal plain radiographic method for the postoperative assessment of anteversion is not agreed upon.
Questions/Purposes
(1) Do anteversion measurements on plain radiographs correlate more with APP anteversion or PT-adjusted anteversion? (2) Do measurements of anteversion performed on supine anteroposterior (AP) radiographs more accurately reflect intraoperative anteversion values for navigated THA compared to anteversion measured on cross-table lateral (CL) radiographs?
Methods
Seventy patients receiving primary navigated THA were included. APP and PT-adjusted anteversion were recorded; the latter defined the intraoperative target for anteversion. Postoperative anteversion was measured on supine AP pelvis radiographs with computer software and CL radiographs with conventional methods. Intraoperative measurements were used as the reference standards for comparisons.
Results
Mean intraoperative APP anteversion was 20.6° ± 5.6°. Mean intraoperative PT-adjusted anteversion was 22.9° ± 4.5°. Mean anteversion was 22.7° ± 4.7° on AP radiographs and 27.2° ± 4.2° on CL radiographs (p < 0.001). Only correlations between PT-adjusted anteversion and radiographic assessments of anteversion were significant. The mean difference between PT-adjusted anteversion and anteversion on AP radiographs was −0.2° ± 4.3°, while the mean difference between the PT-adjusted anteversion and anteversion measured on CL radiographs was 4.3 ± 5.1° (p < 0.001).
Conclusion
Plain film assessment of anteversion was more accurate on supine AP radiographs than on CL radiographs, which overestimated acetabular anteversion.
This is a preview of subscription content, log in to check access.
Access options
Buy single article
Instant access to the full article PDF.
US$ 39.95
Price includes VAT for USA
Subscribe to journal
Immediate online access to all issues from 2019. Subscription will auto renew annually.
US$ 99
This is the net price. Taxes to be calculated in checkout.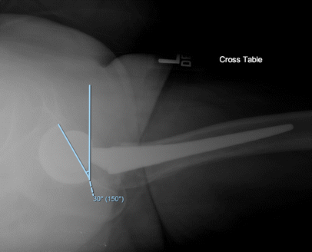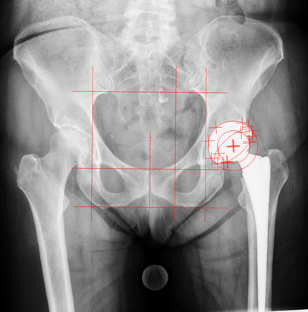 References
1.

Arai N, Nakamura S, Matsushita T. Difference between 2 measurement methods of version angles of the acetabular component. J Arthroplasty. 2007; 22(5): 715-720.

2.

Barrack RL. Dislocation after total hip arthroplasty: implant design and orientation. J Am Acad Orthop Surg. 2003; 11(2): 89-99.

3.

Biedermann R, Tonin A, Krismer M, Rachbauer F, Eibl G, Stöckl B. Reducing the risk of dislocation after total hip arthroplasty: the effect of orientation of the acetabular component. J Bone Joint Surg Br. 2005; 87(6): 762-769.

4.

Blondel B, Parratte S, Tropiano P, Pauly V, Aubaniac JM, Argenson JN. Pelvic tilt measurement before and after total hip arthroplasty. Orthop Traumatol Surg Res. 2009; 95(8): 568-572.

5.

Ghelman B, Kepler CK, Lyman S, Della Valle AG. CT outperforms radiography for determination of acetabular cup version after THA. Clin Orthop Relat Res. 2009; 467(9): 2362-2370.

6.

Grammatopoulos G, Thomas GE, Pandit H, Beard DJ, Gill HS, Murray DW. The effect of orientation of the acetabular component on outcome following total hip arthroplasty with small diameter hard-on-soft bearings. Bone Joint J. 2015; 97-B(2): 164-172.

7.

Haaker RG, Tiedjen K, Ottersbach A, Rubenthaler F, Stockheim M, Stiehl JB. Comparison of conventional versus computer-navigated acetabular component insertion. J Arthroplasty. 2007; 22(2): 151-159.

8.

Hassan DM, Johnston GH, Dust WN, Watson LG, Cassidy D. Radiographic calculation of anteversion in acetabular prostheses. J Arthroplasty. 1995; 10(3): 369-372.

9.

Kalteis T, Handel M, Herold T, Perlick L, Baethis H, Grifka J. Greater accuracy in positioning of the acetabular cup by using an image-free navigation system. Int Orthop. 2005; 29(5): 272-276.

10.

Krismer M, Bauer R, Tschupik J, Mayrhofer P. EBRA: a method to measure migration of acetabular components. J Biomech. 1995; 28(10): 1225-1236.

11.

Kumar MA, Shetty MS, Kiran KG, Kini AR. Validation of navigation assisted cup placement in total hip arthroplasty. Int Orthop. 2012; 36(1): 17-22.

12.

Lewinnek GE, Lewis JL, Tarr R, et al. Dislocations after total hip-replacement arthroplasties. J Bone Joint Surg Am. 1978; 60: 217.

13.

Lu M, Zhou YX, Du H, Zhang J, Liu J. Reliability and validity of measuring acetabular component orientation by plain anteroposterior radiographs. Clin Orthop Relat Res. 2013; 471(9): 2987-2994.

14.

Maratt JD, Esposito CI, McLawhorn AS, Jerabek SA, Padgett DE, Mayman DJ. Pelvic tilt in patients undergoing total hip arthroplasty: when does it matter? J Arthroplasty. 2015; 30(3): 387-391.

15.

McArthur B, Cross M, Geatrakas C, Mayman D, Ghelman B. Measuring acetabular component version after THA: CT or plain radiograph? Clin Orthop Relat Res. 2012; 470(10): 2810-2818.

16.

McLawhorn AS, Sculco PK, Weeks KD, Nam D, Mayman DJ. Targeting a New Safe Zone: A Step in the Development of Patient-Specific Component Positioning for Total Hip Arthroplasty. Am J Orthop (Belle Mead NJ). 2015; 44(6): 270-276.

17.

Murray DW. The definition and measurement of acetabular orientation. J Bone Joint Surg Br. 1993; 75: 228-232.

18.

Nho JH, Lee YK, Kim HJ, Ha YC, Suh YS, Koo KH. Reliability and validity of measuring version of the acetabular component. J Bone Joint Surg Br. 2012; 94(1): 32-36.

19.

Nishino H, Nakamura S, Arai N, Matsushita T. Accuracy and precision of version angle measurements of the acetabular component after total hip arthroplasty. J Arthroplasty. 2013; 28(9): 1644-1647.

20.

Nogler M, Kessler O, Prassl A, et al. Reduced variability of acetabular cup positioning with use of an imageless navigation system. Clin Orthop Relat Res. 2004; 426(426): 159-163.

21.

Pulos N, Tiberi JV 3rd, Schmalzried TP. Measuring acetabular component position on lateral radiographs: ischio-lateral method. Bull NYU Hosp Jt Dis. 2011; 69(Suppl 1): S84-S89.

22.

Ryan JA, Jamali AA, Bargar WL. Accuracy of computer navigation for acetabular component placement in THA. Clin Orthop Relat Res. 2010; 468(1): 169-177.

23.

Sendtner E, Schuster T, Worner M, Kalteis T, Grifka J, Renkawitz T. Accuracy of acetabular cup placement in computer-assisted, minimally-invasive THR in a lateral decubitus position. Int Orthop. 2011; 35(6): 809-815.

24.

Snyder GM, Lozano Calderon SA, Lucas PA, Russinoff S. Accuracy of computer-navigated total hip arthroplasty. J Arthroplasty. 2012; 27(3): 415-420.

25.

Steppacher SD, Tannast M, Zheng G, et al. Validation of a new method for determination of cup orientation in THA. J Orthop Res. 2009; 27(12): 1583-1588.

26.

Tiberi JV, Pulos N, Kertzner M, Schmalzried TP. A more reliable method to assess acetabular component position. Clin Orthop Relat Res. 2012; 470(2): 471-476.

27.

Wan Z, Boutary M, Dorr LD. The influence of acetabular component position on wear in total hip arthroplasty. J Arthroplasty. 2008; 23(1): 51-56.

28.

Woo RY, Morrey BF. Dislocations after total hip arthroplasty. J Bone Joint Surg Am. 1982; 64(9): 1295-1306.

29.

Zhu J, Wan Z, Dorr LD. Quantification of pelvic tilt in total hip arthroplasty. Clin Orthop Relat Res. 2010; 468(2): 571-575.
Disclosures
Conflict of Interest
Peter K. Sculco, MD, Alexander S. McLawhorn, MD, MBA, Kaitlin Carroll, BA, and Benjamin A. McArthur, MD, have declared that they have no conflict of interest. David J. Mayman, MD, reports other from OrthoAlign and personal fees from Smith & Nephew and Stryker, outside the work.
Human/Animal Rights
All procedures followed were in accordance with the ethical standards of the responsible committee on human experimentation (institutional and national) and with the Helsinki Declaration of 1975, as revised in 2008 (5).
Informed Consent
Informed consent was waived from all patients for being included in the study.
Required Author Forms
Disclosure forms provided by the authors are available with the online version of this article.
Additional information
Level of Evidence: Level III, Diagnostic Study
Work performed at the Hospital for Special Surgery, New York, NY.
Electronic supplementary material
About this article
Cite this article
Sculco, P.K., McLawhorn, A.S., Carroll, K. et al. Anteroposterior Radiographs Are More Accurate than Cross-Table Lateral Radiographs for Acetabular Anteversion Assessment: a Retrospective Cohort Study. HSS Jrnl 12, 32–38 (2016). https://doi.org/10.1007/s11420-015-9472-6
Received:

Accepted:

Published:

Issue Date:
Keywords
total hip replacement

computer-assisted surgery

radiographic film

anteversion

diagnostic imaging