Abstract
Acrylamide (ACR) is an unsaturated monomer that served various fields; however, it is a potent neurotoxin. The target of the present study is to explore the neuroprotective efficacy of allicin and melatonin on ACR-induced neurotoxicity. Thirty-six male adult rats were non-selectively separated into six groups: placebo, allicin (20 mg/kg b.w daily per os), melatonin (10 mg/kg b.w 3 times/week per os), ACR (50 mg/kg b.w daily per os), ACR-allicin, and ACR-melatonin at the same doses as the preceding groups. The assessment of brain biomarkers, neurotransmitters, antioxidative status, Nrf2 signaling pathway, and histopathological analyses was performed following 21 days. ACR exposure induced brain lipid and DNA oxidative damage as well as reduced the glutathione (GSH) levels. The obvious brain oxidative injuries contributed to distinct brain dysfunction that was assured by alteration of brain neurotransmitters (serotonin, dopamine, acetylcholine, and acetylcholinesterase) and pathological brain lesions. Furthermore, ACR exposure increased hydroxy deoxyguanosine (8-OHdG), tumor necrosis factor-α (TNF-α), and amyloid protein (AB1-42). Finally, the mRNA transcripts of brain Keap-1, Nrf2, and NF-kB were upregulated after ACR intoxication. Interestingly, allicin and melatonin alleviated the ACR-induced brain damage assessed by the normalization of the mentioned analyses. The present study demonstrated the protective role of both allicin and melatonin in ACR-prompted neuropathy by alleviation of redox imbalance and enhancement of neurotransmitters as well as relieving DNA damage and anti-inflammatory effect.
Access options
Buy single article
Instant access to the full article PDF.
USD 39.95
Price excludes VAT (USA)
Tax calculation will be finalised during checkout.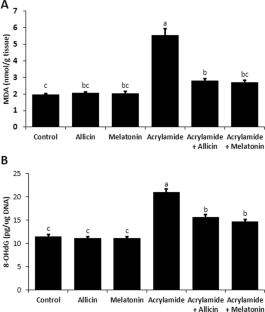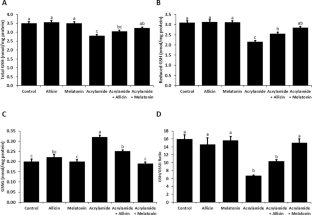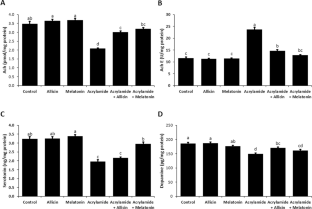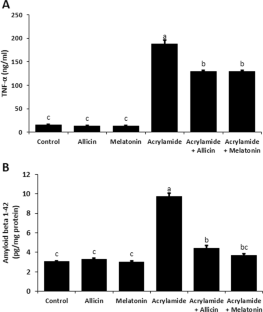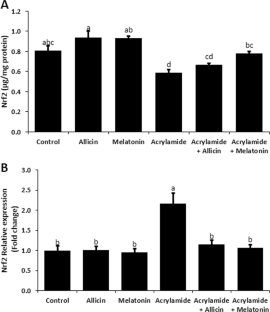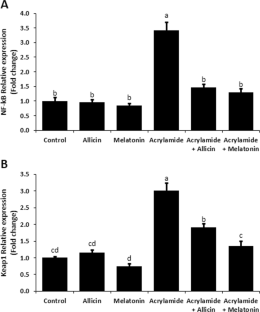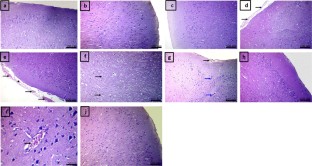 Data Availability
All data analyzed during the current study are included in this published article.
Abbreviations
Ach:

Acetylcholine

AchE:

Acetylcholine esterase

ACR:

Acrylamide

ANOVA:

Analysis of variance

ARE:

Antioxidant response element

Aβ1-42:

Amyloid protein1-42

BDNF:

Brain-derived neurotrophic factor

DDS:

Diallyl disulfide

DTS:

Diallyl trisulfide

GAPDH:

Glyceraldehyde-3-phosphate dehydrogenase

GSH:

Reduced glutathione

GSSG:

Oxidized glutathione

Keap-1:

Kelch-like ECH-associated protein-1

MDA:

Malondialdehyde

MT:

Melatonin

NF-kB:

Nuclear factor-kappa B

nNOS:

Nitric oxide synthase

Nrf2:

Nuclear factor erythroid 2 like factor

8-OHdG:

8-Hydroxy deoxyguanosine

ROS:

Reactive oxygen species

SAC:

S-Allylcysteine

SE:

Standard error

TNF-α:

Tumor necrosis factor

TTR:

Transthyretin
References
Abd Elmonem HA, Ali EA (2012) Effects of junk foods on brain neurotransmitters (dopamine and serotonin) and some biochemical parameters in albino rats. Egypt J Rad Sci Applic 25(1-2):29–42

Abdel-Daim MM, El-Ela FIA, Alshahrani FK, Bin-Jumah M, Al-Zharani M, Almutairi B, Alkahtani S (2020) Protective effects of thymoquinone against acrylamide-induced liver, kidney and brain oxidative damage in rats. Environ Sci Pollut Res 27(30):37709–37717

Abouzaid OAR, El-Sonbaty SM, Barakat WM (2017a) Effect of Acrylamide on neurotransmitters and acetylcholinesterase activity in the brain of rats: therapeutic effect of ferulic acid and selenium nanoparticles. Ann Brit Med Sci 3(1):18–25

Abouzaid OAR, El-Sonbaty SM, Barakat WM (2017b) Brain derived neurotrophic factor, β amyloid, interleukin-6 and neurotransmitters in amelioration of acrylamide neurotoxicity: role of ferulic acid. Med J 33(1):199–207

Acaroz U, Ince S, Arslan-Acaroz D, Gurler Z, Kucukkurt I, Demirel HH, Arslan HO, Varol N, Zhu K (2018) The ameliorative effects of boron against acrylamide-induced oxidative stress, inflammatory response, and metabolic changes in rats. Food Chem Toxicol 118:745–752

Agrawal R, Tyagi E, Shukla R, Nath C (2009) A study of brain insulin receptors, AChE activity and oxidative stress in rat model of ICV STZ induced dementia. Neuropharmacology 56(4):779–787

Ahmadi Z, Ashrafizadeh M (2019) Melatonin as a potential modulator of Nrf2. Fudament Clin Pharmacol 24(1):11–19

Ahmed HH, Elmegeed GA, El-Sayed SM, Abd-Elhalim MM, Shousha WG, Shafic RW (2010) Potent neuroprotective role of novel melatonin derivatives for management of central neuropathy induced by acrylamide in rats. Eur J Med Chem 45(11):5452–5459

Asdaq SMB, Inamdar MN (2011) Pharmacodynamic and pharmacokinetic interactions of propranolol with garlic (Allium sativum) in rats. Evid Based Complement Alternat Med 2011:824042

Aydın B (2017) Effects of argan oil on the mitochondrial function, antioxidant system and the activity of NADPH- generating enzymes in acrylamide treated rat brain. Biomed Pharmacother 7:476–481

Bhanot A, Shri R (2010) A comparative profile of methanol extracts of Allium cepa and Allium sativum in diabetic neuropathy in mice. Pharm Res 2(6):374–384

Bin-Jumah M, Abdel-Fattah A-FM, Saied EM, El-Seedi HR, Abdel-Daim MM (2021) Acrylamide-induced peripheral neuropathy: manifestations, mechanisms, and potential treatment modalities. Environ Sci Pollut Res 28:13031–13046

Borlinghaus J, Albrecht F, Gruhlke MC, Nwachukwu ID, Slusarenko AJ (2014) Allicin: chemistry and biological properties. Molecules 19(8):12591–12618

Chen YX, Li GZ, Zhang B, Xia ZY, Zhang M (2016) Molecular evaluation of herbal compounds as potent inhibitors of acetylcholinesterase for the treatment of Alzheimer's disease. Mol Med Rep 14(1):446–452

Culling CF (1983) Handbook of histopathological and histochemical techniques, 3rd edn. Butterworth, London

Deng Y, Zhu J, Mi C, Xu B, Jiao C, Li Y, Xu D, Liu W, Xu Z (2015) Melatonin antagonizes Mn-induced oxidative injury through the activation of Keap1–Nrf2–ARE signaling pathway in the striatum of mice. Neurotox Res 27:156–171

Dhingra D, Kumar V (2008) Evidences for the involvement of monoaminergic and GABAergic systems in antidepressant-like activity of garlic extract in mice. Indian J Pharm 40(4):175–179

Draper HH, Hadley M (1990) Malondialdehyde determination as index of lipid peroxidation. Methods Enzymol 186:421–425

Du J, Murphy RM (2010) Characterization of the interaction of β-amyloid with transthyretin monomers and tetramers. Biochemistry 49(38):8276–8289

Elhelaly AE, Al Basher G, Alfarraj S, Almeer R, Bahbah EI, Fouda MMA, Bungău SG, Aleya L, Abdel-Daim MM (2019) Protective effects of hesperidin and diosmin against acrylamide-induced liver, kidney, and brain oxidative damage in rats. Environ Sci Pollut Res 26:35151–35162

Ellman GL, Courtney KD, Andres-Jr V, Featherstone RM (1961) A new and rapid colorimetric determination of acetylcholinesterase activity. Biochem Pharmacol 7(2):88–95

Emekli-Alturfan E, Beceren A, Özer A, Demiralp ZE, Sener G, Omurtag G (2012) Protective effect of N-acetyl-L-cysteine against acrylamide-induced oxidative stress in rats. Turk J Vet Anim Sci 36:438–445

Farouk SM, Gad FA, Almeer R, Abdel-Daim MM, Emam MA (2021) Exploring the possible neuroprotective and antioxidant potency of lycopene against acrylamide-induced neurotoxicity in rats' brain. Biomed Pharmacother 138:111458

García-Trejo EM, Arellano-Buendía AS, Argüello-García R, Loredo-Mendoza ML, García-Arroyo FE, Arellano-Mendoza MG, Castillo-Hernández MC, Guevara-Balcázar G, Tapia E, Sánchez-Lozada LG, Osorio-Alonso H (2016) Effects of allicin on hypertension and cardiac function in chronic kidney disease. Oxidative Med Cell Longev 2016:1–13

Ghareeb DA, Khalil AA, Elbassoumy AM, Hussien HM, Abo-Sraiaa MM (2010) Ameliorated effects of garlic (Allium sativum) on biomarkers of subchronic acrylamide hepatotoxicity and brain toxicity in rats. Toxicol Environ Chem 92(7):1357–1372

Griffith OW (1980) Determination of glutathione and glutathione disulfide using glutathione reductase and 2-vinyl pyridine. Anal Biochem 106:207–212

Gupta V, Indi S, Jagannatha R (2009) Garlic extract exhibits antiamyloidogenic activity on amyloid-beta fibrillogenesis: relevance to Alzheimer's disease. Phytother Res 23(1):111–115

Haduch A, Bromek E, Wójcikowski J, Gołembiowska K, Daniel WA (2016) Melatonin supports serotonin formation by brain CYP2D. Drug Metab Dispos 44(3):445–452

Hasan N, Yusuf N, Toossi Z, Islam N (2006) Suppression of Mycobacterium tuberculosis induced reactive oxygen species (ROS) and TNF-a mRNA expression in human monocytes by allicin. FEBS Lett 580:2517–2522

Hernández-Velázquez B, Camara-Lemarroy CR, González-González JA, García-Compean D, Monreal-Robles R, Cordero-Pérez P, Muñoz-Espinosa LE (2016) Effects of melatonin on the acute inflammatory response associated with endoscopic retrograde cholangiopancreatography: a randomized, double-blind, placebo-controlled trial. Rev Gastroenterol Mex 81(3):141–148

Hong Y, Nan B, Wu X, Yan H, Yuan Y (2019) Allicin alleviates acrylamide-induced oxidative stress in BRL-3A cells. Life Sci 231:116550

Huang CC, Chiou CH, Liu SC, Hu SL, Su CM, Tsai CH, Tang CH (2019) Melatonin attenuates TNF-α and IL-1β expression in synovial fibroblasts and diminishes cartilage degradation: implications for the treatment of rheumatoid arthritis. J Pineal Res 66(3):e12560

Islam N, Iqbal J, Hasan N, Fatima Z, Thakur H, Hasan N, Mahdi AA, Khan T, Bano F, Ansari IA (2008) Allicin from garlic suppresses TNF-α and augments IFN-γ expressions in monocyte cultures from patients with Vaginitis. Nature Preced 1560:1

Jung HY, Lee KY, Yoo DY, Kim JW, Yoo M, Lee S, Yoon YS, Choi JH, Hwang IK (2016) Essential oils from two Allium species exert effects on cell proliferation and neuroblast differentiation in the mouse dentate gyrus by modulating brain-derived neurotrophic factor and acetylcholinesterase. BMC Complement Altern Med 16(431):1–10

Jung KH, Hong S, Zheng H, Lee D, Hong S (2009) Melatonin downregulates nuclear erythroid 2-related factor 2 and nuclear factor-kappa B during prevention of oxidative liver injury in a dimethylnitrosamine model. J Pineal Res 47:173–183

Kahkeshani N, Saeidnia S, Abdollahi M (2015) Role of antioxidants and phytochemicals on acrylamide mitigation from food and reducing its toxicity. J Food Sci Technol 52:3169–3186

Khaneghah AM, Fakhri Y, Nematollahi A, Seilani F, Vasseghian Y (2020) The concentration of acrylamide in different food products: a global systematic review, meta-analysis, and meta-regression. Food Rev Int:1–18

Kumar S, Chatterjee S, Kumar S (2018) Dual anti-cholinesterase activity of ajoene by in silico and in vitro studies. Phcog Res 10:225–229

Li B, He X, Zhuang M, Niu B, Wu C, Mu H, Tang F, Cui Y, Liu W, Zhao B, Peng S, Li G, Hua J (2018) Melatonin ameliorates busulfan-induced spermatogonial stem cell oxidative apoptosis in mouse testes. Antioxid Redox Signal 28(5):385–400

Li XH, Li CY, Lu JM, Tian RB, Wei J (2012) Allicin ameliorates cognitive deficits ageing-induced learning and memory deficits through enhancing of Nrf2 antioxidant signaling pathways. Neurosci Lett 514(1):46–50

Li CL, Liu XH, Qiao Y, Ning LN, Li WJ, Sun YS, Liu DS, Gao W, Ma CM (2020) Allicin alleviates inflammation of diabetic macroangiopathy via the Nrf2 and NF-kB pathway. Eur J Pharmacol 876:173052

Lin L, Huang QX, Yang SS, Chu J, Wang JZ, Tian Q (2013) Melatonin in Alzheimer's disease. Int J Mol Sci 14(7):14575–14593

Liu H, Mao P, Wang J, Wang T, Xie CH (2015) Allicin protects PC12 cells against 6-OHDA-induced oxidative stress and mitochondrial dysfunction via regulating mitochondrial dynamics. Cell Physiol Biochem 36(3):966–979

Marón FJM, Camargo AB, Manuch W (2020) Allicin pharmacology: common molecular mechanisms against neuroinflammation and cardiovascular diseases. Life Sci 249:117513

Melo JB, Agostinho P, Oliveira CR (2003) Involvement of oxidative stress in the enhancement of acetylcholinesterase activity induced by amyloid beta-peptide. Neurosci Res 45(1):117–127

Mikaili P, Maadirad S, Moloudizargari M, Aghajanshakeri S, Sarahroodi S (2013) Therapeutic uses and pharmacological properties of garlic, shallot, and their biologically active compounds. Iran J Basic Medic Sci 16(10):1031–1048

Murray SM, Waddella BM, Wu C (2020) Neuron-specific toxicity of chronic acrylamide exposure in C. elegans. Neurotoxicol Teratol 77(106848):1–10

Pan X, Wu X, Yan D, Peng C, Rao C, Yan H (2018) Acrylamide-induced oxidative stress and inflammatory response are alleviated by N-acetylcysteine in PC12 cells: involvement of the crosstalk between Nrf2 and NF-κB pathways regulated by MAPKs. Toxicol Lett 288:55–64

Pan X, Zhu L, Lu H, Wang D, Lu Q, Yan H (2015) Melatonin attenuates oxidative damage induced by acrylamide in vitro and in vivo. Oxidative Med Cell Longev 12

Panyod S, Wu W, Lu K, Liu C, Chu Y, Ho C, Hsiao WW, Lai Y, Chen W, Lin Y, Lin S, Wu M, Sheen L (2020) Allicin modifies the composition and function of the gut microbiota in alcoholic hepatic steatosis mice. J Agric Food Chem 68(10):3088–3098

Parvathi P (2018) Garlic- A Golden Wonder. Research J Pharm and Tech 11(1):393–396

Perkins ND (2007) Integrating cell-signalling pathways with NF-kappa B and IKK function. Nat Rev Mol Cell Biol 8:49–62

Rawi SM, Marie MAS, Fahmy SR, El-Abied SA (2010) Hazardous effects of acrylamide on immature male and female rats. Afr J Pharm Pharmacol 6(18):1367–1386

Rifai L, Saleh FA (2020) A Review on Acrylamide in Food: Occurrence, Toxicity, and Mitigation Strategies. Int J Toxicol 39:93–102

Satta S, Mahmoud AM, Wilkinson FL, Yvonne Alexander M, White SJ (2017) The role of Nrf2 in cardiovascular function and disease. Oxidative Med Cell Longev 2017:9237263

Shinomol GK, Raghunath N, Bharath MM, Muralidhara (2013) Prophylaxis with Bacopa monnieri attenuates acrylamide induced neurotoxicity and oxidative damage via elevated antioxidant function. Cent Nerv Syst Agents Med Chem 13(1):3–12

Sindhu G, Nishanthi E, Sharmila R (2015) Nephroprotective effect of vanillic acid against cisplatin induced nephrotoxicity in wistar rats: a biochemical and molecular study. Environ Toxicol Pharmacol 39:392–404

Soliman A, Wahid A, Wahby MM, Bassiouny A (2020) Study of the possible synergistic protective effects of melatonin and pregabalin in vincristine induced peripheral neuropathy Wistar albino rats. Life Sci 244:117095

Tamimi LN, Al-Domi HA (2019) Allicin as antioxidant: possible mechanisms for the control of diabetes-induced atherosclerosis. Acta Scientif Nutrit Health 3(6):22–28

Tamura H, Takasaki A, Taketani T, Tanabe M, Kizuka F, Lee L, Tamura I, Maekawa R, Aasada H, Yamagata Y, Sugino N (2012) The role of melatonin as an antioxidant in the follicle. J Ovar Res 5(5):5

Wang J, Wang Z (2006) Role of melatonin in Alzheimer-like neurodegeneration. Acta Pharmacol Sin 27(1):41–49

Yao X, Yan L, Yao L, Guan W, Zeng F, Cao F, Zhang Y (2014) Acrylamide exposure impairs blood-cerebrospinal fluid barrier function. Neural Regen Res 9:555–560

Yousef MI, El-Demerdash F (2006) Acrylamide-induced oxidative stress and biochemical perturbations in rats. Toxicology. 219:133–141

Zamani E, Shokrzade M, Fallah M, Shaki F (2017) A review of acrylamide toxicity and its mechanism. Pharmaceut Biomed Res 3:1–7

Zhang L, Wang E, Chen F, Yan H, Yuan Y (2013) Potential protective effects of oral administration of allicin on acrylamide-induced toxicity in male mice. Food Funct 4(8):1229–1236

Zhao M, Wang L, Hu X, Chen F, Chan L (2017) Acrylamide-induced neurotoxicity in primary astrocytes and microglia: roles of the Nrf2-ARE and NF-κB pathways. Food Chem Toxicol 106

Zhu JY, Zeng T, Zhu YB, Yu SF, Wang QS, Zhang LP, Guo X, Xie KQ (2008) Effect of acrylamide on the nervous tissue antioxidant system and sciatic nerve electrophysiology in rats. Nurochem Res 33:2310–2317
Ethics declarations
Ethics approval and consent to participate
All authors carefully read and approved the study.
Consent for publication
All authors have read and approved the final version of the manuscript for publication.
Competing interests
The authors declare no competing interests.
Additional information
Responsible Editor: Mohamed M. Abdel-Daim
Publisher's note
Springer Nature remains neutral with regard to jurisdictional claims in published maps and institutional affiliations.
About this article
Cite this article
Edres, H.A., Taha, N.M., Lebda, M.A. et al. The potential neuroprotective effect of allicin and melatonin in acrylamide-induced brain damage in rats. Environ Sci Pollut Res 28, 58768–58780 (2021). https://doi.org/10.1007/s11356-021-14800-x
Received:

Accepted:

Published:

Issue Date:

DOI: https://doi.org/10.1007/s11356-021-14800-x
Keywords
Acrylamide

Melatonin

Allicin

Neurotransmitters

Oxidative stress