Abstract
Open dumping adversely affects the environment and remains the most widely used method for waste disposal in many developing rural areas in China. Information regarding the impact of rural solid waste (RSW) on the environment remains limited. The objectives of this study are to investigate the characteristics of RSW and the impact of different precipitation rates, and to evaluate the contamination potential of RSW using a leachate pollution index (LPI). The study showed that leachate concentration was significantly influenced by precipitation rates at the initial precipitation stages. Precipitation rates of 42.00 mm/day appeared to have the largest dilution effects. In contrast, the concentrations of leachate at rainfall rates of 24.00 mm/day and soaking were steady, and no similar trends were observed. The highest amounts of pollutants in leachate were the result of soaking. In the first week of our experiment, the LPI value for each rural area waste sample rapidly increased with rising precipitation rates from soaking to 42.00 mm/day. However, no significant change in LPI was observed thereafter (after 5 weeks) even with increasing precipitation rates. The values of chemical oxygen demand, biochemical oxygen demand, total nitrogen, and NH3-N in the leachate after 10 weeks were 4.00, 7.34, 1.87, and 2.21 times higher, respectively, than those of the prescribed leachate quality standards in China. The results of our study suggest the following course of action for the three dump sites investigated: in Banqiao, given the size of the population and the size of the waste amount, landfill might be a suitable way for disposing of RSW. In Machen, building a standardized waste collection site would be an economical solution for reducing potential pollution risks. In Jiuduhe, increasing the transportation rate of solid waste might be an effective solution. The results of this study can help to improve the understanding of leachate pollution in Chinese rural areas.
This is a preview of subscription content, log in to check access.
Access options
Buy single article
Instant access to the full article PDF.
US$ 39.95
Price includes VAT for USA
Subscribe to journal
Immediate online access to all issues from 2019. Subscription will auto renew annually.
US$ 99
This is the net price. Taxes to be calculated in checkout.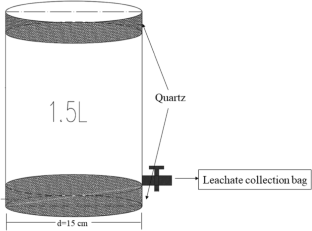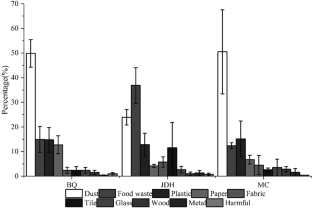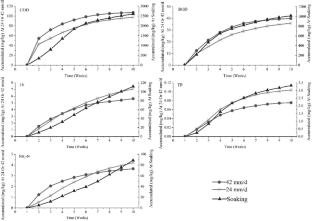 References
Aring M, Nilsson P (1997) Seasonal changes of leachate production and quality from test cells. J Environ Eng 123:892–900

Bhatt A H, Altouqi S, Karanjekar R V, et al. (2016) Preliminary regression models for estimating first-order rate constants for removal of BOD and COD from landfill leachate. Environmental Technology & Innovation 5:188–198

Bhatt A H, Karanjekar R V, Altouqi S,et al. (2017) Estimating landfill leachate BOD and COD based on rainfall, ambient temperature, and waste composition: exploration of a MARS statistical approach. Environmental Technology & Innovation 8:188–198

Breukelen BM, Röling WF, Groen J et al (2003) Biogeochemistry and isotope geochemistry of a landfill leachate plume. J Contam Hydrol 65:245–268

Chen PH (1996) Assessment of leachates from sanitary landfills: impact of age, rainfall, and treatment. Environ Int 22:225–237

Chen KB, He SY, Feng HJ (2010) Study on the characteristic of rural domestic garbage in Zhejiang. (in Chinese). Energy Engineering 1:39–43 (in Chinese)

Chian ESK, DeWalle FB (1976) Sanitary landfill leachates and their treatment. J Environ Eng Div ASCE 102(EE2):411–431

China MEP, Standard Method GB16889-2008, 2008, Standard for pollution control on the landfill site of MSW vol. (in Chinese)

China MEP, Standard Method CJ/T313-2009, 2009, Sampling and analysis methods for domestic waste vol. (in Chinese)

China Statistical Year book, 2018. China Statistical Press, Beijing, China (in Chinese)

Chu LM, Cheung KC, Wong MH (1994) Variations in the chemical properties of landfill leachate. Environ Manag 18:105–117

Esakku S, Karthikeyan OP, Joseph K et al (2007) Seasonal variations in leachate characteristics from municipal solid waste dumpsites in India and Srilanka. International Conference on Sustainable Solid Waste Management

Fan HJ, Shu HY, Yang HS, Chen WC (2006) Characteristics of landfill leachates in central Taiwan. Sci Total Environ 361:25–37

Granet C, Courant P, Millot N, Rousseau C, Navarro A (1986) Diagnostic Detraitabilite dex Lixiviats: Definition D'une Methodologie. L'Eau et l'Industrie, Janvier

Gu BX, Jiang SQ, Wangz HK, et al (2016) Characterization, quantification and management of China's municipal solid waste in spatiotemporal distributions: a review. Waste Management

Guerrero RD, Sánchez-Yáñez JM, Buenrostro-Delgado O, Márquez-Benavides L (2014) Phytotoxic effect of landfill leachate with different pollution indexes on common bean. Water Air Soil Pollut 225:1–7

He PJ (2010) Full-scale practice of ecologically based landfill of municipal solid waste: to accelerate the biological conversion inside landfill and cover layers. Springer, Berlin Heidelberg, pp 217–220

Johansen OJ, Carlson DA (1976) Characterization of sanitary landfill leachates. Water Res 10:1129–1134

Kale SS, Kadam AK, Kumar S, Pawar NJ (2010) Evaluating pollution potential of leachate from landfill site, from the Pune metropolitan city and its impact on shallow basaltic aquifers. Environ Monit Assess 162:327–346

Kawai M, Purwanti IF, Nagao N, Slamet A, Hermana J, Toda T (2012) Seasonal variation in chemical properties and degradability by anaerobic digestion of landfill leachate at Benowo in Surabaya, Indonesia. J Environ Manag 110:267–275

Kelly WE (1976) Ground water pollution near a landfill. J Environ Eng Div 102:1189–1199

Kjeldsen P (1993) Groundwater pollution source characterization of an old landfill. J Hydrol 142:349–371

Kjeldsen P, Barlaz MA, Rooker AP, Baun A, Ledin A, Christensen TH (2002) Present and long-term composition of MSW landfill leachate: a review. Crit Rev Environ Control 32:297–336

Kumar D, Alappat BJ (2004) Selection of the appropriate aggregation function for calculating leachate pollution index. Pract Period Hazard Toxic Radioact Waste Manag 8:253–264

Kumar D, Alappat BJ (2005a) Analysis of leachate pollution index and formulation of sub-leachate pollution indices. Waste Management & Research the Journal of the International Solid Wastes & Public Cleansing Association Iswa. 23:230

Kumar D, Alappat BJ (2005b) Evaluating leachate contamination potential of landfill sites using leachate pollution index. Clean Technol Environ Policy 7:190–197

Mangimbulude JC, Breukelen BM, Krave AS, Straalen NM et al (2009) Seasonal dynamics in leachate hydrochemistry and natural attenuation in surface run-off water from a tropical landfill. Waste Manag 29:829–838

Miller CP, Al ET (1994) IDX-1: a new homeodomain transcription factor expressed in rat pancreatic islets and duodenum that transactivates the somatostatin gene. EMBO J 13:1145–1156

Mor S, Ravindra K, Dahiya RP, Chandra A (2006) Leachate characterization and assessment of groundwater pollution near municipal solid waste landfill site. Environ Monit Assess 118:435–456

Naveen BP, Sharma AK, Sivapullaiah PV, et al (2013) Characteristics of the leachate from MSW landfill, Bangalore. Silver Jubliee Celebrations of Indian Chapter of IGS-Interenational Symposium"Geosynthetics India-2013"23–25 October 2013, NewDelhi, India

Naveen BP, Durge MM, Sitharam TG et al (2017) Physico-chemical and biological characterization of urban municipal landfill leachate. Environ Pollut 220(2017):1–12

Qasim SR, Chiang W (1994) Sanitary landfill leachate; generation, control and treatment. Technomic Pub Co.

Ramachandra TV, Mahapatra DM (2015) Science of carbon footprint analysis. In: The Handbook of Carbon Footprint Assessment. CRC Press, Taylor and Francis Group, pp. 1e44

Renou S, Givaudan JG, Poulain S, Dirassouyan F, Moulin P (2008) Landfill leachate treatment: review and opportunity. J Hazard Mater 150:468–493

Salleh N, Hamid KHK (2013) Effect of rainfall on aged landfill leachate constituents. IEEE Business Engineering and Industrial Applications Colloquium 257–261

Sulfita J, Gerba C, Ham R et al (1992) The world's largest landfill-a multidisciplinary investigation. Environ Sci Technol 26(8):1486–1495

Tränkler J, Visvanathan C, Kuruparan P, Tubtimthai O (2005) Influence of tropical seasonal variations on landfill leachate characteristics—results from lysimeter studies. Waste Manag 25:1013–1020

Wang H, Wang C (2013) Municipal solid waste management in Beijing: characteristics and challenges. Waste Manag Res 31:67–72

Wu XH, Yue B, Huang QF et al (2018) Investigation of the physical and chemical characteristics of rural solid waste in China and its spatiotemporal distributions. Environ Sci Pollut Res 2018(8):1–13

Yang N, Damgaard A, Kjeldsen P, Shao LM, He PJ (2015) Quantification of regional leachate variance from municipal solid waste landfills in China. Waste Manag 46:362–372

Yu JY (2017) Study on the leaching rules of rural living solid waste. Master Dissertation of Suzhou University of Science and Technology (in Chinese)

Yu XY, Xia LJ, Chen Y, Wang HM (2010) A case study on classification pattern of household solid wastes in a typical northern rural village, China. J Agro-Environ Sci 29:1582–1589 (in Chinese)

Yue B, Zhang ZB, Sun YJ, Li HL (2014) Characteristics of rural household solid wastes in China. Environ Sci Technol:129–134 (in Chinese)
Acknowledgments
We thank Paul Seward, PhD, from Liwen Bianji, Edanz Group China (www.liwenbianji.cn/ac), for editing the English text of a draft of this manuscript.
Funding
This work was financially supported by the National Key R&D program of China (No.2018YFC1900103); the National Natural Science Foundation of China (No. 51808520 and No.51578312); and the National Science and Technology Support Program Project (No. 2014BAL02B01).
Additional information
Publisher's note
Springer Nature remains neutral with regard to jurisdictional claims in published maps and institutional affiliations.
Responsible editor: Philippe Garrigues
About this article
Cite this article
Yang, H., Yue, B., Liu, Y. et al. Rural solid waste—characteristics and leachate pollution assessment for different precipitation levels, China. Environ Sci Pollut Res 26, 11234–11244 (2019). https://doi.org/10.1007/s11356-019-04427-4
Received:

Accepted:

Published:

Issue Date:
Keywords
Leachate characteristics

Leachate pollution

Precipitation rates

Rural solid waste

Leachate pollution index