Abstract
We studied the effects on spiders of a three-step rural-urban urbanisation gradient near a Danish town embedded in a historically forested landscape. Using pitfall traps set in forested habitat patches, we collected a total of 3075 adult spiders of 80 species; the habitats under different degrees of urbanisation had 45–47 species. We found support for Gray's Increasing Disturbance Hypothesis: the species richness trap−1 was significantly higher in the rural habitat than in any other one, and decreased from the rural forest to forest fragments dominated by non-native trees in the urban park. The number of forest specialist species also decreased along the urbanisation gradient. Neither the presence of generalists nor light-preferring species increased under more urbanised conditions, but web builders and hygrophilous species were more species-rich in the rural habitat than elsewhere. Using indicator values, we identified Coelotes atropos, Walckenaeria corniculans, Walckenaeria cucullata, and Pachygnatha listeri as species linked to the rural and suburban habitats; Trochosa terricola, Saaristoa abnormis, Robertus lividus as characteristic of the rural habitat; and Gongylidium rufipes and Diplocephalus latifrons as urban habitat specialists.
Access options
Buy single article
Instant access to the full article PDF.
USD 39.95
Price excludes VAT (USA)
Tax calculation will be finalised during checkout.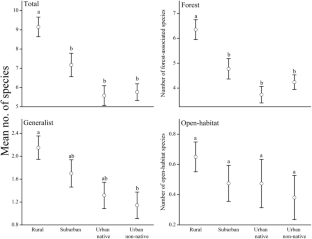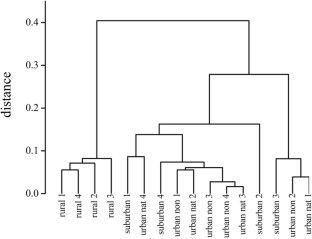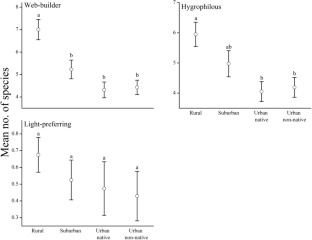 References
Alaruikka DM, Kotze DJ, Matveinen K, Niemelä J (2002) Carabid and spider assemblages along an urban to rural gradient in southern Finland. J Insect Conserv 6:195–206

Argañaraz CI, Gleiser RM (2017) Does urbanization have positive or negative effects on crab spider (Araneae: Thomisidae) diversity? Zoologia 34:e19987

Bogyó D, Magura T, Simon E, Tóthmérész B (2015) Millipede (Diplopoda) assemblages alter drastically by urbanization. Landsc Urban Plan 133:118–126

Brinkhoff T (2018) Denmark: Sjælland. https://www.citypopulation.de/php/denmark-sjalland.php. Accessed 26 April 2018

Buchar J, Ruzicka V (2002) Catalogue of spiders of the Czech Republic. Peres, Prague

Clergeau P, Croci S, Jokimaki J, Kaisanlahti-Jokimaki ML, Dinetti M (2006) Avifauna homogenisation by urbanisation: analysis at different European latitudes. Biol Conserv 127:336–344

da Silva PM, Aguiar CAS, de Faria e Silva I, Serrano ARM (2011) Orchard and riparian habitats enhance ground dwelling beetle diversity in Mediterranean agro-forestry systems. Biodivers Conserv 20:861–872

Dufrêne M, Legendre P (1997) Species assemblages and indicator species: the need for a flexible asymmetrical approach. Ecol Monogr 67:345–366

Elek Z, Lövei GL (2005) Ground beetle (Coleoptera, Carabidae) assemblages along an urbanisation gradient near Sorø, Zealand. Denmark Entomol Medd 73:17–23

Elek Z, Lövei GL (2007) Patterns in ground beetle (Coleoptera: Carabidae) assemblages along an urbanisation gradient in Denmark. Acta Oecol 32:104–111

Entling W, Schmidt MH, Bacher S, Brandl R, Nentwig W (2007) Niche properties of central European spiders: shading, moisture and the evolution of the habitat niche. Global Ecol Biogeogr 16:440–448

Ewers RM, Didham RK (2006) Continuous response functions for quantifying the strength of edge effects. J Appl Ecol 43:527–536

Garden JG, McAlpine CA, Possingham HP (2010) Multi-scaled habitat considerations for conserving urban biodiversity: native reptiles and small mammals in Brisbane, Australia. Landsc Ecol 25:1013–1028

Gehlhausen SM, Schwartz MW, Augspurger CK (2000) Vegetation and microclimatic edge effects in two mixed-mesophytic forest fragments. Plant Ecol 147:21–35

Gilbert OL (1989) The ecology of urban habitats. Chapman and Hall, New York

Gray JS (1989) Effects of environmental stress on species rich assemblages. Biol J Linn Soc 37:19–32

Haberl H, Schulz NB, Plutzar C, Erb KH, Krausmann F, Loibl W, Moser D, Sauberer N, Weisz H, Zechmeister HG, Zulka P (2007) Quantifying and mapping the human appropriation of net primary production in earth's terrestrial ecosystems. P Natl Acad Sci USA 104:12942–12947

Horváth R, Magura T, Tóthmérész B (2012) Ignoring ecological demands masks the real effect of urbanization: a case study of ground-dwelling spiders along a rural-urban gradient in a lowland forest in Hungary. Ecol Res 27:1069–1077

Horváth R, Elek Z, Lövei GL (2014) Compositional changes in spider (Araneae) assemblages along an urbanisation gradient near a Danish town. Bull Insectol 67:255–264

Huber C, Schulze C, Baumgarten M (2007) The effect of femel- and small scale clear-cutting on ground dwelling spider communities in a Norway spruce forest in southern Germany. Biodivers Conserv 16:3653–3680

Johnson JC, Trubl PJ, Miles LS (2012) Black widows in an urban desert: city-living compromises spider fecundity and egg investment despite urban prey abundance. Am Midl Nat 168:333–340

Kaltsas D, Panayiotou E, Chatzaki M, Mylonas M (2014) Ground spider assemblages (Araneae: Gnaphosidae) along an urban-rural gradient in the city of Heraklion, Greece. Eur J Entomol 111:59–67

Legendre P, Legendre L (1998) Numerical ecology. Elsevier, Amsterdam

Lepczyk CA, Aronson MFJ, Evans KL, Goddard MA, Lerman SB, Macivor JS (2017) Biodiversity in the city: fundamental questions for understanding the ecology of urban green spaces for biodiversity conservation. BioScience 67:799–807

Lövei GL (2011) Thoughts of a travelling ecologist 1. Human impacts, invasions and urbanisation. J Biosafety 20:89–90

Lövei GL, Sunderland KD (1996) Ecology and behavior of ground beetles (Coleoptera: Carabidae). Annu Rev Entomol 41:231–256

Lövei GL, Magura T, Tóthmérész B, Ködöböcz V (2006) The influence of matrix and edges on species richness patterns of ground beetles (Coleoptera: Carabidae) in habitat islands. Global Ecol Biogeogr 15:283–289

Lowe EC, Wilder SM, Hochuli DF (2014) Urbanisation at multiple scales is associated with larger size and higher fecundity of an orb-weaving spider. PLoS One 9(8):e105480

Lowe EC, Wilder SM, Hochuli DF (2015) Persistence and survival of the spider Nephila plumipes in cities: do increased prey resources drive the success of an urban exploiter? Urban Ecosyst 19:705–720

Lundholm JT, Richardson PJ (2010) Habitat analogues for reconciliation ecology in urban and industrial environments. J Appl Ecol 47:966–975

Lütolf M, Bolliger J, Kienast F, Guisan A (2009) Scenario-based assessment of future land use change on butterfly species distributions. Biodivers Conserv 18:1329–1347

Magura T, Tóthmérész B, Molnár T (2004) Changes in carabid beetle assemblages along an urbanisation gradient in the city of Debrecen, Hungary. Landsc Ecol 19:747–759

Magura T, Lövei GL, Tóthmérész B (2008) Time-consistent rearrangement of carabid beetle assemblages by an urbanisation gradient in Hungary. Acta Oecol 34:233–243

Magura T, Lövei GL, Tóthmérész B (2010a) Does urbanization decrease diversity in ground beetle (Carabidae) assemblages? Global Ecol Biogeogr 19:16–26

Magura T, Horváth R, Tóthmérész B (2010b) Effects of urbanization on ground-dwelling spiders in forest patches in Hungary. Landsc Ecol 25:621–629

Magura T, Nagy D, Tóthmérész B (2013) Rove beetles respond heterogeneously to urbanization. J Insect Conserv 17:715–724

Magura T, Lövei GL, Tóthmérész B (2017) Edge responses are different in edges under natural versus anthropogenic influence: a meta-analysis using ground beetles. Ecol Evol 7:1009–1017

Matveinen K, Koivula M (2008) Effects of alternative harvesting methods on boreal forest spider assemblages. Can J For Res 38:782–794

McLellan R, Iyengar L, Jeffries B, Oerlemans N (2014) Living planet report 2014: species and spaces, people and places. WWF, Gland

Meineke EK, Holmquist AJ, Wimp GM, Frank SD (2017) Changes in spider community composition are associated with urban temperature, not herbivore abundance. J Urban Ecol 3:1–8

Moorhead LC, Philpott SM (2013) Richness and composition of spiders in urban green spaces in Toledo, Ohio. J Arachnol 41:356–363

Nentwig W, Blick T, Gloor D, Hänggi A, Kropf C (2018) Spiders of Europe. http://www.araneae.unibe.ch. Accessed 1 April 2018

Niemelä J, Kotze DJ, Ashworth A (2000) The search for common anthropogenic impacts on biodiversity: a global network. J Insect Conserv 4:3–9

Niemelä J, Kotze DJ, Venn S, Penev L, Stoyanov I, Spence J, Hartley D, de Oca EM (2002) Carabid beetle assemblages (Coleoptera, Carabidae) across urban-rural gradients: an international comparison. Landsc Ecol 17:387–401

O'Hara RB, Kotze DJ (2010) Do not log-transform count data. Methods Ecol Evol 1:118–122

Parlow E (2011) Urban climate. In: Niemelä J, Breuste JH, Guntenspergen G, McIntyre NE, Elmqvist T, James P (eds) Urban ecology. Oxford University Press, Oxford, pp 31–44

Philpott SM, Cotton J, Bichier P, Friedrich RL, Moorhead LC, Uno S, Valdez M (2014) Local and landscape drivers of arthropod abundance, richness, and trophic composition in urban habitats. Urban Ecosyst 17:513–532

Pickett STA, Cadenasso ML, Grove JM, Boone CG, Groffman PM, Irwin E, Kaushal SS, Marshall V, McGrath BP, Nilon CH, Pouyat RV, Szlavecz K, Troy A, Warren P (2011) Urban ecological systems: scientific foundations and a decade of progress. J Environ Manag 92:331–362

Provencher L, Riechert SE (1991) Short-term effects of hunger conditioning on spider behavior, predation, and gain of weight. Oikos 62:160–166

Pywell RF, James KL, Herbert I, Meek WR, Carvell C, Bell D, Sparks TH (2005) Determinants of overwintering habitat quality for beetles and spiders on arable farmland. Biol Conserv 123:79–90

Riechert SE, Lockley T (1984) Spiders as biological control agents. Annu Rev Entomol 29:299–320

Ryndock JA, Stratton GE, Brewer JS, Holland MM (2012) Differences in spider community composition among adjacent sites during initial stages of oak woodland restoration. Restor Ecol 20:24–32

Saetersdal M, Gjerde I, Blom HH, Ihlen PG, Myrseth EW, Pommeresche R, Skartveit J, Solhoy T, Aas O (2004) Vascular plants as a surrogate species group in complementary site selection for bryophytes, macrolichens, spiders, carabids, staphylinids, snails, and wood living polypore fungi in a northern forest. Biol Conserv 115:21–31

Shochat E, Stefanov WL, Whitehouse MEA, Faeth SH (2004) Urbanization and spider diversity: influences of human modification of habitat structure and productivity. Ecol Appl 14:268–280

Smith RM, Warren PH, Thompson K, Gaston KJ (2006) Urban domestic gardens (VI): environmental correlates of invertebrate species richness. Biodivers Conserv 15:2415–2438

Sokal RR, Rohlf FJ (1995) Biometry. Freeman, New York

Stagoll K, Manning AD, Knight E, Fischer J, Lindenmayer DB (2010) Using bird-habitat relationships to inform urban planning. Landsc Urban Plan 98:13–25

StatSoft Inc. (2010) STATISTICA for Windows (computer program manual). http://www.statsoft.com. Accessed 1 June 2016

Trollope ST, White JG, Cooke R (2009) The response of ground and bark foraging insectivorous birds across an urban-forest gradient. Landsc Urban Plan 93:142–150

UNPD (UN Population Division) (2005) Population challenges and development goals. UN Population Division, New York

Vilisics F, Elek Z, Lövei GL, Hornung E (2007) Composition of terrestrial isopod assemblages along an urbanisation gradient in Denmark. Pedobiologia 51:45–53

Wise DH (1993) Spiders in ecological webs. Cambridge University Press, Cambridge

World Spider Catalog (2018) World spider catalog. Natural History Museum Bern. http://wsc.nmbe.ch/, version 19.0. Accessed 1 April 2018
Acknowledgements
We thank C. Szinetár and N. Scharff for help with taxonomic identification and for advice concerning habitat affinity of the spider species. Author contributions: planning, data collection: ZE, GL; sorting & identification: ZE, RH; data evaluation: TM, RH, ZE, GL; article writing: GL, RH, TM, ZE. Author sequence is by merit. This is publication no. 12 of the Danglobe Project.
Electronic supplementary material
About this article
Cite this article
Lövei, G.L., Horváth, R., Elek, Z. et al. Diversity and assemblage filtering in ground-dwelling spiders (Araneae) along an urbanisation gradient in Denmark. Urban Ecosyst 22, 345–353 (2019). https://doi.org/10.1007/s11252-018-0819-x
Published:

Issue Date:

DOI: https://doi.org/10.1007/s11252-018-0819-x
Keywords
Forest fragmentation

GlobeNet

Increasing disturbance hypothesis

IndVal