Multilingual education for European minority languages: The Basque Country and Friesland
Abstract
Over the last three decades, regional minority languages in Europe have regained increased recognition and support. Their revitalisation is partly due to their being taught in schools. Multilingualism has special characteristics for speakers of minority languages and it poses unique challenges for learning minority languages. This article looks at the cases of Basque and Frisian, comparing and contrasting their similarities and differences. The educational system in the Basque Autonomous Community underwent an important transformation, starting in 1979 from a situation where less than 5 per cent of all teachers were capable of teaching through Basque. Today this figure has changed to more than 80 per cent. An innovative approach was chosen for teaching the minority language, Basque, alongside the dominant language, Spanish, and the international language, English. The outcome is a substantial increase in the proficiency in the minority language among the younger age groups. The decline of the minority language has thus been successfully reversed and one of the major challenges now is to uphold a sustainable educational system. By contrast, the Frisian language has fared less well in the Netherlands, where developments over the last 30 years have been much slower and the results more modest. Here policy-making for education and for language is caught in a continuous debate between a weak provincial level and a powerful central state level. Overall, multilingualism as a resource for individuals is valued for "bigger" languages such as English, French and German, but not for a "small" language such as Frisian. Nevertheless, a few trilingual experiments have been carried out in some schools in Friesland in teaching Frisian, Dutch and English. These experiments may also be instructive for other cases of minority languages of a "moderate strength". In the cases of both Basque and Frisian multilingualism is generally perceived as an important resource.
Keywords
Basque in France and Spain 
Frisian in the Netherlands 
Educational language policies 
Models of language schooling 
Outcomes of bilingual education 
Trilingual education 
Résumé
Enseignement multilingue en faveur des langues minoritaires en Europe : Pays basque et Frise – Depuis trois décennies, les langues minoritaires régionales en Europe bénéficient d'un regain de reconnaissance et de soutien. Leur reviviscence est due en partie à ce qu'elles sont enseignées dans les établissements scolaires. Le multilinguisme revêt des caractéristiques spécifiques pour les locuteurs des langues minoritaires, et pose des défis propres à l'apprentissage de ces langues. Les auteurs de cet article analysent les cas du Pays basque et de la Frise, en comparant et opposant leurs similitudes et différences. Le système éducatif de la Communauté autonome du Pays basque a connu une importante transformation amorcée en 1979, alors que moins de 5 pour cent du corps enseignant était en mesure d'exercer en langue basque. Aujourd'hui, ce chiffre est passé à plus de 80 pour cent. Une approche innovante a été adoptée pour enseigner la langue minoritaire basque, parallèlement à la langue dominante, l'espagnol, et à la langue internationale, l'anglais. Le résultat est une amélioration considérable de la maîtrise du basque parmi les jeunes. L'ancien déclin de la langue minoritaire a ainsi été inversé avec succès, et l'un des défis majeurs aujourd'hui consiste à pérenniser ce système éducatif. En revanche, la langue frisonne a connu un destin moins radieux aux Pays-Bas, où les avancées au cours des 30 dernières années ont été beaucoup plus lentes et les résultats plus modestes. La conception des politiques éducatives et linguistiques est enlisée dans une controverse permanente entre une province faible et un État central puissant. Mais surtout, le multilinguisme appréhendé comme richesse individuelle est valorisé pour les « grandes » langues comme l'anglais, le français et l'allemand, et non pas pour une « petite » langue telle que le frison. Néanmoins, quelques expériences trilingues ont été tentées dans certaines écoles de la province de Frise avec l'enseignement du frison, du néerlandais et de l'anglais. Ces expériences peuvent être instructives pour d'autres langues minoritaires de « force moyenne ». Dans les deux cas du basque et du frison, le multilinguisme est ressenti de manière générale comme une précieuse ressource.
Zusammenfassung
Mehrsprachige Bildung und europäische Minderheitensprachen: das Baskenland und Friesland – In den vergangenen drei Jahrzehnten wurde regionalen Minderheitensprachen in Europa wieder mehr Anerkennung und Unterstützung zuteil. Ihre Wiederbelebung ist teilweise darauf zurückzuführen, dass sie in Schulen unterrichtet werden. Für die Sprecher von Minderheitensprachen birgt die Mehrsprachigkeit einige Besonderheiten, und sie stellt zudem spezifische Anforderungen an den Erwerb von Minderheitensprachen. Dieser Artikel beschäftigt sich mit dem Baskenland und mit Friesland und arbeitet deren Ähnlichkeiten und Unterschiede heraus. Das Schulsystem im autonomen Baskenland hat einen enormen Wandlungsprozess hinter sich. Dieser begann 1979 in einer Zeit, in der weniger als 5 Prozent aller Lehrkräfte in der Lage waren, ihren Unterricht in baskischer Sprache zu erteilen. Heute ist deren Zahl auf über 80 Prozent gestiegen. Für den Unterricht in der Minderheitensprache Baskisch, neben dem dominanten Spanisch und dem internationalen Englisch, wurde ein innovativer Ansatz gewählt. Dies hat dazu geführt, dass die jüngeren Altersgruppen die Minderheitensprache heute erheblich besser beherrschen. Der Niedergang der Minderheitensprache wurde somit erfolgreich umgekehrt, und eine der wichtigsten Aufgaben ist nunmehr die Gestaltung eines zukunftsfähigen Bildungssystems. Im Gegensatz dazu war der friesischen Sprache in den Niederlanden weniger Erfolg beschieden. Dort haben sich die Dinge in den letzten 30 Jahren viel langsamer entwickelt und die Ergebnisse sind bescheidener. Hier geraten Bildungspolitik und Sprachpolitik ständig zwischen die Fronten einer schwachen Provinzebene und eines mächtigen Zentralstaats. Insgesamt genießt die Mehrsprachigkeit als individuelle Kompetenz bei "großen" Sprachen, wie zum Beispiel Englisch, Französisch und Deutsch, hohe Wertschätzung, nicht jedoch bei einer "kleinen" Sprache wie Friesisch. Gleichwohl wurden in einigen Schulen Frieslands einige Experimente mit dreisprachigem Unterricht in Friesisch, Niederländisch und Englisch durchgeführt. Möglicherweise sind die Erkenntnisse aus diesen Experimenten auch für andere Fälle "weniger bedeutender" Minderheitensprachen lehrreich. Sowohl im Baskischen als auch im Friesischen gilt Mehrsprachigkeit allgemein als wichtige Kompetenz.
Resumen
Educación multilingüe para lenguas minoritarias europeas: El País Vasco y Frisia – A lo largo de las tres últimas décadas, las lenguas regionales minoritarias han vuelto a recibir en Europa un creciente apoyo y reconocimiento. Su revitalización se debe, en parte, a que sean enseñadas en las escuelas. El multilingüismo tiene características especiales para quienes hablan lenguas minoritarias y supone un reto excepcional para el aprendizaje de lenguas minoritarias. Este artículo está dedicado a los casos del vasco y del frisio, comparando y contrastando sus similitudes y diferencias. El sistema educativo de la Comunidad Autónoma Vasca ha experimentado una transformación importante desde 1979, cuando menos del 5 por ciento de todos los docentes estaban capacitados para enseñar mediante la lengua vasca. Hoy, este porcentaje llega a superar el 80 por ciento. Se ha adoptado un enfoque innovador al enseñar la lengua minoritaria, el vasco, junto con la lengua dominante, el español, y el inglés como lengua internacional. El resultado es un incremento sustancial de conocimiento de la lengua minoritaria entre la gente más joven. Por lo tanto, el declive de la lengua minoritaria se ha revertido con éxito; ahora, uno de los mayores retos es mantener un sistema educativo sostenible. Por lo contrario, la lengua frisia ha prosperado menos en los Países Bajos, donde la evolución a lo largo de los últimos 30 años ha sido mucho más lenta, con resultados más modestos. Aquí, las políticas adoptadas para la educación y la lengua están atrapadas en un debate permanente entre un débil nivel provincial y un fuerte nivel de Estado central. En términos generales, el multilingüismo está bien valorado como recurso para las personas cuando se trata de lenguas "más importantes", tales como el inglés, el francés o el alemán, pero no para una lengua "menos importante" como el frisio. De todas maneras, se han realizado algunos experimentos trilingües en algunas escuelas de Frisia donde se ha enseñado frisio, holandés e inglés. Estos ensayos también pueden ser útiles para otros casos con lenguas minoritarias de "poder moderado". En los casos del vasco como del frisio, el multilingüismo se percibe, en líneas generales, como recurso importante.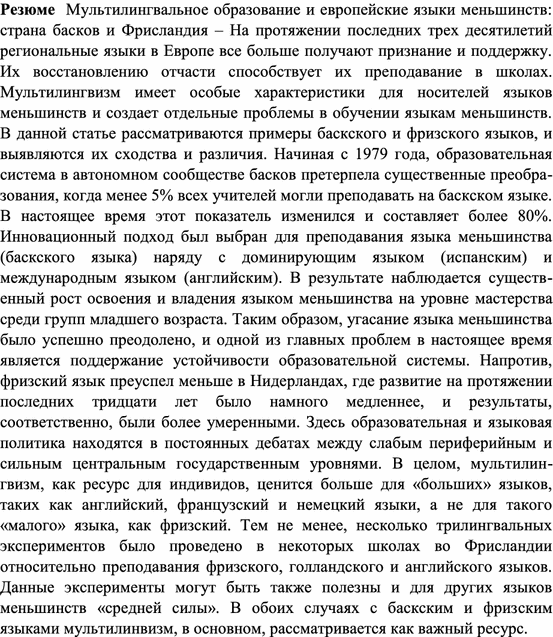 Minority languages have been ignored to a large extent by speakers of majority languages. For minority language speakers themselves their languages are useful in everyday communication. However, minority languages differ in how far they are also used in other, more formal domains in society. Some minority languages, such as Basque, are used in a wide range of social fields. Other minority languages – and Frisian is a good example – have obtained a rather modest presence in domains such as government, the media, economic and social life. The Basque and Frisian language cases will be contrasted and taken as complementary in the discussion in this article. There are, of course, still other minority languages which are hardly used outside the sphere of the family and the home.
Efforts to revive minority languages usually begin with a focus on education. Compared to dominant languages, the use of minority languages in education is limited in most cases, but increasingly not just two but sometimes three and even four languages are used (Cenoz and Gorter 2005). The study of the teaching of minority languages can make a significant contribution to educational research. The teaching of minority languages is linked to many core areas of research, including first language (L1) literacy, second language acquisition, bilingualism and multilingualism, language and identity, language policy and the acquisition of additional languages. Analysing experience and the outcomes of research conducted in these settings can have implications for bi/multilingual education as well as for language learning and language acquisition in other educational settings.
Notes
Acknowledgments
This article is one of the outcomes of the work for the Donostia Research group on Education and Multilingualism (DREAM) supported by the Government of the Basque Country [BOPV 06.05.2010, p. 15]; and the project "La competencia plurilingüe en el contexto escolar" supported by the Spanish Ministry of Science and Innovation [grant number EDU2009-11601].
Open Access
This article is distributed under the terms of the Creative Commons Attribution Noncommercial License which permits any noncommercial use, distribution, and reproduction in any medium, provided the original author(s) and source are credited.