Abstract
Aims
Try to detect the spatiotemporal dynamics and the controlling factors of soil organic carbon (SOC) in the North China Plain (NCP) over the last 30 years: 1980s-2010s.
Methods
We investigated the SOC evolution by compiling data from 32 published papers during the last 30 years. Then we examined the spatial pattern and controlling factors by analysing a two-period sampling observations (1980s and 2010s) and multiple explanatory variables in four typical counties.
Results
Over the last 30 years, the agronomy environment and management practice have been dramatically improved, which have largely increased the crop yield and subsequently enhanced the C input into the soil, made NCP the most effective region for C sequestration in China, ranging from 5.55 ± 1.28 g kg−1 in the 1980s to 8.71 ± 1.22 g kg−1 in the 2010s, with an average rate of 0.11 g kg−1 year−1. The SOC change (SOCC) exhibited spatial heterogeneity due to imbalanced agricultural management (i.e., rotation and irrigation) and environmental obstacles (i.e., salinity and water deficit). The mean SOCC rate in Fengqiu and Yucheng (> +0.15 g kg−1 year−1, with rotation of winter wheat and summer maize, less water deficit and salinity stress) were significantly (P < 0.05) higher than that in Nanpi (< +0.10 g kg−1 year−1, with water deficit) and Kenli (< +0.10 g kg−1 year−1, cotton only, salinity stress).
Conclusions
SOC may continue to increase in the NCP through sustainable and efficient agricultural management, especially in low-yield region. Soils in the NCP will still act as a C sink well in the future.
This is a preview of subscription content, log in to check access.
Access options
Buy single article
Instant access to the full article PDF.
US$ 39.95
Tax calculation will be finalised during checkout.
Subscribe to journal
Immediate online access to all issues from 2019. Subscription will auto renew annually.
US$ 199
Tax calculation will be finalised during checkout.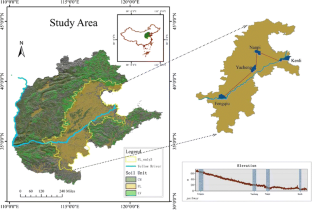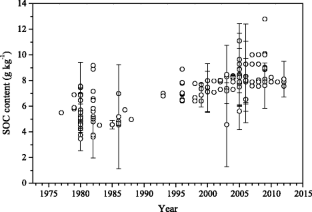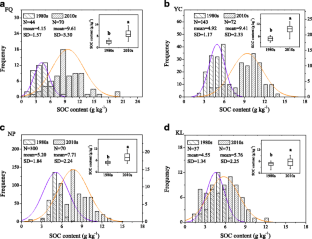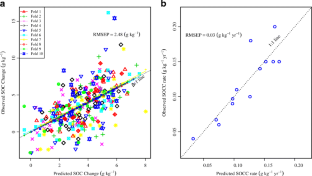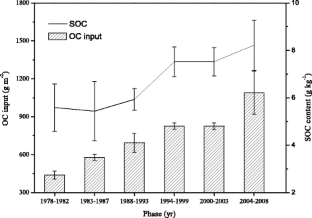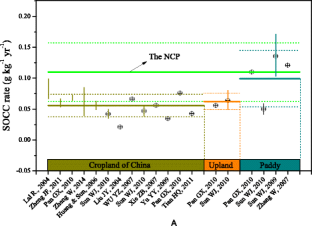 Abbreviations
SOC:

soil organic carbon

NCP:

North China Plain

NPP:

net primary production

TWI:

topographic wetness index

TOP:

topographic parameters

ASL:

above sea level

RMPs:

recommended management practices

MAT:

mean annual temperature

MAP:

mean annual precipitation.
References
Angers DA, Arrouays D, Saby NPA, Walter C (2011) Estimating and mapping the carbon saturation deficit of French agricultural topsoils. Soil Use Manag 27:448–452. doi:10.1111/j.1475-2743.2011.00366.x

Arrouays D, Saby N, Walter C, Lemercier B, Schvartz C (2006) Relationships between particle-size distribution and organic carbon in French arable topsoils. Soil Use Manag 22:48–51. doi:10.1111/j.1475-2743.2006.00020.x

Batjes NH (1996) Total carbon and nitrogen in the soils of the world. Eur J Soil Sci 47:151–163. doi:10.1111/j.1365-2389.1996.tb01386.x

Bellamy PH, Loveland PJ, Bradley RI, Lark RM, Kirk GJD (2005) Carbon losses from all soils across England and Wales 1978–2003. Nature 437:245–248. doi:10.1038/nature04038

Beven KJ, Kirkby MJ (1978) A physically based, variable contributing area model of basin hydrology. Hydrol Sci Bull 24:43–69

Bolinder MA, Janzen HH, Gregorich EG, Angers DA, VandenBygaart AJ (2007) An approach for estimating net primary productivity and annual carbon inputs to soil for common agricultural crops in Canada. Agric Ecosyst Environ 118:29–42

Brady TW, Kathleen BW, Andrzej TG (2007) Linear mixed models, a practical guide using statistical software. Taylor & Francis Group. LLC, Boca Raton

Brandimarte P (2014) Introduction to Monte Carlo Methods. Handbook in Monte Carlo Simulation. Wiley

Cai ZC, Qin SW (2006) Dynamics of crop yields and soil organic carbon in a long-term fertilization experiment in the Huang-Huai-Hai Plain of China. Geoderma 136:708–715. doi:10.1016/j.geoderma.2006.05.008

Cheng WX, OuYang Z, Wu LF (2005) Agro-ecosystems in Huang Huai Hai Plain. In: HL Sun (ed) The ecosystems in China. Science Press, BeiJing (in Chinese)

Ciais P, Gervois S, Vuichard N, Piao SL, Viovy N (2011) Effects of land use change and management on the European cropland carbon balance. Glob Chang Biol 17:320–338. doi:10.1111/j.1365-2486.2010.02341.x

Condon AG, Richards RA, Rebetzke GJ, Farquhar GD (2004) Breeding for high water-use efficiency. J Exp Bot 55:2447–2460. doi:10.1093/jxb/erh277

Cressie NAC (2015) Statistics for spatial data. Wiley

Davidson EA, Janssens IA (2006) Temperature sensitivity of soil carbon decomposition and feedbacks to climate change. Nature 440:165–173. doi:10.1038/nature04514

Dodla SK, Wang JJ, DeLaune DR, Cook R (2008) Denitrification potential and its relation to organic carbon quality in three coastal wetland soils. Sci Total Environ 407:471–480

Fang S, Chen XL, Fan ZD, Wan BL (2005) Comprehensive control of drought, waterlogging, salinity and saline groudwater and good circulation of eco-environment. South North Water Tran Water Sci Technolo 3:12–18

Fang Q, Yu Q, Wang E, Chen Y, Zhang G, Wang J, Li L (2006) Soil nitrate accumulation, leaching and crop nitrogen use as influenced by fertilization and irrigation in an intensive wheat-maize double cropping system in the North China Plain. Plant Soil 284:335–350. doi:10.1007/s11104-006-0055-7

Fu GB, Chen SL, Liu CM, Shepard D (2004) Hydro-climatic trends of the Yellow River basin for the last 50 years. Clim Chang 65:149–178. doi:10.1023/B:CLIM.0000037491.95395.bb

Gee GW, Bauder JW (1986) Particle-size analysis. In: Page AL (ed) Methods of soil analysis, part 1, physical and mineralogical methods. Soil Science Society of America, Wisconsin

Gilbert RO (1987) Statistical method for environmental pollution monitoring. Van Nostrand Reinhold, New York

Goidts E, van Wesemael B (2007) Regional assessment of soil organic carbon changes under agriculture in Southern Belgium (1955–2005). Geoderma 141:341–354. doi:10.1016/j.geoderma.2007.06.013

Goidts E, van Wesemael B, Van Oost K (2009) Driving forces of soil organic carbon evolution at the landscape and regional scale using data from a stratified soil monitoring. Glob Chang Biol 15:2981–3000. doi:10.1111/j.1365-2486.2009.01940.x

Guo JH, Liu XJ, Zhang Y, Shen JL, Han WX, Zhang WF, Christie P, Goulding KWT, Vitousek PM, Zhang FS (2010) Significant acidification in major Chinese croplands. Science 327:1008–1010. doi:10.1126/science.1182570

Han YZ, Tian LY, Xu XG (2000) A preliminary study on wetland ecosystem and its protection of Yellow River Delta. Environ Sci Technol 89:10–13

Hassink J (1996) Preservation of plant residues in soils differing in unsaturated protective capacity. Soil Sci Soc Am J 60:487–491

Hassink J (1997) The capacity of soils to preserve organic C and N by their association with clay and silt particles. Plant Soil 191:77–87. doi:10.1023/a:1004213929699

Hu C, Delgado JA, Zhang X, Ma L (2005) Assessment of groundwater use by wheat (Triticum aestivum L.) in the Luancheng Xian region and potential implications for water conservation in the northwestern North China Plain. J Soil Water Conserv 60:80–88

Huang Y, Sun W (2006) Changes in topsoil organic carbon of croplands in mainland China over the last two decades. Chin Sci Bull 51:1785–1803. doi:10.1007/s11434-006-2056-6

Hutchinson JJ, Campbell CA, Desjardins RL (2007) Some perspectives on carbon sequestration in agriculture. Agric For Meteorol 142:288–302. doi:10.1016/j.agrformet.2006.03.030

IPCC (1996) Cliamte change 1995: the science of climate change. Contribution of working group I to the 2nd assessment report of the IPCC. Cambridge University Press, Cambridge

Jobbagy EG, Jackson RB (2000) The vertical distribution of soil organic carbon and its relation to climate and vegetation. Ecol Appl 10:423–436. doi:10.2307/2641104

John HM, Braun WJ (2014) DAAG: data analysis and graphics data and functions. R Packag Version 1:20

Johnson JM-F, Allmaras RR, Reicosky DC (2006) Estimating source carbon from crop residues, roots and rhizodeposits using the national grain-yield database. Agron J 98:622. doi:10.2134/agronj2005.0179

Ju XT, Xing GX, Chen XP, Zhang SL, Zhang LJ, Liu XJ, Cui ZL, Yin B, Christie P, Zhu ZL, Zhang FS (2009) Reducing environmental risk by improving N management in intensive Chinese agricultural systems. Proc Natl Acad Sci U S A 106:3041–3046. doi:10.1073/pnas.0813417106

Kendy E, Gerard-Marchant P, Walter MT, Zhang YQ, Liu CM, Steenhuis TS (2003) A soil-water-balance approach to quantify groundwater recharge from irrigated cropland in the North China Plain. Hydrol Process 17:2011–2031. doi:10.1002/hyp.1240

Kuzyakov Y, Schneckenberger K (2004) Review of estimation of plant rhizodeposition and their contribution to soil organic matter formation. Arch Agron Soil Sci 50:115–132. doi:10.1080/03650340310001627658

Lal R (2002) Soil carbon sequestration in China through agricultural intensification, and restoration of degraded and desertified ecosystems. Land Degrad Dev 13:469–478. doi:10.1002/ldr.531

Lal R (2004a) Soil carbon sequestration impacts on global climate change and food security. Science 304:1623–1627. doi:10.1126/science.1097396

Lal R (2004b) Soil carbon sequestration to mitigate climate change. Geoderma 123:1–22. doi:10.1016/j.geoderma.2004.01.032

Liu YH, Yu ZR, Zhang FR, Song CM, Liu Y (2005) Dynamic change of soil organic matter and its effecting factors at county level. Plant Nutr Fertil Sci 11(3):294–301 (in Chinese with English abstract)

Liu Y, Wang E, Yang X, Wang J (2010) Contributions of climatic and crop varietal changes to crop production in the North China Plain, since 1980s. Glob Chang Biol 16:2287–2299. doi:10.1111/j.1365-2486.2009.02077.x

Liu C, Lu M, Cui J, Li B, Fang CM (2014) Effects of straw carbon input on carbon dynamics in agricultural soils: a meta-analysis. Glob Chang Biol 20:1366–1381. doi:10.1111/gcb.12517

Lobell DB, Burke MB, Tebaldi C, Mastrandrea MD, Falcon WP, Naylor RL (2008) Prioritizing climate change adaptation needs for food security in 2030. Science 319:607–610. doi:10.1126/science.1152339

Lu RK (1999) Analytical method of soil agricultural chemistry. China Agricultural Science and Technology Press, Beijing (in Chinese)

Lu F, Wang X, Han B, Ouyang Z, Duan X, Zheng H, Miao H (2009) Soil carbon sequestrations by nitrogen fertilizer application, straw return and no-tillage in China's cropland. Glob Chang Biol 15:281–305. doi:10.1111/j.1365-2486.2008.01743.x

Lu W, Ding W, Zhang J, Li Y, Luo J, Bolan N, Xie Z (2014) Biochar suppressed the decomposition of organic carbon in a cultivated sandy loam soil: a negative priming effect. Soil Biol Biochem 76:12–21. doi:10.1016/j.soilbio.2014.04.029

Luo Y, Weng E (2011) Dynamic disequilibrium of the terrestrial carbon cycle under global change. Trends Ecol Evol 26:96–104. doi:10.1016/j.tree.2010.11.003

Maia SMF, Ogle SM, Cerri CC, Cerri CEP (2010) Changes in soil organic carbon storage under different agricultural management systems in the Southwest Amazon Region of Brazil. Soil Tillage Res 106:177–184. doi:10.1016/j.still.2009.12.005

Meersmans J, van Wesemael B, Goidts E, van Molle M, De Baets S, De Ridder F (2011) Spatial analysis of soil organic carbon evolution in Belgian croplands and grasslands, 1960–2006. Glob Chang Biol 17:466–479. doi:10.1111/j.1365-2486.2010.02183.x

Mo XG, Lin ZH, Liu SX (2006) Spatial-temporal evolution and driving forces of winter wheat productivity in the Huang Huai Hai Region. J Nat Resour 21(3):449–457

Muller T, Hoper H (2004) Soil organic matter turnover as a function of the soil clay content: consequences for model applications. Soil Biol Biochem 36:877–888. doi:10.1016/j.soilbio.2003.12.015

Ogle SM, Breidt FJ, Eve MD, Paustian K (2003) Uncertainty in estimating land use and management impacts on soil organic carbon storage for US agricultural lands between 1982 and 1997. Glob Chang Biol 9:1521–1542. doi:10.1046/j.1529-8817.2003.00683.x

Pan GX, Li LQ, Wu LS, Zhang XH (2003a) Storage and sequestration potential of topsoil organic carbon in China's paddy soils. Glob Chang Biol 10:79–92. doi:10.1111/j.1365-2486.2003.00717.x

Pan GX, Li LQ, Zhang XH, Dai JY, Zhou YC, Zhang PJ (2003b) Soil organic carbon storage of China and the sequestration dynamics in agricultural lands. Adv Earth Sci 18(4):609–618 (in Chinese with English abstract)

Pan G, Xu X, Smith P, Pan W, Lal R (2010) An increase in topsoil SOC stock of China's croplands between 1985 and 2006 revealed by soil monitoring. Agric Ecosyst Environ 136:133–138. doi:10.1016/j.agee.2009.12.011

Pansu M, Gautheyrou J (2003) Handbook of soil analysis: mineralogical, organic and inorganic methods. Springer, Berlin

Paustian K, Cole CV, Sauerbeck D, Sampson N (1998) CO2 mitigation by agriculture: an overview. Clim Chang 40:135–162. doi:10.1023/a:1005347017157

Peng SB, Huang JL, Sheehy JE, Laza RC, Visperas RM, Zhong XH, Centeno GS, Khush GS, Cassman KG (2004) Rice yields decline with higher night temperature from global warming. Proc Natl Acad Sci U S A 101:9971–9975. doi:10.1073/pnas.0403720101

Phillips DL, Marks DG (1996) Spatial uncertainty analysis: propagation of interpolation errors in spatially distributed models. Ecol Model 91:213–229. doi:10.1016/0304-3800(95)00191-3

Pinheiro J, Bates D, DebRoy S, Sarkar D, R Core Team (2014) nlme: Linear and Nonlinear Mixed Models. 3.1-118 edn

Post WM, Kwon KC (2000) Soil carbon sequestration and land-use change: processes and potential. Glob Chang Biol 6:317–327. doi:10.1046/j.1365-2486.2000.00308.x

Qin ZC, Huang Y, Zhuang QL (2013) Soil organic carbon sequestration potential of cropland in China. Glob Biogeochem Cycles 27:711–722. doi:10.1002/gbc.20068

R Core Team (2014) R: a language and environment for statistical computing. R Foundation for Statistical Computing, Vienna, Austria. URL https://www.R-project.org/

Ren W, Tian HQ, Tao B, Huang Y, Pan SF (2012) China's crop productivity and soil carbon storage as influenced by multifactor global change. Glob Chang Biol 18:2945–2957. doi:10.1111/j.1365-2486.2012.02741.x

Saby NPA, Arrouays D, Antoni V, Lemercier B, Follain S, Walter C, Schvartz C (2008) Changes in soil organic carbon in a mountainous French region, 1990–2004. Soil Use Manag 24:254–262. doi:10.1111/j.1475-2743.2008.00159.x

Salmi T, Maatta A, Anttila P, Ruoho-Airola T, Amnell T (2002) Detecting trends of annual values of atmospheric pollutants by the Mann-Kendall test and Sen's Slope estimates - the excel template application MAKESENS. In: Publications on air quality, No. 31. Finish Meteorological Institute, Helsinki, Finland.

SAS Institute Inc (2011) Base SAS® 9.3 procedures guide. SAS Institute Inc, Cary, NC

Six J, Conant RT, Paul EA, Paustian K (2002) Stabilization mechanisms of soil organic matter: implications for C-saturation of soils. Plant Soil 241:155–176. doi:10.1023/a:1016125726789

Smith JE, Heath LS (2001) Identifying influences on model uncertainty: an application using a forest carbon budget model. Environ Manag 27:253–267. doi:10.1007/s002670010147

Smith P, Powlson DS, Glendining MJ, Smith JU (1997) Potential for carbon sequestration in European soils: preliminary estimates for five scenarios using results from long-term experiments. Glob Chang Biol 3:67–79. doi:10.1046/j.1365-2486.1997.00055.x

Smith P, Martino D, Cai Z, Gwary D, Janzen H, Kumar P, McCarl B, Ogle S, O'Mara F, Rice C, Scholes B, Sirotenko O, Howden M, McAllister T, Pan G, Romanenkov V, Schneider U, Towprayoon S (2007) Policy and technological constraints to implementation of greenhouse gas mitigation options in agriculture. Agric Ecosyst Environ 118:6–28. doi:10.1016/j.agee.2006.06.006

Sorensen P (2004) Immobilisation, remineralisation and residual effects in subsequent crops of dairy cattle slurry nitrogen compared to mineral fertiliser nitrogen. Plant Soil 267:285–296. doi:10.1007/s11104-005-0121-6

Stewart CE, Plante AF, Paustian K, Conant RT, Six J (2008) Soil carbon saturation: linking concept and measurable carbon pools. Soil Sci Soc Am J 72:379–392. doi:10.2136/sssaj2007.0104

Stewart CE, Paustian K, Conant RT, Plante AF, Six J (2009) Soil carbon saturation: implications for measurable carbon pool dynamics in long-term incubations. Soil Biol Biochem 41:357–366. doi:10.1016/j.soilbio.2008.11.011

Sun W, Huang Y, Zhang W, Yu Y (2010) Carbon sequestration and its potential in agricultural soils of China. Global Biogeochemical Cycles 24. doi: 10.1029/2009gb003484

Suuster E, Ritz C, Roostalu H, Kolli R, Astover A (2012) Modelling soil organic carbon contentration of mineral soils in arable land using legacy soil data. Eur J Soil Sci 63:351–359

Tao F, Zhang Z (2013) Climate change, wheat productivity and water use in the North China Plain: a new super-ensemble-based probabilistic projection. Agric For Meteorol 170:146–165. doi:10.1016/j.agrformet.2011.10.003

Tao FL, Yokozawa M, Hayashi Y, Lin ED (2005) A perspective on water resources in China: Interactions between climate change and soil degradation. Clim Chang 68:169–197. doi:10.1007/s10584-005-6013-1

Tao F, Zhang Z, Xiao D, Zhang S, Rotter RP, Shi W, Liu Y, Wang M, Liu F, Zhang H (2014) Responses of wheat growth and yield to climate change in different climate zones of China, 1981–2009. Agric For Meteorol 189:91–104. doi:10.1016/j.agrformet.2014.01.013

The World Bank (2012) World development indicators. The Wolrd Bank, Washington, DC

Thomson AM, Izaurralde RC, Rosenberg NJ, He XX (2006) Climate change impacts on agriculture and soil carbon sequestration potential in the Huang-Hai Plain of China. Agric Ecosyst Environ 114:195–209. doi:10.1016/j.agee.2005.11.001

Vukicevic T, Braswell BH, Schimel D (2001) A diagnostic study of temperature controls on global terrestrial carbon exchange. Tellus Ser B-Chem Phys Meteorol 53:150–170. doi:10.1034/j.1600-0889.2001.d01-13.x

Wang A, Chen J, Li D, Zhou Z (2007) Spatial variations of carbon and nitrogen in Coastal Wetland Sediments of Quanzhou Bay in China. Environ Sci 28:2361–2368 (in Chinese with English abstract)

Wang G, Li T, Zhang W, Yu Y (2014) Impacts of agricultural management and climate change on future soil organic carbon dynamics in North China Plain. Plos One 9. doi: 10.1371/journal.pone.0094827

West TO, Post WM (2002) Soil organic carbon sequestration rates by tillage and crop rotation: a global data analysis. Soil Sci Soc Am J 66:1930–1946

West TO, Six J (2007) Considering the influence of sequestration duration and carbon saturation on estimates of soil carbon capacity. Clim Chang 80:25–41. doi:10.1007/s10584-006-9173-8

Wiesmeier M, Prietzel J, Barthold F, Sporlein P, Geuss U, Hangen E, Reischl A, Schilling B, von Lutzow M, Kogel-Knabner I (2013) Storage and drivers of organic carbon in forest soils of southeast Germany (Bavaria) - Implications for carbon sequestration. For Ecol Manag 295:162–172. doi:10.1016/j.foreco.2013.01.025

Wilson JP, Gallant J (2000) Terrain analysis: principle and application. Wiley, Singapore

Xie ZB, Zhu JG, Liu G, Cadisch G, Hasegawa T, Chen CM, Sun HF, Tang HY, Zeng Q (2007) Soil organic carbon stocks in China and changes from 1980s to 2000s. Glob Chang Biol 13:1989–2007

Xu XG (2000) The applicable Eco-agricultural models and territorial structure of agriculture in the Yellow River Delta. Sci Geogr Sin 20:27–32

Xu XW, Pan GX, Wang YL, Cao ZH (2009) Resarch of changing characteristics and control factors of farmland topsoil organic carbon in China. Geogr Res 28(3):601–612 (in Chinese with English abstract)

Yan X, Cai Z, Wang S, Smith P (2011) Direct measurement of soil organic carbon content change in the croplands of China. Glob Chang Biol 17:1487–1496. doi:10.1111/j.1365-2486.2010.02286.x

Yang DW, Li C, Hu HP, Lei ZD, Yang SX, Kusuda T, Koike T, Musiake K (2004) Analysis of water resources variability in the Yellow River of China during the last half century using historical data. Water Resour Res 40. doi: 10.1029/2003wr002763

Yang YH, Mohammat A, Feng JM, Zhou R, Fang JY (2007) Storage, patterns and environmental controls of soil organic carbon in China. Biogeochemistry 84:131–141. doi:10.1007/s10533-007-9109-z

Yang Y, Ji C, Ma W, Wang S, Wang S, Han W, Mohammat A, Robinson D, Smith P (2012) Significant soil acidification across northern China's grasslands during 1980s-2000s. Glob Chang Biol 18:2292–2300. doi:10.1111/j.1365-2486.2012.02694.x

Yu YY, Guo ZT, Wu HB, Kahmann JA, Oldfield F (2009) Spatial changes in soil organic carbon density and storage of cultivated soils in China from 1980 to 2000. Global Biogeochemical Cycles 23. doi: 10.1029/2008gb003428

Yu J, Wang Y, Li Y, Dong H, Zhou D, Han G, Wu H, Wang G, Mao P, Gao Y (2012) Soil organic carbon storage changes in coastal wetlands of the modern Yellow River Delta from 2000 to 2009. Biogeosciences 9:2325–2331. doi:10.5194/bg-9-2325-2012

Zhang JB, Lin XG, Li H (2011) A new generation of controlling technology for the medium and low yield fields and its potential in large-area balanced grain production increase. Sci Technol Innov Grain Secur 26:375–382

Zhao G, Bryan BA, King D, Luo Z, Wang E, Song X, Yu Q (2013) Impact of agricultural management practices on soil organic carbon: simulation of Australian wheat systems. Glob Chang Biol 19:1585–1597. doi:10.1111/gcb.12145
Acknowledgments
This research was sponsored by the "Strategic Priority Research Program - Climate Change: Carbon Budget and Related Issues" of the Chinese Academy of Sciences (Grant No. XDA05050502). We thank the faculty of Yucheng comprehensive experimental station (CAS) for their excellent work of data collection and laboratory analysis. We are grateful to Dr. Xingliang Xu for constructive suggestions on this manuscript.
Additional information
Responsible Editor: Ingrid Koegel-Knabner.
Electronic supplementary material
Below is the link to the electronic supplementary material.
About this article
Cite this article
Han, D., Sun, Z., Li, F. et al. Changes and controlling factors of cropland soil organic carbon in North China Plain over a 30-year period. Plant Soil 403, 437–453 (2016). https://doi.org/10.1007/s11104-016-2803-7
Received:

Accepted:

Published:

Issue Date:
Keywords
Huang-Huai-Hai Plain

Soil organic carbon change

Spatiotemporal pattern

C input

Recommended management practices