Updates on the role of adrenal steroidogenesis inhibitors in Cushing's syndrome: a focus on novel therapies
Abstract
Purpose
Endogenous Cushing's syndrome (CS) is a rare disease that results from exposure to high levels of cortisol; Cushing's disease (CD) is the most frequent form of CS. Patients with CS suffer from a variety of comorbidities that increase the risk of mortality. Surgical resection of the disease-causing lesion is generally the first-line treatment of CS. However, some patients may not be eligible for surgery due to comorbidities, and approximately 25 % of patients, especially those with CD, have recurrent disease. For these patients, adrenal steroidogenesis inhibitors may control cortisol elevation and subsequent symptomatology. CS is rare overall, and clinical studies of adrenal steroidogenesis inhibitors are often small and, in many cases, data are limited regarding the efficacy and safety of these treatments. Our aim was to better characterize the profiles of efficacy and safety of currently available adrenal steroidogenesis inhibitors, including drugs currently in development.
Methods
We performed a systematic review of the literature regarding adrenal steroidogenesis inhibitors, focusing on novel drugs.
Results
Currently available adrenal steroidogenesis inhibitors, including ketoconazole, metyrapone, etomidate, and mitotane, have variable efficacy and significant side effects, and none are approved by the US Food and Drug Administration for CS. Therefore, there is a clear need for novel, prospectively studied agents that have greater efficacy and a low rate of adverse side effects. Efficacy and safety data of current and emerging adrenal steroidogenesis inhibitors, including osilodrostat (LCI699) and levoketoconazole (COR-003), show promising results that will have to be confirmed in larger-scale phase 3 studies (currently ongoing).
Conclusions
The management of CS, and particularly CD, remains challenging. Adrenal steroidogenesis inhibitors can be of major interest to control the hypercortisolism at any time point, either before or after surgery, as discussed in this review.
Keywords
Cushing's disease 
Cushing's syndrome 
Adrenal steroidogenesis inhibitor 
Osilodrostat 
Levoketoconazole 
LCI699 
Ketoconazole 
Metyrapone 
Introduction
Cushing's syndrome (CS) is a potentially fatal disease associated with chronic hypercortisolemia [1]. Endogenous CS is rare, with an annual estimated incidence of approximately 0.7–2.4 cases per million people [1]. Patients with CS have a mortality risk that is approximately 3.5–5 times higher than the general population if not appropriately treated [2]. The increased mortality with CS is, in part, related to an increased risk of cardiovascular disease and coagulation disorders [3, 4, 5]. The risk of myocardial infarction is approximately 4.5 times higher, and the risk of venous thromboembolism is approximately 20.6 times higher in patients with CS compared with the general population [2]. Elevated cortisol levels in patients with CS also result in a range of comorbidities, including cardiovascular (e.g., venous thrombosis, hypertension), dermatological (e.g., plethora, ecchymoses), metabolic (e.g., weight gain, abnormal glucose tolerance), reproductive (e.g., decreased libido, menstrual changes), neuropsychiatric (e.g., lethargy, depression), and musculoskeletal (e.g., muscle weakness) symptoms [1].
Treatment options that directly address the hypercortisolemia include surgery (pituitary, adrenal, or ectopic tumor resection), medical treatment, and/or radiotherapy [6, 7]. Each option has its drawbacks; for instance, radiation techniques become fully effective only after a prolonged period of time (3–5 years) and medical treatment, as a bridge is necessary. Focusing more specifically on Cushing's disease (CD), the most frequent etiology of CS, the 2015 Endocrine Society Clinical Practice Guideline recommends surgical resection of the pituitary lesion as a first line of treatment, unless surgery is contraindicated or unlikely to successfully reduce excess cortisol levels [6]. For patients for whom disease was not controlled by initial surgery, or for patients with severe, life-threatening disease, bilateral adrenalectomy is also an option [6]. However, as a result of the adrenal insufficiency (AI) induced by bilateral adrenalectomy, patients undergoing the procedure will require hydrocortisone replacement and have an increased risk of adrenal crises during their lifetime [8].
Medical treatment is recommended in patients who are not surgical candidates, or for whom surgery has failed, and in patients awaiting the effects of radiation therapy/radiosurgery [6].
There are three specific targets for medical therapy in CD, the corticotroph tumor, adrenal steroidogenesis inhibitors, and glucocorticoid receptor blockers.
Steroidogenesis inhibitors are recommended by the Endocrine Society as second-line treatment after adenomectomy in CD, depending on clinical circumstances; as first-line treatment for patients with ectopic adrenocorticotropic hormone (ACTH) secretion when a tumor is not detected; or as an adjunct treatment for patients with adrenocortical carcinoma [6].
Corticotropin (ACTH) stimulates steroidogenesis by the adrenal glands [
9
]. Through a variety of enzymatic reactions, cholesterol, the common steroid precursor, is converted to aldosterone, cortisol, or androstenedione (Fig. 
1
). Adrenal steroidogenesis inhibitors, which act by blocking various steps in the steroid biosynthesis pathway resulting in reduced production of cortisol and other steroids, are a cornerstone of medical treatment of CS [
10
]. This review summarizes the key features of different adrenal steroidogenesis inhibitors for the treatment of CS, with particular emphasis on steroidogenesis inhibitors currently in clinical development. Mechanisms of action, efficacy, and safety of the adrenal steroidogenesis inhibitors are discussed in detail below and summarized in Table 
1
.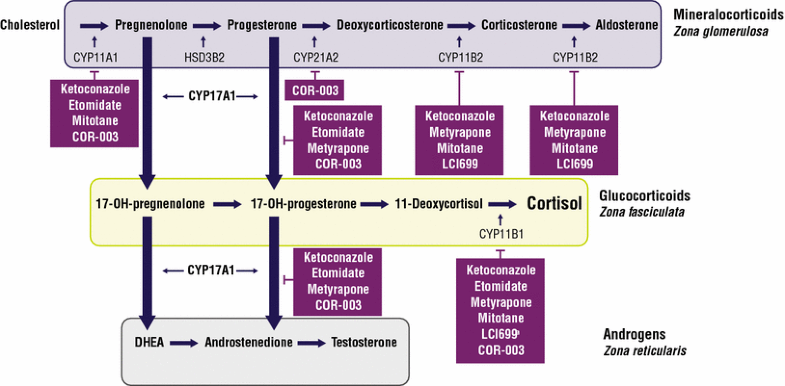 Table 1
Mechanisms of action of steroidogenesis inhibitors [21]
 

Mechanism of action

Efficacy (%)

Common side effects

Ketoconazole

Inhibitor of CYP17A1, CYP11A1, and CYP11B1

53–88

Liver enzyme increase

Gastrointestinal AEs

Interactions with multiple drugs

Not approved for use during pregnancy

Metyrapone

Inhibitor of CYP11B1, CYP11B2, and CYP17A1

75

Hypokalemia

Hypertension

Gastrointestinal AEs

Hirsutism

Not approved for use during pregnancy

Etomidate

Inhibitor of CYP11B1, CYP17A1, and CYP11A1

NR

Hypnosis

Not approved for use during pregnancy

Mitotane

Inhibitor of CYP11A1, CYP11B1, and CYP11B2

~70

Gastrointestinal AEs

Neurological side effects

Teratogen (not approved for use during pregnancy)

Osilodrostat (LCI699)

Inhibitor of CYP11B2 and CYP11B1 at higher doses

78–92

Nausea

Hirsutism

Fatigue

Headache

Hypokalemia

Not approved for use during pregnancy

Levoketoconazole (COR-003)

Inhibitor of CYP17A1, CYP11A1, CYP11B1, and CYP21A2

NR

Headachea

Nauseaa

Mild liver enzyme increasea

Not approved for use during pregnancy
Adrenal steroidogenesis inhibitors currently in clinical use
Adrenal steroidogenesis inhibitors in clinical development
Osilodrostat (LCI699)
Osilodrostat is a potent and relatively selective inhibitor of CYP11B2 that also inhibits CYP11B1 at higher doses [40]. In comparison to metyrapone, which also inhibits CYP11B1, osilodrostat is a more potent inhibitor of CYP11B1 (IC50 2.5 vs 7.5 nM) and has a longer half-life (4–5 vs 2 h) [41]. Osilodrostat was initially developed as a possible treatment option for hypertension, cardiac failure, and renal disease [10]. In studies in patients with hypertension, significant and dose-dependent decreases in urine and plasma levels of aldosterone and a blunting of the cortisol response to synthetic ACTH were observed [10].
In a 10-week, proof-of-concept study in patients with CD (n = 12) who had previously undergone pituitary surgery and had UFC greater than 1.5 times the upper limit of normal (ULN), 92 % of patients achieved normalization of UFC within 10 weeks of initiating osilodrostat treatment, with all patients achieving ≥50 % decreases in UFC levels from baseline [42]. After treatment discontinuation, UFC levels rose above the ULN [42]. In a longer term, 22-week, phase 2 study of osilodrostat in patients with CD with UFC levels above the ULN, normalization of cortisol levels was achieved in 84 % of patients by week 10 and 79 % by the end of the study [41]. In both studies, patients achieved normal UFC within a month of starting treatment [41, 42]. Plasma levels of cortisol and aldosterone were decreased in both studies, while levels of their precursors, 11-deoxycortisol and 11-deoxycorticosterone, increased [41, 42]. Although blood pressure decreased from baseline in the proof-of-concept study, data from the phase 2 study showed no changes in blood pressure [41, 42].
In patients with CD, osilodrostat is also associated with an increase in ACTH (3- to 4-fold), which, due to the subsequent increase in 11-deoxycorticosterone, may be associated with the development of certain side effects (worsening of hypokalemia, increased blood pressure levels) [10]. These side effects were not specifically reported in the studies previously described. Adrenal insufficiency was observed in approximately 32 % of patients in the phase 2 study [41]. The most common adverse events in both studies were gastrointestinal adverse events (e.g., nausea, diarrhea); adverse events associated with adrenal insufficiency (i.e., fatigue, dizziness, nausea, muscle spasms, hypotension, and syncope) led to dose reductions of osilodrostat [41, 42]. In both studies, increased levels of testosterone were observed in female patients [41, 42], and in the phase 2 study, symptoms of hirsutism occurred in a third of the female patients who completed the study [41].
A phase 3, double-blind, randomized withdrawal study (ClinicalTrials.gov identifier NCT02180217) of osilodrostat in patients with persistent, recurrent CD or untreated CD who are not candidates for surgery is ongoing (estimated enrollment = 132) [43]. Patients receive osilodrostat during a 12-week, open-label, dose-titration period (weeks 1–12), followed by a 12-week, open-label, stable treatment period (weeks 13–24); then patients are randomized to receive osilodrostat or a placebo during an 8-week double-blind period (weeks 26–34), and, finally, all patients receive open-label osilodrostat from weeks 35 to 48. The primary endpoint is the proportion of patients with normal mean UFC values per treatment group at 34 weeks.
Levoketoconazole (COR-003)
Levoketoconazole is the 2S,4R enantiomer of ketoconazole, purified from racemic ketoconazole [44]. In early in vitro analyses, levoketoconazole was shown to be a more potent inhibitor than the 2R,4S enantiomer of several enzymes in the steroidogenic pathway, including CYP11B1, a key enzyme in the final step of adrenal cortisol synthesis; levoketoconazole had a half maximal inhibitory concentration for CYP11B1 that was approximately 4 times lower than the 2R,4S enantiomer [17, 18, 19]. As an azole antifungal, levoketoconazole was screened as an inhibitor of a critical enzyme for fungal survival, CYP51A1, which also happens to be a key enzyme in cholesterol synthesis. Levoketoconazole was shown to be a more potent inhibitor of CYP51A1 than the 2R,4S enantiomer [19]. Results of more recent analyses of the effects of racemic ketoconazole, levoketoconazole, and 2R,4S-ketoconazole on steroidogenic CYP enzymes support those of early in vitro studies [45]. In those analyses, levoketoconazole showed more potent inhibition of CYP17A1, CYP21A2, and CYP11B1 than either racemic ketoconazole or 2R,4S-ketoconazole [45]. Thus, a lower dose of levoketoconazole may potentially be used to achieve the same clinical effects as racemic ketoconazole; however, controlled clinical trials of different doses of levoketoconazole compared with racemic ketoconazole are needed to support these findings. In preclinical studies in rats, levoketoconazole had a greater potency for decreasing corticosterone (the main glucocorticoid in rats [46]) and testosterone levels than the 2R,4S enantiomer or racemic ketoconazole [45]. Levoketoconazole-mediated decreases in corticosterone were dose-dependent. Levoketoconazole treatment has not yet been evaluated in patients with CS; however, clinical results in healthy subjects and patients with type 2 diabetes support preclinical results showing suppression of corticosterone by levoketoconazole. In an analysis of cortisol levels over time in healthy subjects, the mean area under the curve (AUC) for cortisol was lower following administration of both levoketoconazole and ketoconazole compared with placebo. In a study in patients with type 2 diabetes, nonsignificant mean reductions in 12-hour overnight plasma cortisol AUC were observed with both ketoconazole and levoketoconazole after 14 days of dosing [47]. Interestingly, no dose-dependent trend in the percentage change in testosterone was found with levoketoconazole administration [47]. Finally, significant decreases in low-density lipoprotein cholesterol levels were observed in diabetic patients treated with levoketoconazole [47]. Levoketoconazole treatment also resulted in nonsignificant lower serum cholesterol levels in rats than the 2R,4S enantiomer or racemic ketoconazole. This may be of particular clinical relevance for patients with CS who have a substantially increased risk of cardiovascular events [2].
In patients with type 2 diabetes, headache and nausea were the most commonly reported adverse events [47]. Although levoketoconazole treatment has not yet been evaluated in patients with CS, levoketoconazole may have a more favorable safety profile than racemic ketoconazole, which has been associated with clinically relevant drug–drug interactions and hepatotoxicity. The pharmacokinetic profiles of levoketoconazole and the 2R,4S enantiomer suggest preferred extraction of the 2R,4S enantiomer by the liver, which may indicate a lower risk of hepatotoxicity with levoketoconazole [45]. In addition, levoketoconazole shows less potent inhibition of CYP7A1, a rate-limiting enzyme in bile acid synthesis, than the 2R,4S enantiomer [47]. Nevertheless, there has been some clinical evidence of alterations in liver function enzymes with levoketoconazole treatment [47, 48]; further studies will be needed to clarify whether decreased hepatotoxicity is observed with levoketoconazole in patients with CS. A single-arm, open-label, dose-titration study evaluating levoketoconazole in patients with persistent or recurrent CS, or newly diagnosed patients who are not candidates for surgery, is ongoing (ClinicalTrials.gov identifier NCT01838551) [44]. The study has a variable dose-titration phase, a 6-month maintenance phase in which patients receive levoketoconazole at the therapeutic dose, and a 6-month extended evaluation phase. The primary endpoint is the rate of normalized 24-hour UFC at 6 months of maintenance without dose increase; safety issues are closely monitored in this study.
Clinical considerations for treatment with adrenal steroidogenesis inhibitors in CS
Conclusions
CS has higher morbidity and mortality rates if not appropriately treated. Surgery is the first line of treatment, but many patients do not achieve remission or experience disease recurrence following surgery. Adrenal steroidogenesis inhibitors are associated with high rates of cortisol normalization and clinical improvements. Combination therapies of well-studied drugs might allow for lower doses with better tolerability. However, data from CS studies is limited and there is a need for prospective studies of adrenal steroidogenesis inhibitors with long-term follow-up. In addition, agents with improved tolerability and potency are needed. In phase 2 studies, osilodrostat provided cortisol normalization in almost 80 % of patients with no short-term escape. Based on preclinical and early clinical data in patients with diabetes, levoketoconazole may be associated with a number of potential benefits relative to steroidogenesis inhibitors currently in clinical use. Both drugs are currently being evaluated in ongoing phase 3 studies. Treatments that are tailored to each individual patient's needs are desirable; thus, expanded options for medical treatment could lead to improved overall outcomes for CS patients.
Notes
Acknowledgments
Manuscript editorial support was provided by Erica Chevalier-Larsen, Ph.D. (MedErgy) and was funded by Strongbridge Biopharma. Financial support for Open Access was provided by Strongbridge Biopharma.
Authors contributions
A detailed outline draft manuscript and references were compiled by the authors (MF and FC) and discussed via teleconference. Subsequent manuscript drafts were reviewed by email correspondence. The authors retained full editorial control over manuscript content and approved the final manuscript version.
Compliance with ethical standards
Conflict of interest
MF has received research grant support from and has consulted for Chiasma, Novartis, Ipsen, Strongbridge Biopharma, and Pfizer. FC has received research grant support from Novartis, Ipsen, Pfizer, and HRA Pharma and has consulted for Novartis, Strongbridge Biopharma, and HRA Pharma.
Copyright information
© The Author(s) 2016
Open AccessThis article is distributed under the terms of the Creative Commons Attribution 4.0 International License (http://creativecommons.org/licenses/by/4.0/), which permits unrestricted use, distribution, and reproduction in any medium, provided you give appropriate credit to the original author(s) and the source, provide a link to the Creative Commons license, and indicate if changes were made.