MgF2 films prepared from solvothermally treated precursor solutions
Original Paper: Functional coatings, thin films and membranes (including deposition techniques)
Abstract
MgF2 coating solutions were solvothermally treated at 160 °C for different time periods, this procedure induced crystallization and particle growth. Antireflection coatings prepared on glass from these solutions were compared to films derived from untreated precursor material. Ellipsometric porosimetry (EP) was employed to characterize structural features of coatings on glass as function of annealing temperature. Based on precursor solutions that had undergone solvothermal treatment antireflective coatings with a peak transparency exceeding 99% were prepared on PMMA substrates.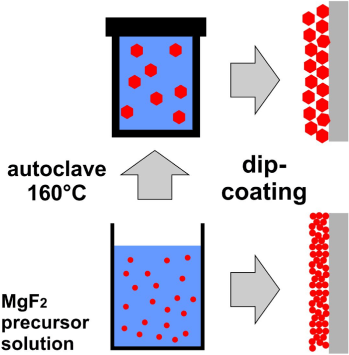 Keywords
MgF2 
Thin films 
Antireflective coatings 
Solvothermal treatment 
Polymer substrate 
Ellipsometric porosimetry 
Notes
Acknowledgements
This project was funded by the German Federal Ministry of Economics and Technology (grant 0329800). We would like to thank Professor Kemnitz (Humboldt University Berlin) for precursor supply and helpful discussions.
Compliance with ethical standards
Conflict of interest
The authors declare that they have no conflict of interest.
Copyright information
© Springer Science+Business Media, LLC, part of Springer Nature 2018