Abstract
Adsorption behavior of uranyl and thorium ions from synthetic radioactive solutions onto functionalized silica as sorbent has been investigated. The effect of contact time, initial concentration of radioactive solutions, sorbent mass, pH value and temperature on the adsorption capacity of the sorbent was investigated. Negative values of Gibbs free energy of adsorption suggested the spontaneity of the adsorption process on both functionalized silica with –NH2 groups and with –SH groups. Positive values obtained for ΔH° indicates that the adsorption is an endothermic process. The adsorption isotherms were better fitted by Freundlich model and the adsorption kinetic was well described by the pseudo-second order equation. Desorption studies indicated that the most favorable desorptive reagents for UO2 2+ is HNO3 1 M and for Th4+ is EDTA 1 M solutions.
Access options
Buy single article
Instant access to the full article PDF.
US$ 39.95
Tax calculation will be finalised during checkout.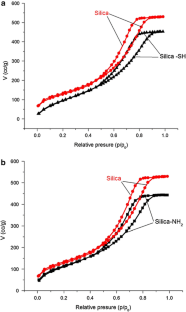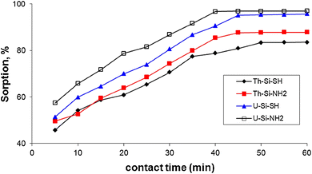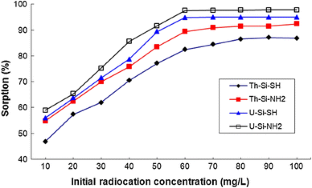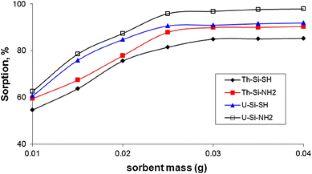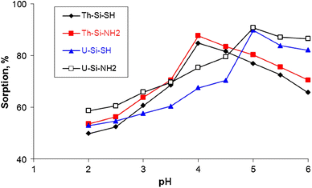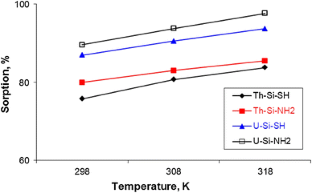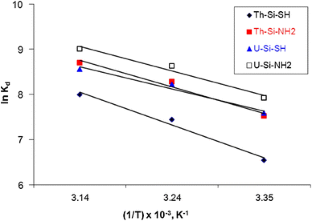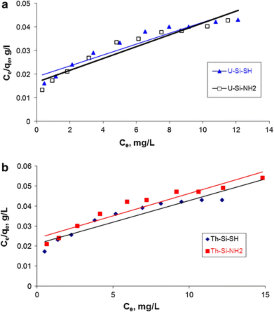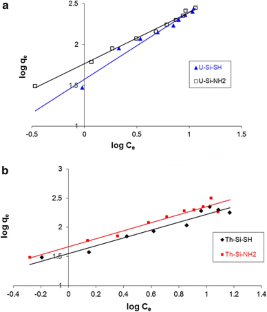 References
1.

Mahramanlioglu M (2003) J Radioanal Nucl Chem 256:99–105

2.

Tsuruta T (2002) J Biosci Bioeng 94:23–28

3.

Someda HH, Sheha RR (2008) Radiochemistry 50:56–63

4.

Ladeira AC, Morais CA (2005) Miner Eng 18:1337–1340

5.

Cecal A, Gulea A, Rudic V, Palamaru I, Humelnicu D, Popa K (1997) Isot Environ Health Stud 33:327–331

6.

Akyil S, Aslani MAA, Eral M (2003) J Radioanal Nucl Chem 256:45–51

7.

Aytas S, Akyil S, Eral M (2004) J Radioanal Nucl Chem 260:119–125

8.

Khazaei Y, Faghihian H, Kamali M (2011) J Radioanal Nucl Chem 289:529–536

9.

Akkaya R, Akkaya B (2013) J Nucl Mater 434:328–333

10.

Shi W-Q, Yuan L-Y, Li Z-J, Lan J-H, Zhao Y-L, Chai Z-F (2012) Radiochim Acta 100(8–9):727–736

11.

Liu YL, Yuan LY, Yuan YL, Lan JH, Li ZJ, Feng YX, Zhao YL, Chai ZF, Shi WQ (2012) J Radioanal Nucl Chem 292:803–810

12.

Donia AM, Atia AA, Moussa EM, El-Sherif AM (2009) Abd El-Magied MO. Hydrometallurgy 95:183–189

13.

Blegescu C, Ganju D, Palamaru MN (2012) Rev Roum Chim 57(7–8):769–773

14.

Blegescu C, Ganju D, Palamaru MN (2012) Rev Roum Chim 57(4–5):415–419

15.

Di Bernardo P, Zanonato PL, Tamburini S, Vigato PA (2007) Inorg Chim Acta 360:1083–1094

16.

Saikia L, Srinivas D, Rarnasamy P (2007) Micropor Mesopor Mater 104:225–235

17.

Kilincarslan A, Akyil S (2005) J Radioanal Nucl Chem 264:541–548

18.

Khan MH, Ali A, Khan NN (2001) J Radioanal Nucl Chem 250:353–357

19.

Gao L, Yang ZQ, Shi KL, Wang XF, Guo ZJ, Wu WS (2010) J Radioanal Nucl Chem 284:519–526

20.

Kulik D (2002) Radiochim Acta 90:815–832

21.

Talip Z, Eral M, Hiçsönmez Ü (2009) J Environ Radioact 100:139–143

22.

Donat R (2009) J Chem Thermodyn 41:829–835

23.

Nilchi A, Shariati Dehaghan T, Rasouli Garmarodi S (2013) Desalination 321:67–71

24.

Yi Z, Yao J, Wang F, Chen H, Liu H, Yu C (2013) J Radioanal Nucl Chem 295:2029–2034

25.

Kutahyalı C, Eral M (2010) J Nucl Mater 396:251–256

26.

Zareh MM, Aldaher a, Hussein AEM, Mahfouz MG, Soliman M (2013) J Radioanal Nucl Chem 295:1153–1159

27.

Baes JrC F, Mesmer RE (1976) The hydrolysis of cations. Wiley, New York, p 489

28.

Fan F, Ding H, Bai J, Wu X, Lei F, Tian W, Wang Y, Qin Z (2011) J Radioanal Nucl Chem 289:367–375

29.

Tan XL, Fan QH, Wang XK, Grambow B (2009) Environ Sci Technol 43:3115–3121

30.

Chen CL, Xu D, Tan XL, Wang X (2007) J Radioanal Nucl Chem 273:227–233

31.

Hu J, Chen CL, Sheng GD, Li XJ, Chen YX, Wang XK (2010) Radiochim Acta 98:421–429

32.

Misaelides P, Godelitsas A, Filippidis A, Charistos D, Anousis C (1995) Sci Total Environ 173(174):237–246

33.

Shuibo X, Chun Z, Xinghuo Z, Jing Y, Xiaojian Z, Jingsong W (2009) J Environ Radioact 100:162–166

34.

Toth LM, Begun GM (1981) J Phys Chem 85:547–549

35.

Mishra SP, Tiwari D (2002) J Radioanal Nucl Chem 251:47–53

36.

Foo KY, Hameed BH (2010) Chem Eng J 156:2–10

37.

Weber TW, Chakkravorti RK (1974) AIChE J 20:228–232

38.

Dubinin MM, Radushkevich LV (1947) Chem Zent 1:875–889

39.

Humelnicu D, Dinu MV, Dragan ES (2011) J Hazard Mater 185:447–455
About this article
Cite this article
Humelnicu, D., Blegescu, C. & Ganju, D. Removal of uranium(VI) and thorium(IV) ions from aqueous solutions by functionalized silica: kinetic and thermodynamic studies. J Radioanal Nucl Chem 299, 1183–1190 (2014). https://doi.org/10.1007/s10967-013-2873-4
Received:

Published:

Issue Date:
Keywords
Adsorption

Functionalized silica

Uranium

Thorium

Isotherm