Abstract
Control and optimization of curing process is very important for the production of high quality composite parts. Crosslinking of molecules of thermoset resin occurs in this phase, which involves exothermy of reaction, chemical shrinkage (Sh) and development of thermo-physical and thermo-mechanical properties. Exact knowledge of the evolution of all these parameters is required for the better understanding and improvement of the fabrication process. Sh is one such property of thermoset matrix, which is difficult to characterize due to its coupling with thermal expansion/contraction. A number of techniques have been used to determine volume Sh of thermoset matrix, which later on has been used to find tensor of Sh for the simulation of residual stresses and shape distortion of composite part, etc. Direct characterization of volume Sh of composites has also been made by some authors. Though not much, but some work has also been reported to determine the Sh of composite part in a specific direction. In this article, all the techniques used in the literature for the characterization of Sh of resin and composite are reported briefly with their respective advantages, disadvantage and important results.
Access options
Buy single article
Instant access to the full article PDF.
US$ 39.95
Tax calculation will be finalised during checkout.
Subscribe to journal
Immediate online access to all issues from 2019. Subscription will auto renew annually.
US$ 119
Tax calculation will be finalised during checkout.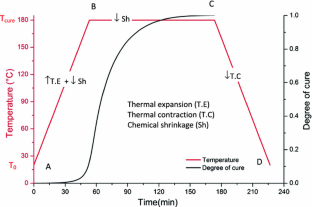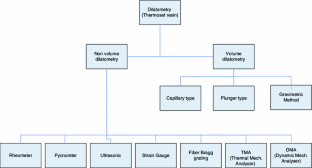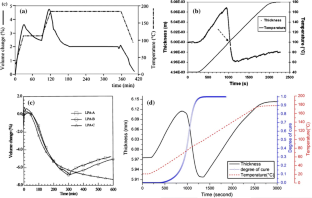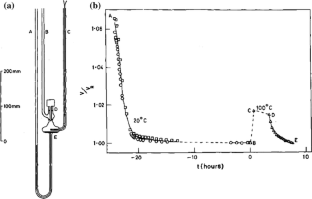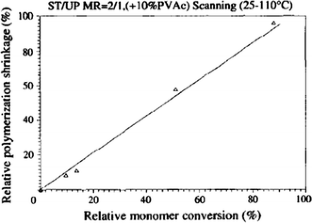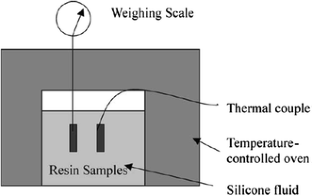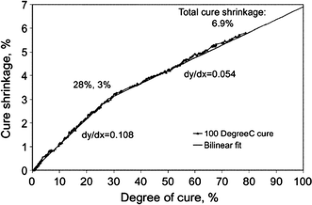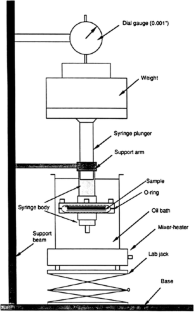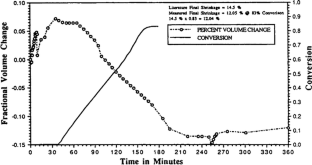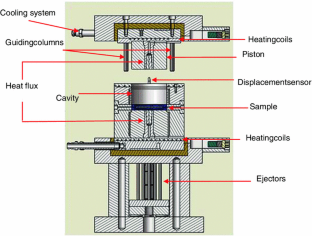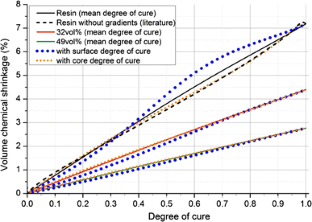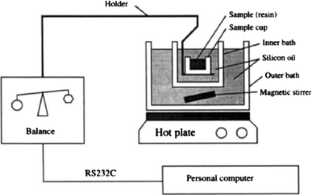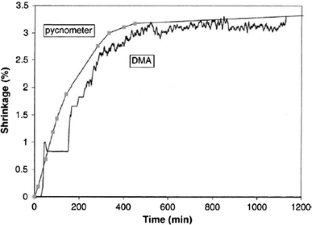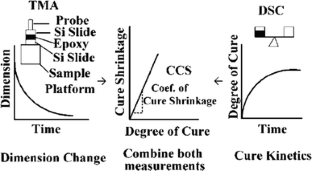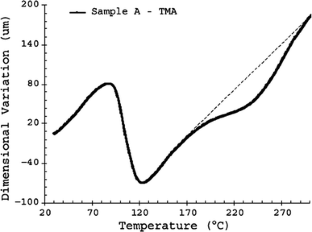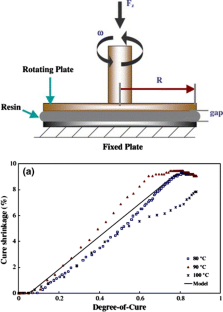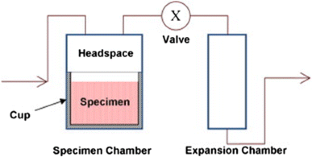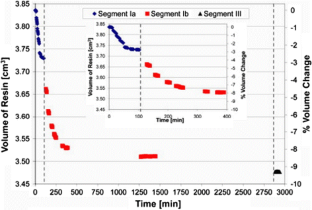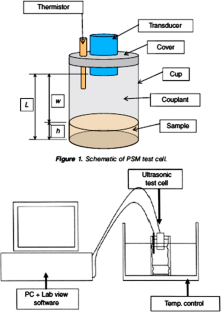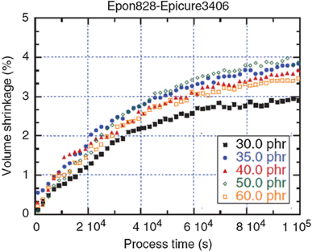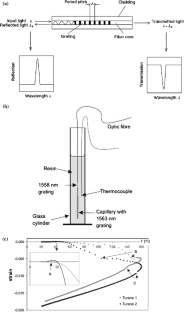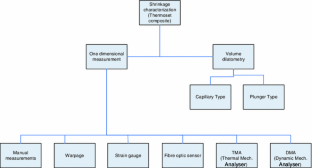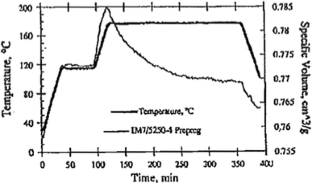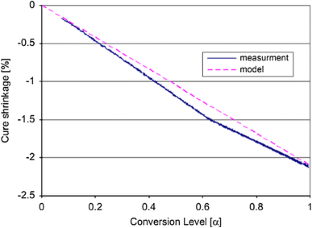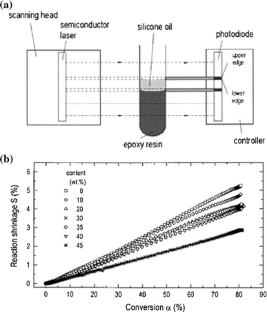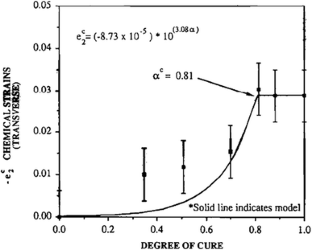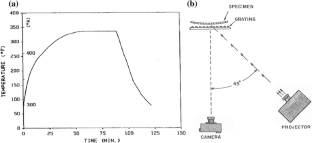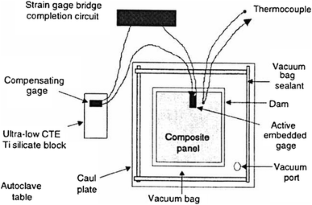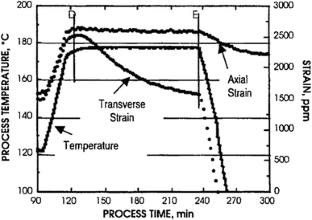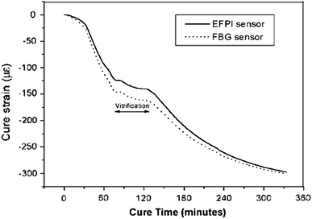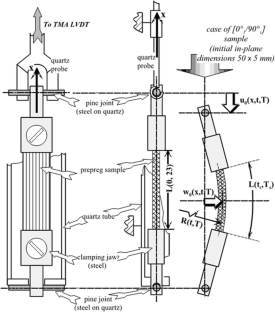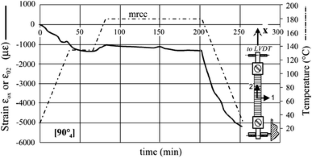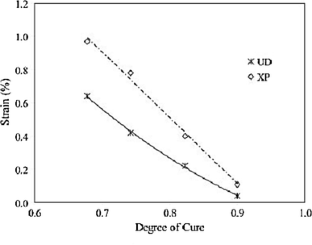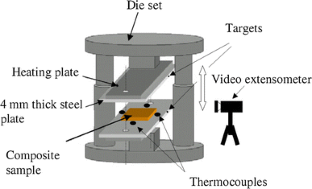 References
1.

Abou Msallem Y, Jacquemin F, Boyard N, Poitou A, Delaunay D, Chatel S (2010) Compos Part A 41(1):108. doi:10.1016/j.compositesa.2009.09.025

2.

Shimbo M, Yamabe M, Miyano Y (1998) Viscoelastic analysis of residual stress in thermosetting resins introduced during curing process. In: Allison IM (ed) 11th International conference on experimental mechanics, Oxford, p 1325

3.

Hodges J, Yates B, Darby MI, Wostenholm GH, Clemmet JF, Keates TF (1989) J Mater Sci 24(6):1984. doi:10.1007/bf02385410

4.

Lingois P, Berglund L, Greco A, Maffezoli A (2003) J Mater Sci 38(6):1321. doi:10.1023/a:1022811315807

5.

Bogetti TA, Gillespie JW (1992) J Compos Mater 26(5):626. doi:10.1177/002199839202600502

6.

Harris B (1978) J Mater Sci 13(1):173. doi:10.1007/bf00739288

7.

Kim KS, Hahn HT (1989) Compos Sci Technol 36(2):121. doi:10.1016/0266-3538(89)90083-3

8.

White SR, Kim YK (1998) Mech Compos Mater Struct 5(2):153. doi:10.1080/10759419808945897

9.

Hahn HT, Pagano NJ (1975) J Compos Mater 9(1):91. doi:10.1177/002199837500900110

10.

Lee S, Schile R (1982) J Mater Sci 17(7):2095. doi:10.1007/bf00540428

11.

Wisnom MR, Gigliotti M, Ersoy N, Campbell M, Potter KD (2006) Compos Part A 37(4):522

12.

Yoon KJ, Kim J-S (2001) J Compos Mater 35(3):253. doi:10.1177/002199801772662244

13.

Dano M-L, Hyer MW (1998) Int J Solids Struct 35(17):2101. doi:10.1016/s0020-7683(97)00167-4

14.

Nawab Y, Jaquemin F, Casari P, Boyard N, Sobotka V (2013) J Compos Mater 47(3):327. doi:10.1177/0021998312440130

15.

Chekanov YA, Korotkov VN, Rozenberg BA, Dhzavadyan EA, Bogdanova LM (1995) Polymer 36(10):2013. doi:10.1016/0032-3861(95)91446-E

16.

Eom Y, Boogh L, Michaud V, Sunderland P, Månson JA (2004) Polym Eng Sci 41(3):492

17.

ASTM (2012) Standard test method for linear shrinkage of cured thermosettings casting resins during cure. ASTM D2566–79

18.

Starkweather HW, Taylor GB (1930) J Am Chem Soc 52(12):4708. doi:10.1021/ja01375a011

19.

Li C, Potter K, Wisnom MR, Stringer G (2004) Compos Sci Technol 64(1):55

20.

Zhang J, Xu YC, Huang P (2009) Express Polym Lett 3(9):534

21.

Madhukar MS, Genidy MS, Russell JD (2000) J Compos Mater 34(22):1882. doi:10.1106/hucy-dy2b-2n42-ujbx

22.

Boyard N, Millischer A, Sobotka V, Bailleul JL, Delaunay D (2007) Compos Sci Technol 67(6):943. doi:10.1016/j.compscitech.2006.07.004

23.

Li W, Lee LJ (1998) Polymer 39(23):5677. doi:10.1016/S0032-3861(98)00074-3

24.

Nawab Y, Tardif X, Boyard N, Sobotka V, Casari P, Jacquemin F (2012) Compos Sci Technol 73:81. doi:10.1016/j.compscitech.2012.09.018

25.

Pingsheng H, Zhiqiang Z, Caiyuan P, Renjie W (1989) J Mater Sci 24(5):1528. doi:10.1007/BF01105666

26.

Yates B, McCalla BA (1979) J Mater Sci 14:1207. doi:10.1007/BF00561306

27.

Snow AW, Armistead JP (1991) Dilatometry on thermoset resins. Naval Research Laboratory, Washington, DC

28.

Huang Y-J, Liang C-M (1996) Polymer 37(3):401. doi:10.1016/0032-3861(96)82909-0

29.

Parlevliet PP, Bersee HEN, Beukers A (2010) Polym Test 29(4):433

30.

Khoun L, Hubert P (2010) Polym Compos 31(9):1603. doi:10.1002/pc.20949

31.

Russell JD, Madhukar MS, Genidy MS, Lee AY (2000) J Compos Mater 34(22):1926. doi:10.1106/uy9u-f2qw-2fkk-91kg

32.

Zoller P, Bolli P, Pahud V, Ackermann H (1976) RevSciInstrum 47(8):948

33.

Li W, Lee LJ (2000) Polymer 41(2):685

34.

Ramos JA, Pagani N, Riccardi CC, Borrajo J, Goyanes SN, Mondragon I (2005) Polymer 46(10):3323

35.

Kinkelaar M, Muzumdar S, Lee LJ (1995) Polym Eng Sci 35(10):823

36.

Hwang SJ, Chang YS (2005) J Polym Sci Part B 43(17):2392. doi:10.1002/polb.20540

37.

Kinkelaar M, Lee LJ (1992) J Appl Polym Sci 45(1):37

38.

Kinkelaar M, Wang B, Lee LJ (1994) Polymer 35(14):3011

39.

Saraswat MK, Jansen KMB, Ernst LJ (2006) CORD Conf Proc 2:782. doi:10.1109/estc.2006.280100

40.

Nawab Y, Boyard N, Sobotka V, Casari P, Jacquemin F (2011) Adv Mater Res 326:19

41.

Millischer A (2000) Transferts thermiques dans le procede d'injection BMC (Bulk Molding Compound). Université de Nantes, Nantes

42.

Boyard N, Vayer M, Sinturel C, Erre R, Delaunay D (2004) J Appl Polym Sci 92(5):2976. doi:10.1002/app.20312

43.

Massé H, Arquis É, Delaunay D, Quilliet S, Le Bot PH (2004) Int J Heat Mass Transf 47(8–9):2015

44.

Nawab Y, Casari P, Boyard N, Jacquemin F (2013) J Mater Sci 48(6):2394. doi:10.1007/s10853-012-7026-6

45.

Aduriz X, Lupi C, Boyard N, Bailleul JL, Leduc D, Sobotka V, Lefèvre N, Chapeleau X, Boisrobert C, Delaunay D (2007) Compos Sci Technol 67(15):3196

46.

Bucknall CB, Partridge IK, Phillips MJ (1991) Polymer 32(4):636. doi:10.1016/0032-3861(91)90475-X

47.

Ochi M, Yamashita K, Shimbo M (1991) J Appl Polym Sci 43(11):2013. doi:10.1002/app.1991.070431108

48.

Magniez K, Vijayan A, Finn N (2012) Polym Eng Sci 52(2):346. doi:10.1002/pen.22088

49.

Stone MA, Fink BK, Bogetti TA, Gillespie JW (2000) Polym Eng Sci 40(12):2489

50.

Flores F, Gillespie JW, Bogetti TA (2002) Polym Eng Sci 42(3):582

51.

Lange J, Toll S, Månson J-AE, Hult A (1995) Polymer 36(16):3135

52.

Schoch KF, Panackal PA, Frank PP (2004) Thermochim Acta 417(1):115

53.

Ruiz E, Trochu F (2005) J Compos Mater 39(10):881

54.

Tai HJ, Chou HL (2000) Eur Polym J 36:2213

55.

Brauner C, Block TB, Purol H, Herrmann AS (2012) J Compos Mater 46(17):2123

56.

Hong Y, Subodh GM, Ee Hua W (2005) Macromol Rapid Commun 26(18):1483

57.

Zarrelli M, Partridge IK, D'Amore A (2006) Compos Part A 37(4):565

58.

Zarrelli M, Skordos AA, Partridge IK (2002) Plast Rubber Compos 31:377

59.

Yu H, Mhaisalkar SG, Wong EH (2005) J Electron Mater 34(8):1177. doi:10.1007/s11664-005-0248-5

60.

Haider M, Hubert P, Lessard L (2007) Compos Part A 38(3):994

61.

Shah DU, Schubel PJ (2010) Polym Test 29(6):629

62.

Khoun L, Centea T, Hubert P (2010) J Compos Mater 44(11):1397. doi:10.1177/0021998309353960

63.

Cook WD, Forrest M, Goodwin AA (1999) Dent Mater 15(6):447

64.

Shimbo M, Ochi M, Shigeta Y (1981) J Appl Polym Sci 26(7):2265. doi:10.1002/app.1981.070260714

65.

Hoa SV, Ouellette P, Ngo TD (2009) J Compos Mater 43(7):783. doi:10.1177/0021998308102035

66.

Parlevliet PP, Bersee HEN, Beukers A (2010) Polym Test 29(3):291

67.

Antonucci V, Giordano M, Cusano A, Nasser J, Nicolais L (2006) Compos Sci Technol 66(16):3273. doi:10.1016/j.compscitech.2005.07.009

68.

Karalekas D, Cugnoni J, Botsis J (2008) Compos Part A 39(7):1118. doi:10.1016/j.compositesa.2008.04.010

69.

Giordano M, Laudati A, Nasser J, Nicolais L, Cusano A, Cutolo A (2004) Sens Actuators A 113(2):166. doi:10.1016/j.sna.2004.02.033

70.

Vacher S, Molimard J, Gagnaire H, Vautrin A (2003) Polym Polym Compos 12(4):269

71.

Wang Y, Han B, Kim DW, Bar Cohen A, Joseph P (2008) Exp Mech 48(1):107. doi:10.1007/s11340-007-9067-3

72.

Harsch M, Karger-Kocsis J, Herzog F (2007) Polym Lett 1(4):226

73.

Wang Y, Woodworth L, Han B (2011) Exp Mech 51(7):1155. doi:10.1007/s11340-010-9410-y

74.

Othonos A, Kalli K (1999) Fiber Bragg gratings: fundamentals and applications in telecommunications and sensing. Artech House, Norwood

75.

Thomas CL, Bur AJ (1999) Polym Eng Sci 39(9):1619

76.

Fano V, Ortalli I, Pizzi S, Bonanini M (1997) Biomaterials 18(6):467

77.

Ochi M, Yamashita K, Shimbo M (2003) J Appl Polym Sci 43(11):2013

78.

Plepys A, Farris R (1990) Polymer 31(10):1932

79.

Sun J, Eidelman N, Lin-Gibson S (2009) Dent Mater 25(3):314

80.

Sharp LJ, Choi IB, Lee TE, Sy A, Suh BI (2003) J Dent 31(2):97

81.

Russell J (1993) SAMPE Q 24(2):28

82.

Sadeghinia M, Jansen KMB, Ernst LJ (2012) Int J Adhesion Adhesives 32:82. doi:10.1016/j.ijadhadh.2011.10.007

83.

Millischer A, Delaunay D (2001) J Reinf Plast Compos 20(6):495

84.

Prasatya P, McKenna GB, Simon SL (2001) J Compos Mater 35(10):826. doi:10.1177/002199801772662424

85.

Holst M, Schänzlin K, Wenzel M, Xu J, Lellinger D, Alig I (2005) J Polym Sci Part B 43(17):2314

86.

White S, Hahn H (1992) J Compos Mater 26(16):2423

87.

Daniel IM, Wang T-M, Karalekas D, Gotro JT (1990) J Compos Technol Res 12(3):172

88.

Hu G, Luan J-E, Chew S (2009) J Electron Packag 131(1):14466

89.

Zhu WH, Guang L, Wei S, Che FX, Sun A, Wang CK, Tan HB, Zhao BZ, Chin NH (2007) Thermal, mechanical and multi-physics simulation experiments in microelectronics and micro-systems, 2007. EuroSime 2007. International Conference on, 16–18 April 2007, p 1

90.

Ken O, Masumi S (2001) Polym Eng Sci 41(8):1373

91.

Crasto AS, Kim RY, Russell JD (2002) Polym Compos 23(3):454

92.

Sakaguchi RL, Versluis A, Douglas WH (1997) Dent Mater 13(4):233. doi:10.1016/s0109-5641(97)80034-6

93.

Kim YK (2004) J Compos Mater 38(11):959

94.

Murukeshan V, Chan P, Ong L, Seah L (2000) Sens Actuators A 79(2):153

95.

Kalamkarov A, Fitzgerald S, MacDonald D (1999) Compos B Eng 30(2):167

96.

Lawrence CM, Nelson DV, Bennett TE, Spingarn JR (1997) SPIE, p 154

97.

Mulle M, Collombet F, Olivier P, Zitoune R, Huchette C, Laurin F, Grunevald YH (2009) Compos Part A 40(10):1534

98.

Leng JS, Asundi A (2002) Smart Mater Struct 11:249

99.

Olivier PA (2006) Compos Part A 37(4):602

100.

Ersoy N, Tugutlu M (2009) Polym Eng Sci 50(1):84

101.

Garstka T, Ersoy N, Potter K, Wisnom M (2007) Compos Part A 38(12):2517

102.

Ifju PG, Kilday BC, Niu X, Liu S-C (1999) J Compos Mater 33(16):1511. doi:10.1177/002199839903301603

103.

Ifju P, Niu X, Kilday B, Liu S, Ettinger S (2000) Exp Mech 40(1):22
About this article
Cite this article
Nawab, Y., Shahid, S., Boyard, N. et al. Chemical shrinkage characterization techniques for thermoset resins and associated composites. J Mater Sci 48, 5387–5409 (2013). https://doi.org/10.1007/s10853-013-7333-6
Received:

Accepted:

Published:

Issue Date:
Keywords
Shrinkage

Dynamic Mechanical Analysis

Fibre Bragg Grating

Unsaturated Polyester

Fibre Bragg Grating Sensor